The world is gradually moving to the Metaverse. That companies are pushing projects to enter the virtual realm is all over the news lately. For example, CEO Mark Zuckerberg released on 28 October 2021 an official statement changing its brand name from Facebook to Meta. Meanwhile, tech giant Microsoft is looking to get on board with its launching of the Mesh platform in 2022.
If this trend continues, the value of Metaverse crypto could dramatically rise in a few years. If you look at the charts below, you can see two cryptos showing explosive growth recently. Seeing this trend, it is high time to buy Metaverse coins while the price is relatively low.
If you have no idea which Metaverse crypto you should buy, we provide three such coins in this article. This post will also guide you on buying these coins and what to consider before you buy.
What is Metaverse crypto?
Metaverse, from the term itself, means a virtual universe. It exists only in the virtual world, and users can experience virtual reality. It is a place where you can do what you usually do in the physical world but in a virtual environment. Metaverse developers attempt to mimic the physical world as closely as possible.
Metaverse crypto is a digital currency that works in the Metaverse or is intended to work in this sphere in the future. While you immerse in the exciting world of Metaverse, you can generate crypto coins that you can exchange for real money. These coins are the mediums that users use to conduct business in the Metaverse environments.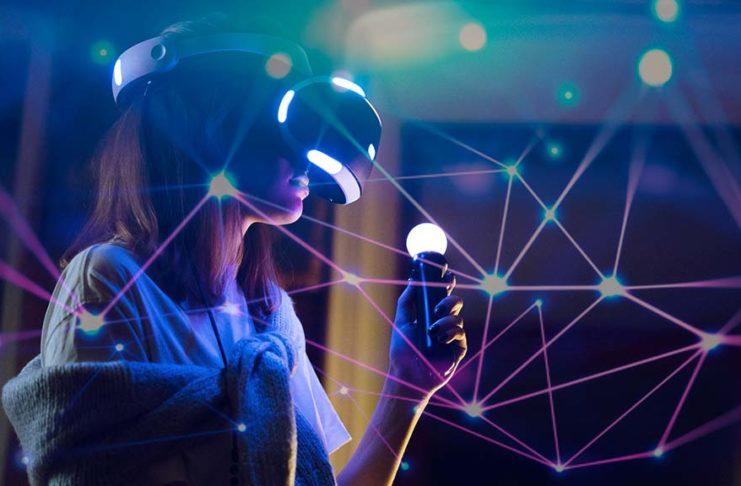 How to buy Metaverse crypto?
You can buy Metaverse crypto by following the steps below:
Find a crypto exchange that offers your favorite Metaverse crypto if you would like to buy SAND/USDT, which is available in Binance, Bittrex, Poloniex, etc.
Create an account in this exchange. Once done, provide the required information to verify your account.
Fund your account. Typically, you have three options to do this: pay with a debit card, bank transfer, and transfer coins from another digital wallet.
Buy your favorite Metaverse crypto. Once done, find a crypto wallet to access your crypto and store your keys conveniently.
How to sell Metaverse crypto?
Once your Metaverse crypto assets have appreciated in value, you can sell them in the same exchange. You can find the major coins in exchanges as well as exotic ones. The image below shows the most popular crypto you can buy and sell at crypto exchanges.
To sell your crypto, follow these steps:
Login to your account in the exchange where you bought your Metaverse crypto.
Select the Metaverse crypto you would like to liquidate.
Enter your order and specify the number of coins to sell.
Review the selling price and transaction cost involved, and complete the transaction.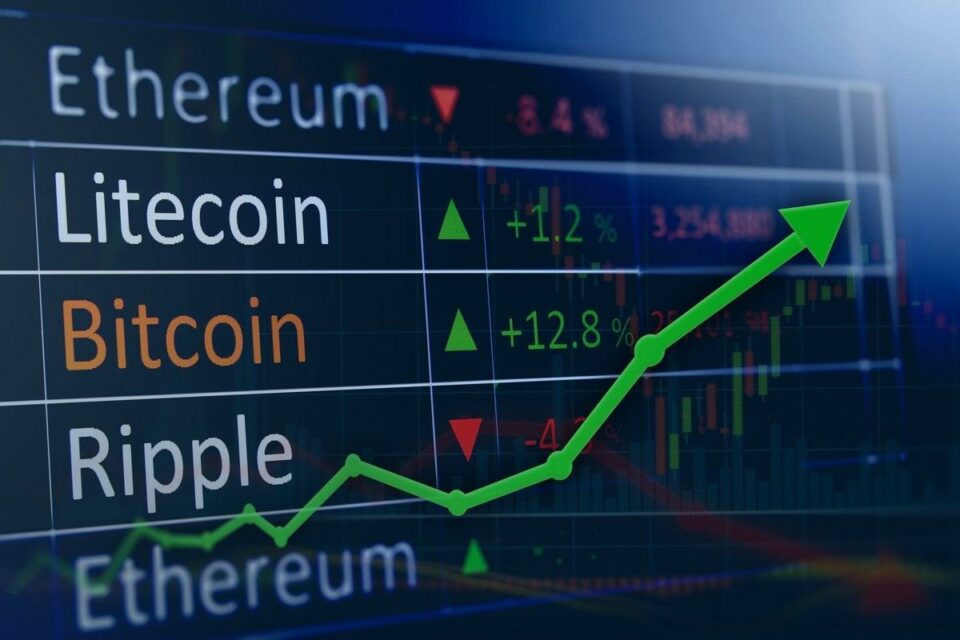 Top three things to consider when buying Metaverse crypto
This form of investment is a risky business. You have to take certain precautions to preserve your capital and hopefully make money to mitigate the risks.
Do not buy coins for fear of missing out
Do your research and spend time understanding the value of the Metaverse crypto of your choice. Do not invest right away because many people already did or some familiar personalities talk about it. The price might be moving up fast because of hype, not because of fundamental factors.
Choose reputable crypto exchanges
This tip is very useful. While newer crypto exchanges might offer better prices, reputable exchanges provide security and peace of mind. One risk of working with unknown exchanges is the possibility of a scam. They might run away after you put money, especially if the amount is significant.
Learn about the people behind a crypto project
The people behind a Metaverse project are mostly responsible for the success or failure of the project. Therefore, you must know the founder and, if possible, developers working on the project. They should have a good reputation in the industry and be known for delivering on their promise and plans for the project.
Top three best Metaverse crypto to watch out for
Below are three of the most popular Metaverse coins of today. We list these tokens here because of their great potential for upside growth. As of this time, these coins are still affordable for many investors.
No. 1. What is the Sandbox (SAND)?
It is a Metaverse game that allows you to develop, distribute, and monetize games and assets. One goal of Sandbox is to introduce innovation in the gaming industry and reward content producers. SAND is the token that powers the Sandbox ecosystem. With a price of $2.3924, it is high time to invest in this Metaverse crypto.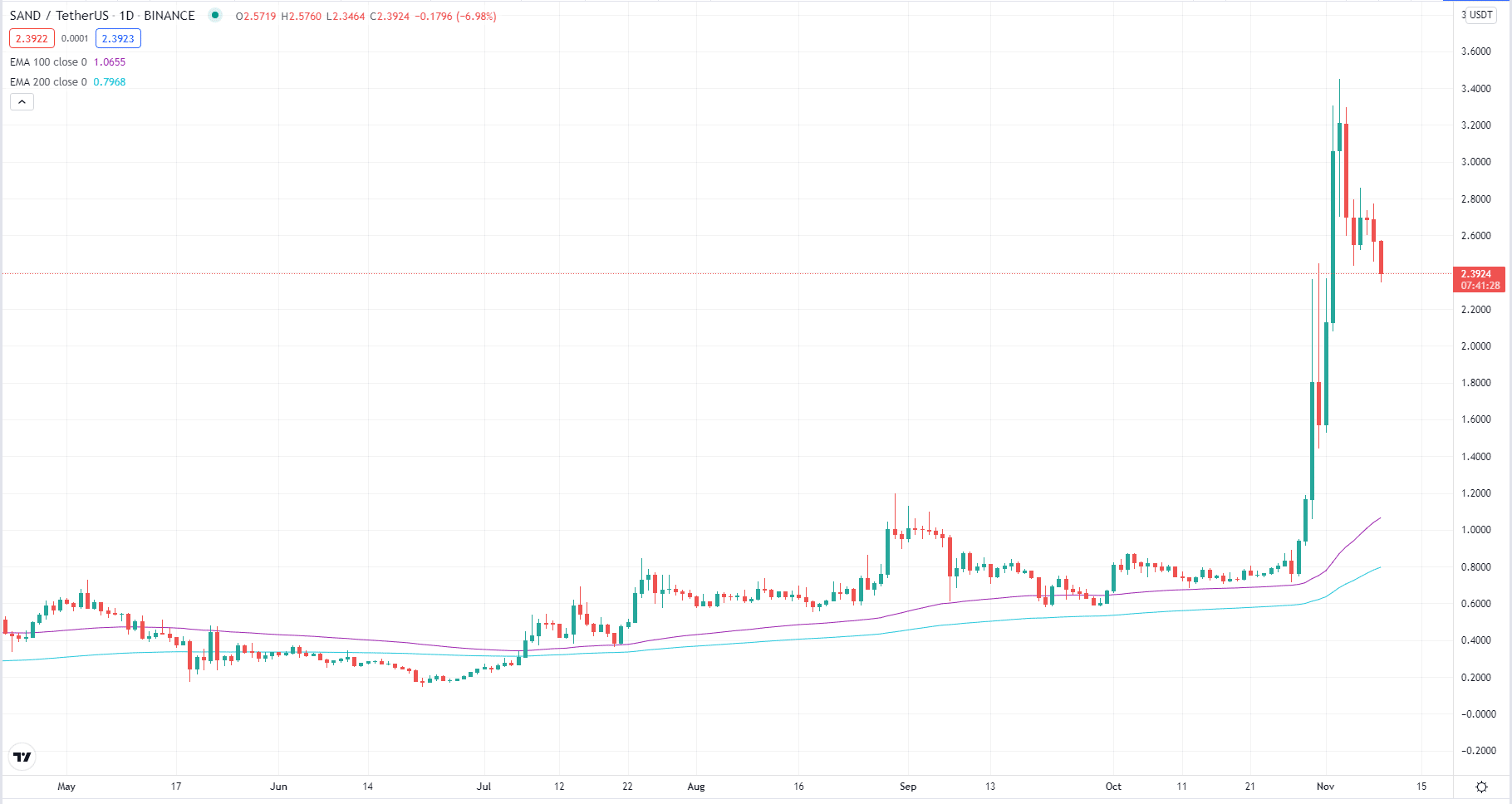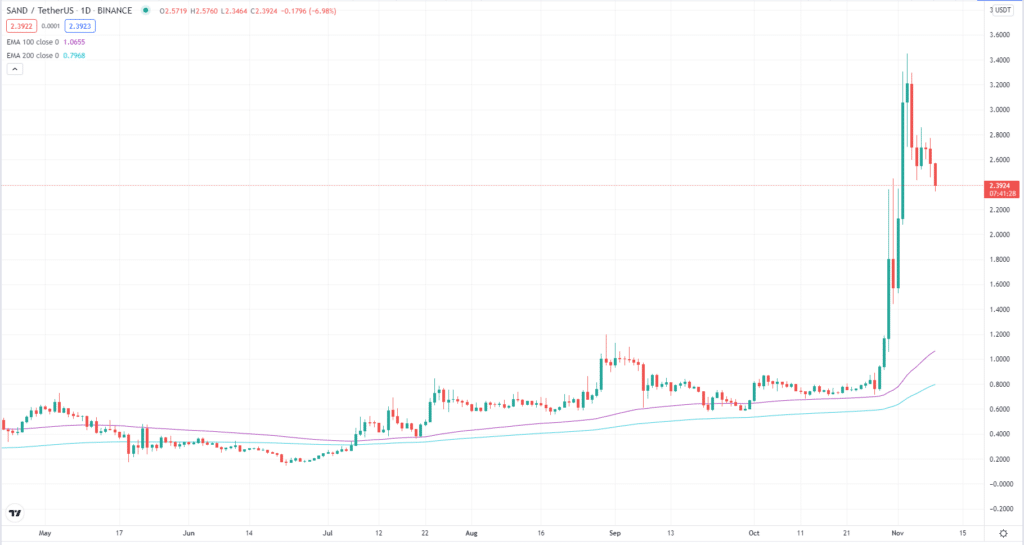 No. 2: What is the Decentralend (MANA)?
MANA is the token that runs the operations in the Decentraland platform. Users of this platform can utilize the token for purchasing LAND and paying for services and commodities in the Metaverse. You can buy this Metaverse crypto from various exchanges, such as Bybit, Poloniex, Binance, and others. At a price of $2.5392 at present, MANA is one of the most promising cryptocurrencies to invest in.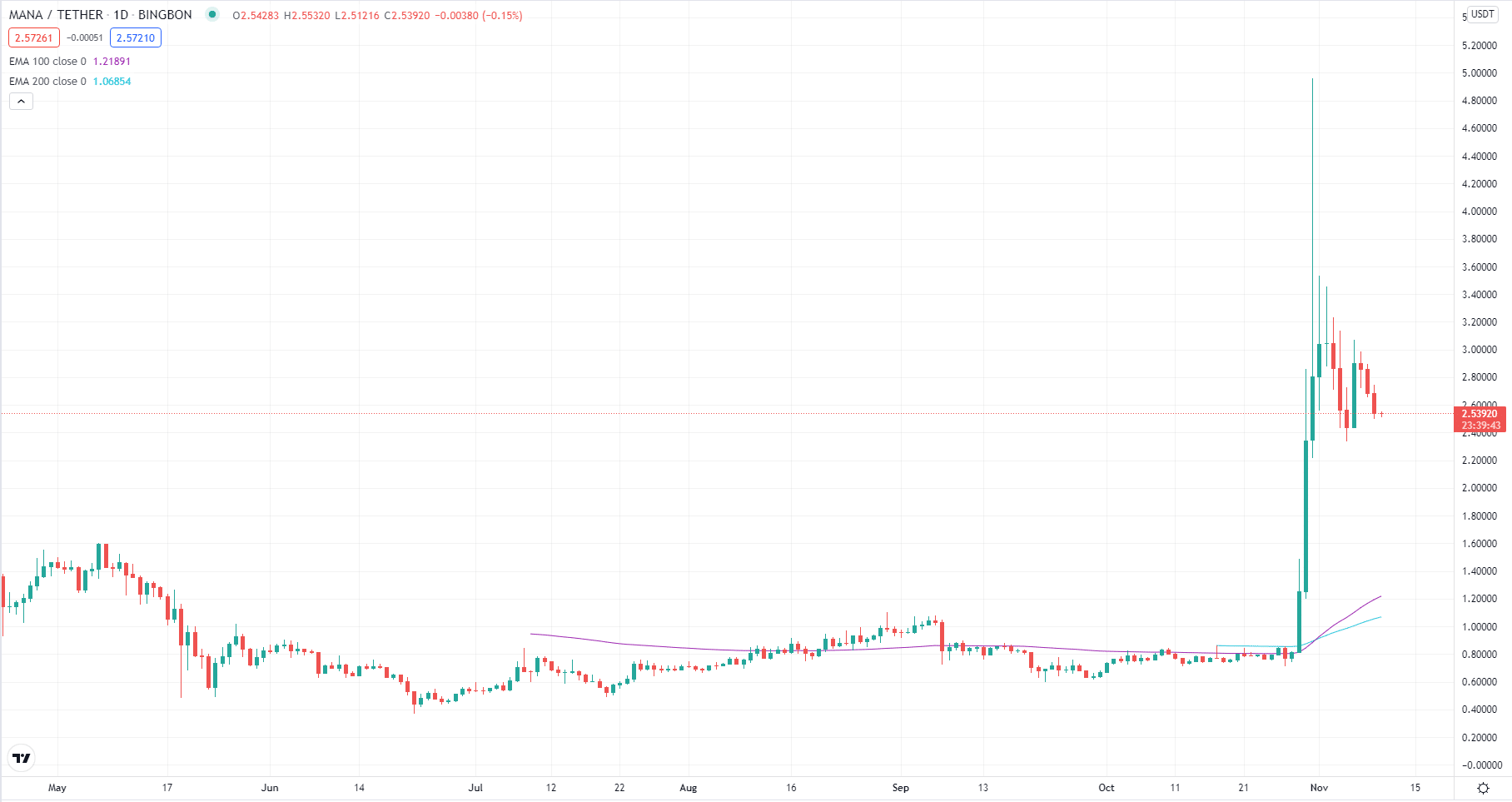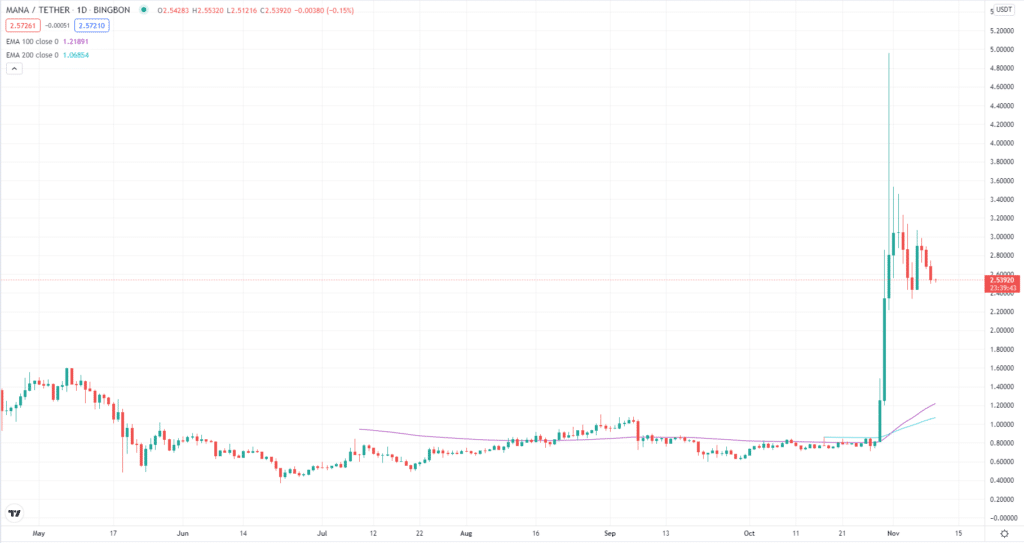 No. 3. What is the Enjin coin (ENJ)?
Enjin is an Ethereum-based gaming platform where you can design and create electronic collectible items. This ecosystem provides resources to help users develop their ERC1155 tokens to be used in various GAMES. Be aware that ERC1155 tokens are superior to their ERC721 and ERC20 counterparts. Right now, each ENJ coin costs around $3. This could be the best time to own some ENJ coins for your long-term investment.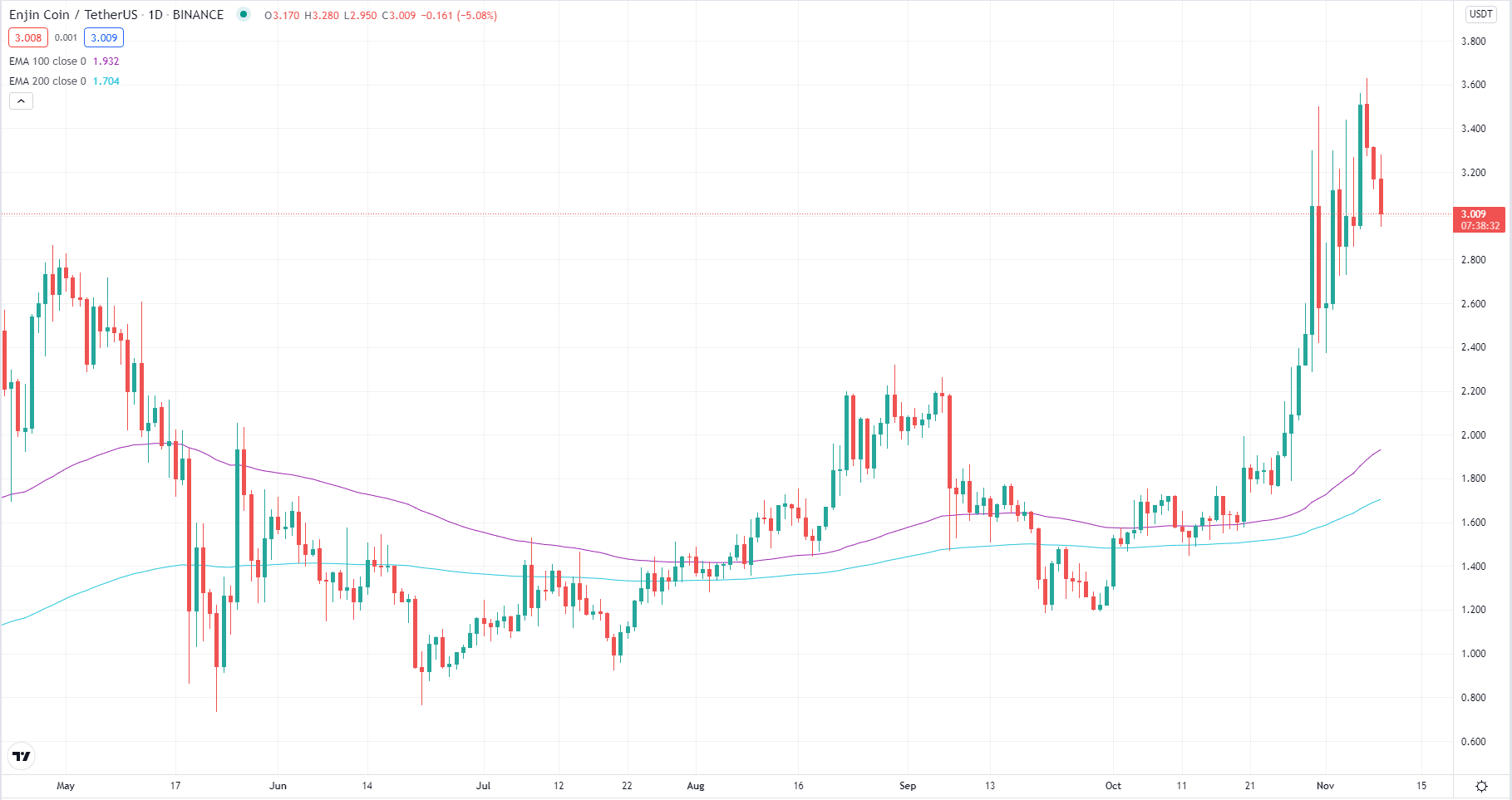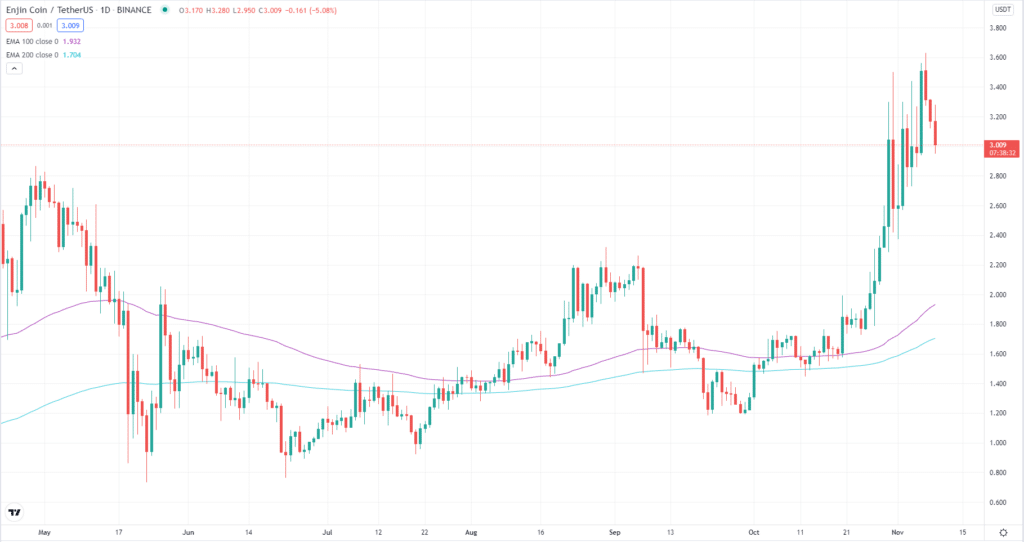 Upsides and of downsides Metaverse crypto
| | |
| --- | --- |
| Upsides | Downsides |
| Creates space for people to come together. | Prolonged use may result in game addiction. |
| Brings users a lot of fun. | Users may lose track of their physical environment, losing productivity in the real world. |
| Users can explore the virtual world, stirring their imagination without limits. | Overuse can lead to a sedentary lifestyle. |
| Has the capacity to improve studying or working from home. | Overindulgence can bring about poor social skills. |
Final thoughts
Metaverse crypto is likely to see massive growth as more and more companies push projects to enter the Metaverse. You can now take advantage of this significant development by buying Metaverse coins while their prices are generally low. This article presents three of the cheapest Metaverse coins to date. You can find more when you do your research. Start investing now.