Crypto gaming coins involve some unique characteristics that attract gamers, developers, investors, and game producers. Wild price swings and the high volatility of the crypto gaming coin enable more profits than other comparatively low volatile financial assets such as currencies, stocks, etc.
Although the gaming industry is rapidly adopting crypto tokens or gaming coins, it requires some prior understanding and knowledge to know the best coins if you want to invest or use them for gaming purposes. This article describes the best five crypto gaming coins which can be potential investments besides purchasing in-game goods and services.
Why the crypto gaming industry is booming?
Cryptocurrencies have become a popular alternative payment option for many features. Tech-based industries frequently adopt cryptocurrencies as payment options in exchange for their goods and services besides online gaming industries.
Online gaming industries and platforms introduce crypto gaming coins allowing gamers and developers to create, store, distribute, purchase in-game items, and exchange for fiat currencies. Moreover, you can earn money by investing in those crypto gaming coins with increasing demand.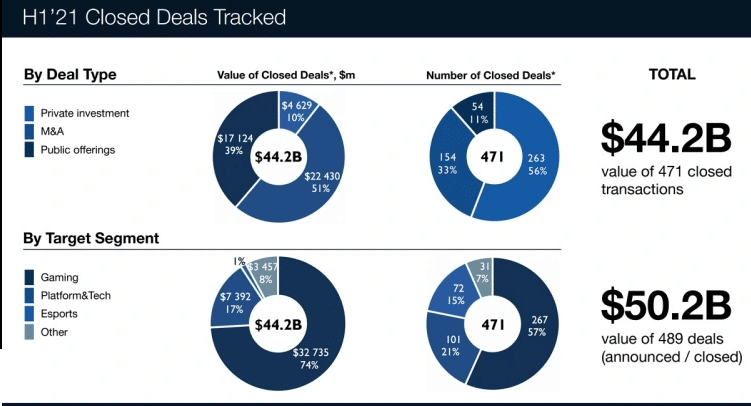 For example, online poker games share some similarities with crypto gaming coins. You can deposit on those virtual platforms with fiat currencies or cryptocurrencies and purchase tokens or chips to participate in poker games. You can withdraw those chips and exchange them with fiat currencies or buy more chips to continue playing. Moreover, some platforms allow exchanging poker chips between participants of the same gaming platform.
Crypto gaming coins are sort of similar to those poker chips or tokens. Moreover, you can invest in these gaming coins and make profits by selling them at higher prices. Most crypto gaming coins use blockchain networks, and there is no boundary or borders for these assets as fiat currencies or other financial assets.
Best five crypto gaming coins to invest
We all know the gaming industry is one of the growing industries rising during the recent coronavirus pandemic. This part lists the best five crypto gaming coins that are potential investments and lead among these types of crypto assets.
The Sandbox (SAND)
The Sandbox is a gaming platform that has tokens or crypto gaming coins SAND. The token SAND is using the Ethereum blockchain network to operate. Users of this platform Sandbox have opportunities to create non-fungible tokens (NFTs) type digital assets by using this platform. Moreover, they can hold, store, monetize, use for in-game purchases or exchange these gaming coins with fiat currencies.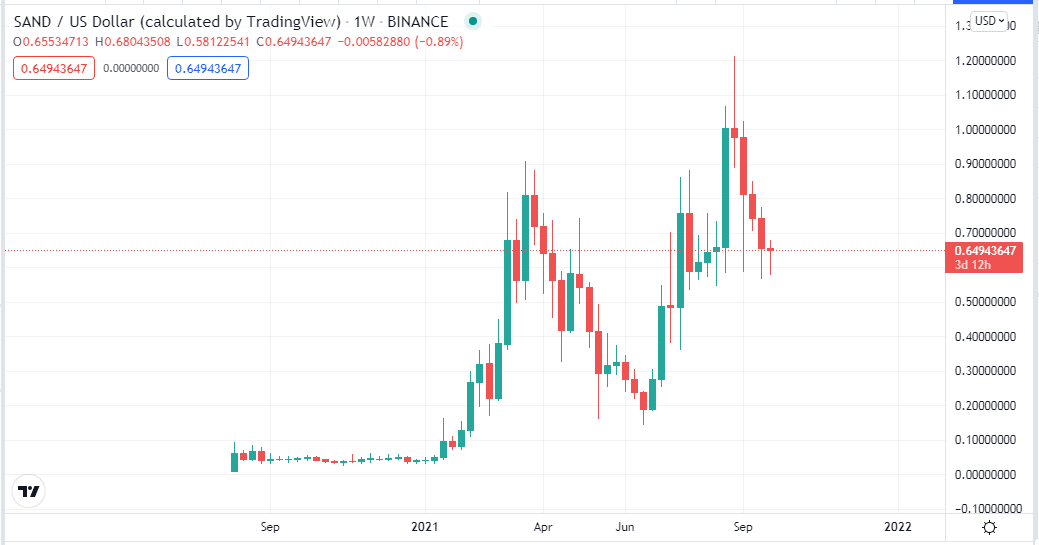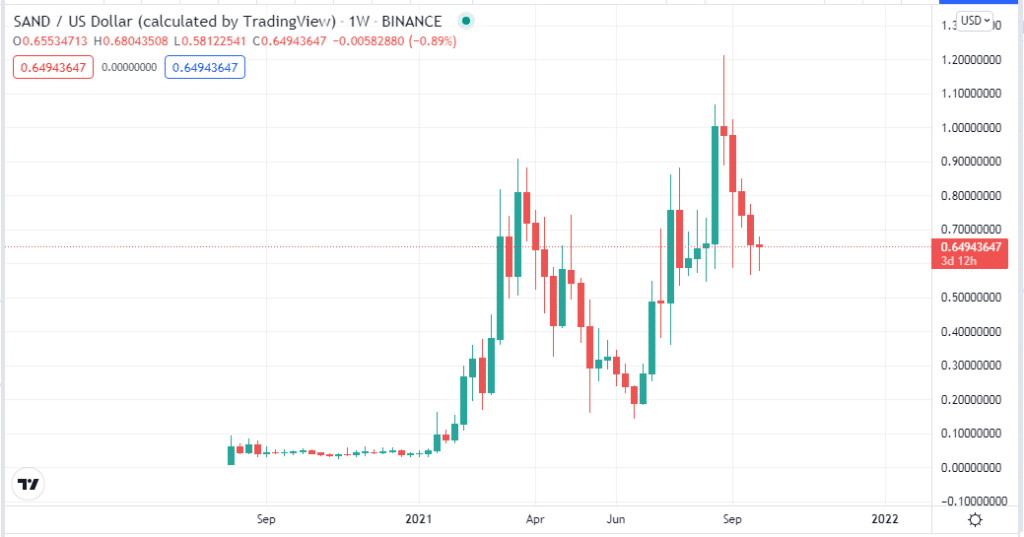 SAND price is floating near $0.649 today with a 24-hours volume of $146,583,903. The market cap for SAND is $577,455,324. The circulating supply for this gaming coin is 892,246,119 SAND, and the total supply amount is 3,000,000,000 SAND.
Enjin (ENJ)
ENJ is a gaming coin of the Enjin platform which enables opportunities to develop or mint, store, send and receive tokens to the gamers and developers. There are approx. 19 million gamers are using this platform. Enjin has views of 60 million every month and handle 250k gaming communities.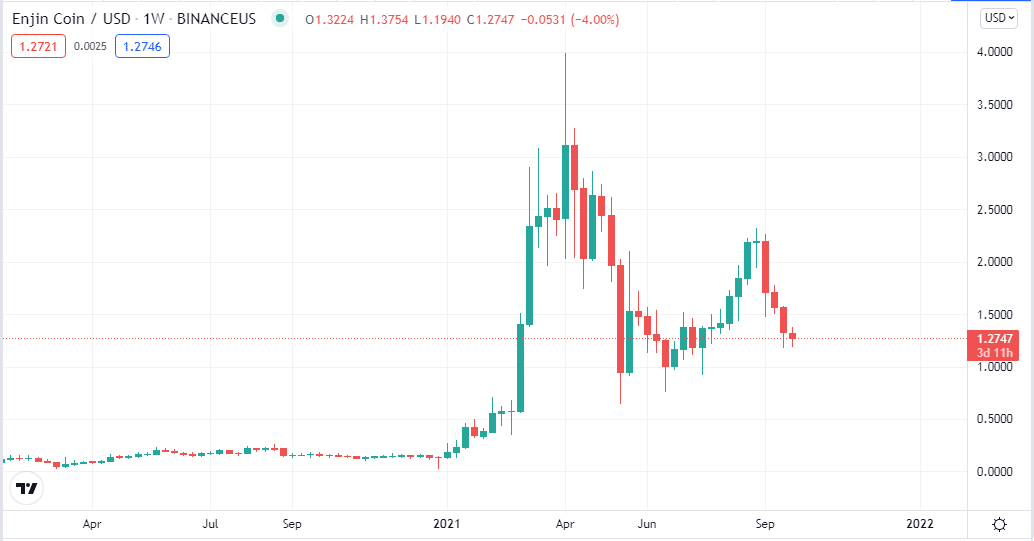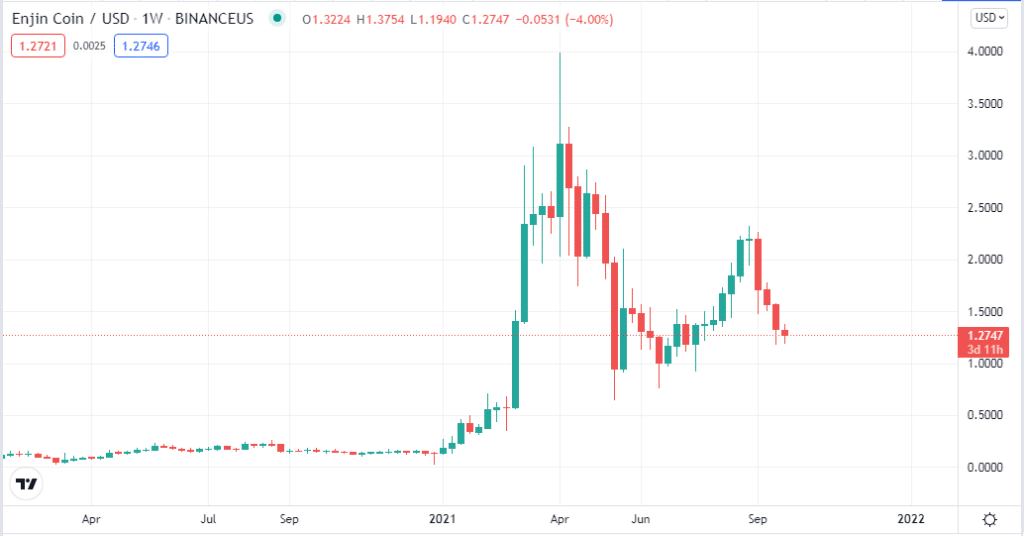 ENJ price is floating near $1.27 today, after making a high near $4 in the first week of April this year. It has a 24-hours market volume of $62,467,992, and the market cap is $1,068,365,021. The first announcement date of ENJ is 24 July 2017, and the total supply is 1,000,000,000 ENJ. Meanwhile, the circulating supply of ENJ is 834,340,660 ENJ.
TRON (TRX)
The gaming platform TRON has its gaming token TRX. Using the DPoS consensus algorithm enables users unlimited possibilities in the TRON ecosystem. This network's TRON account users are already over 17 million and increasing rapidly.
This gaming crypto declares having the capacity to handle two thousand transactions every second, whereas Ethereum claims up to 25, and Bitcoin can handle only six transactions per second.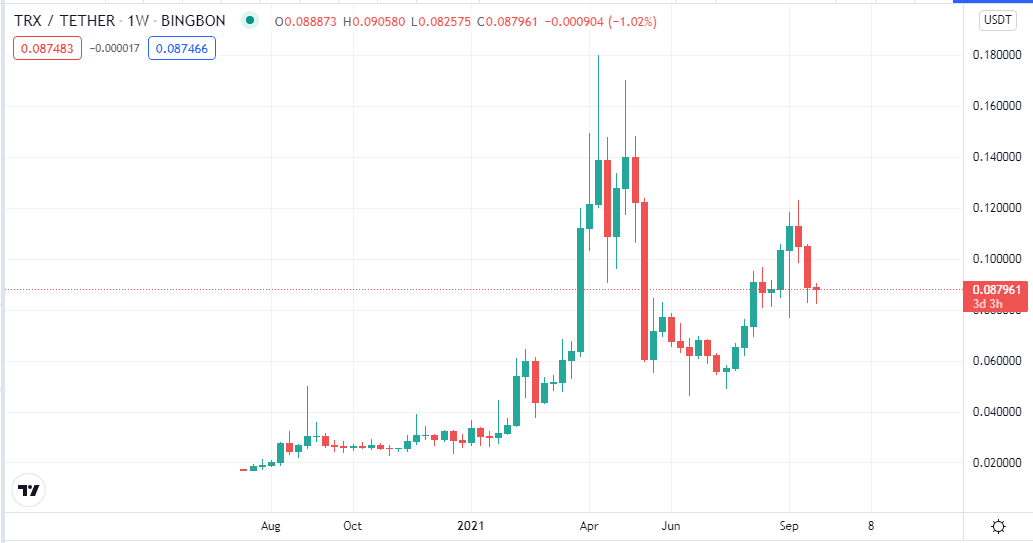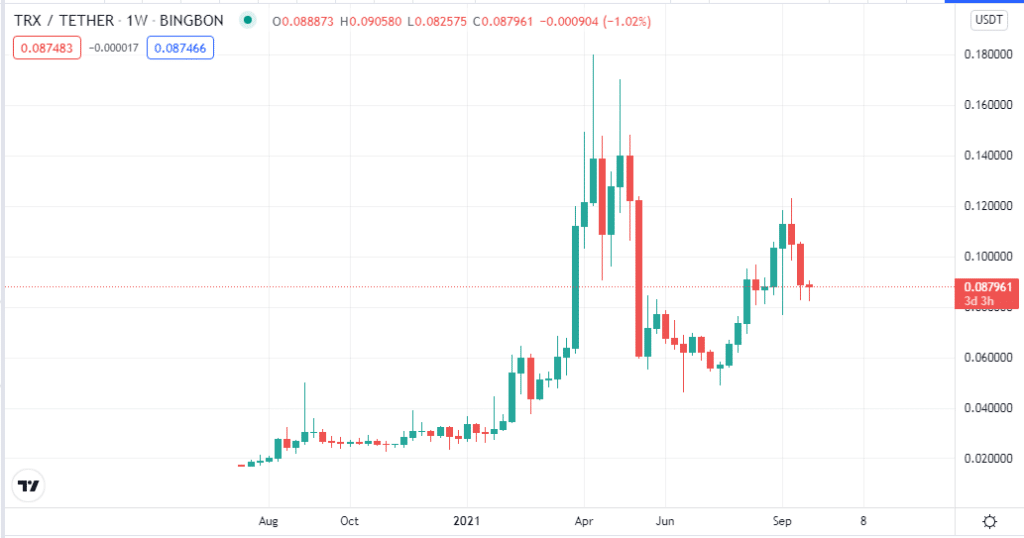 TRX price is floating near $0.088 today, which made a high near $0.17 in the second week of April this year. With a 24-hours volume of $1,074,650,405, total market cap is $6,329,277,604 for TRX. Whereas the total supply is 100,850,743,812 TRX and the circulating supply of this crypto gaming coin is 71,659,657,369 TRX. Common wallets of TRX are Bitpie, CitiWise, Bitcoin Wallet, etc.
Decentraland (MANA)
Decentraland is a virtual reality platform. The Ethereum blockchain network is powering this platform and ERC-20 tokens. MANA is the crypto gaming coin of this platform that enables options to develop multiplayer games. The announcement year of this gaming coin is 2017. You can purchase MANA through swap services.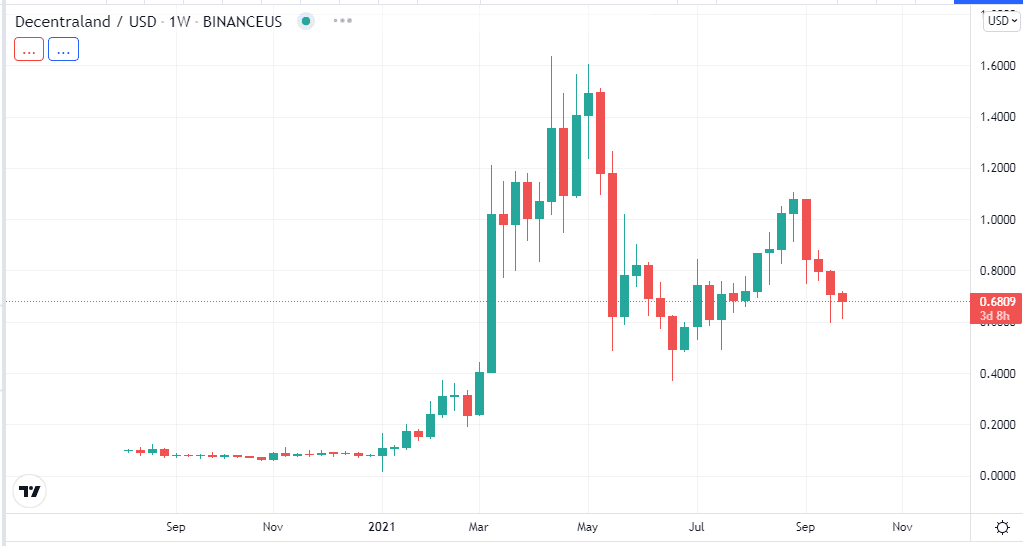 The price of MANA is floating near $0.68 today, which was near $0.08 at the beginning of 2021. Back in Apr 2021, the price of this gaming coin was near $1.61. The 24-hours volume is $91,489,832, has a market cap of $1,237,845,614. Whereas the total supply is 2,194,055,227 and the circulating supply is 1.82B MANA. Max supply of this crypto gaming coin is not available.
WAX (WAXP)
A blockchain-based online platform Worldwide Asset Exchange has its game token, the WAX (WAXP). The WAX blockchain of this gaming coin is proof-of-stake (DPoS), which infrastructure supports 500-millisecond block time besides offering zero-fee transactions for users. The live price of WAX is 17.38% up in the last 24 hours.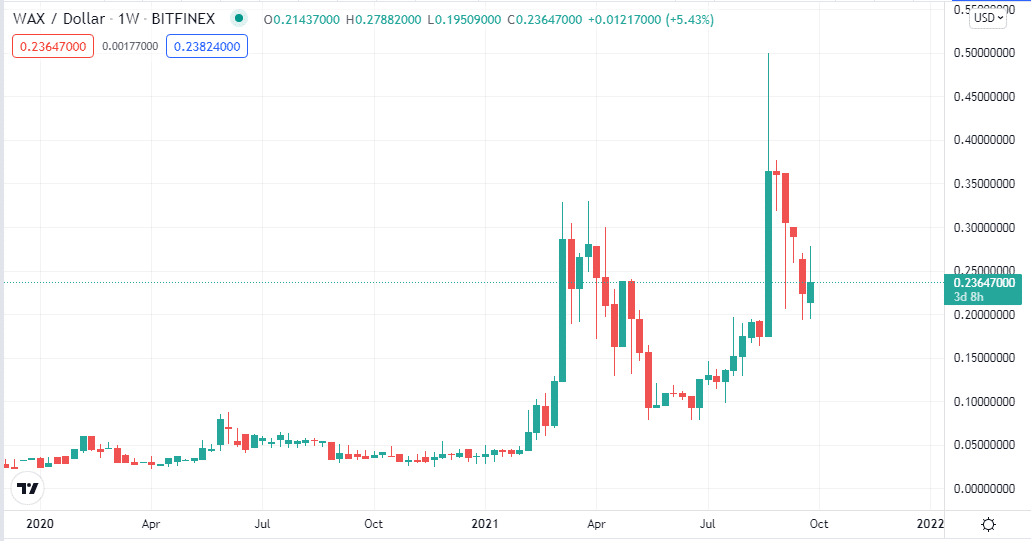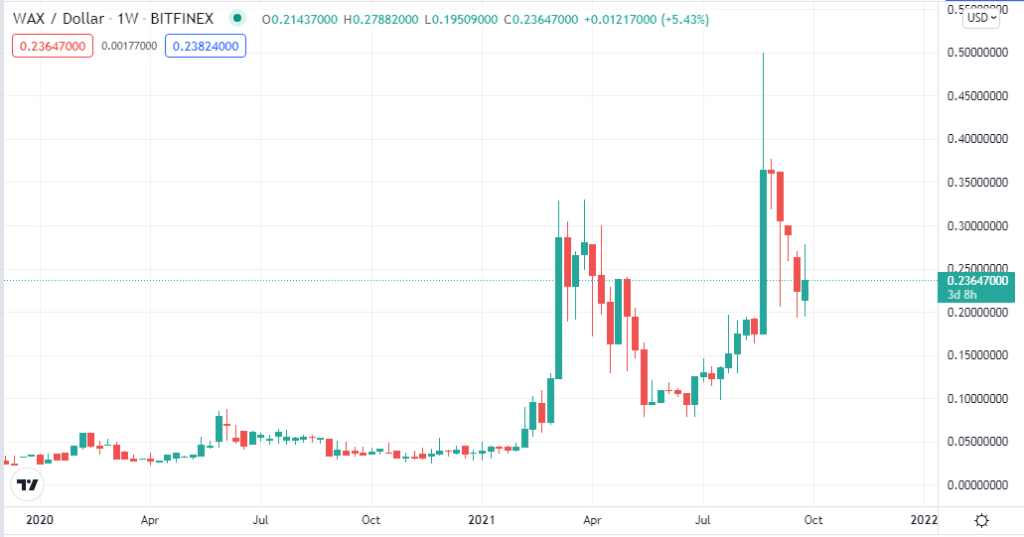 The price of this gaming coin is trading near $0.23 today, with a 24-hours trading volume of $275,282,337. MarketCap of WAX is $416,717,215, and the circulating supply is 1.77B WAXP. Whereas total supply is 3,791,274,576 and maximum supply is not available.
Final thoughts
Finally, these crypto gaming coins have been booming recently as people's interest in the cryptocurrency market has skyrocketed recently. However, these potential investment assets are high-volatile. So we suggest doing more research besides checking other risk factors on these crypto gaming coins before investing.