Have you heard about penny stocks?
What is a penny stock in the first place?
Are you aware of the risks associated with investing in this asset?
Penny stocks have several key characteristics that set them apart from other securities. For example, the value of a penny share is usually less than $5.
Another distinguishing feature of penny stocks is the low capitalization of the enterprise. This criterion gives these shares a prominent speculative character. To collapse or hike the price of a share of such a company by tens or even hundreds of percent, a speculator sometimes needs only a couple of million dollars.
You can think of a stock that is priced at five dollars per share as a penny stock. While few stocks are available at big exchanges, investors trade mainly over the counter (OTC) through online bulletin boards or private OTC markets. Investors get quotations about penny stocks or pink sheets electronically.
How is a penny stock created?
Small companies typically create a stock to generate capital to promote their business. Stock issuance is a lengthy and burdensome process. However, startup companies see it as an effective means of raising money.
Similar to blue-chip stocks, pink sheets begin as an initial public offering (IPO). The over-the-counter bulletin board (OTCBB) is an online quotation medium that provides real-time quotes and volume data about listed penny stocks. A company vying to list stock in OTCBB must first apply with the Securities and Exchange Commission (SEC) for registration or exemption from registration.
The company must familiarize itself with the applicable securities law in the states it intends to offer the stock. After it has secured the SEC approval, it can already start its operation of selling the stock to investors. Lastly, the company may choose to have the stock traded in the OTC market or seek to put the stock on an exchange.
The underwriting process
Before a stock becomes a public offering, it must go through the arduous underwriting process. Here the company hires an underwriter. Several financial instructions are providing this service, such as:
Investment houses
Insurance companies
Banks
As pointed out in the previous section, the company must either file the offering as an exemption or register it in the SEC according to the Federal Securities Act. If obligated to register, the company must accomplish the registration statement form, file it with SEC, and enclose pertinent documents, such as sales and marketing materials and financial statements.
The company trying to enlist a stock with the SEC must make the financial statements available for public viewing. In addition, it must submit regular and timely reports to the SEC to continue with the application process. Once the SEC approves the application, the company can start marketing the stock using the approved sales materials and begin receiving orders from investors.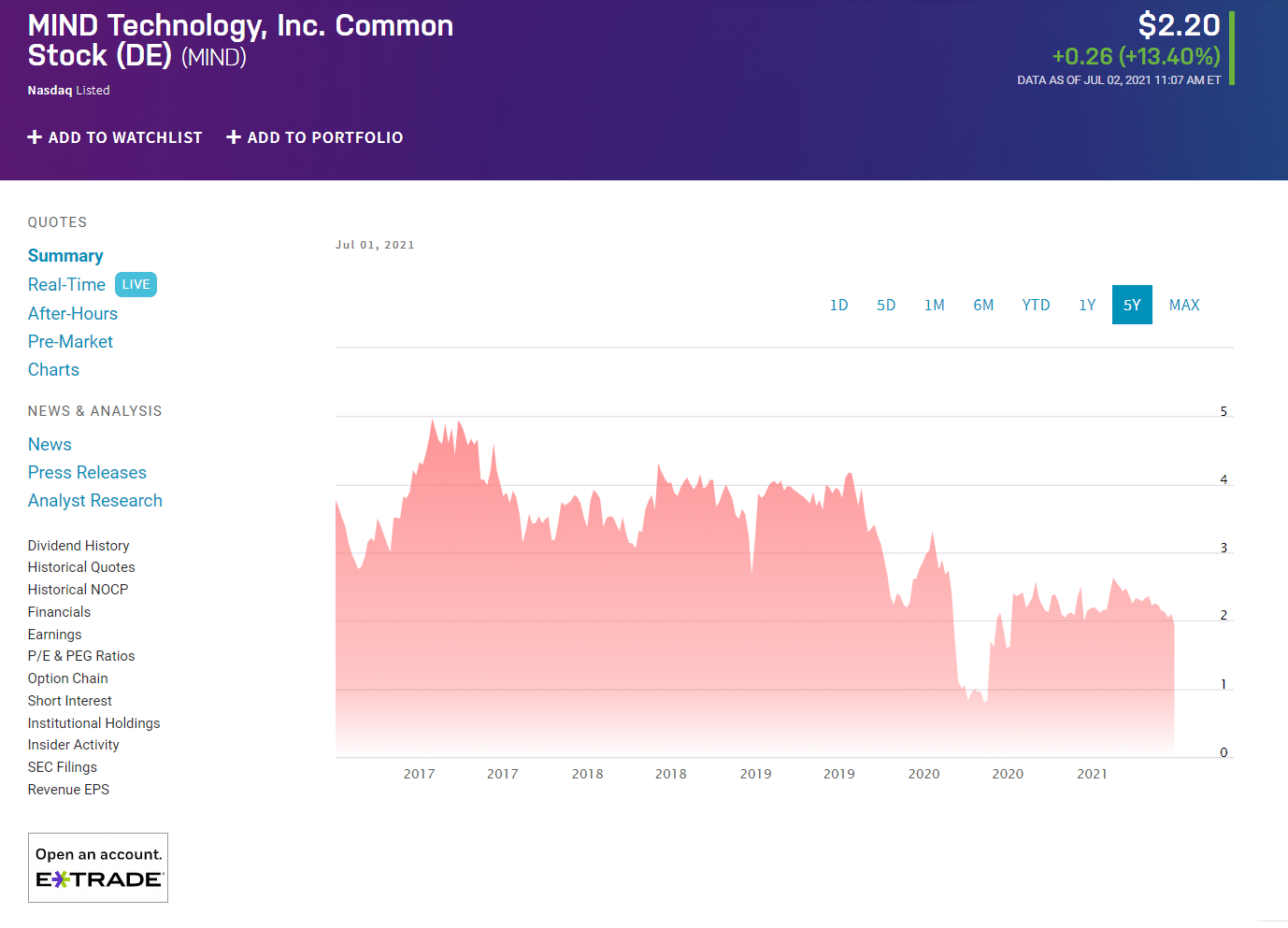 The above graphic shows the chart of MIND Technology, Inc. (MIND). Let us see how this stock began after it became an official stock.
Commonly, regular stocks kick-off as penny stocks. Every time the price trades below five dollars, a stock becomes a penny stock. On 2 July 2021, MIND stock traded at about $2.43 per share. While it reached $33 per share, it started for $3 when it debuted on 19 December 1994.
After-hours trading
After hours, you can trade pink sheets after hours, meaning after the OTC board or exchange has closed business for the day. During this time, prices of such stocks may see large movements. Investors are aware of the volatile nature of penny stocks after hours. The reason why investors may consider executing buy or sell orders after hours is to get reasonable prices. This could mean buying shares at low prices or selling them at high prices. Whatever the case, the investors stand to gain.
However, investors betting on pink sheets understand that this market has inferior reporting and low liquidity. This poor liquidity would make it challenging for investors to sell shares when the stock price shoots up after hours because they might not find buyers on the other side of the trade. That is why it is still a challenge to take advantage of the trade opportunity that arises after the market hours.
Want to buy penny stocks now?
Choose the right broker
Find pennies that interest you with their market screener
Choose micro-cap or small-cap
Choose your pricing criteria
Click on exchange and place an order
Now you've got pink sheets
Top 3 cheap penny stocks to buy in July 2021
If you are looking to invest in pink sheets but are on a very tight budget, we recommend buying pink sheets for less than $4. The next three shares with a great opportunity are the cheapest on the market right now.
NextDecade Corporation Common Stock (NEXT)
Price: $3.95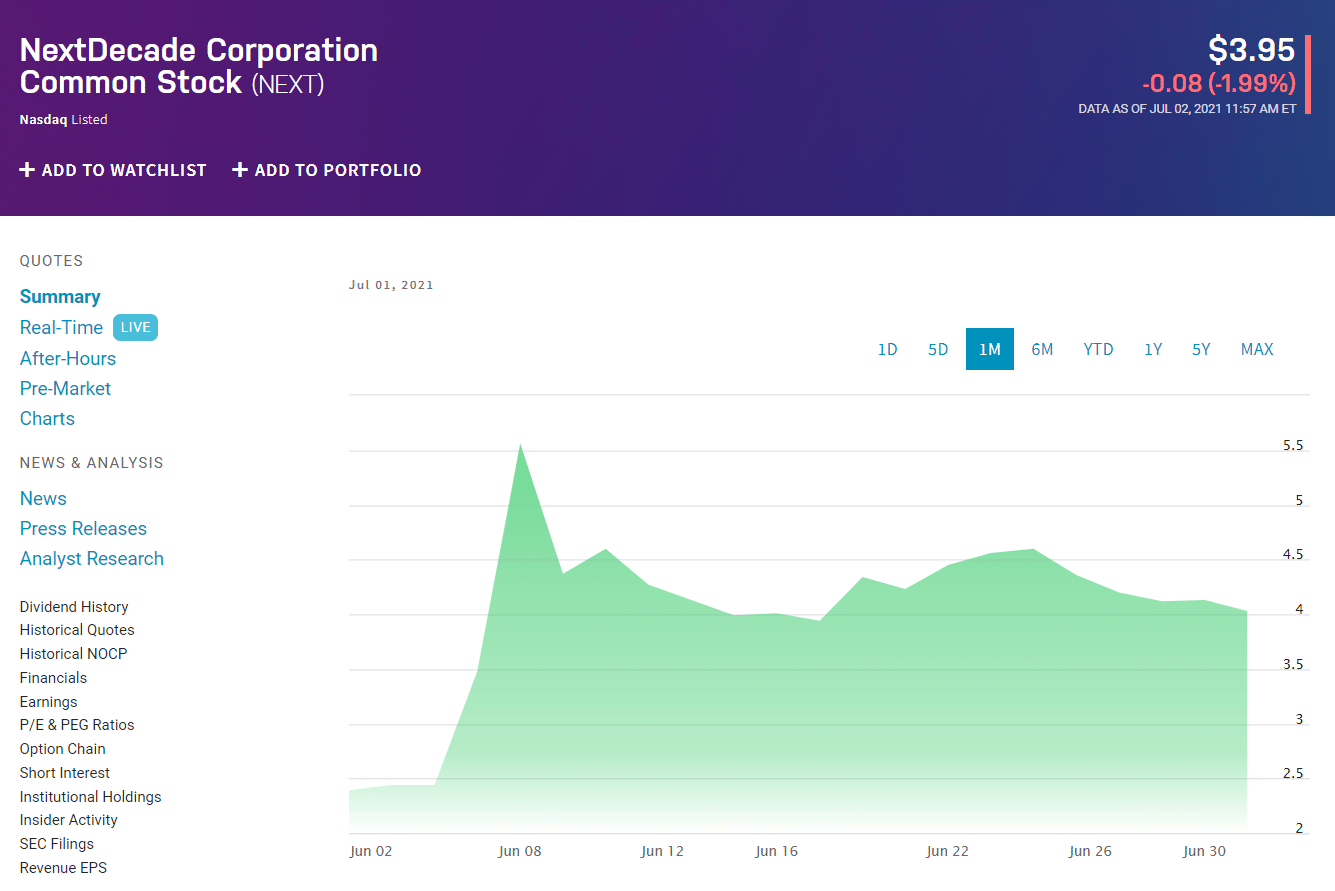 Digital Ally, Inc. Common Stock (DGLY)
Price: $1.74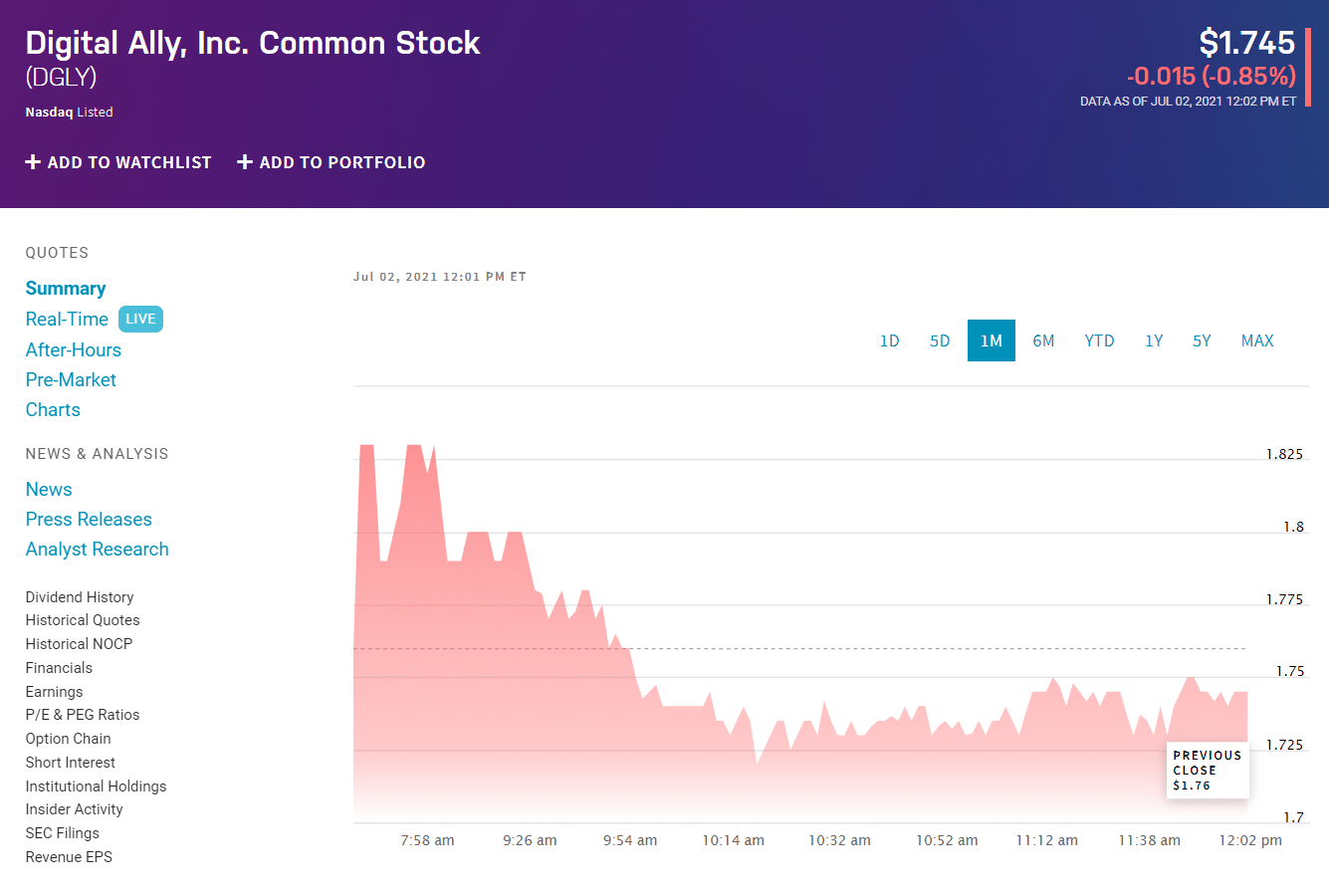 Sonim Technologies, Inc. (SONM)
Price: $0.52
Risks
These cheap stocks enable small companies to pool large amounts of money from the public. They usually use this platform as a stepping stone to make a foray into a more significant marketplace. As penny stocks sell at meager prices, stock owners expect more growth than otherwise.
Some people say the only thing that draws investors to pink sheets is the low initial value, leading to high returns if the stock value appreciates. However, there are many risks associated with trading and investing in these stocks. Compared to standard stocks listed in exchanges, owning shares in penny stocks carries more risk.
Limited information about the stock
When looking to invest or diversify your portfolio, you want to have sufficient information at your disposal to make a wise investment decision. This is not the case with penny stocks, though. You will find it hard to get hold of information relating to company performance. When this information is scarce and not freely provided by the issuing company, you might get something from unreliable sources.
Companies trading stocks over the counter submit financial statements to the SEC, although this is not a requirement. Because of this, these companies do not undergo stringent inspection by the public or rigorous compliance checks by regulating bodies compared to stocks traded in exchanges.
No baseline standards
Companies offering OTC stocks have no obligation to fulfill specific requirements to remain on the list of stocks traded in an OTC exchange. If a company fails to maintain its position in an exchange, it can simply transfer to another OTC exchange and continue its offering. On the part of the investor, following minimum standards for the issuing company is a safety net. When this is not present, investing in this company represents a much greater risk for the investor.
No track record
Several companies offered as penny stocks are new companies. Some of them might be facing bankruptcy. Generally, these companies have no track records or inferior track records. Because you cannot look into the company's history, you cannot figure out its financial health and long-term outlook. Investing in such companies is like buying a ticket in a lottery.
Liquidity
These stocks do not see much trading activity. As a result, liquidity is low. If you buy pink sheets with very low liquidity, the chances are good that you cannot sell the stocks back afterward. In that case, you could consider lowering the price so that someone on the other side would find interest in buying it.
Low liquidity makes it possible for bad actors to play around. This is called price manipulation.
Penny stock schemes to avoid
There are many more such schemes, but basically, these are variations of these two schemes, and they are present in most situations that need to be avoided when viewing OTC stock lists.
This classic scam has been around for decades. And with the massive penetration of the internet into almost all spheres of life, it received a new breath. The main prerequisites for the success of this scheme here are that penny stocks are incredibly volatile and sensitive to various kinds of manipulations. To capitalize on this circumstance, savvy but unscrupulous investors opt for undervalued small-cap stocks, which are considered undervalued, and begin to praise them vigorously.
With this flashy ad, they encourage inexperienced and impatient investors to buy these undervalued stocks in huge quantities. As a result, the prices of these shares jump sharply.
As soon as the price of these shares jumps, the investors behind the inflation of such interest get rid of their share since they are well aware that this increase in prices cannot be long-term.
At first glance, the name itself seems to indicate that one should stay away from such sales. However, cunning people use this scheme so deftly and subtly that it is effortless to fall for this hook.
This scheme is based on a psychological trick. When you are under pressure to convince you of the need to buy something right now, otherwise it will be too late. It is very tempting for unscrupulous brokers looking to earn big commissions and for small and weak companies looking to increase the value of their shares.
Typically, these brokers and such companies work together to develop the circumstances for such sales under psychological pressure.
In the past, hot sales were conducted over the phone. However, they have now moved to supposedly trustworthy online communities.
Examples include email newsletters (which are also part of the first scheme) and specialized forums. Here you are convinced of the sympathy and competence of the local community, gradually leading to confidence that this community and its operators can be completely trusted.
And then, all of a sudden, out of nowhere, incredibly aggressive. You get all kinds of warnings that this is a once-in-a-lifetime "safest" investment and that you must buy these stocks immediately and right now. Otherwise, you will regret it for the rest of your life. Since you are already involved in a community that you believe is trustworthy, you cannot immediately determine that you are being tricked.
Final thoughts
Compared to regular stocks, these carry more risk. Although the profit potential is significantly high if the investment performs well, you can lose your investment for various reasons. If you want to diversify your portfolio, make sure you perform due diligence and invest with calculated risks.