What is a ShapeShift wallet?
As a mobile app, the ShapeShift wallet gives you easy access to the crypto sphere. This app is available for free download by android phone and iPhone users.
The first time you use the app, you may get free coins such as Bitcoin or FOX tokens if the promo is still available. ShapeShift lets you store, trade, and stake coins, among others.
How does the ShapeShift wallet work?
This wallet allows you to engage actively with other crypto traders. Some of the supported crypto assets are Bitcoin, Ethereum, Terra, Litecoin, Dogecoin, Aave, etc.
Once downloaded and installed, run the app and register an account to get started. When registering, you can use a Gmail account to do so. Once the app verifies your email account, you are ready to start. The interface looks like the image below.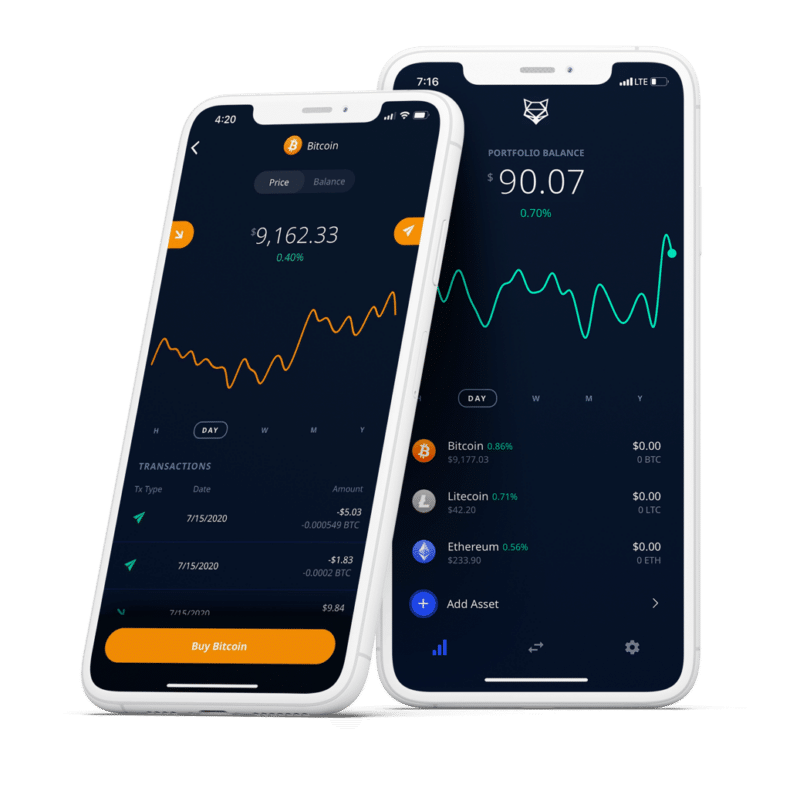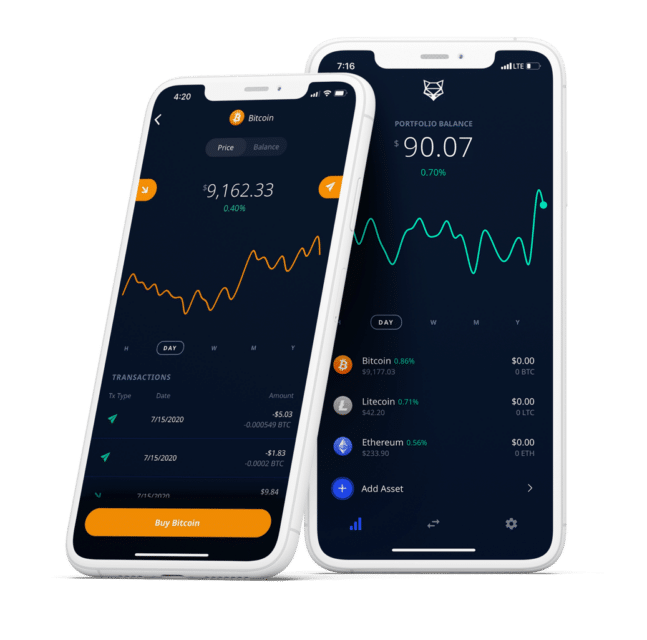 How to use the ShapeShift wallet?
The ShapeShift mobile app has three important tabs in the main interface:
This post will show how to use the portfolio tab. Under the portfolio tab, you can see available crypto assets supported by the wallet and the ones you have added.
To add tokens to the portfolio, tap on Show/Hide Assets. Here you can scroll down or type keywords in the search field to find the tokens you want to add. Once found, toggle the button to activate a token (refer to the image below for illustration).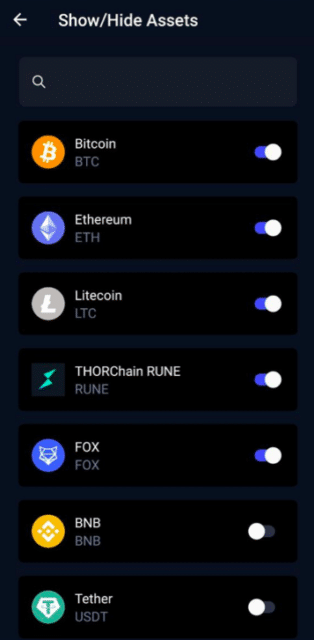 ShapeShift wallet pros and cons
Here are some advantages and downsides of the ShapeShift wallet.
ShapeShift pros
Available for free download from Google Play and Apple Store.
Your privacy is protected as the app does not store personal information.
The interface is easy to navigate for all users of diverse experiences.
ShapeShift cons
It received poor reviews from users in Google Play. It got an overall score of 2.9 out of 5 stars.
Compared to others, this wallet supports relatively fewer coins. There are only 50 coins supported at present.
There are deposit and withdrawal issues not yet addressed.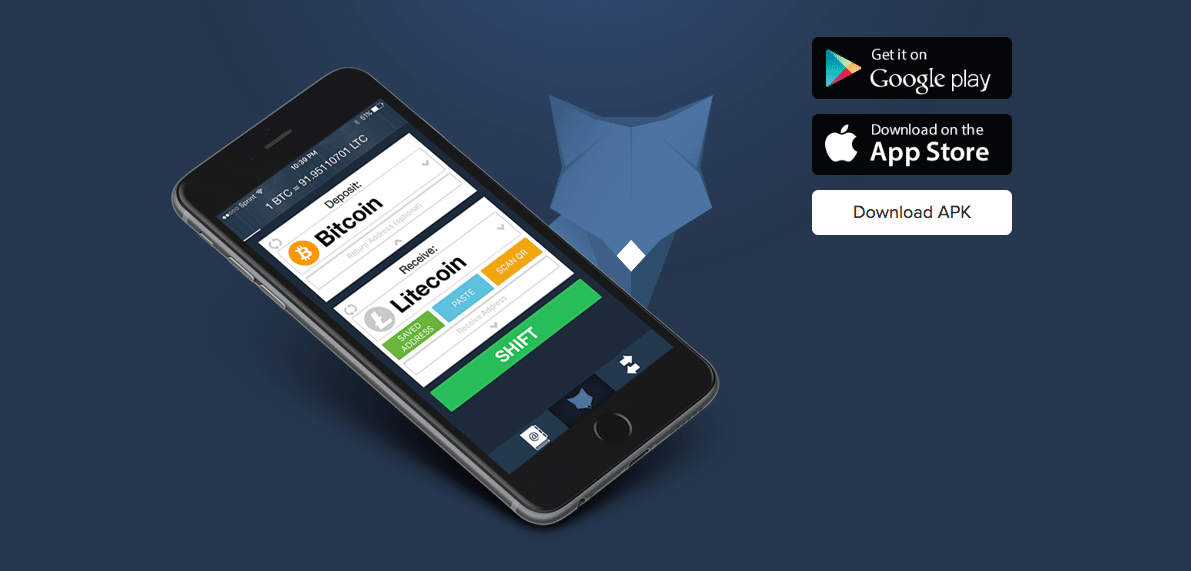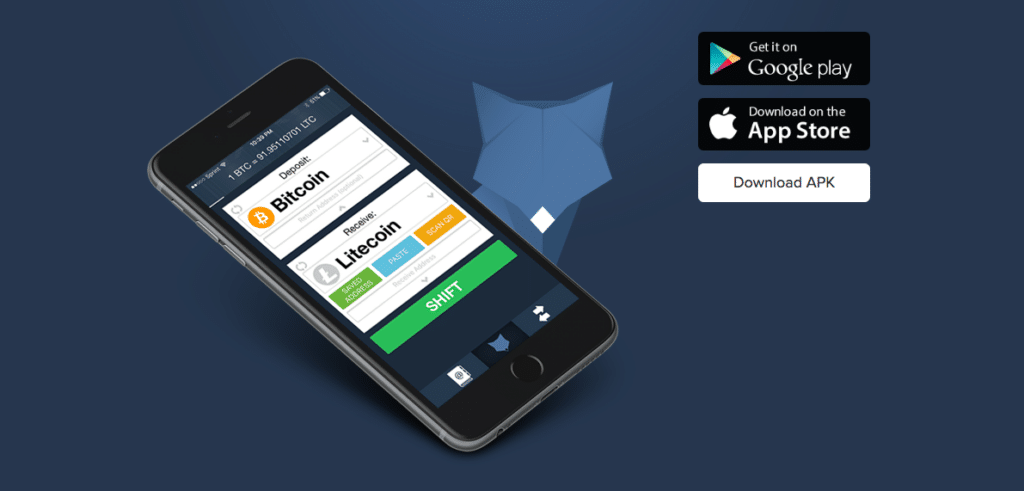 ShapeShift wallet fees
One main draw of ShapeShift is the affordable transaction cost every time you buy and sell coins. While other wallets charge a certain percentage of the transaction amount, this one offers floating costs. The specific blockchain in use dictates these costs.
Before you trade, check out the transaction costs first. Take note that the transaction fee is paid to validators and miners verifying transactions. Other than the transaction fee, you will not incur additional costs. Your deposits and withdrawals are free of charge.
ShapeShift wallet functions
Similar to other software wallets, ShapeShift provides the following three main functions:
Receive coins
Send coins
Trade coins
Receive
Select the portfolio tab, and then tap the token you want to make a transaction with. When you do this, you will go to a screen where you can see the token's price and your balance. To deposit, tap on the down arrow on the upper-left part of the screen.
Here you can scan the QR code or copy the token's address. Alternatively, you can send a payment request link by tapping the Request tab. Then fill out the field for "FIO address to request payment from" and enter a personal note in the memo field.
You can create your FIO address by going to settings and then tap the FIO name. It is a single, unique identifier for all of your crypto addresses, which is similar to an email address for your wallet. With it, you can use a personalized name, request money, and do transactions with context.
Tap on the Get FIO Name button to get your FIO address. The image below shows an example of requesting payment through an FIO address.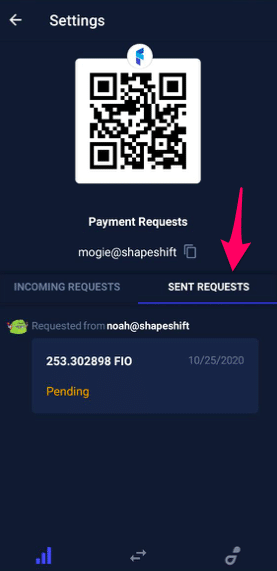 Send
This is how you can withdraw crypto to an external wallet. Go to Portfolio and select the token you want to withdraw. Next, tap on the up arrow on the upper-right part of the screen. Then enter the crypto address or FIO name you want to send tokens to. Afterward, hit Next. On the next screen, input the amount of token you want to withdraw and hit Next. The image below shows an example of a completed bitcoin transfer through ShapeShift.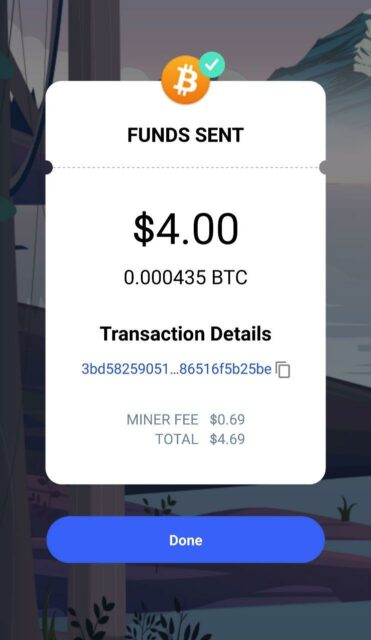 Trade
You can also directly purchase coins on the ShapeShift app by tapping on Buy Crypto. Then select your currency, the token you want to buy, the amount in your selected currency, and pick the payment method. This app supports Visa, MasterCard, and Apple Pay.
ShapeShift wallet features
Among the many features provided by ShapeShift is staking. You can use ShapeShift's very own token (FOX token) to earn money through the ShapeShift mobile app.
After logging in to the app:
Tap on the Earn tab.
Select the "Provide WETH – FOX liquidity" option.
Enter the amount of FOX you want to add to the liquidity pool.
Hit Confirm.
After this, your coins are being deposited in the pool.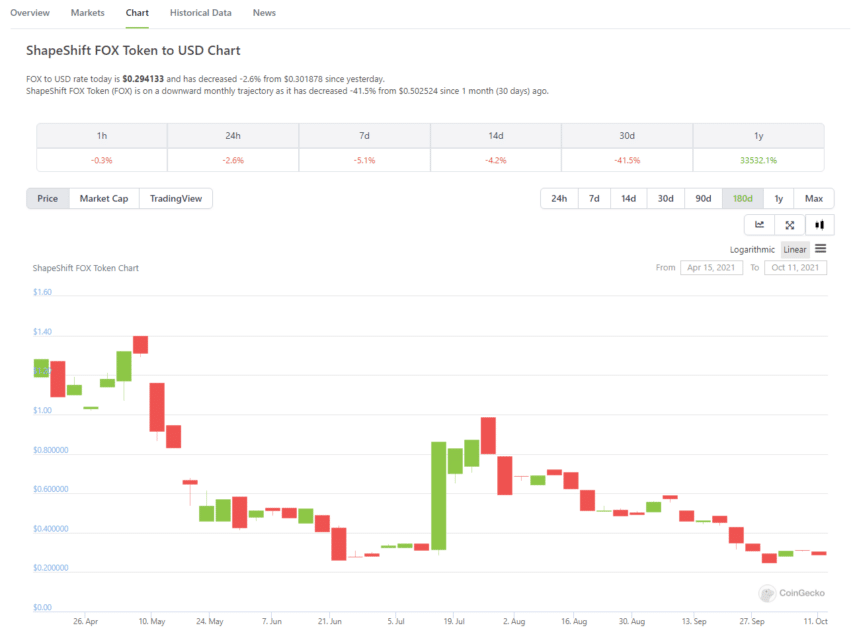 Now you are ready to earn bonus rewards by staking your liquidity provider (LP) tokens. Select Stake Now. Choose the amount you want to stake by dragging the meter to the right. Alternatively, you can select 25%, 50%, 75%, or MAX to stake all available tokens. Then hit Confirm. After that, your rewards start coming in immediately.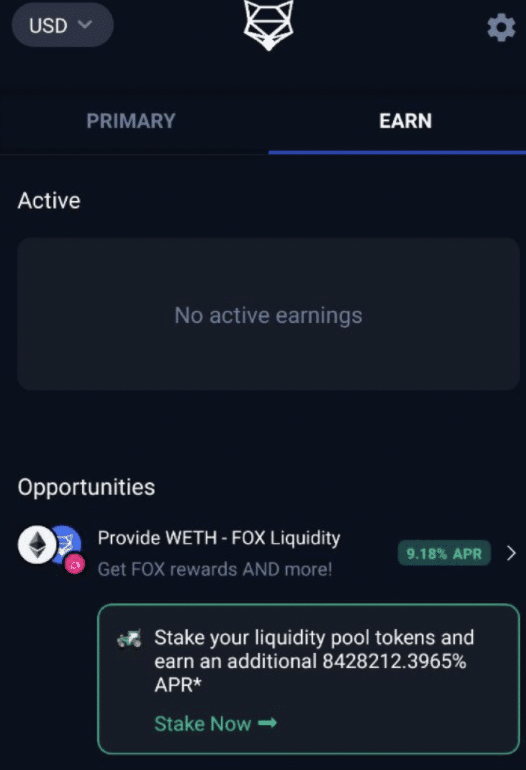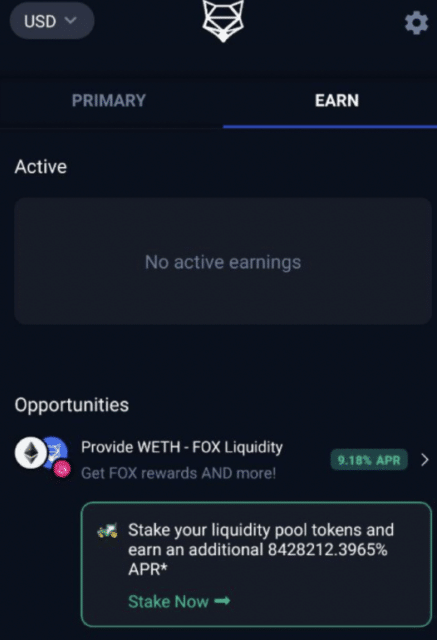 How to start?
To get started with ShapeShift wallet, you have to download and install the mobile app from Google Play or Apple Store, whichever applies to you. After this, open the application and create a new account or log in to an existing account.
When you create a new account, you can use any email address such as Gmail. Then nominate your password and enter it twice to ensure correctness. Then the app will prompt you to check your email to verify it. You can hit Check Status to see if your email address is verified.
How to pick up alternatives?
While ShapeShift is one of the trusted brands in the crypto wallet market, you have other options available. You may check out the following alternatives to make the best choice:
Binance wallet
Ledger wallet
Final thoughts
The ShapeShift mobile app is a newcomer in the field of software wallets. The platform is not a perfect solution for every need of users. Also, it supports relatively fewer coins than other solutions.
The positive aspects of ShapeShift worth noting are reliability, quick processing of crypto transactions, and affordable transaction costs. Try it out in your next transactions to see for yourself. You will love its transaction processing speed and convenience.