Crypto staking is a famous method of making better use of your crypto assets since it allows you to earn without selling. Recently, it has obtained remarkable hype, mainly because of the scope for gaining huge returns. Therefore, crypto investors have started hunting for the best cryptos for staking.
They are also inclined to capitalize on the profits of staking, along with well-acquainted and well-organized decisions. Keep in mind that you are in the ultimate control of deciding about making investments in crypto.
In the coming section, we will see an outline of the top-three cryptos for staking worth investing the money into. It may guide you to learn about choosing from top-tier crypto staking platforms of the present market.
Why is it worth investing in crypto staking?
Crypto staking is advantageous for investors keen to generate yields over long-term investments regardless of short-term price fluctuations. As per the data, the reward rate on average staking of the top 261 staked has crossed 11% APY. Although, it is significant to remember that rewards may change over time. However, fees also may impact rewards. Staking pools cut fees from the rewards that may affect overall APY. Still, it varies on pools and blockchains to a great extent. However, you may also boost rewards via selecting a low-cost staking pool that cuts less commission but has a favorable performance of substantiating numerous blocks.
How does it work?
Staking cryptocurrency utilizes a different mechanism from the proof of work (PoW). It uses the proof of stake (PoS) mechanism to produce additional tokens over the tokens you put into the staking pool. Mainly, it implies that you give your tokens to someone for holding them for a short time. Besides, they provide you with interest due by providing them your token to hold.
How to start staking?
You may start staking coins, and it is a lot more effortless than setting yourself up as a validator. These approaches include staking via cryptocurrency exchange and being associated with a staking pool. Staking through a cryptocurrency exchange implies that you give your crypto via an exchange to utilize it in the PoS method.
Holders are monetizing the crypto, which may lie idle in their wallets. On the other hand, joining a staking pool allows you to earn block rewards through crypto sharing. Staking pools are inclined to a dualistic system. An administrator monitors the validator's work and makes sure that all is going nicely.
Lucky Block (LBLOCK)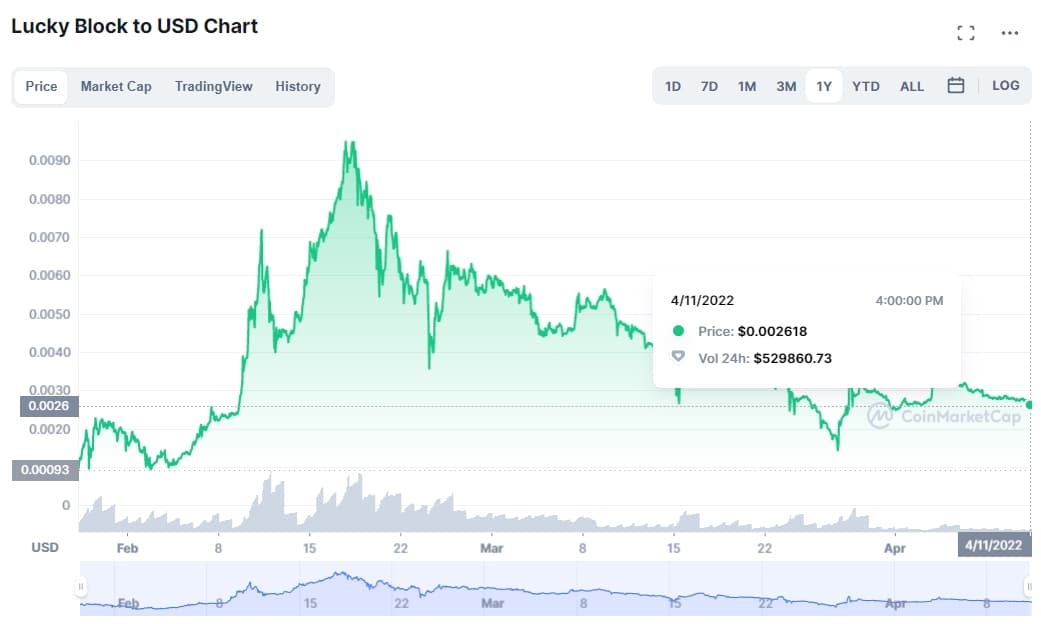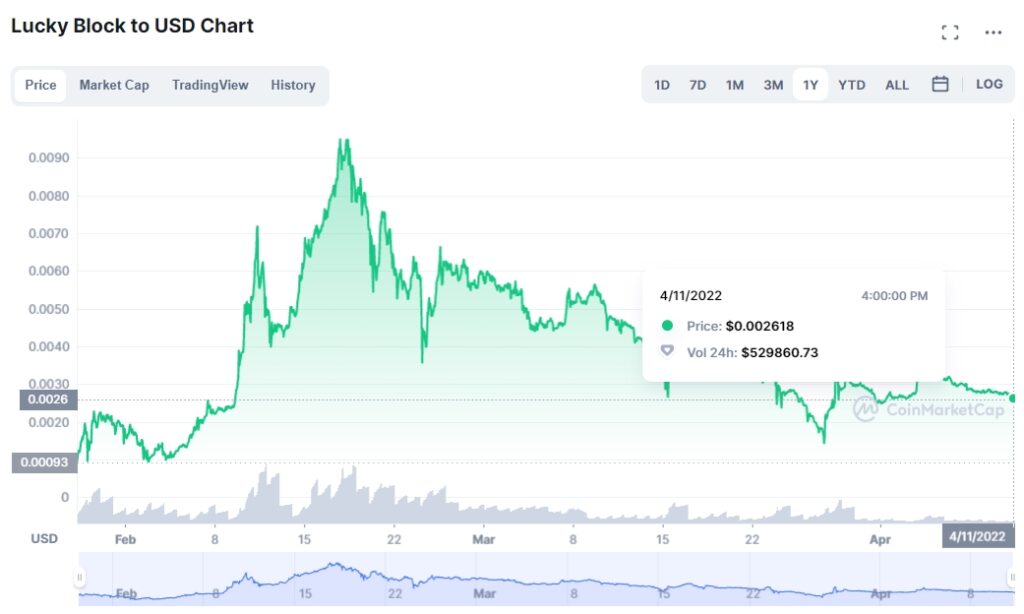 52-week range: $0.00090-$0.00480
1-year price change: -43.1%
Forecast 2022: $0.0060
It is a proportionately new inclusion and all-inclusive top crypto for staking coins in market. Although the Lucky Block is not precisely a staking coin, it pays money as the interest. Therefore, it provides the same purpose as staking. Holding more Lucky Block tokens will bring you better scopes to win or gain better rewards.
It functions through smart contracts that sequentially assure randomness, reliability, and clarity of the lottery games offered to them. Furthermore, it processes the payouts in the same approach to guarantee no mistakes. According to its performance in the gaming section, it is also anticipated to do outstandingly better in the lottery section as well.
Cardano (ADA)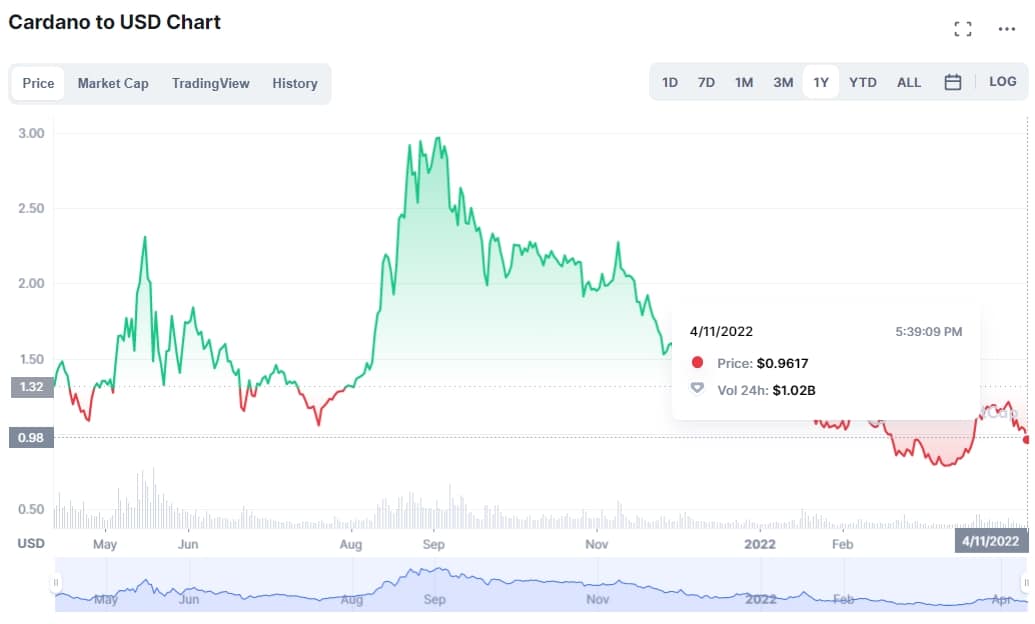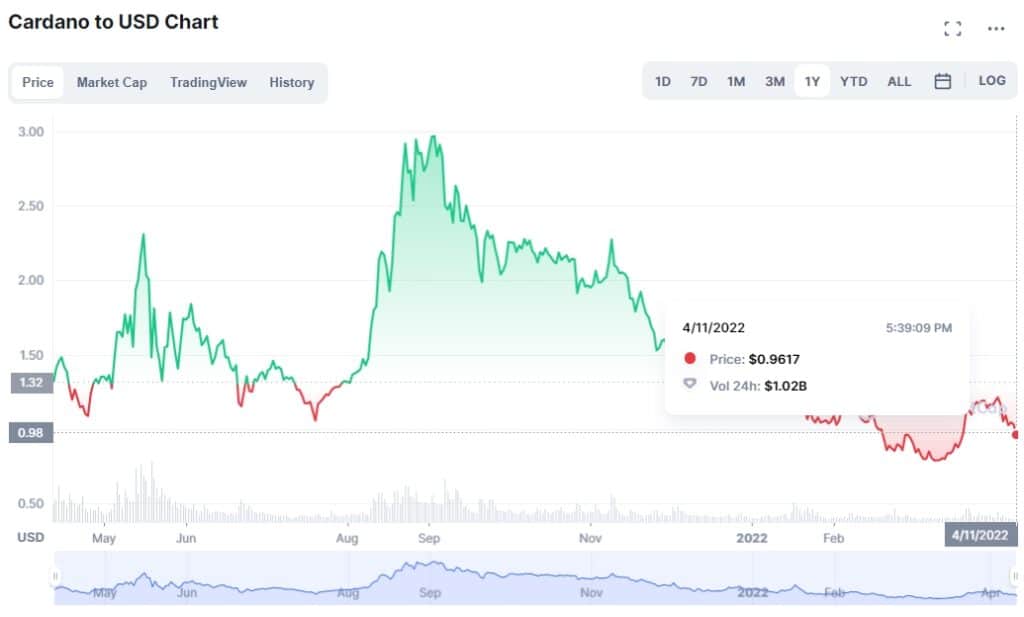 52-week range: $0.78-$3.00
1-year price change: -18.21%
Forecast 2022: $3.00
Cardano is one of the top reputed PoS (proof-of-stake) cryptocurrencies nowadays, with a concentration on extensibility and stability. It endeavors to resolve the issues of energy usage related to Bitcoin mining. Also, the attempt to work on the energy problem tags itself as an eco-friendly selection in contrast to other cryptos.
Because of the reputation of Cardano, it is easily found on the list of various staking platforms, and the offered interest may commonly differ. However, Cardano's performance is surprisingly good, along with more than 4,500% of the value gains. Also, introducing its smart contract service Cardano is appurtenant to encounter further progression in the coming days.
Uniswap (UNI)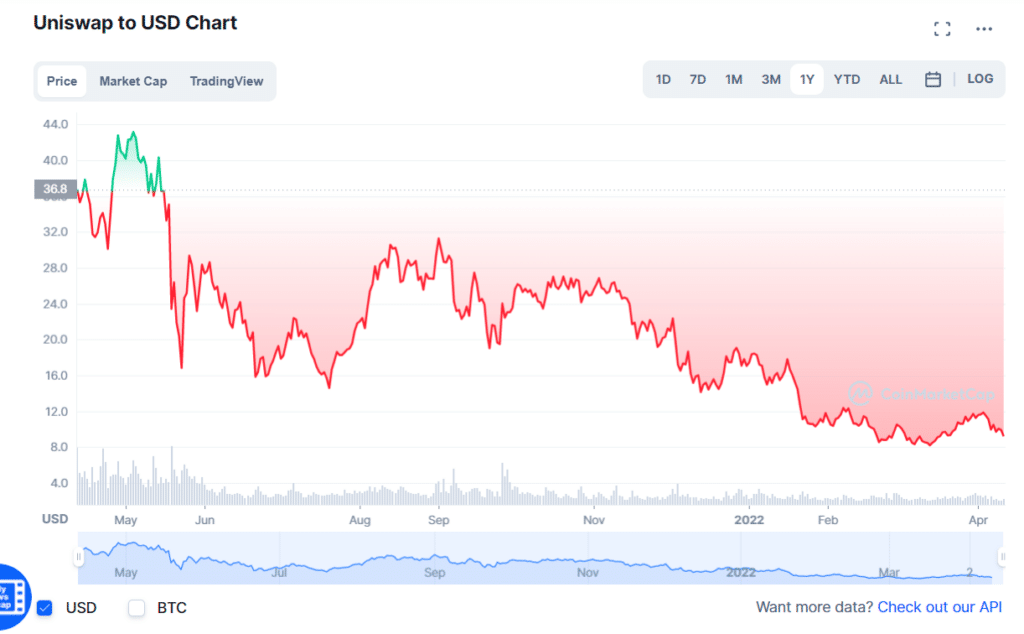 52-week range: $8.00-$43.00
1-year price change: -68.4%
Forecast 2022: $30
Uniswap is another top coin to consider for staking. Uniswap's daily transactions on the Ethereum network are around 25%. It also managed to bring down its transaction fees and its newest edition Uniswap V3. The approach makes it take place among the best cryptocurrencies for staking in 2022.
In terms of staking, passive crypto investors are highly keen on Uniswap; also, it is deemed one of the most underrated cryptocurrencies based on its potential. Therefore, investing in Uniswap may benefit you from the rising value of UNI coins.
Investing in the Uniswap will give you the power to participate in deciding the functioning of networks. UNI coins can be staked on Uniswap's liquidity pools. You may also gain rewards via tokens depositing on crypto platforms.
Upsides and downsides
Upsides
Downsides
Passive earnings
It may generate a lucrative passive income since staking is a high-yielding investment.
Prone to cyber attacks
In case crypto exchanges encounter cyber attacks, it may result in an irredeemable loss of your investment.
Low entry
It is possible to start crypto staking with a small number of entries.
Lock-up period
Your coins are required to be locked up for a certain period, and by then, you can not sell them.
Energy-efficient
Crypto staking is environment-friendly compared to mining; the job can be done using less energy.
Risk of security
During crypto staking, the asset must be held for more extended periods, exposing your digital wallet, and you may lose private keys to your wallet.
Final thoughts
To conclude, crypto staking may be a major approach to generating profit if one may be able to stake the cryptos properly. Although the amount of generated profit entirely depends on the number of the staked coins. Furthermore, staking crypto is environment-friendly and energy-effective, which catches numerous individuals switching their interests from mining.