Even as Bitcoin's carbon impact is reduced, some investors are looking for more environmentally friendly options. If over 4,500 coins and tokens can be mined, which are the most sustainable and eco-friendly?
This article will walk you through the top three eco-friendly crypto coins you should add to your portfolio in 2022.
Why is it worth investing in eco-friendly crypto coins?
After two to three years in the spotlight, these are exciting days for eco-crypto, with no signs of slowing down. Such crypto is a win-win situation for many individuals. It's a method for people to generate money while also doing well.
How does it work?
Market conditions also impact the amount of energy needed to run a cryptocurrency. For example, it is no longer viable for miners to run their equipment at a specific price. Thus they commonly reduce or shut down their computers when Bitcoin, Ethereum, or any significant participant in the field falls below that level.
Within a few weeks, the Digiconomist thinks that Ethereum miners lowered their energy use by more than half (from around 20 TWh to 10 TWh) after the price decline in November 2018. As a result, Ethereum's energy consumption has risen in lockstep with its 2021 worth. Digiconomist estimates that Ethereum will use the power of over 31 TWh per year by March 31, 2021, which is a new record.
Are there any altcoins you believe will last longer than Bitcoin, then? Again, with the warning that this is not financial advice, here are a few leading contenders in no particular order.
How to start?
The coins mentioned are available on various crypto exchanging platforms; you can buy these from there.
Stellar (XLM)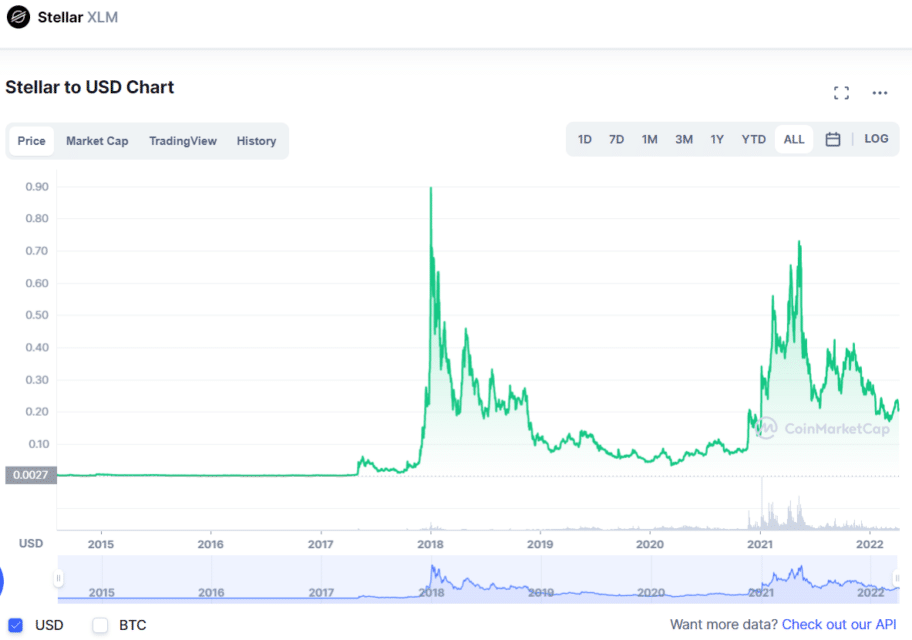 52-week range: $0.21-$0.73
1-year price change: the Stellar price marked the yearly highs around $0.70 in May 2021 while it pared off the gains and hit yearly lows at $0.18. Since then, the price is on slow recovery mode.
Forecast 2022: since the coin performed quite well in 2021, we expect to continue its recovery in 2022. We expect the price to hit above $1.00 by 2021 due to increased demand.
Stellar (which separated from XRP in 2014) was developed to bridge the gap between traditional financial institutions and digital currencies. This means that Stellar is a fierce rival to PayPal because of its ability to facilitate cross-asset and cross-border transactions in a more cost-effective manner.
You may use the Stellar network to exchange dollars, Bitcoins, pesos, yen, and other currencies. The network's currency, Lumens, is used to conduct these transactions on the blockchain-based distributed ledger for a pittance and excellent efficiency (translates to a lower carbon footprint). Additionally, individuals and groups may also create tokens for the network, which has inspired some to use the network for environmental projects like renewable energy investments.
Consensus in the Stellar network is its most remarkable feature. This is because open-source relies on a network of reliable nodes to verify transactions rather than using a proof-of-work or even a proof-of-stake mechanism across the whole network. This means that costs and energy usage are reduced due to the shorter authentication cycle. This technique is called a federated byzantine agreement, and it uses less energy than a typical Bitcoin mining network.
Lumens (XLM) can be purchased and sold on most exchanges, including Binance, Coinbase, Kraken, Bittrex, Bitfinex, Upbit, and Huobi.
Powerledger (POWR)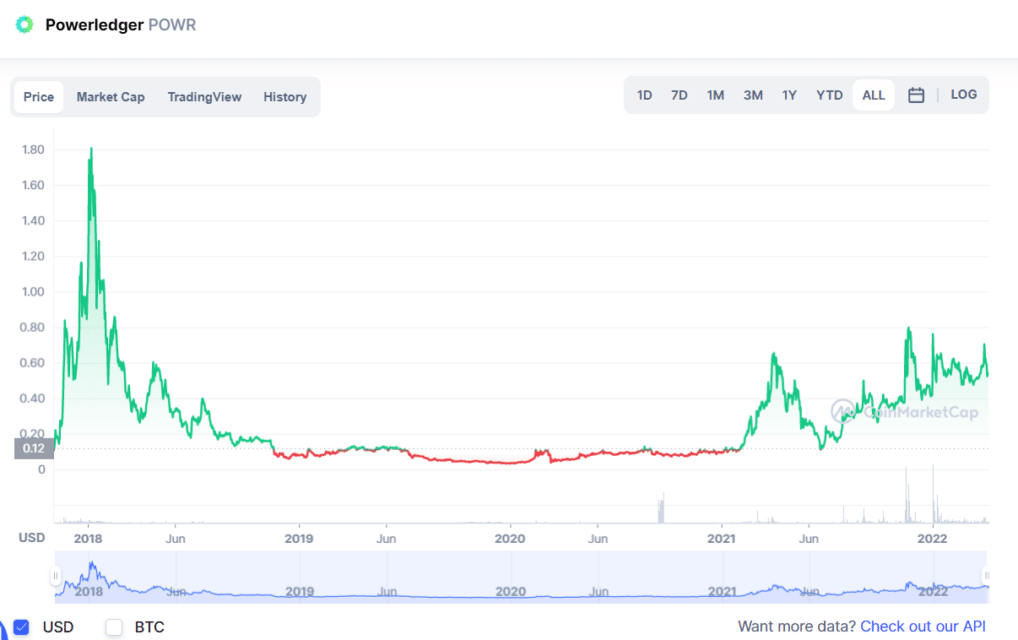 52-week range: $0.097-$0.95
1-year price change: the coin hit its all-time high at $0.88 in Nov 2021 and marked the all-time low a few days later at $0.37. The price has been on the uptrend now.
Forecast 2022: The price is expected to hit $0.70 by 2022. The utility of tokens as an eco-friendly project will gather traction.
The Ethereum based cryptocurrency POWR, developed in 2016/17, was used to power the Powerledger network. As a result, the token price soared during the 2021 crypto market crash, even as the cost of other cryptocurrencies plunged.
POWR contributes to the security of its multiple products, including energy trading, clean energy monitoring, and clean energy certification, as a member of the Powerledger network.
Powerledger is one of the few blockchains/cryptocurrencies we've come across with an all-female co-creator. Dr. Jemma Green, the company's Executive Chairman and Co-Founder leads a female-dominated staff.
The Powerledger platform, which also serves as an operating system, is used for trading energy, flexibility services, and environmental commodities. In a nutshell, the output of renewable energy sources such as wind and sun may fluctuate from minute to minute and day today. A centralized power system becomes more problematic when inconsistent energy inputs and outputs. Energy producers may use Powerledger to track, share, and monitor their energy in real-time, boosting the stability and resilience of their networks.
The Midwest Renewable Energy Tracking System allows renewable energy certificates (RECs) to be sold throughout North America (M-RETS).
In June 2021, power switched from the Ethereum platform to the Solana blockchain. The scalability of Solana, which Ethereum currently lacks, was the motivating cause behind this choice. In addition, Powerledger used Safecoin's voter subset consensus for administrative transactions to keep the network secure and energy-efficient.
Cardano (ADA)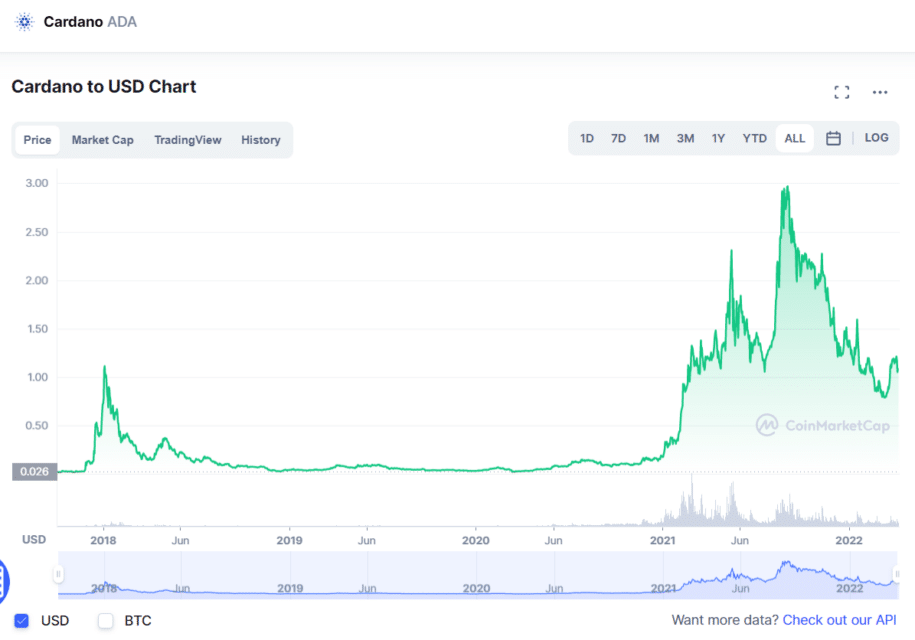 52-week range: $0.74-$3.10
1-year price change: the 1-year change in the ADA is negative as the price could not sustain at its all-time highs. However, the price is now above $1.00 and attempting to gain higher grounds.
Forecast 2022: the coin's unique utility and price stability have given ADA an edge over the other coins. We expect the price to hit above $2.00 in 2022.
Cardano was the first peer-reviewed blockchain, created by Charles Hoskinson, one of Ethereum's early co-founders. Crypto may be used in various ways, including digital contracts, DApps, etc. Cardano can process 1000 transactions per second, compared to Bitcoin's seven transactions per second.
On the other hand, Bitcoin is based on the 'Proof of Work' consensus process, which necessitates the acquisition of tokens to join the network. Furthermore, Cardano's creator claims that the cryptocurrency network uses only 6 GWh of electricity, an incredible amount of power.
Cardano is similar to Ethereum in many ways, but it lacks the bloat that characterizes Ethereum. Cardano can expand without losing speed or efficiency, enabling the currency to keep up with growing demand.
Upsides and downsides
Let's take a look at their upsides and downsides.
| | |
| --- | --- |
| Upsides | Downsides |
| By investing in them, you are doing something good with your money for the environment. | It might take a long time for the benefits of environmentally friendly solutions to be realized, even if they can help you save money in the short term. As a result, eco-friendly items often cost more in the beginning. |
| You will raise awareness of the importance of eco-friendly coins. | They may not help you as quick cash. |
| They may be proven as a long good term investment. | They may not get the same hype as the other coins. |
Final thoughts
We're sure we've missed a few outstanding long-term eco-friendly cryptocurrency options among the more than 4,500 tokens now on the market. Nevertheless, the future of digital banking seems bright, given the rapid growth in this area.