Investing in the modern era is all about finding an investment that can expand and enlarge its equities. Penny cryptos are growing in popularity at an accelerated pace. Diversification is another requirement among top investors.
People interested in cryptocurrencies usually seek an option that will provide them with a high rate of return within a short period. Due to the exploding price of cryptos this year, they're the rage now, and everyone is interested in them.
This article examines the top three best penny cryptocurrencies to invest in 2022. In addition, many people are looking for affordable ways to support themselves.
Penny cryptos often trade for less than $5 per unit, as do penny stocks. Despite their small market caps, these are among the cheapest investment options. They also have a potential for value appreciation in the future.
Why is it worth investing in penny crypto?
Since Bitcoin is popular and has high liquidity, most market participants invest in prominent coins like it. In contrast, they increasingly choose to invest in smaller coins that cost only pennies per unit. The growth of these smaller coins is enormous due to their lower price.
Despite their high risk, penny coins have proven to be successful investments in the past. In the past few years, cryptos like Stellar Lumens and XRP have risen to the top. They are now significant players in the market.
Some investors choose penny cryptos because they may not have much money to invest, so selecting a cheaper coin makes the most sense. However, we are starting to see people looking for more obscure coins to invest in for various reasons in the current market.
How does it work?
Coins valued at under a dollar are called penny cryptos. Investing in these assets is cheap as they have a value of less than a dollar. Therefore, if you invest a lot of money, you can accumulate a considerable amount and diversify your investments by buying several simultaneously.
However, you should conduct your research to find the most promising one that could generate lucrative returns down the road.
How to start?
You can trade cryptocurrencies denominated in pennies on exchanges. The list of penny cryptos on our site contains many to choose from. To find out if these tokens and cryptos are listed there, you can also check the list of cryptocurrency exchanges.
Top three penny crypto to invest in 2022
Here are the best three penny cryptocurrencies to buy in 2022.
Graph (GRT)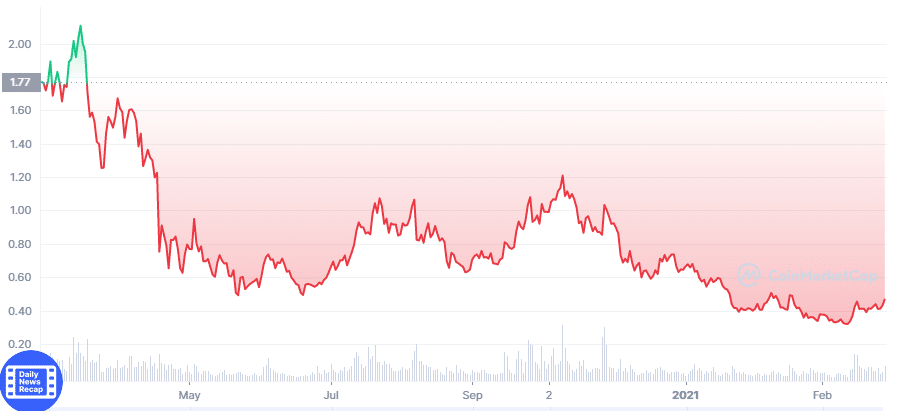 52-week range: $0.304 – $2.190
1-year price change: with the current price of $0.35, it had lost more than 70% of its value since November 2021, when it was $1.21.
Forecast 2022: Backers of the Graph established a $205m fund on 17 February to support the development of decentralized applications using technology from the Graph. According to the digital coin price's crypto price forecast, the Graph token will reach $0.45 per token by 2022.
The Graph contains data from blockchains, which is helpful to users and developers alike. For example, you can compare GRT to Google blockchains. GRT is trading at $0.89, with just under $4 billion.
Shiba Inu (SHIB)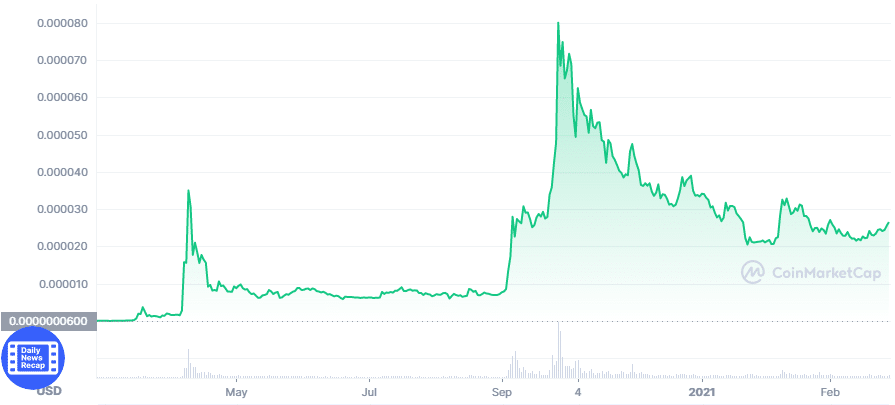 52-week range: $0.00000004 – $0.00008845
1-year price change: the value of meme coin Shiba Inu increased over 300% within just one month, reminiscent of the growth of Dogecoin in early 2021. As a result of the climb, investors have begun to hope that meme cryptocurrency could return to the highs seen in October 2021 of almost $0.0008.
Forecast 2022: Shiba Inu prices are expected to increase by over 350% in 2022, making its value $0.00003174. SHIB is a good investment at this point. The decentralized nature of the exchange has attracted traders.
A token like SHIB trades for far less than 1 cent, making it the least expensive on this list. Although it has a market cap of more than $3 billion, it is the most valuable crypto project on this list. With the release of ShibaSwap, Shiba Inu has gained a lot of attention as an ERC-20 token. However, SHIB is so oversupplied that it is practically impossible for Shiba Inu to reach a price of $1 per token since it would make more money than exists in the economy.
Sandbox (SAND)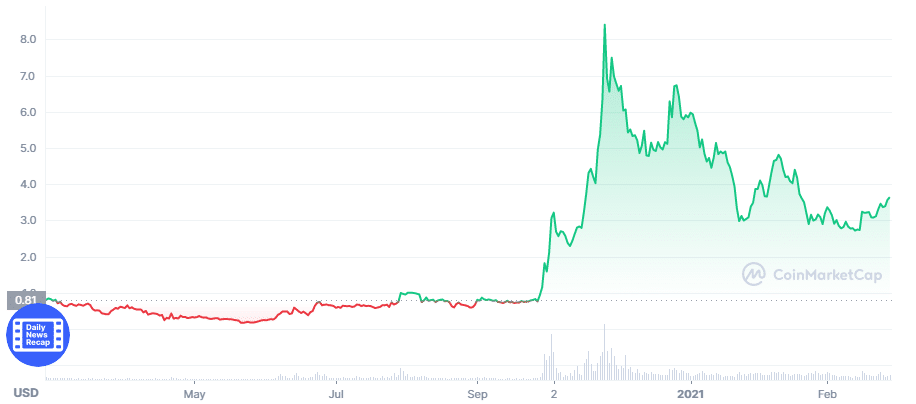 52-week range: $0.1471-$8.44
1-year price change: this year, the SAND price has risen massive amounts and is highly bullish for 2021. Nonetheless, the token will be at $0.05 in August and $0.07 in the following month. SAND surged to $3 in October and early November 2021 but dropped to $2.2 by mid-November.
As SAND neared its new all-time high of $8.4 by the end of November, bulls took the token for a ride. By March 2022, its value dropped to $3.39, but there is still potential to grow once again in the future.
Forecast 2022: the SAND token price must be around $12 by the end of the year. However, it may be an excellent investment in the future due to its superb increase in metaverse technology. As a result, the Sandbox's price may range from $10 to $15 in late 2022.
SAND is a blockchain-based project that aims to bring together the gaming industry and blockchain technology. Players can earn NFTs for playing games in the Sandbox. Using the game, market participants can develop and monetize virtual real estate within the virtual world, much like Decentraland. Currently, the Sandbox is worth $3.39.
Upsides and downsides
| | |
| --- | --- |
| Upsides | Downsides |
| There is a huge potential for returns with these cryptos. | Volatility is high with these coins. |
| A shorter time horizon is associated with these coins. | The chances of mismanagement are high with these coins. |
| Clearly outlines executions. | Resources may be in short supply for these projects. |
Final thoughts
A penny cryptocurrency investment usually is high-risk. There's no denying that. But, when times improve, it can bring gains. Thus, you have to choose and savor your investment in penny cryptocurrencies.
A crypto asset is an unregulated investment that is highly volatile. There is no investor protection in the UK or EU. So if you invest, your capital could be at risk. Moreover, retail investors lose 68% of their money when trading CFDs with this provider. So if you are considering losing your money, you should ask yourself whether you can afford to take such a high risk.