Bitcoin is one of the most familiar cryptocurrencies, but it isn't the only one. The phenomenon of meme-based currencies like Dogecoin has led to several copycats over the years, including derivatives of Dogecoin like Shiba Inu, Dogelon Mars, Samoyedcoin, and Doge Dash.
Despite their creation as a joke, these projects can become mainstream. During May 2021, Dogecoin's value spiked before it began to level off. At present, it ranks eleventh in the market capitalization of cryptocurrency, according to CoinMarketCap. Dogecoin is currently worth about $0.15 per coin, which is still not very high in value itself.
Do these projects deserve serious consideration? You should know these things before investing.
Why is it worth investing in meme Metaverse projects?
While it is hard to pinpoint specific reasons for the crypto market's growth, some believe it happened because investors sought inflation protection during the Covid-19 pandemic. During the hype, meme coins also soared in market capitalization and variety.
In late 2020, Reddit users were responsible for sending GameStop (GME), and AMC Entertainment (AMC) stock prices soared by as much as 100 times over a short period. In addition, the Reddit group had joked about pumping up a crypto equivalent of GME by pumping up the price of DOGE in January 2021.
Tesla CEO Elon Musk's tweets also played a part in DOGE's price rally, as they spread the word of the trend. As a result, a new all-time high of $0.73 for Dogecoin reached a growth rate of over 2,000%.
The cost of meme coins is another reason retail investors are attracted to them. Many of them cost only a few cents if they cost much at all. Technically, a low price does not mean much since these projects have ample supplies.
Even so, owning millions of one meme coins feels different from holding a fraction of ETH or BTC. Many traders can receive hundreds of thousands of DOGE, SHIB, or AKITA for just a few dollars.
How does it work?
In meme coins, the supply is usually unlimited or very high. As a result, such coins tend to have a large circulation compared to Bitcoin, which is programmed to have a finite number of units. Also, meme coins don't have mechanisms that permanently remove them from circulation, so numbers continue to rise.
Therefore, their value per unit tends to be below. As of this writing, a dollar would be worth around six Dogecoins, and meme coins like SafeMoon are even less valuable, currently worth $0.0000014. Meme projects are popular due to their low price, allowing anyone to purchase many of them quickly.
The software that does most of the heavy lifting for you has made it easy for just about anyone to make meme projects. Due to their minimal effort, these coins lend themselves to becoming memes, as they can be invented quickly to fit whatever trend is in fashion.
How to start?
When buying meme projects, crypto exchanges are your best bet. The most straightforward way to purchase meme coins is through cryptocurrency exchanges.
Fees are low, transactions are fast, and they provide excellent customer service. Several meme coins are available on Quidax, BuyCoin, and other sites.
You should ensure that the meme coin you're looking to get is accessible on your chosen exchange. Once that is done, place your order and start mining.
Dogemoon (DOGEMOON)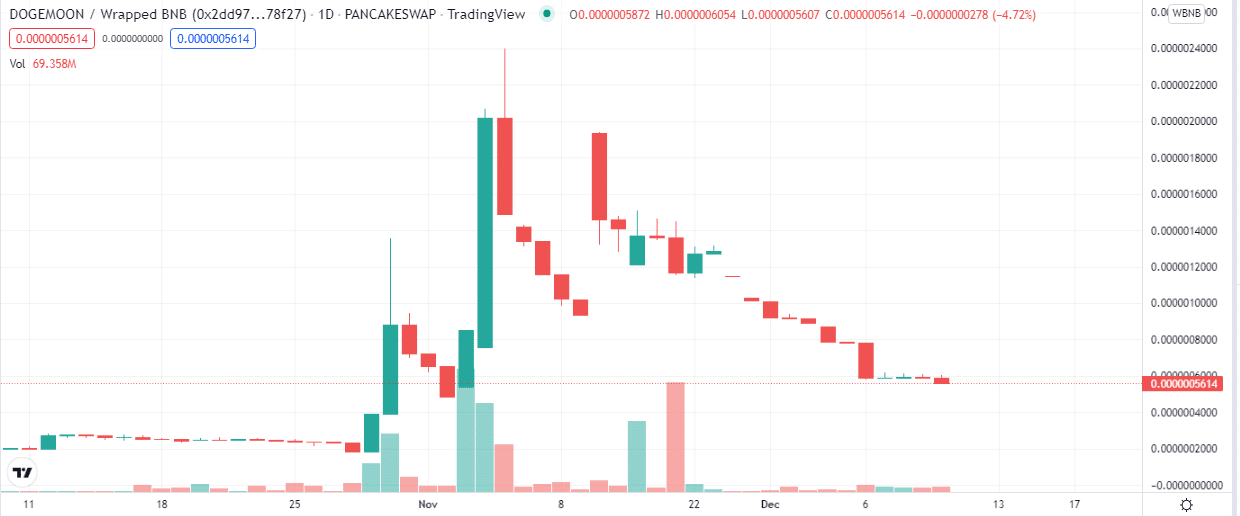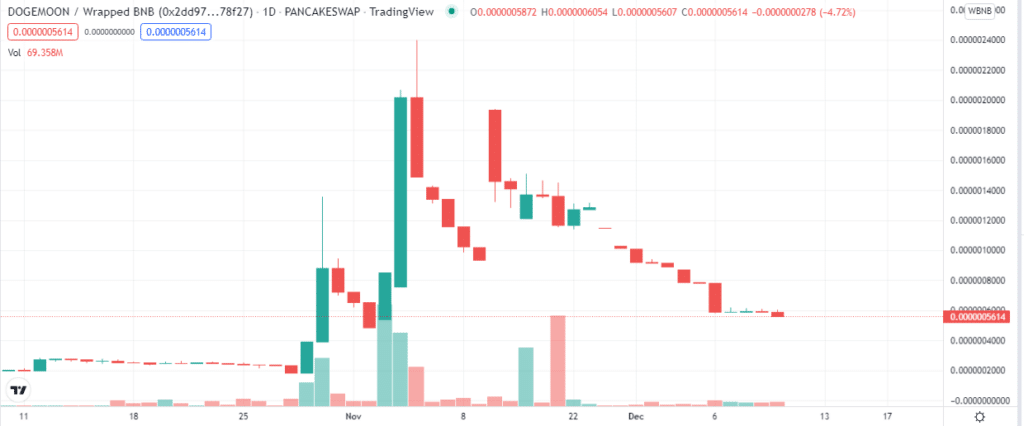 52-week price range: its 52-week price range is almost $0.007294 – $0.737567 by January 2022.
1-year price change: by the end of this year, Dogemoon could achieve an average price of $0.0085 with a change of 1.73K%.
Forecast 2022: as of 2022, it is predicted that Dogemoon will reach a minimum price of $1.
DogeMoon is the Binance intelligent chain-based deflationary Proof-of-Stake charity token. In addition to partnering with Able Child Africa, our Dogemoon team secures partnerships worldwide.
Although the project only has a market capitalization of $3.2 million, it has a great deal of potential. However, due to selling pressure, DogeMoon has struggled since its initial team decided to sell the tokens and move on.
Despite the strong community of DogeMoon, they were able to take over and continue working on the project. The DogeMoon token has a high earning potential, making it an excellent charity token.
Floki-Inu (FLOKI)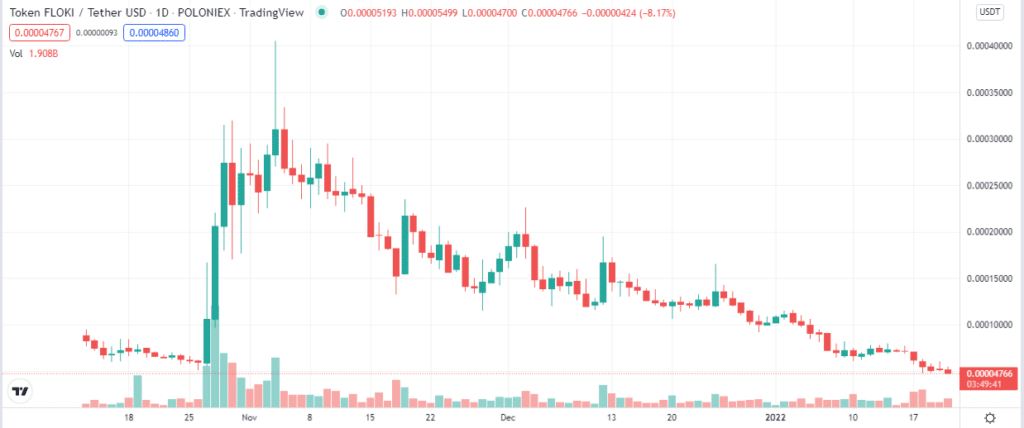 52-week price range: its 52-week price range is $0.00000009-$0.0003 in January 2022.
1-year price change: by the end of this year, FLOKI could achieve an average price of $0.00007849.
Forecast 2022: as of 2022, it is predicted that Floki Inu will reach a minimum fee of $0.00007637.
After a Tweet by Elon Musk on the 25th of June 2021, $FLOKI was born. He posted, "I'm naming my Shiba Inu Floki." Its price jumped more than 250% by September.
Floki-Inu is committed to making the world a better place by building schools on all continents and in every underdeveloped country. For example, Pencils of Promise begins building a school in Ghana with Floki. They are also working with the Million Gardens Movement to provide gardening, healthy eating, and sustainable eating resources to millions of people.
The Floki-Inu team is creating the Play-To-Earn (P2E) NFT gaming Metaverse, Valhalla. With P2E gaming, they intend to alleviate the effects of unemployment on those worldwide and improve their quality of life.
Shiba Inu (SHIB)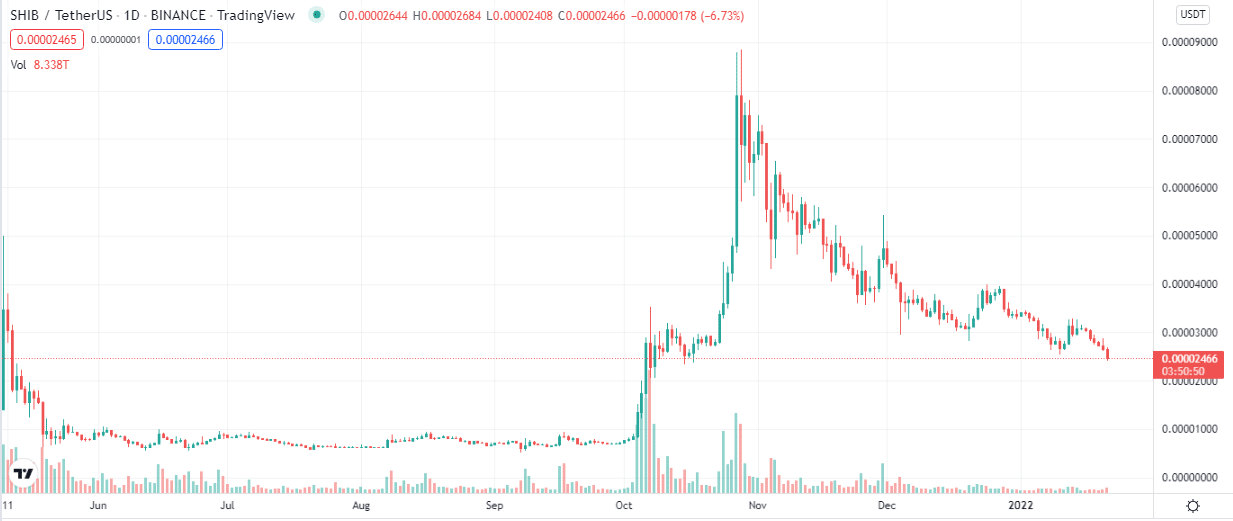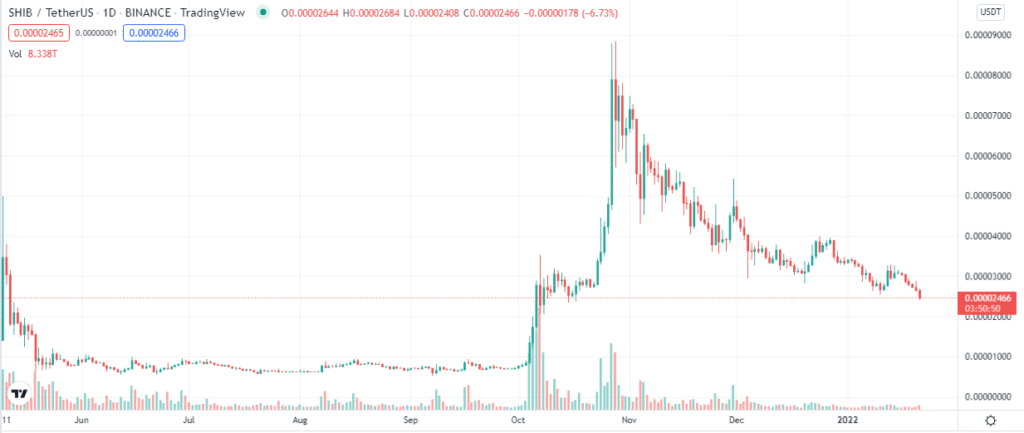 52-week range: it has its 52 weeks high at $0.00005500 while its 52 week low was at 0.00002415.
1-year price change: by the end of 2022, it is expected that the price will reach $0.000180.
Forecast 2022: Shiba Inu is likely to trade at a maximum of $0.000084 in the first quarter of 2022.
Shiba Inus are Japanese hunting dogs that serve as the mascots for $SHIB, an Ethereum-based altcoin. Dogecoin proponents tout Shiba Inu as "the Dogecoin killer." Shiba Inu is widely regarded as an alternative to Dogecoin.
With the addition of 70,000 new token holders, Shiba has reached a new milestone. The unique element of Shiba is that it invites dog-inspired artists from around the world to become part of its "artistic Shiba movement" as they bring their community to the NFT market.
Through their growing use cases through the NFT movement, decentralized exchange, and other robust utilities, Shiba Inu is quickly becoming a meme coin to watch.
Upsides and downsides
| | |
| --- | --- |
| Upsides | Downsides |
| The meme coins have a track record, making them very appealing. | Fraud, hacking, and exploitation cause massive losses. |
| Such coin can gain as much as 1,000% in a week. | The assets are highly speculative and have no intrinsic value. |
| These coins are highly volatile. | To take advantage of surges in demand, you'll need to monitor price movements closely. |
Final thoughts
Meme coins are receiving a lot of attention at the moment. With the help of young investors and key opinion leaders, Dogecoin and its friends are seeing incredible growth. In addition, these trendy cryptocurrencies catch the eye of savvier investors, who are riding the price movement wave and profiting.
The value of meme projects is derived not from a balance sheet or a business model but rather from the humor of the community and meta-humor.
Although the cryptocurrency market offers the opportunity for life-changing profits, being extremely vigilant is essential due to its turbocharged nature.