It's been quite a year for blockchain in 2021. Even though the technology introduced cryptocurrency, it can do much more than that. These, including non-fungible tokens, blockchain-based gaming, and the Metaverse, gained even more prominence when Facebook rebranded as Meta.
It is expected that 2022 will be even more significant for these projects. A presence among consumers was the focus of 2021; building on this in 2022 is the focus of 2022. The following are the top projects to watch in the Metaverse, gaming, and NFT space for the year ahead.
Is investing in NFTs worth it?
It has become increasingly popular. So it is natural to wonder if you should get in on the hype after some investors made millions on NFTs.
Vignesh Sundaresan, who recently purchased the $69 million artwork at auction, says the NFT represents a paradigm shift in how the world views collectibles and art. Sundaresan was interviewed by CNBC, where he said that it would be a commodity class that would allow buyers and sellers to connect.
Many people believe that NFTs have no real value. Although, one can argue that the NFT he purchased is essentially just a digital image anyone can copy and paste with a unique asset address. Historically, Beanie Babies and tulips were so valuable that they should fetch outrageous prices. However, the trend has since faded. The future value of NFTs will depend on whether they can hold their weight against Picassos and pet rocks.
NFTs are questioned even within the cryptocurrency community. For example, in a thread on Twitter, Charlie Lee, the founder of Litecoin, said the NFT's value is negated when the underlying asset can be duplicated.
He points out that physical baseball cards remain valuable long after manufacturers or leagues cease to exist, which raises the question of what will happen to the value of NBA Top Shot Moments if the website crashes.
How does it work?
NFTs enable the creation of new markets by providing new ways for people to own and run businesses. Those projects succeed by exploiting a fundamental principle of crypto. The agreement between users dictates the value of a token. This means that the community of users who build around NFTs quite literally creates the value of those tokens.
How to start?
For non-fungible tokens, OpenSea is the best place to buy them. In this NFT marketplace, you can purchase all the previously listed NFTs (except for CryptoPunks) and the most non-fungible tokens for sale. You can buy CryptoPunks from Larva Lab by visiting its website.
It requires two things to use OpenSea:
Ethereum wallet
Ether tokens
When using OpenSea, MetaMask is the best Ethereum wallet. With Google Chrome, you can set it up quickly and connect to websites through the browser. For you to buy Ethereum, you'll need to open an account on a cryptocurrency exchange if you don't already have one.
CryptoPunks (UPUNK)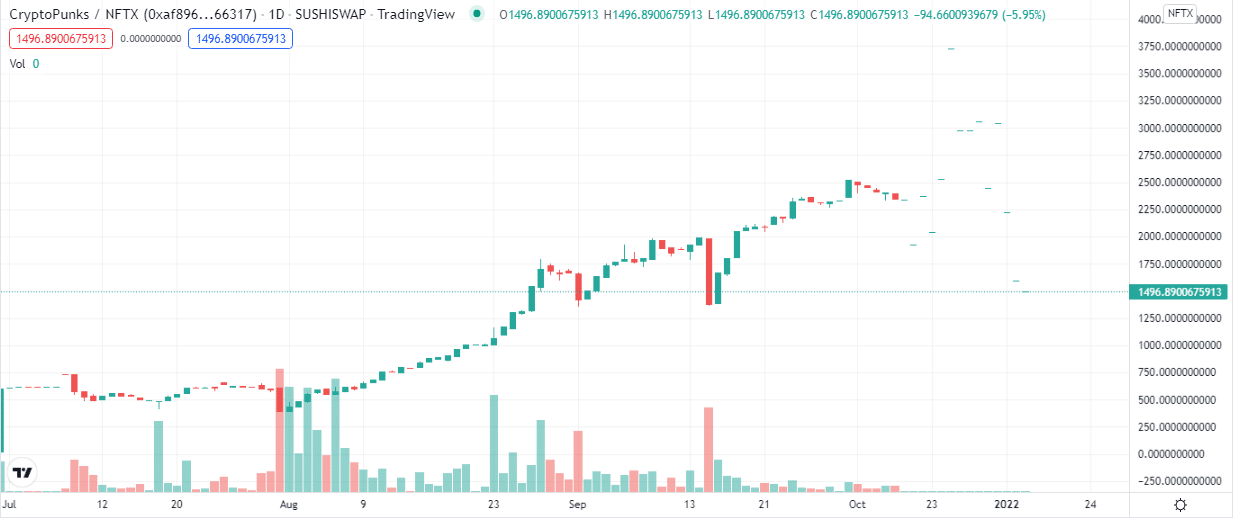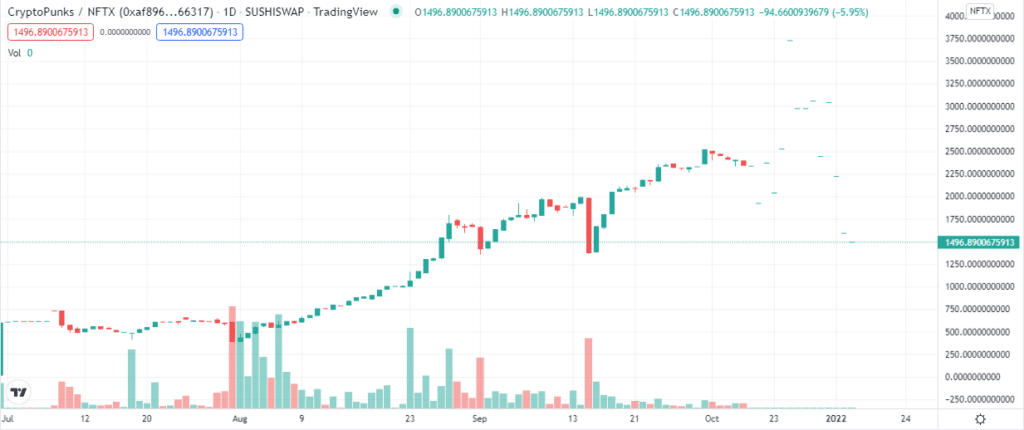 52-week price range: by January 2022, its 52-week low is 0.043090, while its 52-week high is 0.285344.
1-year price change: the value of Unicly CryptoPunks Collection will be $0.051 by the end of the 2022 year.
Forecast 2022: the UPUNK price is expected to reach $0.053 by the end of 2022.
The project is among the first non-fungible token ventures on Ethereum. An algorithm generates approximately 10,000 individuals with random features like hats and pipes. Larva Labs developed CryptoPunks. In creating the character generator, the team looked at the London punk scene and movies and literature.
As an example, it is an early NFT initiative on Ethereum. It was launched years before CryptoKitties, one of the most popular blockchain cat breeding games. Being a pioneer is an advantage. Secondly, only 10,000 CryptoPunks exist. This makes them rare collectibles.
Illuvium (ILV)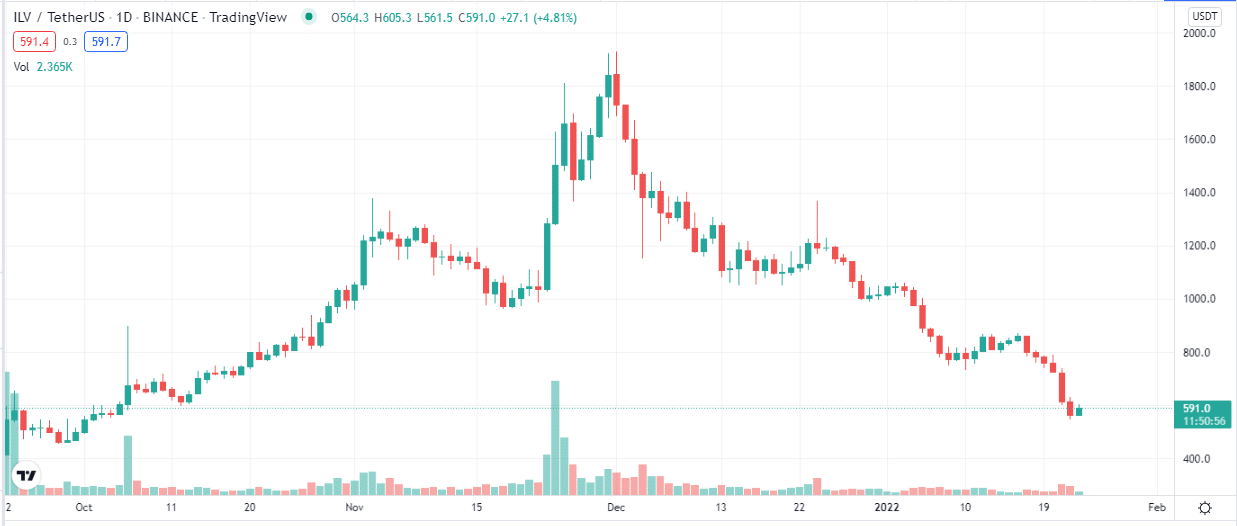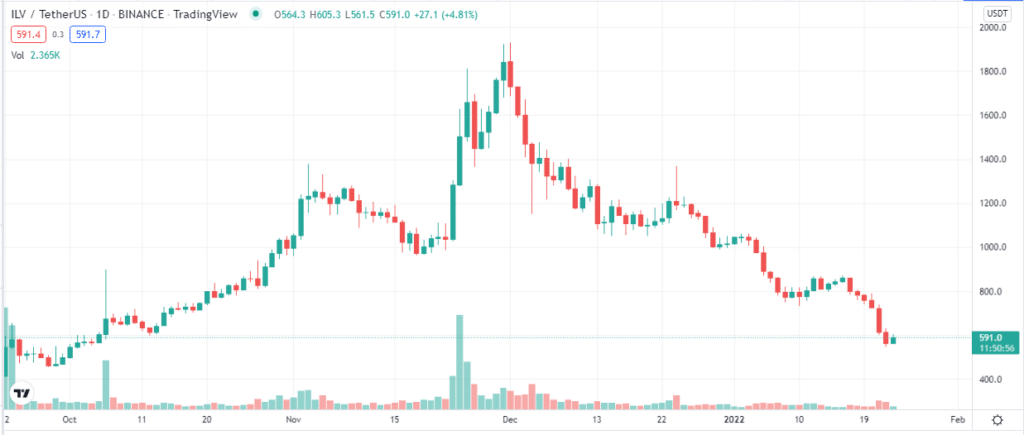 52-week price range: by January 2022, its 52-week low is 29.44, while its 52-week high is 814.30
1-year price change: the value of Illuvium will be $1,323.38 by the end of this year.
Forecast 2022: the Illuvium price will reach $839.01 to $867.73 by 2022.
Here is another NFT based on a game. A blockchain RPG built on Ethereum, known as Illude, will be released later this year. It's the first play-to-earn AAA NFT blockchain game available.
Illuvial are creatures that players catch and defeat around the world. In progressing through the game, you'll be able to collect them and use them in battles against other players.
Each Illuvial has its class, affinity, strength, and weakness. Players collect them. As the Illuvials win more and more battles, their power grows.
In addition to Illuvium (ILV), the company offers sILV, another ERC-20 project altcoin. Holders of ILV can liquidate assets, participate in governance, and earn rewards.
DeadFellaz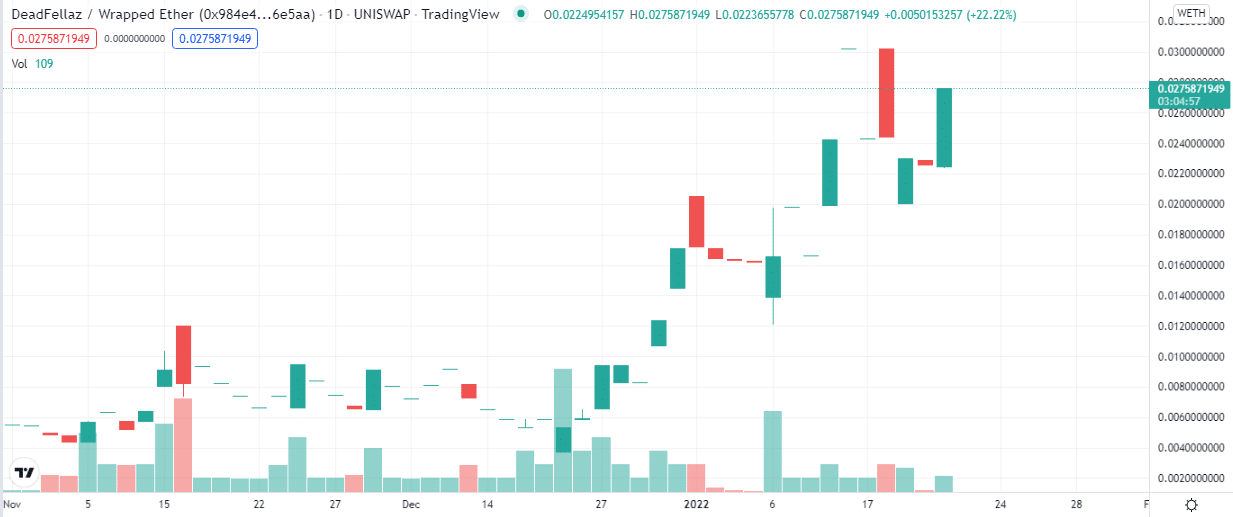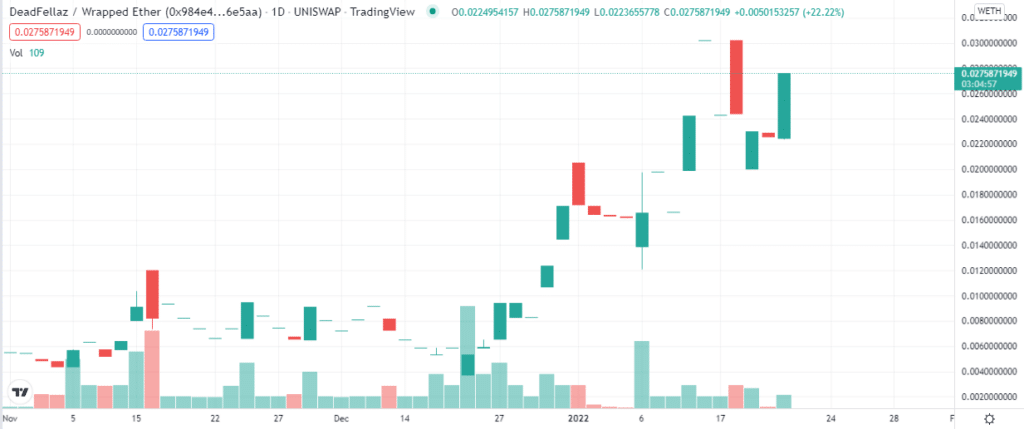 52-week price range: by January 2022, its 52-week low is 0.00049, while its 52-week high is 0.034766.
1-year price change: the value of Deadfellaz will be $0.05000 by the end of this year.
Forecast 2022: the price is expected to reach $0.04200 by 2022.
Zombies are an Ethereum-based collection of 10,000 coins. Over 400 unique features are incorporated into each Deadfella and more than 50 costume variations. Every Deadfellaz is unique due to its many distinctive features.
NFT released its roadmap 2.0, which includes numerous exciting updates. NFT is listed on Nifty Gateway and OpenSea, and there are a few mugs and shirts available. In addition, the project has purchased 24 plots of the DeadFellaz Decentraland Estate.
Upsides and downsides
| | |
| --- | --- |
| Upsides | Downsides |
| Collectible digital items are non-fungible, essentially meaning they cannot be replaced. | NFTs can be complicated and misunderstood because of their technical nature. |
| Moments ago, blockchain technology was the topic of much excitement. | Each time a blockchain transaction is performed, fees are required to cover the costs of 'mining,' the computationally intensive calculations required to verify the transaction. |
| This is a fascinating idea, and by purchasing an NFT, you will be involved in that technological development. | New investors have even less access to the market because some buyers use bots to secure their token purchases. |
Final thoughts
You can have a lot of fun with NFTs. The blockchain allows you to own something else besides cryptocurrencies. However, they should be considered very risky, highly speculative assets in terms of investment.
Blockchain holds real value, but consumers shouldn't buy relatively shaky "ownership" of digital assets since that isn't what is likely to have that value in the long run.
The blockchain is an exciting opportunity for people to participate, so if you're interested in participating, then do it. If you purchase low-cost NFTs, assume you will enjoy getting involved, rather than thinking you will get rich, as the market could collapse at any moment.