Bitcoin had a big run in the first half of 2021 and established a new top at $64,895 on 14 April 2021. Had you bought some BTC the year before (i.e., at $6,958 on 14 April 2020), you could have seen a 900% growth in your investment.
At the time of this writing, the price of Bitcoin hovers around $41,000. You might wonder to yourself if it is still an excellent time to jump on the bandwagon. If you have been closely paying attention, you must have figured out that the Bitcoin price has been corrected. It is giving you a discount right now. Will you take the opportunity?
This article will help you make the crucial decision. It will explain why it is not too late to buy Bitcoin and how to get started. Now let us understand how much capital you have to begin with.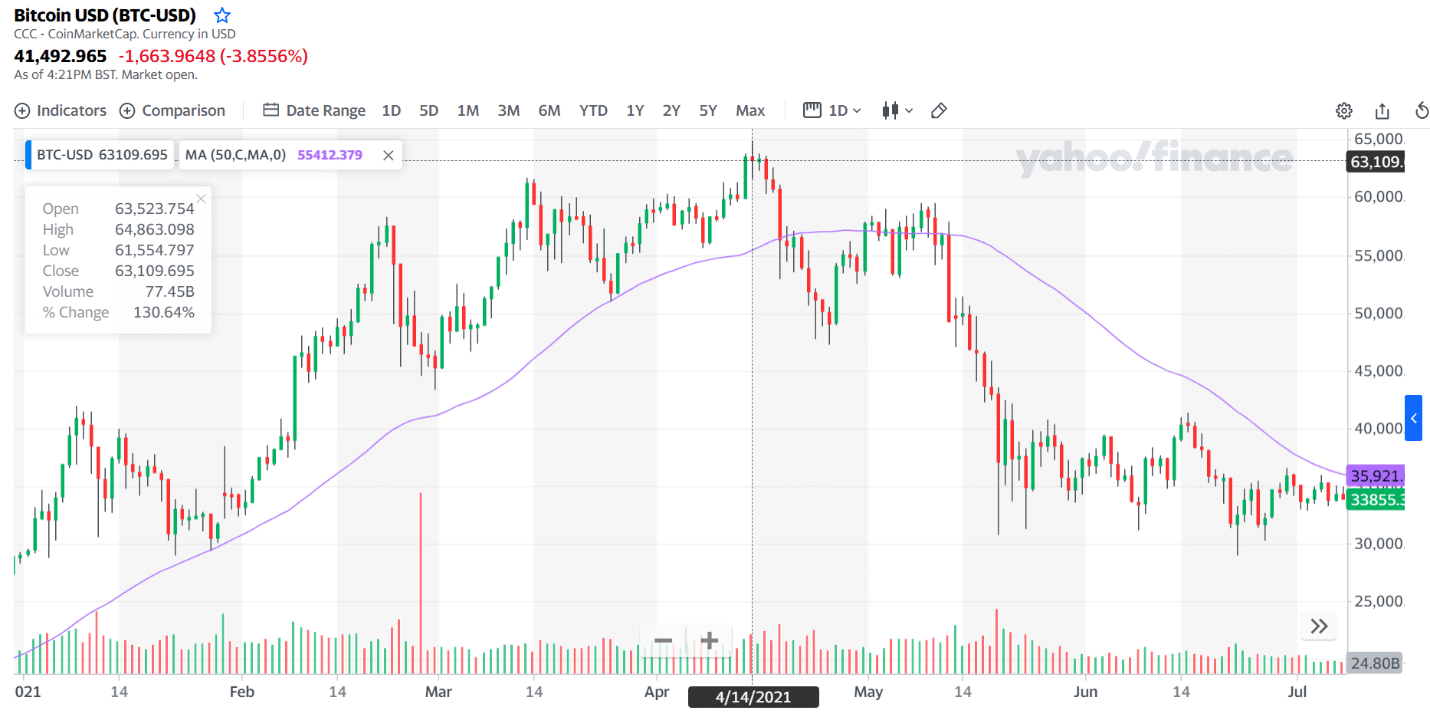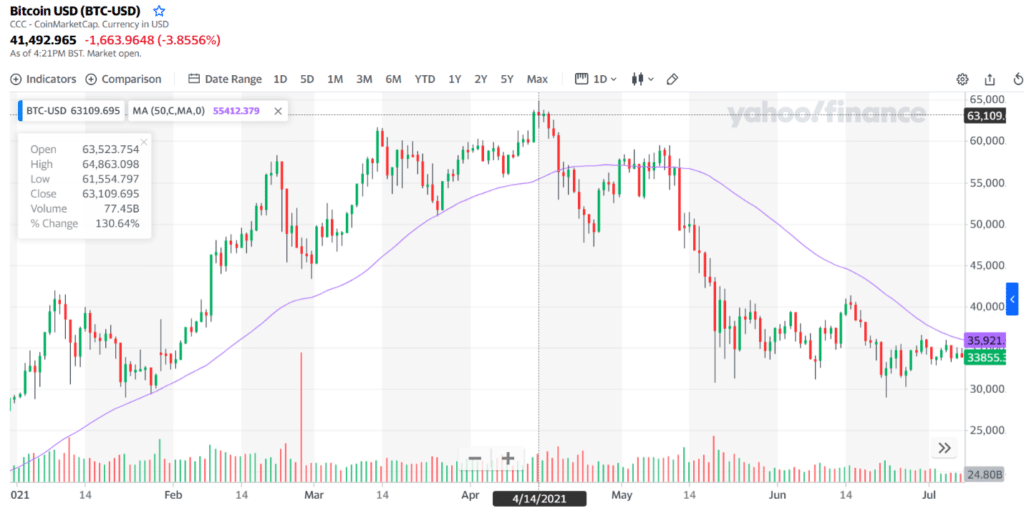 What is the minimum investment required to buy BTC?
There is no minimum capital needed to invest in BTC. You can buy a whole coin or a fraction of it, depending on your funds. If there is a minimum amount, that is the amount required by the crypto platform. Some Bitcoin exchanges allow you to buy as small as $2 worth of BTC.
Although buying such a small amount is possible, it is not recommended. Crypto transactions in Bitcoin exchanges such as buying, selling, or converting assets involve fees. Such fees will gulp your investment if you choose the minimum amount. You should at least start with $50.
How does it work?
It is easy to invest in BTC as long as you have capital. Choose a wallet or crypto exchange and then buy Bitcoin or a fraction of it. After your purchase, take note of the entry price and set your target. Do you want to cash out when Bitcoin hits $100,000? The choice is yours. It depends on your research, your belief in this type of investment, and your risk tolerance.
How to start?
You have a lot of choices when it comes to crypto exchanges. To get started, sign up for an account in a Bitcoin wallet or crypto exchange. The most popular ones are Kraken, Coinbase, and Binance. Create an account and then verify it. Then convert your local money into crypto by buying a stablecoin such as a Tether (USDT). Next, you can convert your USDT to BTC. The next step is a waiting game.
How to manage risk?
Just invest an amount you are willing to lose. Although many people see the value of Bitcoin, especially during this pandemic time, there is still risk inherent in this crypto asset. It all depends on whether organizations widely adopt this digital asset in the future.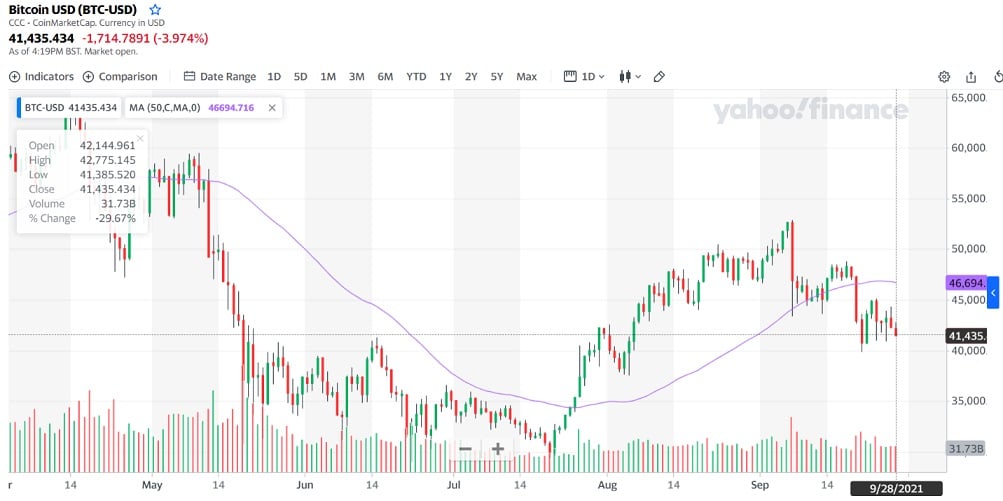 Is it too late to invest in BTC?
Since October 2020, Bitcoin has been continually making new highs month after month. After registering a new peak in April 2021, Bitcoin is currently consolidating slightly below this peak. It could be cooking another bull run after getting new investors on board. Look at the current price of Bitcoin in the above image.
While it could have been better if you had bought Bitcoin in the early months of 2020, all is not lost, and you still have a chance to engage in this rewarding venture. Whatever the amount of capital you bring into the crypto space, make sure that it is an amount you can afford to lose.
As with other types of asset classes, BTC does not move in a straight line. It fluctuates up and down as it makes its way to the upside. When it dips and finds support, that is an excellent time to buy. If you plan to stick around for long until Bitcoin reaches a predetermined price, even a tiny amount of Bitcoin you own today can grow exponentially in the future.
Bitcoin price prediction: will the BTC ride to $100,000 this year?
The digital currency that many investors in the past mocked as having no intrinsic value has skyrocketed in both popularity and value. Bitcoin has gone mainstream, with significant financial institutions like Visa and PayPal offering it as an alternative payment solution.
Many retail investors are now coming in droves in the crypto space, trying to get their hands on BTC. Furthermore, big institutions now see the practical use of the crypto king as an asset that can hedge against economic uncertainties. That is why they begin putting their holdings in Bitcoin.
Despite the volatility of this cryptocurrency, BTC retained an overall upward trajectory. Consider the weekly trend of Bitcoin in the chart below. Price stayed above the 50 SMA.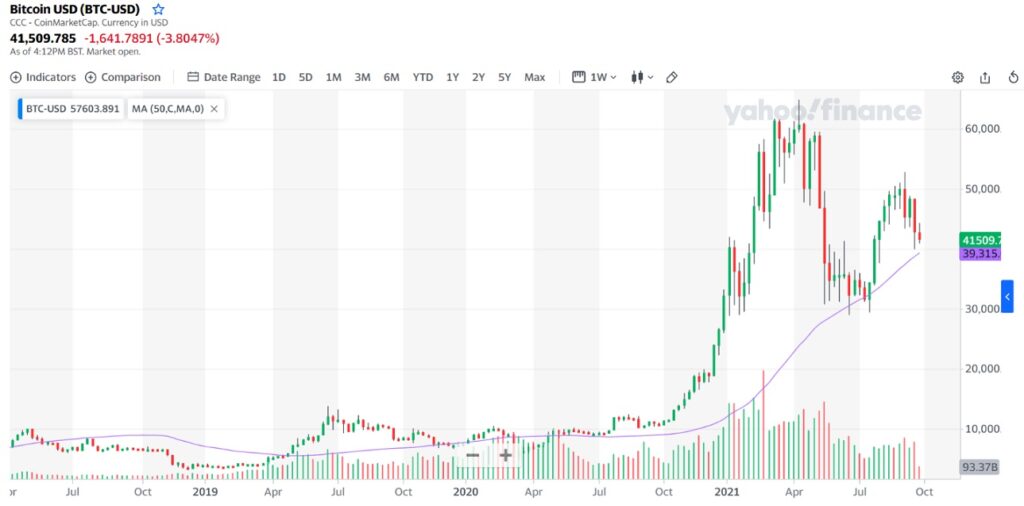 Of course, as expected of altcoins, several crypto assets moved in unison with Bitcoin. Since they are shadowing the performance of the crypto king, altcoins make good alternative investments for retail investors. Despite this fact, BTC retains the top spot, amassing a staggering market cap of $1.15 trillion.
Much to the chagrin of past naysayers, Bitcoin is now inching closer to $100,000. That central banks worldwide are scurrying over to develop their digital currencies is proof that the crypto king has succeeded as an investment vehicle.
Despite the current pullback, experts believe that Bitcoin has the potential to reach $100,000 in the year 2021. When that happens, it could be an excellent year for Bitcoin and its enthusiasts alike. Such analysis is based on the stock-to-flow model applied to the crypto king, being considered as a store of value. As with silver and gold, BTC has a limited supply due to the difficulty of adding a block to the chain through mining.
How much could you earn if you invested in BTC 100 dollars 1 year ago?
Considering its growth since its inception, Bitcoin is regarded as the best performing asset of the past decade. Had you owned some Bitcoins during its introduction in 2009, your return could amount to millions of dollars as the crypto king started for zero?
In case you purchased Bitcoin later down the line and rode through its rollercoaster journey, your returns could still be remarkable. Let us use an example when BTC made its highest peak.
Let's say you bought $100 worth of Bitcoin one year before when its price was only $6,958. You could have purchased 0.014371 coins ($100/$6,958). On 14 April 2021, when the price was $64,895, your investment would have been $928 (0.014371 x $64,895). Your return would be a phenomenal 932 percent! Refer to the chart above.