Many financial experts believe that crypto investing is a vital asset for an investment portfolio as it can provide security during economic recessions. In other words, investing in cryptocurrency could be a good investment during difficult economic times.
There are already over 10,000 cryptos accessible for investment or trading. It makes it challenging to choose the best crypto alternatives, especially if you are a novice.
Based on all types, here are three of the best cryptos to buy in 2022, so you don't have to worry about missing out on the price rise. Hopefully, you'll discover the next significant crypto as a consequence.
Why is it worth investing in safe haven crypto?
A role of a safe-haven investment is to diversify an investment portfolio and offer protection during times of increased market volatility. During economic downturns, the best safe-haven investments are either negatively correlated or uncorrelated to the general market. In other words, the best safe-haven assets rise in value when the rest of the market goes down. This demonstrates a rise in investor interest in the asset during depressions and recessions.
How to start?
When we talk about these assets, the first name that comes to our mind is Bitcoin. This crypto is known as a digital version of traditional gold with a safe haven nature. However, BTC is not the only crypto that has such characteristics. Before proceeding further, let's see the list of cryptos with a safe haven nature.
Bitcoin (BTC)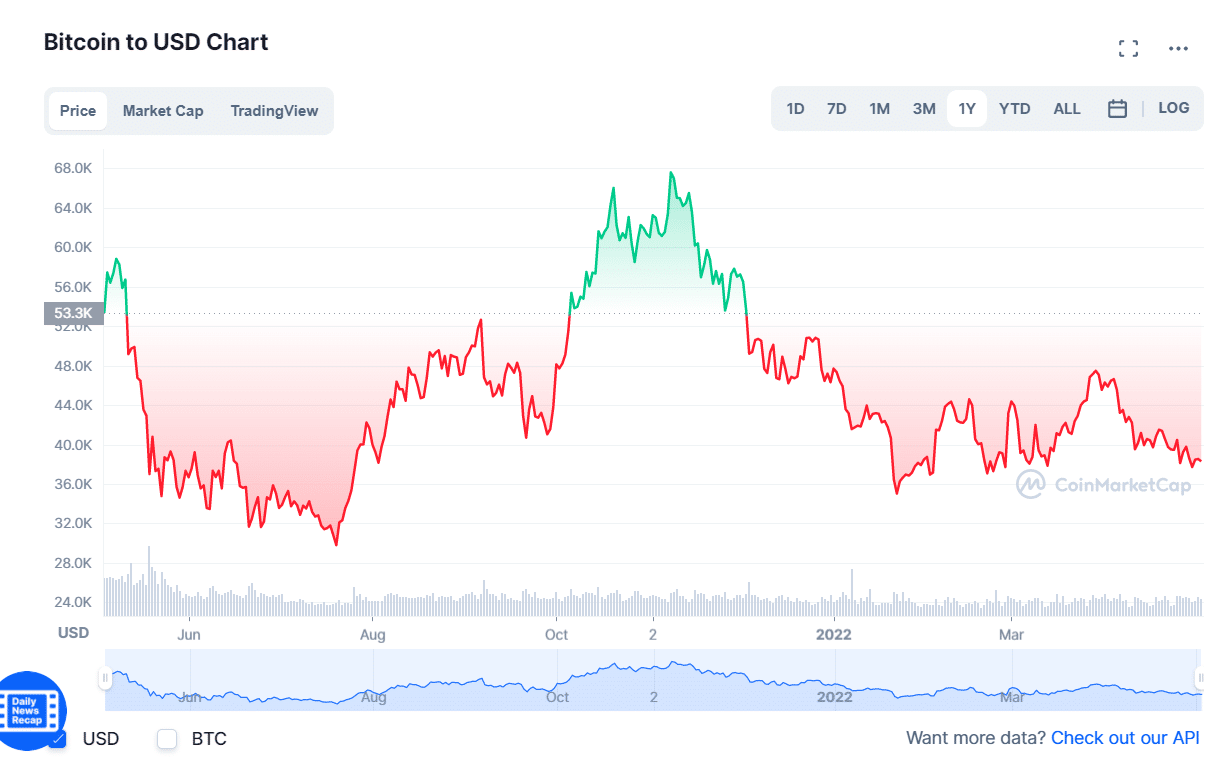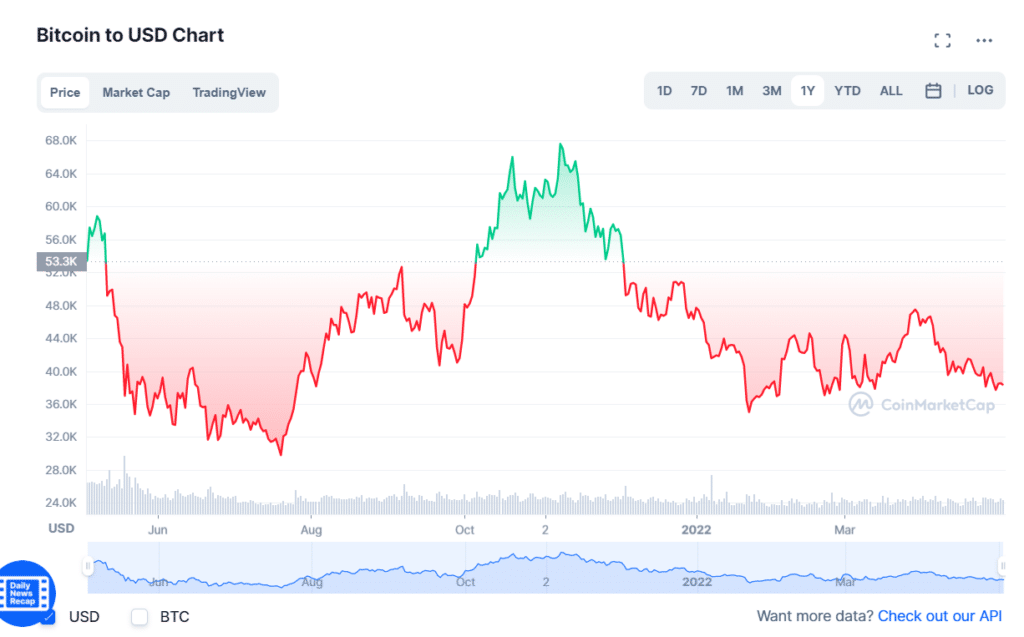 52-week range: $28,893.62-$68,789.62
1-year price change: -33.34%
Forecast 2022: the most extreme crypto skeptics say Bitcoin will tank to as low as $10,000 in 2022, but a middle ground might be to say the crypto can still climb to $100,000 like many experts predicted late last year — just on a slower timeline.
Crypto research has considered whether Bitcoin possesses a safe haven property as traditionally defined by its correlation with other assets during market stress. The crypto king is more volatile, less liquid, and costlier to transact, in terms of time and fees than other assets, even in normal market conditions. Therefore, until the market matures, it isn't very sure to consider BTC as a safe haven.
On the other hand, Bitcoin holds the maximum market cap of the entire crypto market, where the most recent market cap to BTC ratio is 0.41. Overall, the higher market cap and the limited supply are the main reasons for considering it a safe haven asset.
Ethereum (ETH)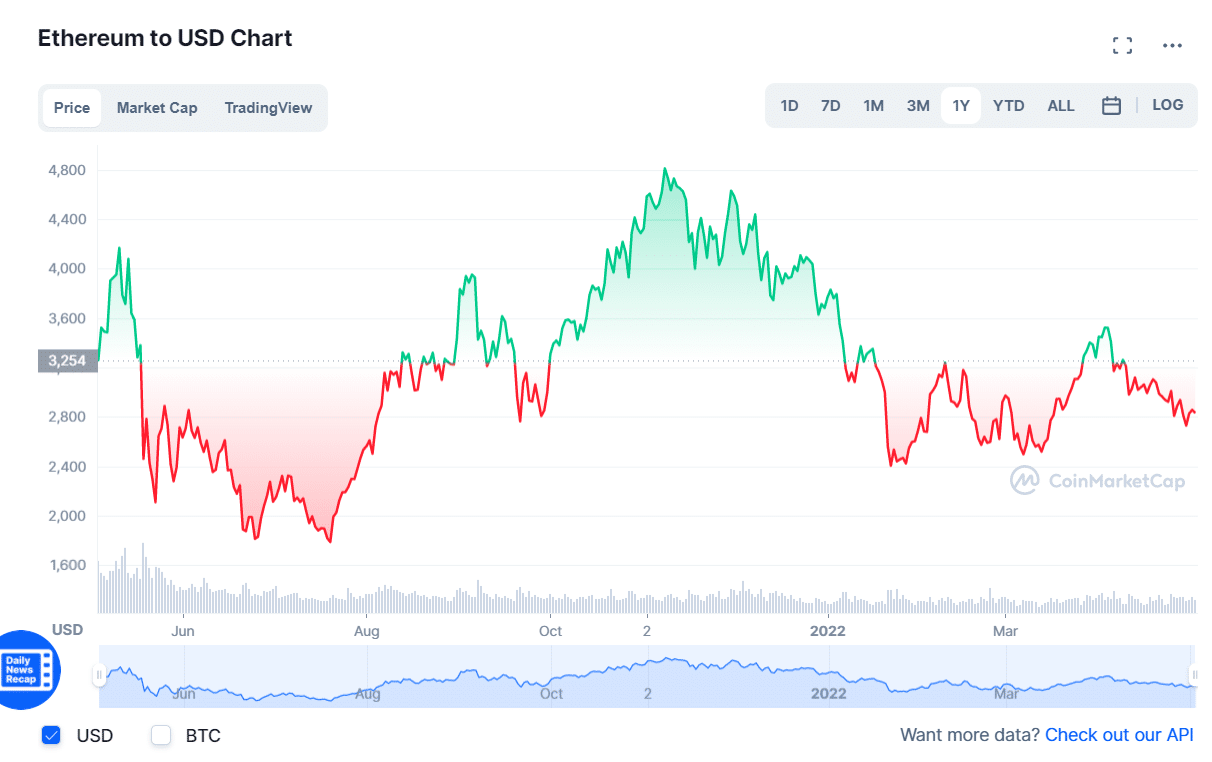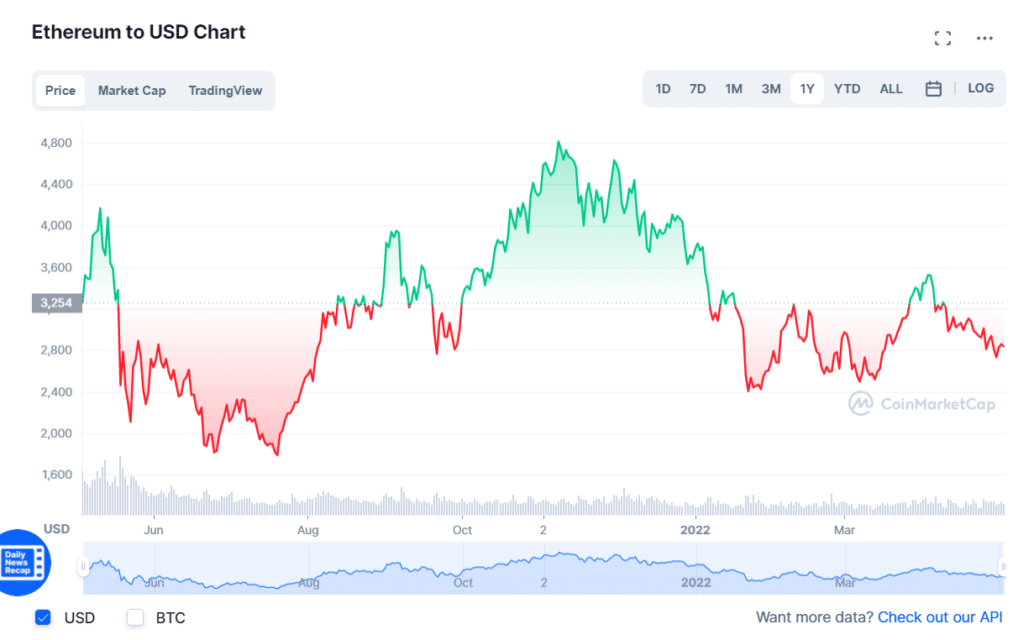 52-week range: $1.707.60-$4.891.70
1-year price change: -3.11%
Forecast 2022: by the end of 2022, Ethereum could be worth $3633. The highest predicted price of Ethereum by the end of 2022 is $4022. The lowest predicted worth of Ethereum by the end of 2022 is $3525.
There are just two major players in the crypto world: Bitcoin and Ethereum. Because of their long-term track records, well-known brand names, and committed investors, BTC and ETH are the only two cryptos worth owning. In contrast to the Bitcoin network, it's worth noting that the Ethereum network was built to accommodate the exciting new world of smart contracts and decentralized finance, also known as DeFi.
As the most extensively utilized blockchain network, Ethereum has a significant drawback: high transaction costs. It's a well-known issue, but Ethereum 2.0, cheaper and more energy-efficient, is expected to be finished in the next year or two. Financial intermediaries such as banks, brokers, and exchanges may be removed with DeFi, possibly enabling "trustless" financial transactions.
Cardano (ADA)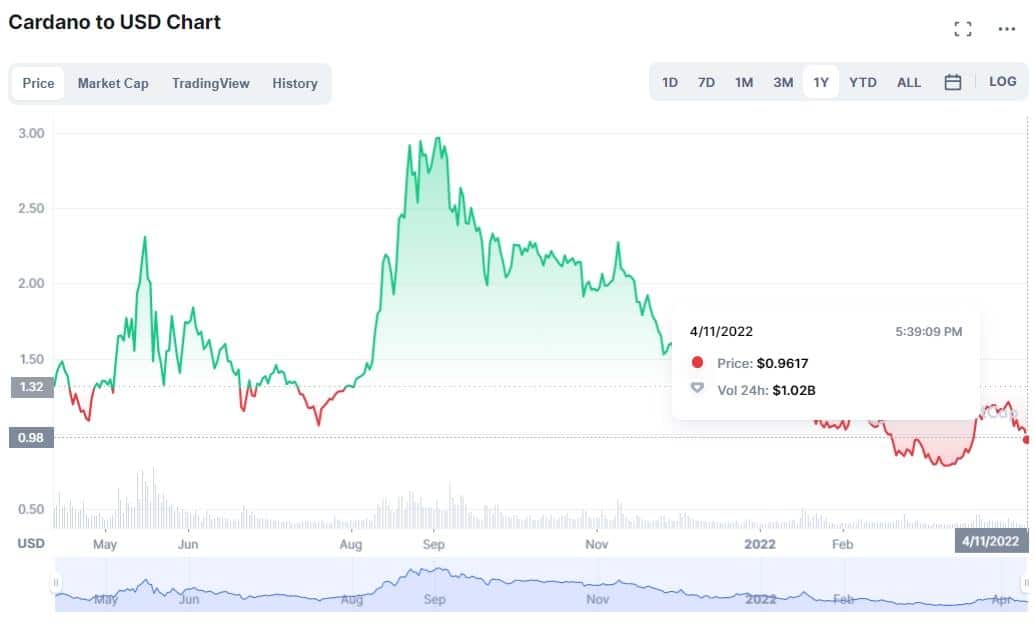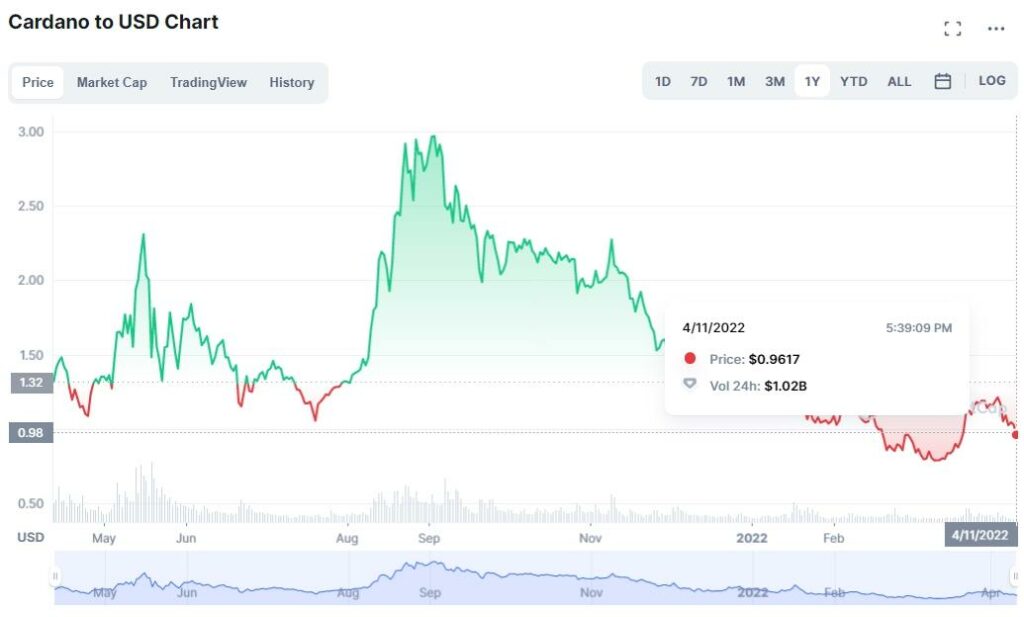 52-week range: $0.74-$3.099
1-year price change: -18.21%
Forecast 2022: bullish ADA price prediction ranges from $1.52 to $3.18. ADA's bearish market price prediction for 2022 is $0.084.
Cardano is one of the top reputed proof-of-stake cryptos nowadays, concentrating on extensibility and stability. It endeavors to resolve the issues of energy usage related to Bitcoin mining. Also, the attempt to work on the energy problem tags itself as an eco-friendly selection in contrast to other cryptos.
Although the project of this network is positive with a huge potentiality, it failed to show any significant price change in the last year. Currently, the price is trading near the yearly low, but investors could gain 190% profit during the movement from the yearly swing low to the high. Its main aim is connected with a positive global change, and we can aim this project as a safe haven asset.
Upsides and downsides
| | |
| --- | --- |
| Upsides | Downsides |
| Safe haven crypto assets provide profit even if the economic condition is not stable. | Only a small number of companies are willing to take cryptos as payment. Due to this and fluctuating prices, the savings in transaction costs may be negligible. |
| Crypto transaction costs are lower than other digital payment systems. | Making a profit from short-term trading is hard with safe haven cryptos. |
| Using crypto as a means of payment is acceptable, but it also opens up a whole new market for businesses. | Every crypto lacks the adaptability of centralized money due to its non-inflationary nature. |
Final thoughts
The coronavirus has created mass financial panic worldwide, prompting several investors and analysts to consider if crypto could be a safe-haven investment during economic crises. Safe haven assets either keep or rise in value during a financial panic. Many financial experts recommend market participants consider investing in crypto, which could be a good choice for portfolio diversification.