Any firm that sells a product or service that is significantly reliant on technology is most likely in the tech industry. Information technology is one of the industries that will be severely impacted in 2022, with a drop of more than 18%.
However, this doesn't mean you shouldn't be investing in these companies. The tech sector is the biggest in terms of market cap. Therefore, getting in early can prove fruitful.
In this guide, we'll talk about the top three red hot tech stocks you can invest in.
Why is it worth investing in tech stocks?
Most tech equities are more costly than others. However, the industry remains highly profitable. The return on equity is around 30%, seven percentage points more than the 10-year average.
Outstanding profitability has resulted in exceptional cash flow creation, which investors return through share buybacks. Liquidity is another aspect that favors technology. When liquidity improves, technology equities are considerably more likely to outperform.
Above all, technology firms are connected with creativity and ingenuity. As a result, investors anticipate significant R&D investments by technology businesses and a consistent stream of growth driven by a pipeline of inventive new products, services, and features.
How does it work?
Technology companies are often among the hottest sectors of the stock market. Investors pay special attention to this industry because of its track record of explosive returns and the possibility for much more in the future. As a result, it may be worthwhile to watch tech stocks and follow the top performers.
Growth tech stocks have been some of the finest investments in recent years. A growth tech stock is what it sounds like: the shares of a rapidly growing tech business. A growth tech stock is highly valued because of the company's capacity to raise revenue rapidly. The price-to-earnings ratio is helpful for mature IT businesses that generate profits.
Divide the stock price by the earnings per share to get a multiple that indicates how highly the market values the company's current earnings. The greater the ratio, the more the market values future profits growth.
How to start?
Investors who intend to buy technology stocks can use a brokerage account. However, investing in individual equities is not the same as investing in an index fund.
Before investing in specific stocks, investors should conduct research on the company and evaluate its financial situation. Individual stocks may be quite hazardous, and you should be informed of the risks before investing.
Here are the top three red-hot tech stocks in 2022.
Apple (AAPL)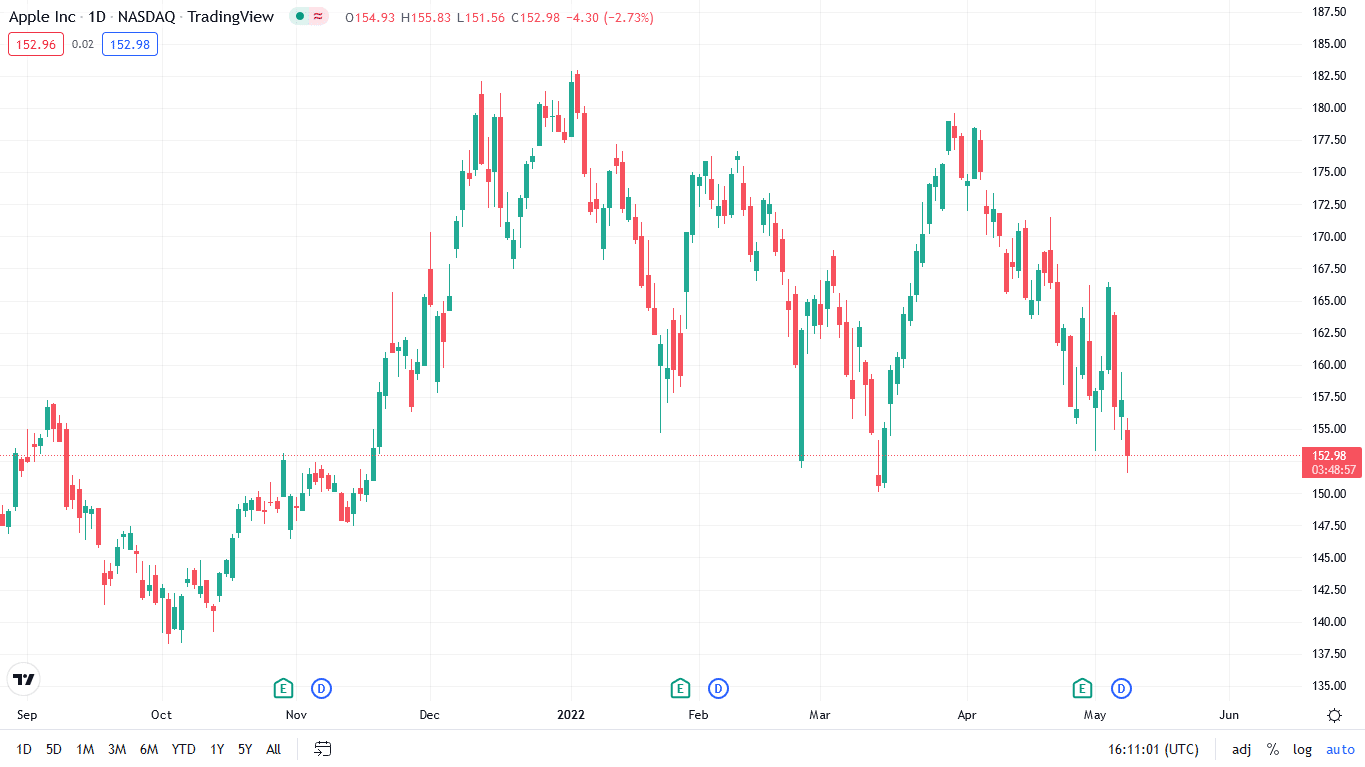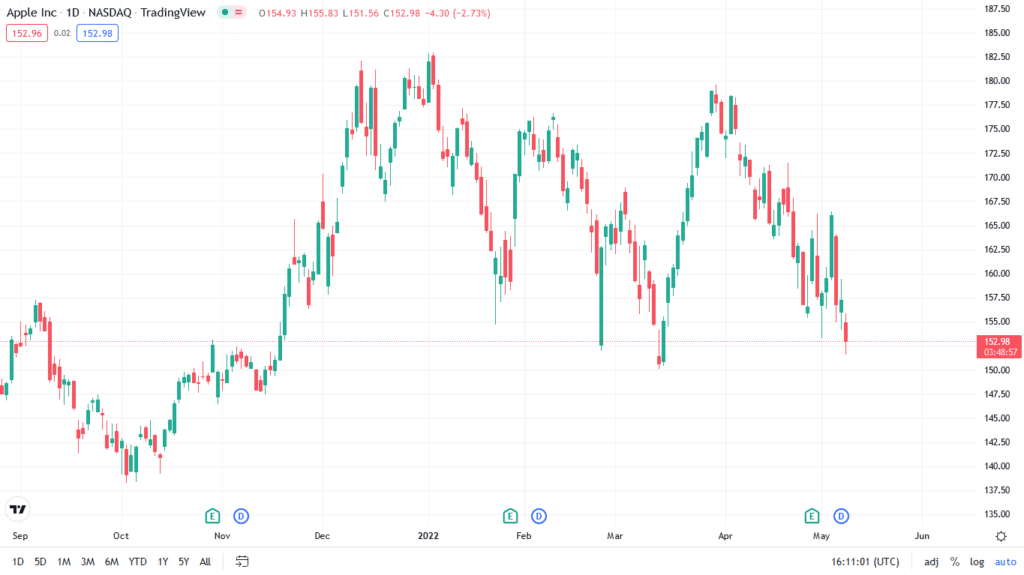 52-week range: $122.25-$182.94
1-year price change: 20.17%
Forecast 2022: $140-$196
Apple is one of the most well-known firms globally, and it has made many stockholders quite wealthy over the last several decades. In addition, its demonstrated ability to consistently generate breakthrough tech goods and services maintains it at the forefront of customers' minds.
Apple stock is not cheap, and the company is facing headwinds from supply chain constraints and increased component costs. Consumer demand has been fantastic since the outbreak began, but it may weaken when increased inflation reduces people's discretionary money.
On the other hand, Apple has consistently introduced revolutionary goods that earn billions of dollars in yearly sales. This potential might result in strong investment returns over five to ten years. So, if you're looking for a long-term investment, Apple stock may be for you.
Apple shares fell as much as 18% after reaching a new high at the start of 2022. In this volatile market, it has usually trended sideways.
Nvidia (NVDA)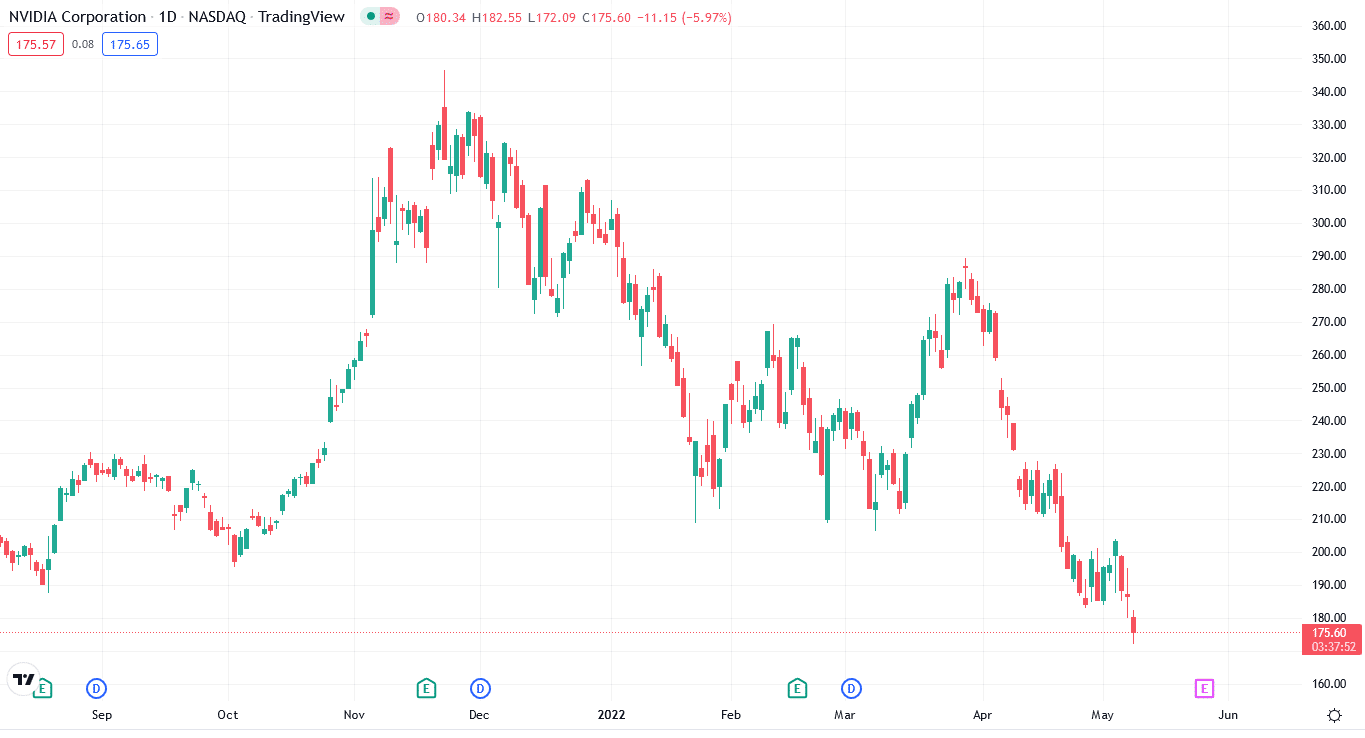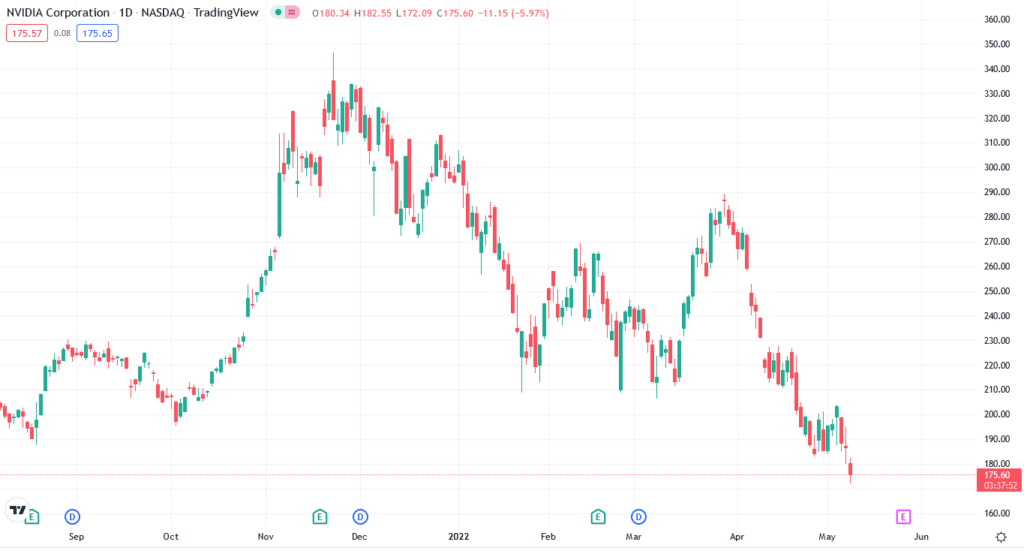 52-week range: $134.59-$346.47
1-year price change: 23.59%
Forecast 2022: $150-$302
Nvidia creates graphics processing units (GPUs), including semiconductors, and is in great demand. There is perhaps no better long-term tech stock to own than Nvidia, which looks to profit from all of the sector's significant trends.
It is involved in gaming, data centers, artificial intelligence, vehicles, and cryptocurrency. In addition, its strong processors are employed in various applications ranging from weather modeling to gene sequencing to deep learning and robotics.
As indicated in earnings estimate revisions, the shift in a company's future earnings potential is highly connected with the stock's short-term price movement.
The involvement of institutional investors contributes to this link in part because these large professionals utilize earnings and earnings predictions to determine the fair value of a company's shares.
Nvidia's stock is down 36% year to date, and analysts expect earnings to rise at a near 31% annual pace over the next five years. So while it will have its ups and downs, it is a stock that should be a long-term hold.
Verizon (VZ)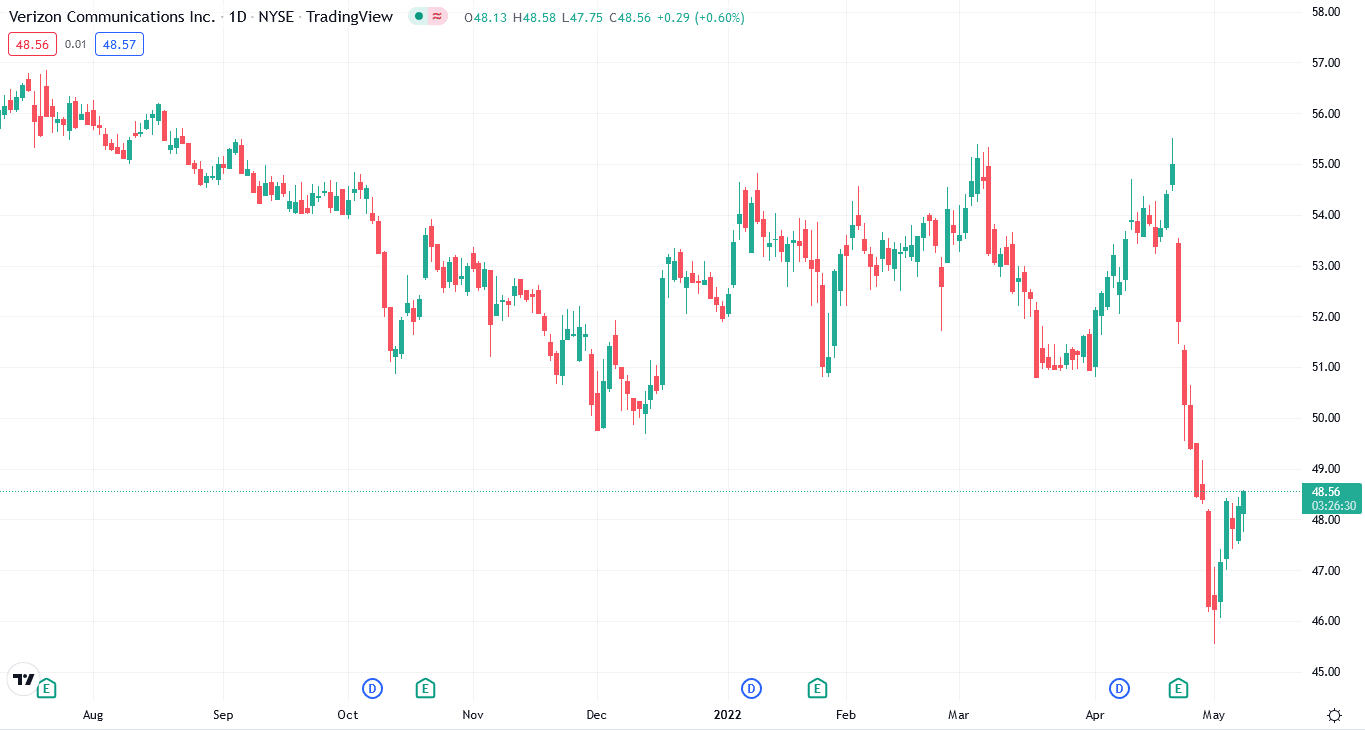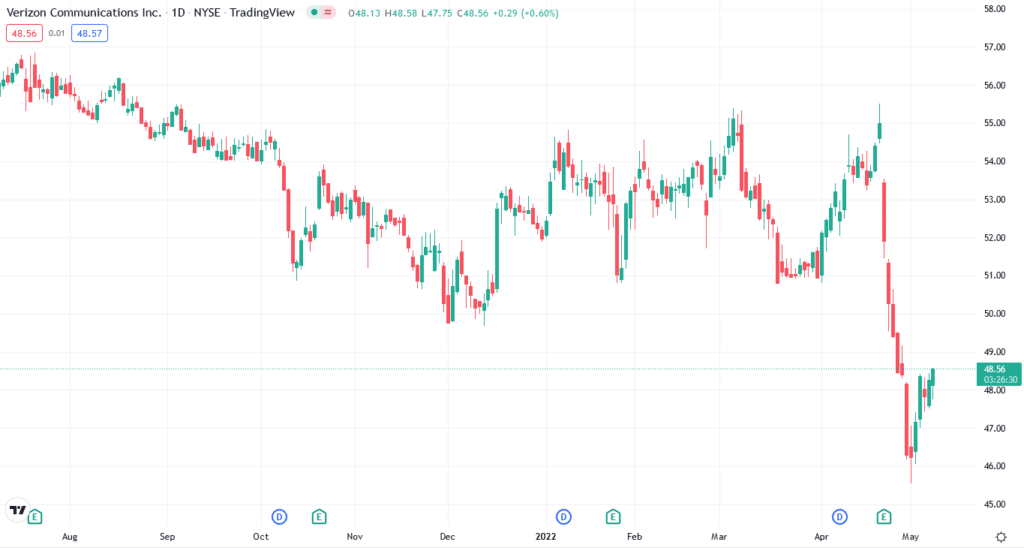 52-week range: $45.55-$59.85
1-year price change: -18.40%
Forecast 2022: $43-$60
Verizon is the largest wireless service provider in the United States. It also provides landline services to Northeast households and corporate services abroad. Verizon also expects to benefit significantly from the shift to 5G networks, greatly enhancing upload and download speeds.
The telecom stock just had one of its worst weeks in recent memory. Its earnings report revealed ongoing customer losses, leading it to forecast full-year adjusted earnings at the low end of its earlier projection.
However, there are many reasons to remain positive. Customer losses were substantially fewer than predicted, with only 36,000 postpaid cellular phone users lost vs. analyst projections of 75,000, and the deployment of the 5G network promises long-term profitable growth.
Upsides and downsides
| | |
| --- | --- |
| Upsides | Downsides |
| Red hot tech stocks have great long-term potential. | They are not good for short-term trading. |
| The constant innovation makes investors curious about the project. | These stocks can be volatile. |
| Tech stocks give better yearly returns than S&P 500. | These assets have low dividends, as usual. |
Final thoughts
Tracking the hottest tech stocks is a great way to see the overall picture. If you want to invest in some of these businesses, you must do your homework and understand what you're getting into.