What is a Trust wallet?
It is a type of crypto wallet that runs on mobile phones. It gives users access to more than 160 cryptocurrencies and the chance to support the blockchain network by staking coins. It also provides users a gateway to decentralized apps running on the Ethereum network.
Two areas where the Trust Wallet shines are account security and privacy protection. The app will not ask you to provide personal information or verification documents when you set up an account. Also, it does not keep user data. The wallet stores your secret keys on the device itself and not in its servers for your peace of mind.
How does the Trust Wallet work?
It works as other crypto wallets do. As a mobile application, the Trust Wallet is downloadable from Google Play or Apple Store. There is no cost involved in using the app. When you perform transactions, the processing costs will go to the miners and validators authenticating the transactions.
You can use this wallet primarily to send and receive coins. See the image below. Other transactions you can do via the app are trading and staking. When you convert one asset to another, that is how you do crypto trading. When you allocate some of your coins to support the crypto network, you will get rewards in return. That is what we call staking.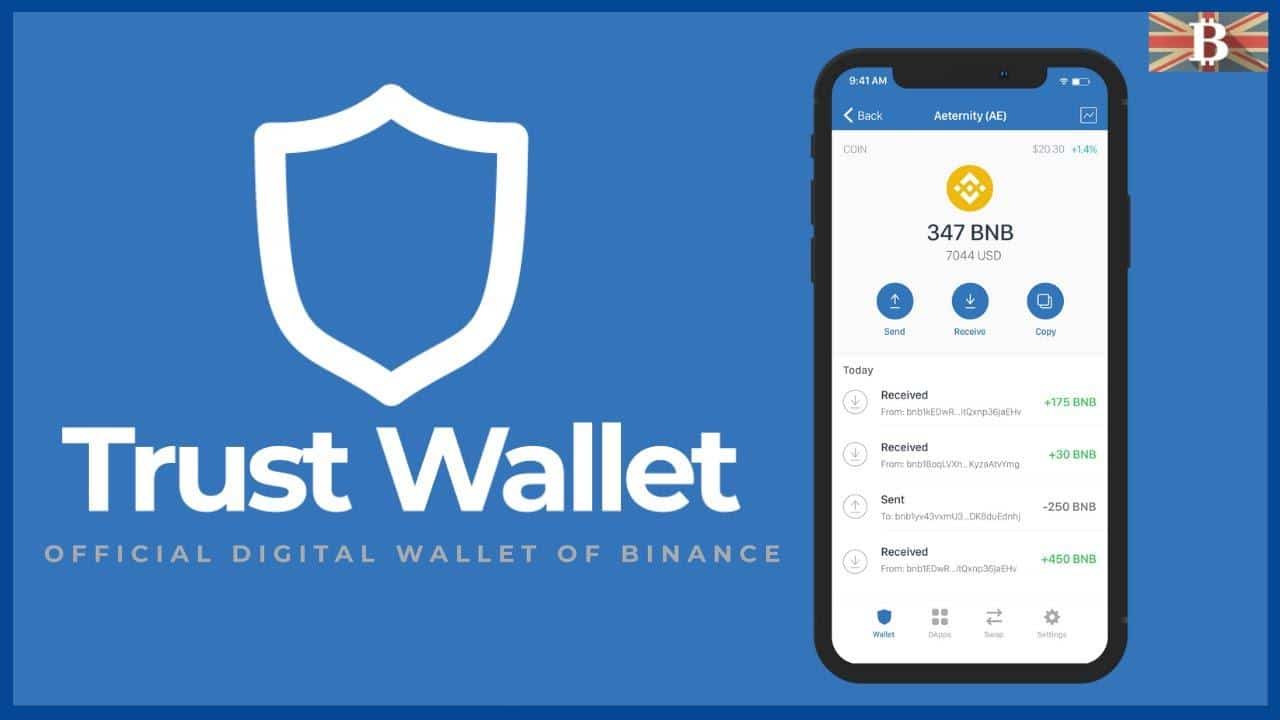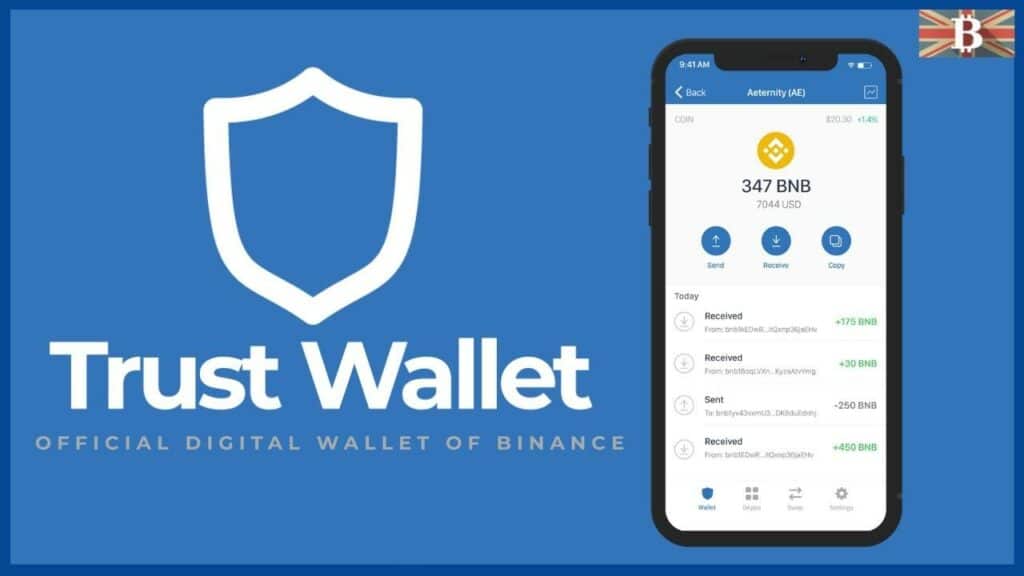 How to use the Trust Wallet?
Follow the steps below to be able to use it properly:
Download and install the Trust Wallet from Google Play or Apple Store. See image below. If the app is already installed on your phone, update it when prompted to do so. Otherwise, you will encounter transaction errors.
Create new wallets as you find necessary. Save the phrases in a secure location so you can use them later.
Proceed to Smart Chain wallet and hit the Receive button to get your wallet address.
Move BEP20 digital currencies to your wallet. You can do this with ease through Binance. Find an asset on Binance that allows BEP20 transfers. Then you can move such an asset to your Trust Wallet.
Once your account has coins, you are ready to trade and stake coins.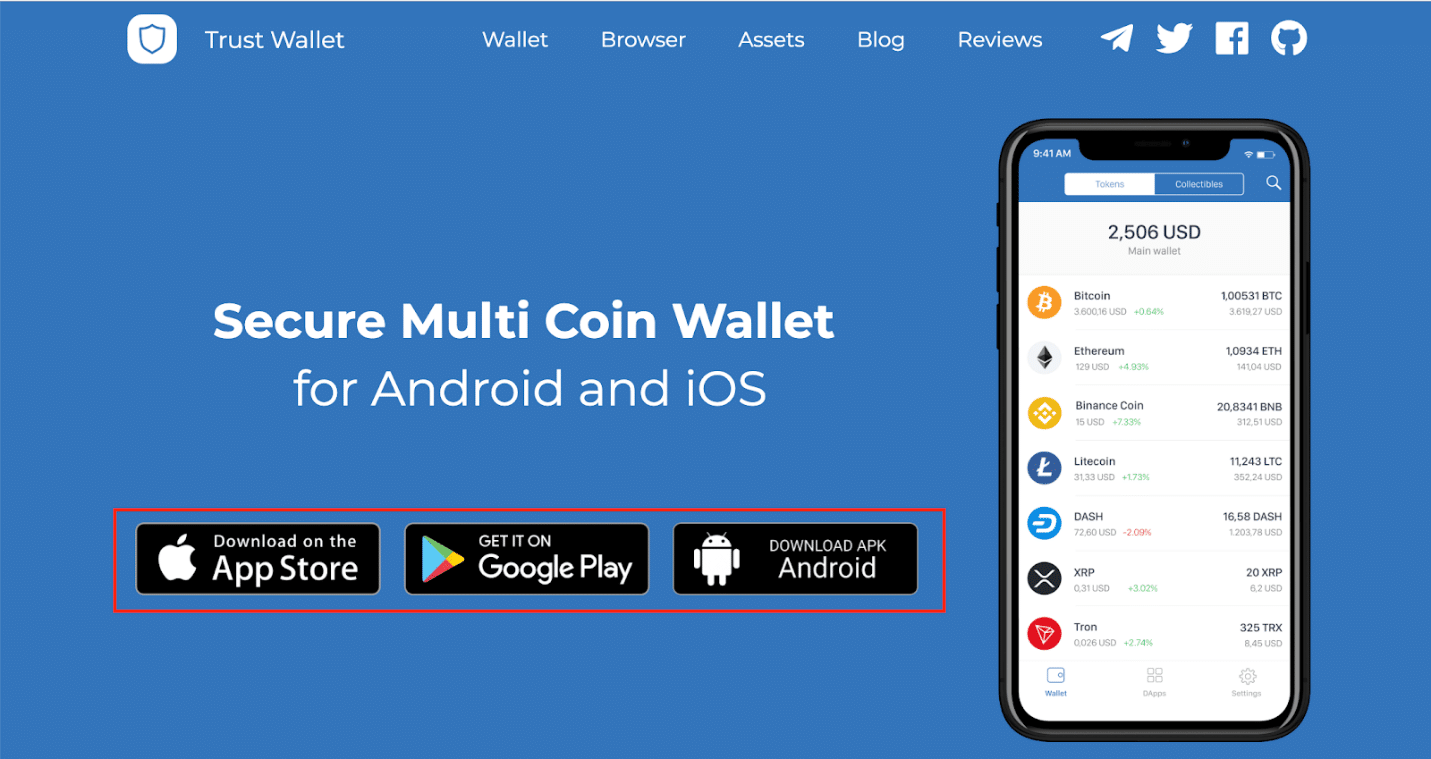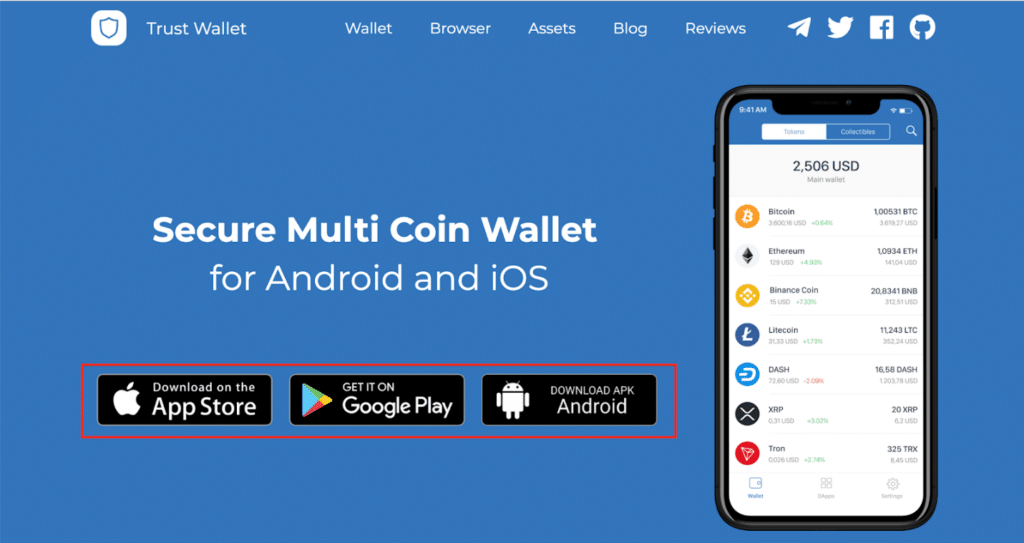 Trust Wallet pros and cons
Before you decide to select a Trust Wallet as your wallet of choice, you must understand the pros and cons. We have listed three main advantages and disadvantages of this app below.
Trust Wallet pros
Several users noted that the app is easy to use. In particular, new crypto traders made this observation. Simplicity is one exemplary aspect of the Trust Wallet.
Quick processing of transactions
Most users are satisfied with the speed at which the app processes their transactions.
Quick monitoring of assets
Users commented that the app makes it possible to monitor the performance of multiple crypto assets easily. Such information is available in one location.
Trust Wallet cons
Trust Wallet is an app available only on mobile phones.
No information about crypto
The platform does not provide documentation about crypto assets. If you want to learn more about any crypto, you have to use external resources.
Withdrawal is challenging
Many users notice that cashing out is more complex than cashing in. If you have used Binance in the past, you can see the difference in withdrawal speeds between these platforms.
Trust Wallet fees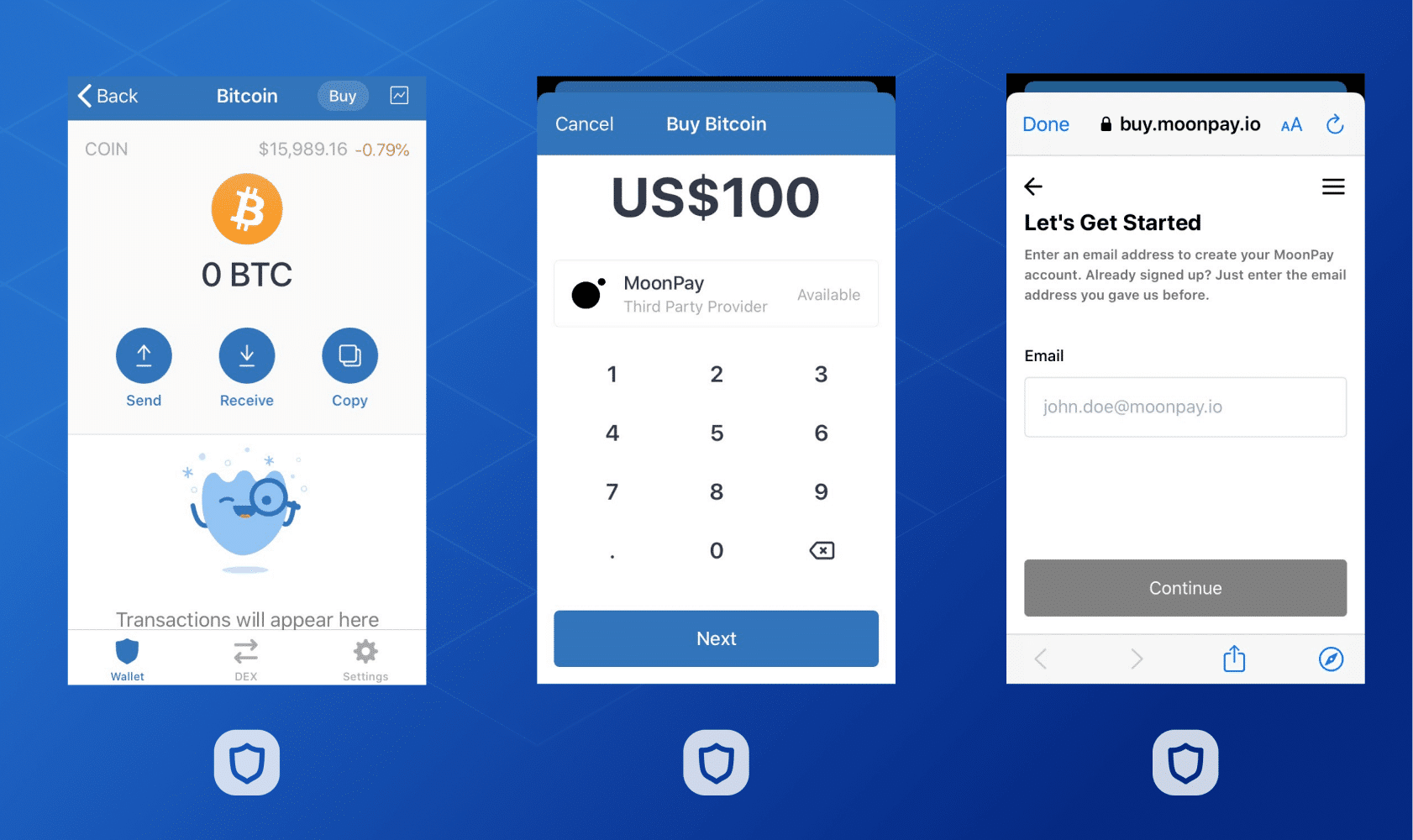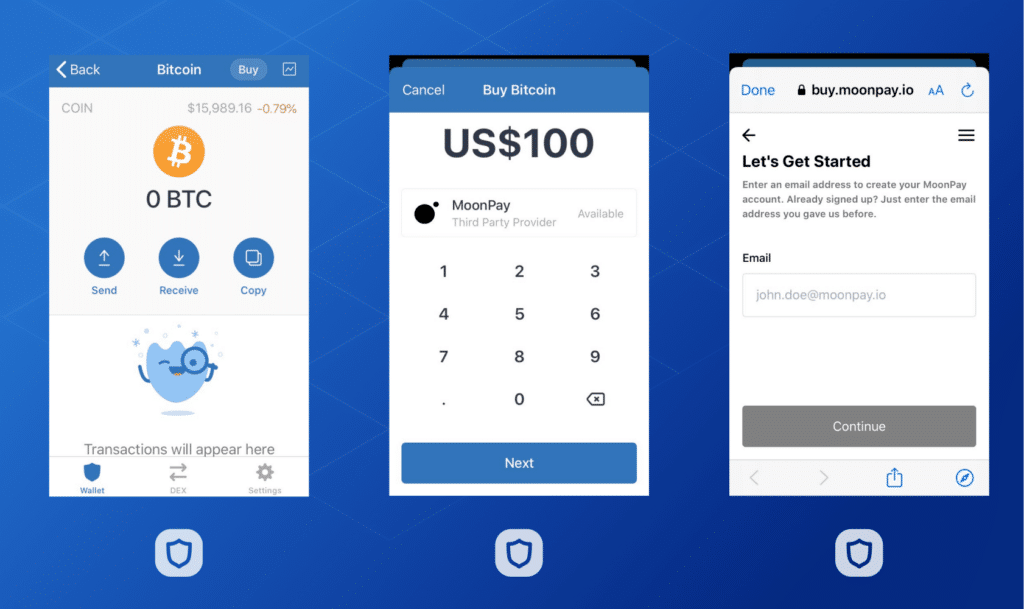 You can get the application for free via Google Play or Apple Store. Also, using this service will not entail a subscription fee. You can use this service indefinitely, free of charge. Costs come in when you perform transactions. We call this network fee.
This comes about when you transfer coins from your wallet to another wallet or a crypto exchange. Take note that Trust Wallet does not set the amount of this fee. The blockchain in use defines this amount.
Trust Wallet functions
It allows you to perform two important functions (i.e., transfer in and out of crypto assets).
Receive crypto
A wallet address is your gateway to receiving coins. To find your wallet address, go to the wallet tab and then hit the Receive button. This will pop up the wallet address on your screen.
Send crypto
To send crypto to another user, you will need his or her wallet address. If the other party has provided this information to you already, go to the Wallet tab and then touch the Send button. Put in the other party's wallet address and the agreed amount of coins in the relevant fields.
Trust wallet features
The list below contains the three most outstanding features of Trust Wallet.
Secure access
It will create a private key that will allow you entry to your account. This key is stored in your device, not in the app's server, for better security. This will ensure that only you can gain entry to your assets.
Multiple-coin support
It supports a wide range of crypto assets. This way, you can buy, sell, stake, and trade different kinds of crypto coins. This gives you flexibility in carrying out your trading activities and goals.
Earn coin rewards
This is similar to putting money in a time deposit. It offers you the opportunity to stake some of your coins. When you do this, your coins will produce passive returns. You have to decide which coins and how much you want to stake. Then the app will set aside that amount until maturity, at which point you can un-stake your coin and earn rewards.
The image below shows how the screen looks when you stake any coin. The example shows Tron (TRX).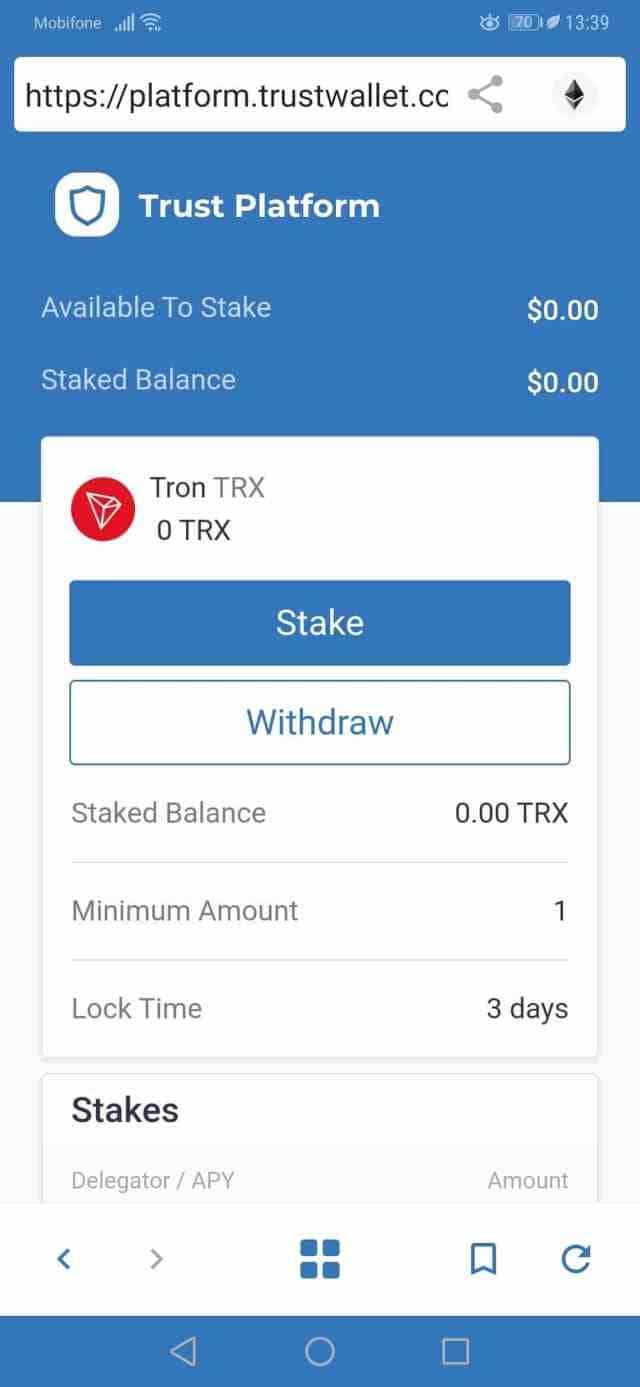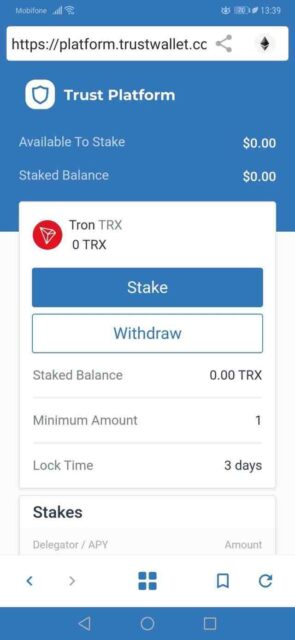 How to access it?
To access your wallet, just run the app on your mobile phone.
Next, select the option to create a new wallet or use an existing wallet.
If you have a wallet already, select the second option.
Select Multi-coin Wallet and enter the phrases you copied during the sign-up process.
Then tap Import.
Once successful, your login is done.
How to pick up alternatives?
While Trust Wallet is a decent crypto trading and storage platform, you have other alternatives. Some of the best choices are as follows:
Binance wallet
Ledger wallet
Trezor wallet
Shapeshift wallet
Final thoughts
As presented previously, this wallet offers multiple useful features that users will find valuable. The app is free, its interface is simple, and navigation is straightforward. Plus, it supports an extensive range of assets. Just take note of the cons outlined. If you can live with these downsides, then this wallet is worth using.