You must have heard several myths about the FX platform. One of them is that the platform is a giant deception, and you will never make money with brokers. There is no doubt that many scammers are trying to demote FX, and traders usually encounter them. Many traders are left with unhappy impressions because of scammers. It triggers the subject of scamming and makes the platform illegal and fraudulent for many of us.
So, before investing their money in financial exchanges, people usually ask themselves: "is forex a pyramid scheme"?
However, it is also common to consider all financial markets as hoaxes and pyramid schemes. But, the majority of brokers work well while strictly following rules and laws, but still, there is a need to know how to identify scams on the financial exchange platform.
Let's find out which FX trading pyramid scheme exists and how to avoid a scam while choosing a genuine broker.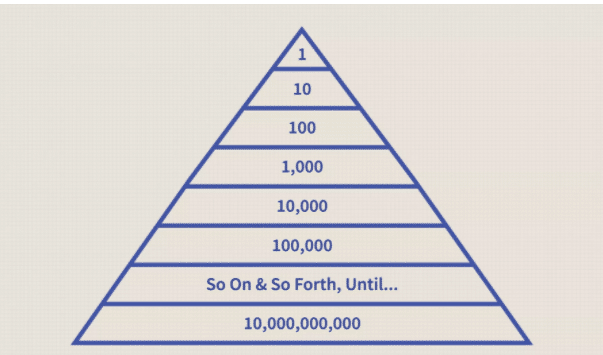 How to identify forex scams?
There is a rule of life that you can also apply before investing in financial markets, i.e., if something seems too good to be true, there is some issue with it.
Trading on this platform can provide you with high profits, but there is always a risk factor. One common thing about fraudulent brokers is that they offer abnormally large returns. So if someone promises massive profitability and zero losses or no downsides, then maybe it's a scam.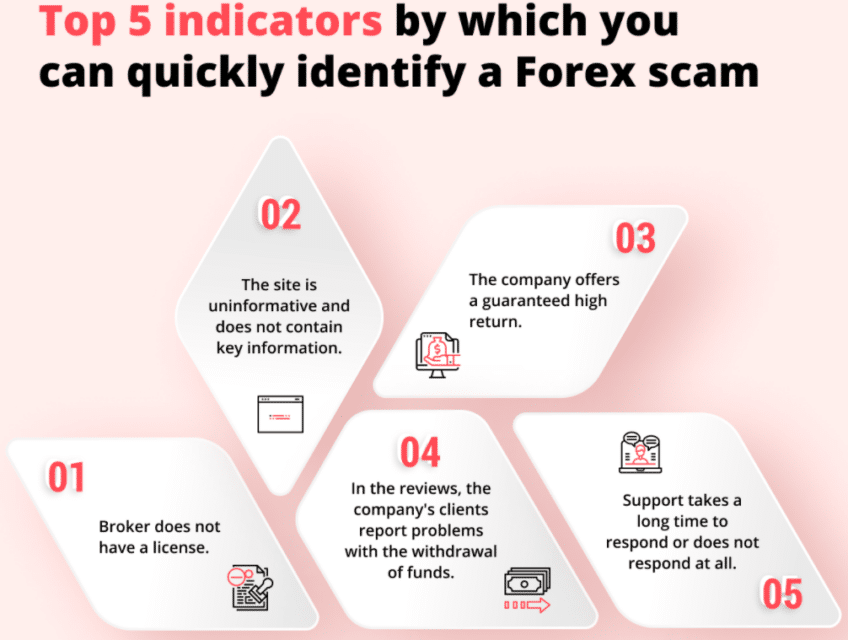 Let's say if someone has any foolproof way of profitable investments, why would they ever leak their secrets? They should have kept this trick to themselves and got rich. But still, if someone is too generous and decides to share his guaranteed trading method, everyone must know that and have tried it.
How to spot a financial pyramid?
Several signs indicate an FX pyramid scheme is active because cybercriminals use them actively. Below are the top five signs.
1. Forex scam promises ultra-high profitability
Clients are often lured by ultra-high yield as one of the best options. Some companies claim that you can earn fantastic profits of up to several thousand percent per year.
Fraudsters exploit the client's greed in this case. When huge profits are promised, it may be hard to resist. In this way, many of its clients agree with their proposal, which is an FX scam.
2. Deceptive simplicity of earning income
Inexperience or the desire to make money 'lazily' are two other tricks scammers use to defraud investors. This firm's main selling point is: 'Invest with us, and our experts will handle everything for you, and you will only earn huge profits.'
Until such 'statements' are verified, they will not inspire confidence at all. It is important to verify this by revealing the manager's real identity and statistics. In many pyramid schemes, the names of the team members are not even mentioned. Whenever statistics are published on a website without links or confirmations, you shouldn't believe them.
3. Some documents are missing
Financial institutions must operate under the laws of the nation or state in which they offer services. The legality of the activity can only be verified through documentation. Do not cooperate with a company that lacks all relevant legal and other documents.
4. The pyramids usually have opaque earning mechanisms
It's just a matter of investing money and making a profit. A pyramid promoter frequently uses this slogan. On the other hand, there is no indication of where the money is coming from.
Among the phrases written on the site of the pyramids are:
You can earn dividends by investing in this platform.
Trade with various assets to increase your deposit.
Investing your money in stocks is the responsibility of experienced managers, etc.
There is a high probability that you are in front of an ordinary FX pyramid if there are no specifics about where your money is invested.
5. Highly rewarded multi-tiered affiliate programs
A multi-tiered program with solid bonuses is another signal of the pyramid scheme. Whatever the company is, whether it is a classic pyramid scheme. It pays out rewards to old customers through new deposits. Or it could be a scam, and in this case, it pays nothing to anyone. However, its main focus is on attracting as much money as possible. To accomplish this, affiliate programs are offered at different levels.
How to avoid forex pyramid schemes?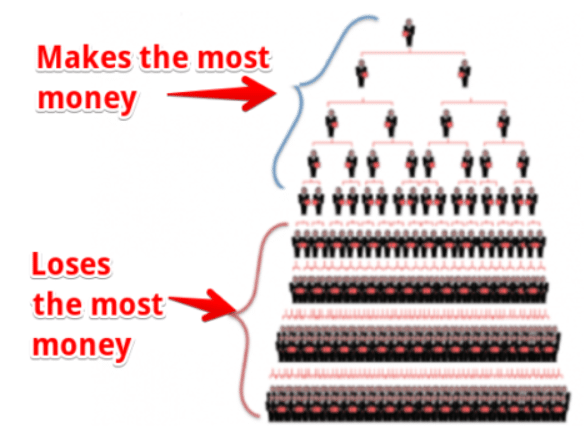 Verified trading statements should be used as proof of results. First, you must verify that the person selling you the scam has achieved the results they claim. You can use any well-known website to verify trading results.
Do not give out your financial or personal information to strangers over the phone or the internet, regardless of how convincing the person might seem. It is the job of scammers to make you believe something that is not true.
Listed investment companies and registered investment managers can be found in online forums. You can typically find these through the stock market regulator in your country.
Spend some time researching a real investment manager, a good signal service, or a profitable forex robot so you can make reasonable investments.
It takes time and energy to learn to trade, and it's not guaranteed that you'll succeed, but it's the only way to prevent being scammed.
Upsides and downsides
| | |
| --- | --- |
| Upsides | Downsides |
| A multi-level marketing operation (MLM) is similar to a pyramid scheme but differs in that it involves selling tangible products. | Many countries consider pyramid schemes illegal. |
| An organization's pyramid scheme funnels earnings from its lower levels to its top and associated fraudulent operations. | Networked profit-making often recruits their acquaintances, which feels slimy for all involved and ultimately strains relationships. |
| Most pyramid schemes reap profits from recruitment fees rather than selling products or services with intrinsic value. | Investors should avoid such schemes. |
Final thoughts
Although FX pyramids can sometimes bring a profit to clients, it happens very rarely. Occasionally, a fraudulent company will pay a few dollars to entice the client to increase the deposit amount even further by proving that they are indeed profitable. But don't be fooled. Does it make sense to risk all your money to make a tiny profit? Our recommendation is to avoid FX pyramid schemes.
With a scam, there is very little chance of making real money. Therefore, it is unlikely that you will make a significant profit even if you temporarily profit.