For many people saving and budgeting is a vital part of their financial planning. Nowadays, we have to account for every penny since the global economy is in an unclear state.
Everyone lives in fear of the pandemic; however, we need to protect our money irrespective of what the future holds. Unfortunately, most of us learned a hard lesson when the pandemic caused havoc globally. Many people lost their primary source of income.
Therefore, it is imperative to start budgeting and saving correctly. But there is no need to worry about paperwork and spending hours to account for how we spent every dollar.
That is why apps like Moneydance make our lives easier. It has useful features to help us manage our finances efficiently and securely.
Learn in this article about this saving and budgeting app.
Moneydance top features
It offers payments of bills, managing income and expenses, tracking investments, online banking, budgets, and reporting. The software also supports numerous foreign currencies as well as cryptocurrencies.
1. Safety and security
The app uses advanced security innovations to protect users' accounts. The app uses encrypted technology, which banks employ. Furthermore, Moneydance allows for two-factor authorization, biometric, and secure PIN access.
Once you have paid for the subscription, the app issues a license key for the software. This allows you sole access to use the software from any device with secure login details.
2. Membership plans
Moneydance service is available as a once-off payment of $49.99. The app is Windows, Linux, and Mac OSX compatible, and the cost covers any of these versions. If you prefer the mobile application, you can download it for Android or iOS.
Moneydance offers a demo version of the software, allowing you to test the application features and functions before purchasing the app.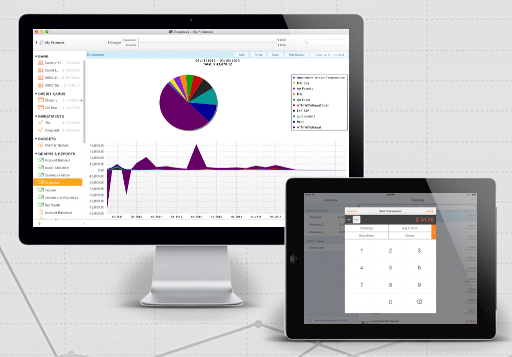 3. Budgeting and goals
When you access the Moneydance dashboard, you will find numerous features to choose from. One of the features is the My Budget tool. The tool allows users to create their budgets and set up saving goals. Moneydance uses this data to sync with your transactions and let you control your spending.
The budget tool comes with a comprehensive list of pre-labeled expense categories, thereby saving the user to create different types. However, users can edit the labels to suit their criteria.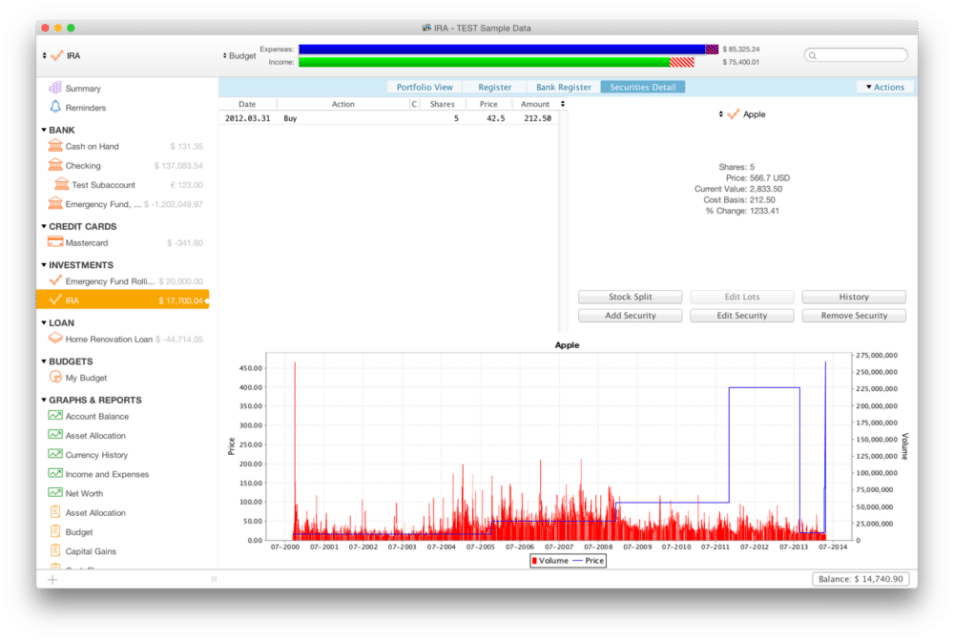 4. Special features
Besides linking your credit, personal loans, and saving accounts, you can also track your investment accounts from the Moneydance app. The app offers the tracking of investment assets like stocks, bonds, CDs, mutual funds, and many more. You can stay on top of the performance of your investments. In addition, you can view the value of your investment accounts.
Moneydance also produces a summary of your transactions and accounts. This feature will give you an overview of all your accounts. For each account, you will be able to view a summary of upcoming payments, overdue payments, reminders, and even exchange rates.
Another good feature that Moneydance offers is the ability to set up reminders. The app has a payment schedule option for recurring transactions, which notifies you of upcoming payments. This way, you don't miss any payments.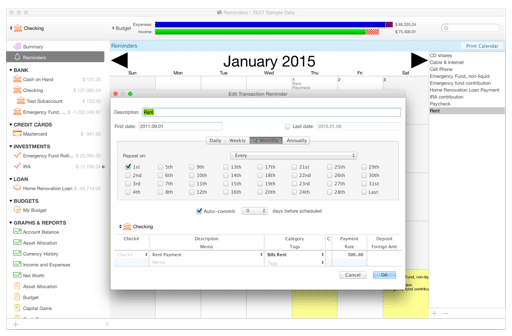 5. Syncing of bank accounts
The Moneydance app links to multiple bank accounts, which allow syncing of transactions to the app automatically. The app not only downloads transactions from bank accounts but also performs online payments from your bank. It also automatically categorizes your transactions.
When you register with Moneydance, the app has a tool that walks you through the process of linking your bank account. The app allows you to make online payments via the interface of your bank.
Moneydance also allows users to manually enter transactions, which is helpful for those who do not prefer linking bank accounts.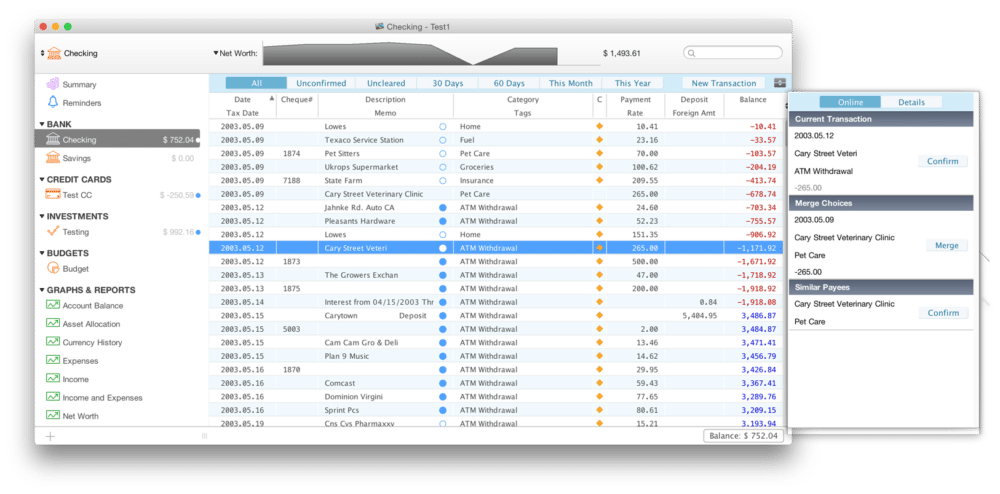 6. Transactions and reporting
Moneydance groups transactions per category, but users can edit and add categories as they see fit. You can also upload transactions manually, and the app will automatically sync them with your budget.
The app also visually presents income and expenses with the aid of colorful charts. The app generates graphs to visualize:
Account balance
Asset allocation
Currency history
Income and expense
Net worth
Users can create graphs and reports based on type, date, and extra settings they want to visualize. Reports and graphs are visible via the app, but users can also download the reports. The app allows you to export and print the reports and charts should you require hard copies.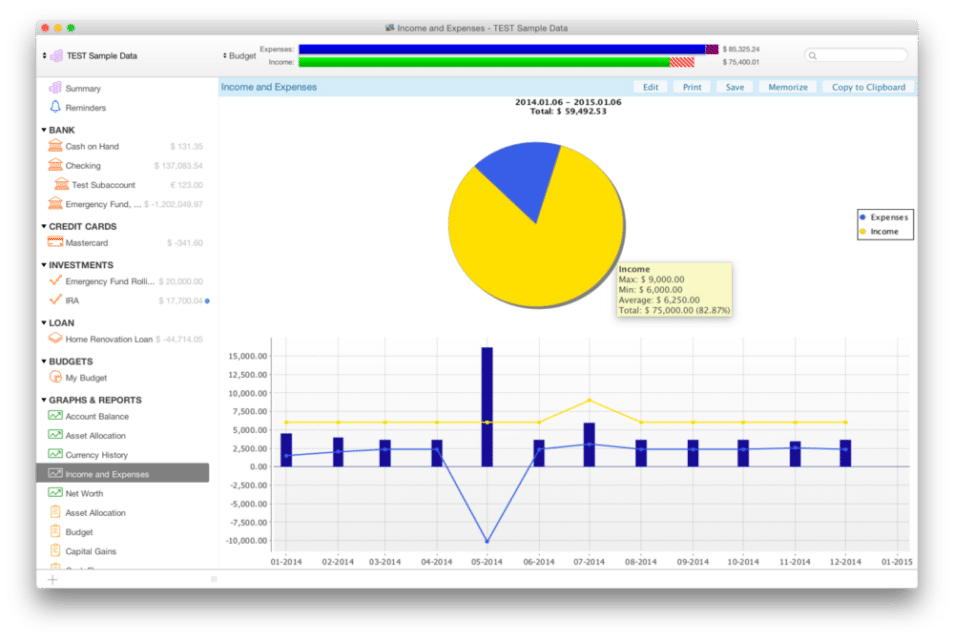 7. Support
The Moneydance support does not offer telephonic or email support. They offer support via an online form and a help section via the Moneydance website. You have to populate the form, and a member of support will respond to your request.
The online forum allows you to access public comments and responses to queries.
Pros and cons of Moneydance
The numerous features of this app set it apart from its competitors. However, the service has pros and cons to consider.
Pros
Cons
•A once-off fee of $49.99 allows users access to all features and future app updates. 
•You can use the app to perform online payments. 
•Moneydance reports and graphs are visual and easy to interpret. 
•Users can create and edit transaction categories. 
•Moneydance supports cryptocurrencies. 
•Track investments via the Moneydance app.
•It does not offer telephonic or live chat support services. 

•The demo version has limitations. 

•The interface is dated and lacks the modern features of its competitors.
Final thoughts
Moneydance has solid features to help you have better control over your personal finances. The price is affordable, and no upgrades or additional fees are required. The app has its downsides; however, it offers numerous excellent features which outweigh the negatives.
Furthermore, the application is easy to use and downloadable as a desktop or mobile format. Therefore, it is ideal for checking your finances while on the go. Users will also be satisfied knowing that the Moneydance team updates the software regularly to improve security and stay up to date with the latest features and technology.