A growing number of financial institutions are starting to see the potential in Bitcoin investments. In 2012, hardly anybody had heard of Bitcoin or any other digital currency markets. Since then, the sector has grown worth $1.7 trillion annually.
Early Bitcoin investors have made a lot of money thanks to the market's rapid surge in value and spread. One of the most popular hobbies these days is trying to find a new Bitcoin unicorn and investing in it.
Like cryptocurrency tokens/coins, cryptocurrency stocks are increasing steadily on the stock market charts. So now, let's look at the top three cryptocurrencies at a stock price.
Why is it worth investing in cryptocurrency stocks?
As with any investment, cryptocurrency trading comes with its share of risk. Nevertheless, it's an excellent method to get a feel of the demand for digital money via cryptocurrency investing. Investing in BTC-related companies' stocks is a secure but perhaps less lucrative choice. Investing in such stocks may be good if the investor wants a lower risk.
How does it work?
You can only use "cryptocurrencies," or digital currency, on the internet. Is this money-backed or issued by any government or central bank? In today's market, there are a variety of strategies to invest in cryptocurrencies. For example, instead of a "cryptocurrency stock," you might say that cryptocurrencies are not commodities. As an alternative, we may invest in publicly listed corporations that invest in or have ties to this digital currency.
How to start?
To begin searching for and investing in your preferred crypto stock, you'll first need to fund your account. First, you should find an available broker. Then verify your account after you've joined up. Then, to begin trading, click "open trade" after entering your position size and verifying that it is correct.
Coinbase Global Inc. (COIN)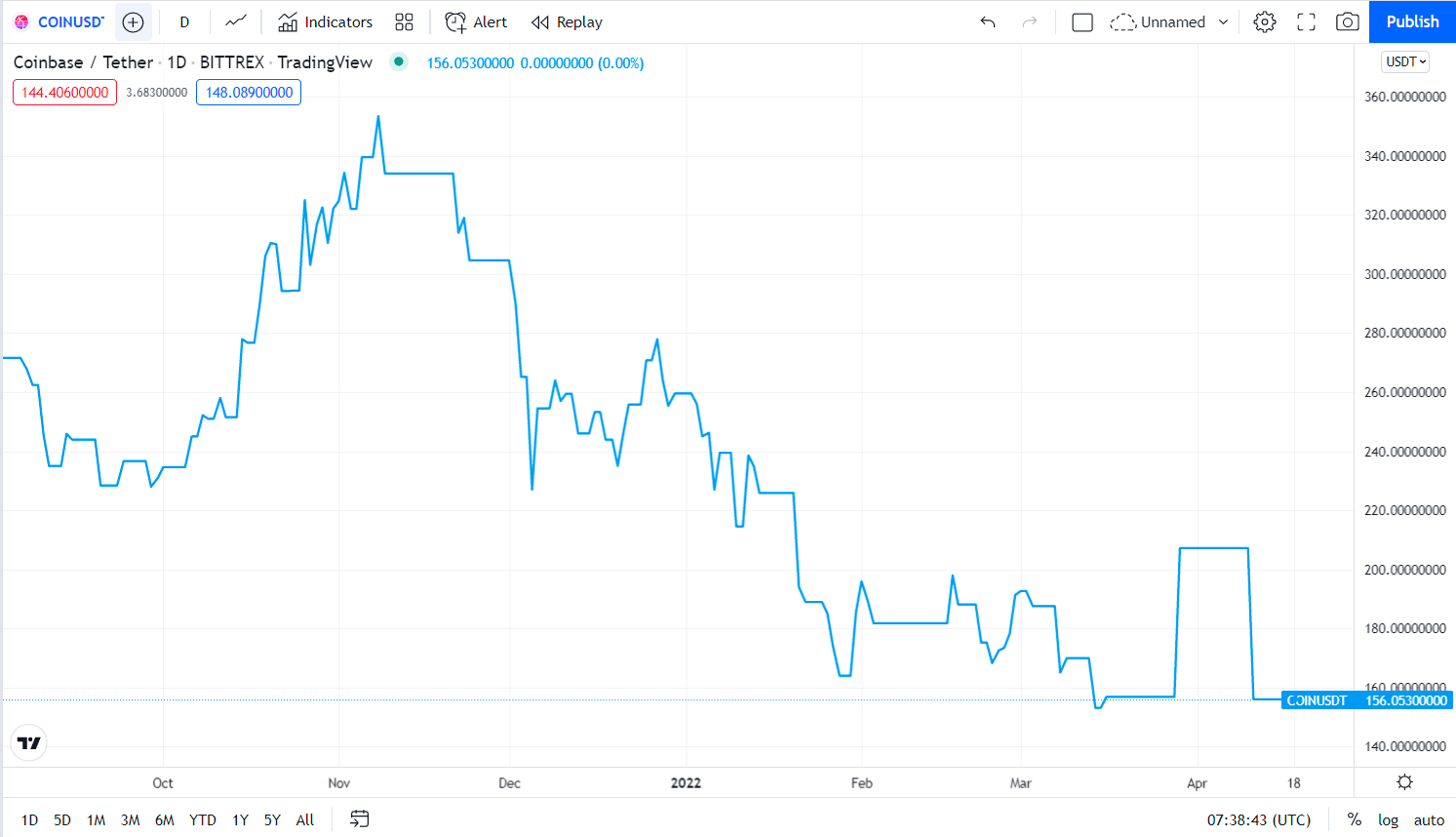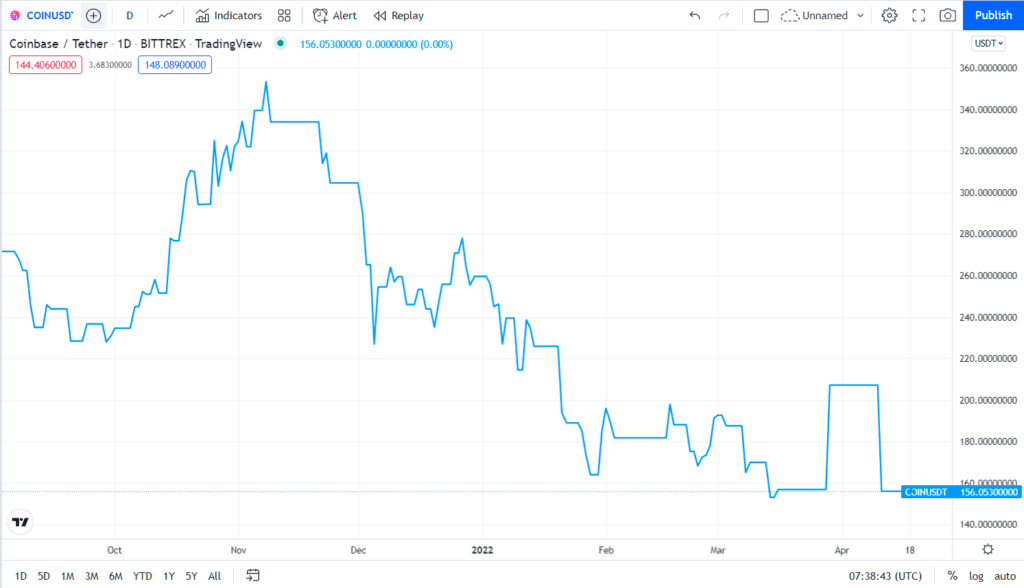 52-week range: $140.53-$368.90
1-year price change: the currency gained from April 24, 2021, at lows of 195.00 to the highs in November 2022, around 368.00. However, the coin could not sustain the gains and fell back to resh lows of 140.00.
Forecast 2022: the analysts offering 12-month price forecasts for Coinbase Global Inc. have a median target of $275.00, with a high estimate of $600.00 and a low estimate of $135.00. The median estimate represents a +89.46% increase from the last price of $145.15.
The growth in Bitcoin prices, which has resulted in millions of new consumers registering accounts, has been critical to the success of the Coinbase platform. Coinbase earns a small transaction fee for each order submitted to buy or sell a cryptocurrency. However, it's more than just a trading platform that the company wants to be. With the launch of its cloud platform, it's also sponsoring a debit card that allows users to spend money from their virtual wallet balances.
Coinbase has two revolutionary characteristics:
Asset loans formerly only available to affluent investors are now open to the general population. To acquire a low-interest loan, users may put their Bitcoin or other cryptos up as collateral on the website. In the case of a crisis, investors may keep their crypto assets instead of selling them, allowing their principle to increase while they cope with the current scenario.
The second trend is governments and financial organizations are employing Coinbase's blockchain analytics more and more often. Because most blockchains are open ledgers, the company can utilize the data and watch for any suspicious transactions or addresses.
Assume that a person's computer has been hacked and a Bitcoin ransom has been requested to unlock it. Millions of KYC data points on Coinbase can be matched to the hacker's wallet address. This might help law enforcement trace down money and catch criminals, boosting trust in the Bitcoin economy.
PayPal Holdings (PYPL)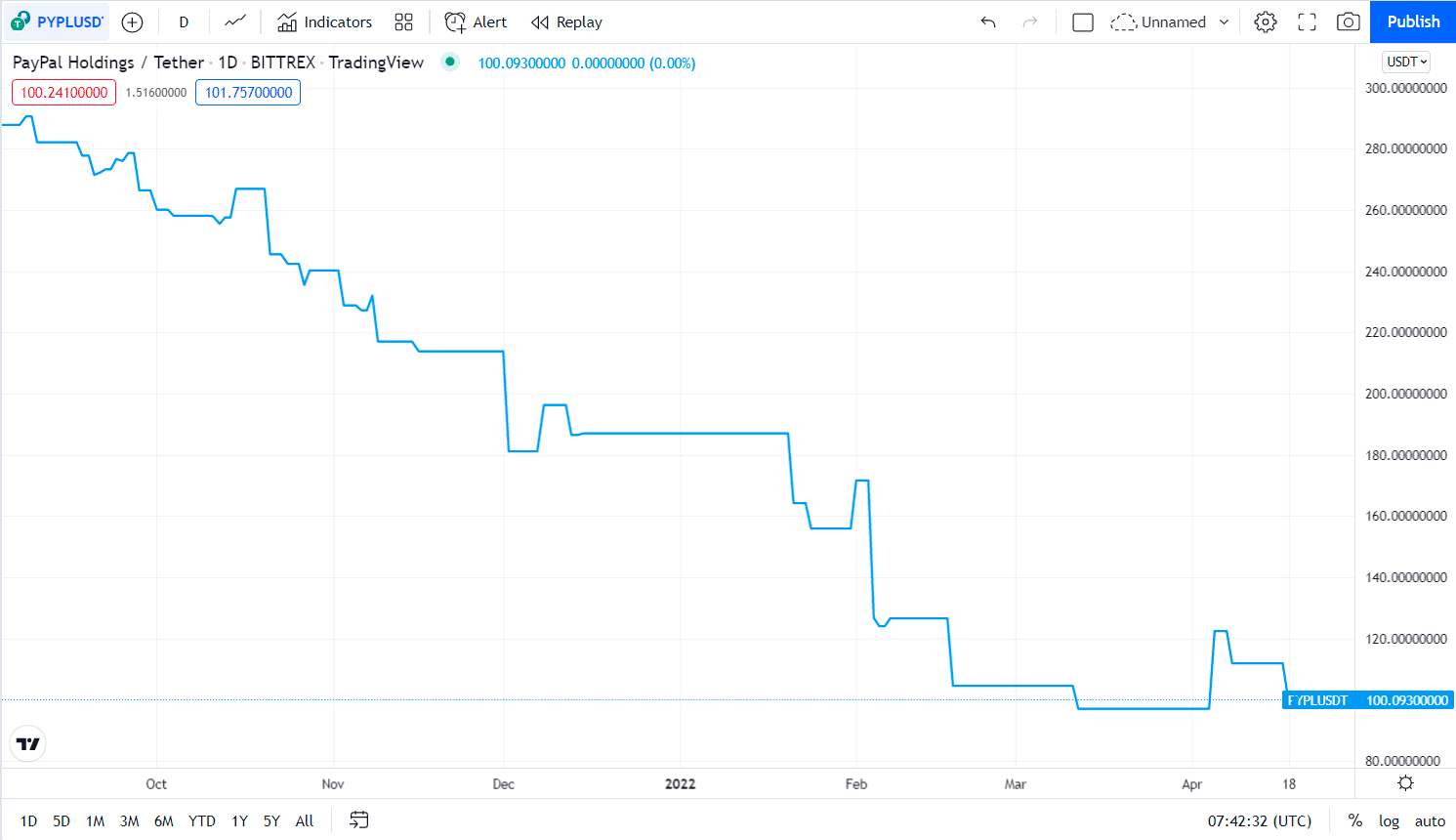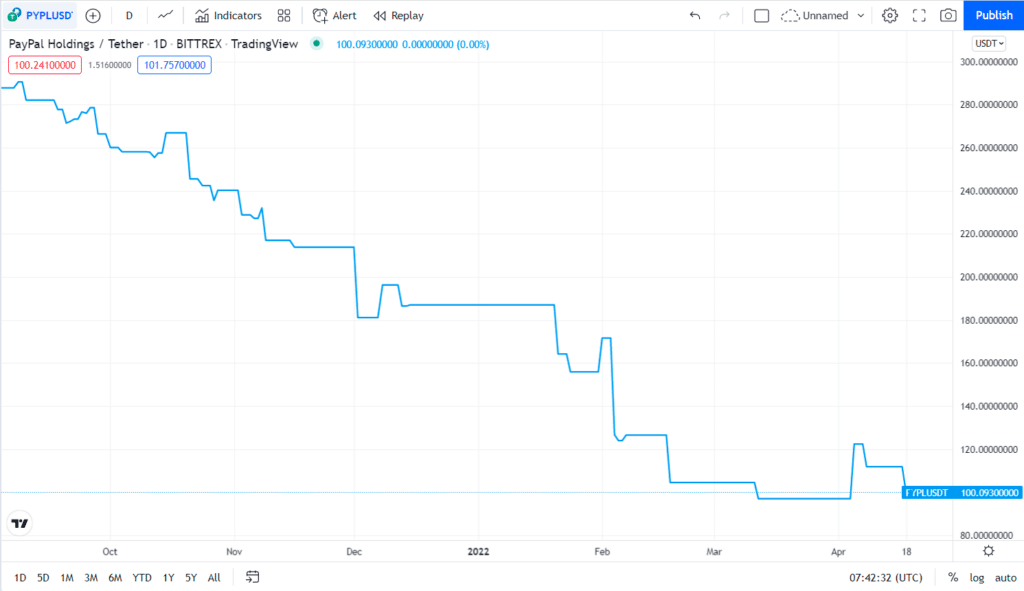 52-week range: $92.25-$310.16
1-year price change: the stock price of PYPL took a dip from the highs of July 27, 2021 at $311 and fell to $92 in March 2022. The price has remained around the lows since then.
Forecast 2022: according to the latest long-term forecast, PayPal's price will hit $200 by the end of 2022 and then $250 by 2023.
Any digital payment system relies on the absence of central intermediaries and, therefore, lower costs for businesses and consumers. For example, customers may purchase and store Bitcoins in a digital wallet due to the success of PayPal Holdings (PYPL) digital wallet offerings.
The end of 2017 saw the introduction of Bitcoin trading on Square's Cash Software, a user-facing program. In 2020 and 2021, Bitcoin was a significant source of revenue for Square, even though the trading function had little impact on the company's bottom line.
It is, however, encouraging Bitcoin adoption among Block's corporate customers, and it might become a significant platform for crypto transactions between companies and their customers through the Block ecosystem.
To a large extent, this is how Venmo (PayPal's digital wallet and peer-to-peer payments program, which launched in early 2021) resembles a traditional bank account. Since its inception in 2013, Venmo has allowed users to send and receive Bitcoin, Bitcoin Cash, Ethereum, and Litecoin. Since Venmo has more users than any peer-to-peer money transfer app, this new feature might make it a powerful bitcoin platform. It is an excellent starting point for investors who wish to purchase huge cryptocurrencies and use them to buy altcoins or decentralized financial software.
Hut 8 Mining (HUT)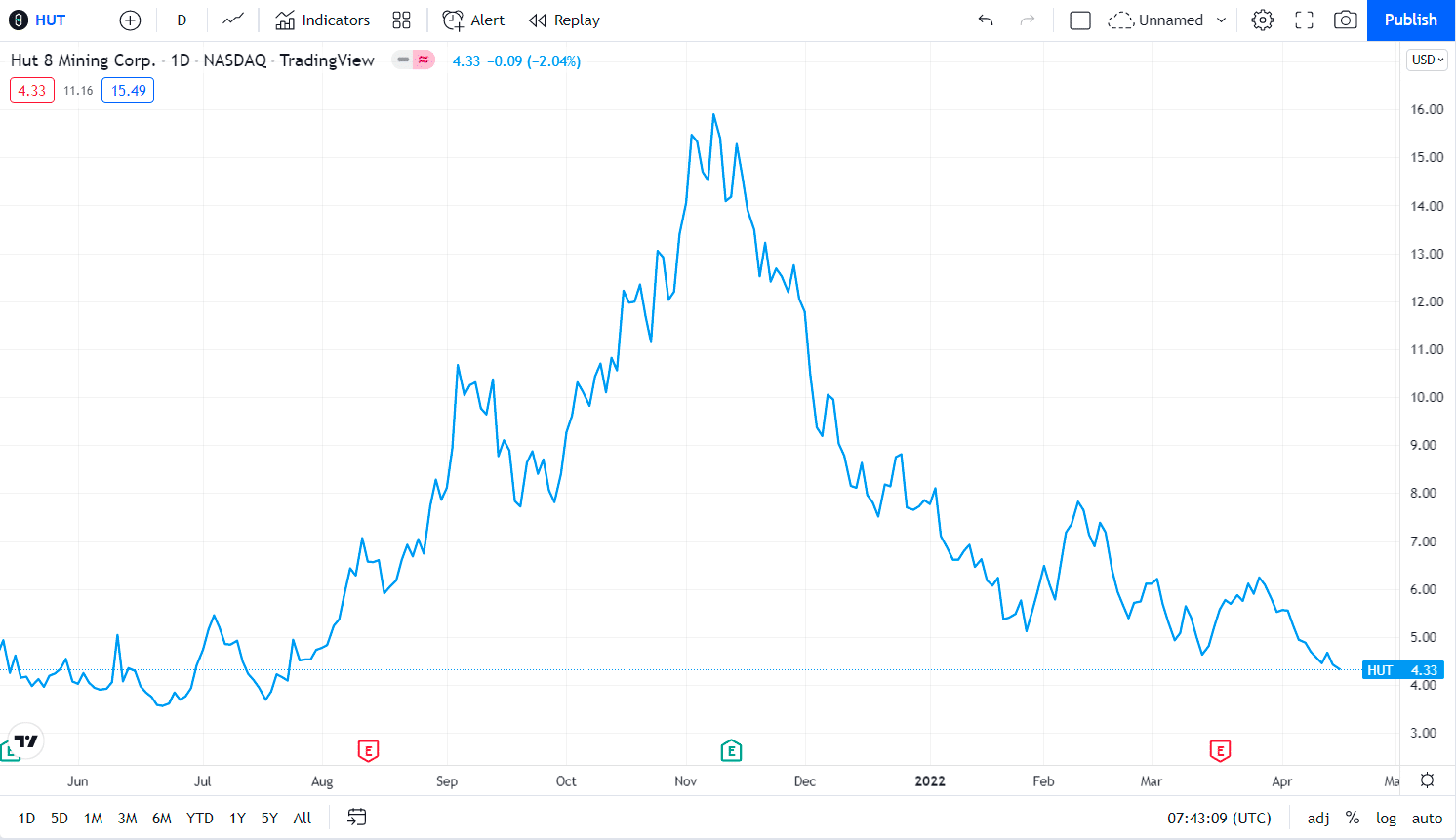 52-week range: $3.1500-$16.5700
1-year price change: From the yearly lows of $3.15 in June 20221, the stock price soared to $16.5 in November 2021 but could not hold the gains and fell back to the yearly lows around 4.30.
Forecast 2022: On average, analysts forecast that HUT's EPS will be $0.52 for 2022, with the lowest EPS forecast at $0.48, and the highest EPS forecast at $0.60.
One of the most popular Bitcoin mining stocks is Hut 8 Mining, one of the most notable Bitcoin mining companies (HUT). Located in Canada, the company has a significant stake in the Bitcoin network and generates a lot of cash flow relative to its sales. Investor earnings are maximized at Hut 8 Mining via Bitcoin loans and crop yields rather than the open market. Compounding returns may be achieved as a consequence. It is also possible for investors to ensure that the company will not be embroiled in any environmental difficulties relating to the activity. It is essential to Hut 8 Mining's long-term success that all of its power generation facilities be leased for ten years.
Upsides and downsides
| | |
| --- | --- |
| Upsides | Downsides |
| They are easy to buy and sell. | You do not own the coins. |
| There are potential tax savings. | You can not trade 24/7 without the coins. |
| Vetted cryptocurrency technologies. | Some stocks are a bit more expensive than the cryptocoins. |
Final thoughts
Investors have a wide range of alternatives for Bitcoin equities because they aren't all pure investments. The cryptocurrency market might dramatically affect the volatility of a company's income and earnings. There is a growing public acceptance of cryptocurrencies, on the other hand. UWMC, the second-largest mortgage lender in the United States, will begin accepting Bitcoin payments in August 2021. More investors will be interested in crypto stocks as more businesses join the blockchain revolution.