Web 3.0 is the newest generation of the World Wide Web, focusing on decentralization. We will see greater use of blockchains, crypto-assets, artificial intelligence, and Metaverses in Web 3.0 applications and services. With this technology, people will control their data and find personalized content.
Other crypto elements like non-fungible tokens (NFTs), the Metaverse, and Web 3.0 also recognized and adopted significant growth. Investors, therefore, are looking for lots of cryptocurrency projects to remain up to date with this revolution. We will examine the broadening crypto landscape and its elements in this series as we approach 2022.
Read on to find the top three Web 3.0 Metaverse projects.
Why is it worth investing in WEB 3.0 Metaverse projects?
In other words, this is version three of the Internet. For example, Web 1.0 is considered the first version, while W2.0 is flourishing due to Alphabet and Amazon. It's now clear that Web 3.0 represents a takeover of the Internet by the tech giants.
It is becoming clear that Meta and other technology companies often do not act in the public interest. It is going to take authority back from these companies. In terms of the crypto sector as a whole, 2021 proved to be a noteworthy year.
In October 2021, the market capitalization of cryptocurrencies reached $3 trillion (roughly Rs. 2,15,66,720 crore), reaching its highest level so far.
How does it work?
The properties incorporated into these projects are artificial intelligence (AI), semantic web, and ubiquitous capabilities. Companies aim to provide their users with faster, more relevant data by using artificial intelligence.
With the help of artificial intelligence, a website should figure out which data is most relevant to a particular user. In terms of search results, social bookmarking can be better than Google, as results are based on user votes. Human intervention can also affect the results. Using artificial intelligence would be possible to separate the actual results from the false and produce similar results to social bookmarking and social media without the downside.
Everyday objects can be programmed to be ubiquitous computing devices, enabling devices in an environment to communicate with each other. It's believed that Web 3.0 will have this ability as well. It is similar to the concept of the Internet of Things.
They will comprise microformats, data mining, natural language search, and machine learning technologies. Peer-to-peer (P2P) technologies such as blockchains should also play a more significant role in Web 3.0. Open APIs, data formats, and open-source software are also likely to play an essential role in developing crypto applications.
How to start?
Now is the time to get involved with the Internet of the future. Here are some easy ways to buy Metaverse cryptos.
Step 1.
You can deposit fiat on Binance through e-wallet transfers or bank transfers. Make sure you check the fiat channels available for your desired currency. Optional: exchange fiat currencies into BUSD or USDT to trade a wider variety of tokens.
Step 2.
Web 3.0 tokens may be purchased through Wallet purchases and directly with credit/debit cards.
Step 3.
You can use these tokens by transferring them from the Binance address to a MetaMask wallet address. Following are the top projects you must consider before investing.
Helium (HNT)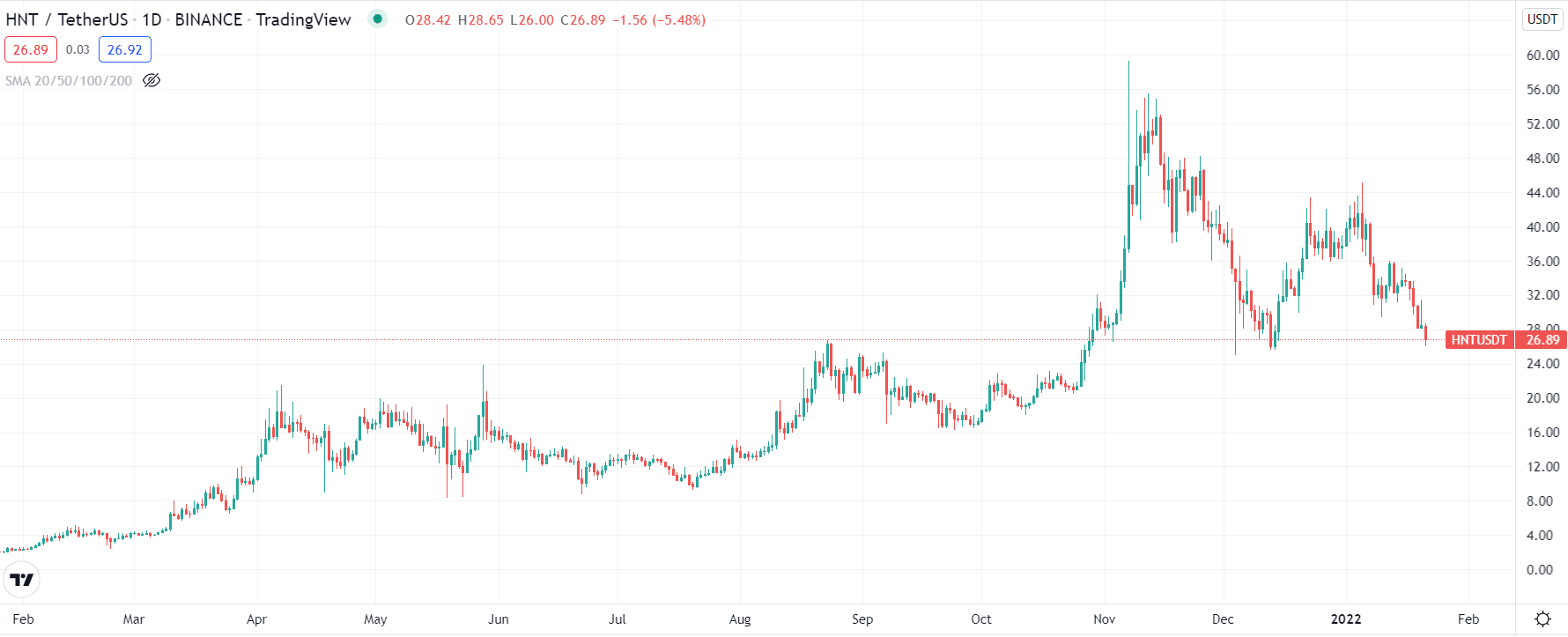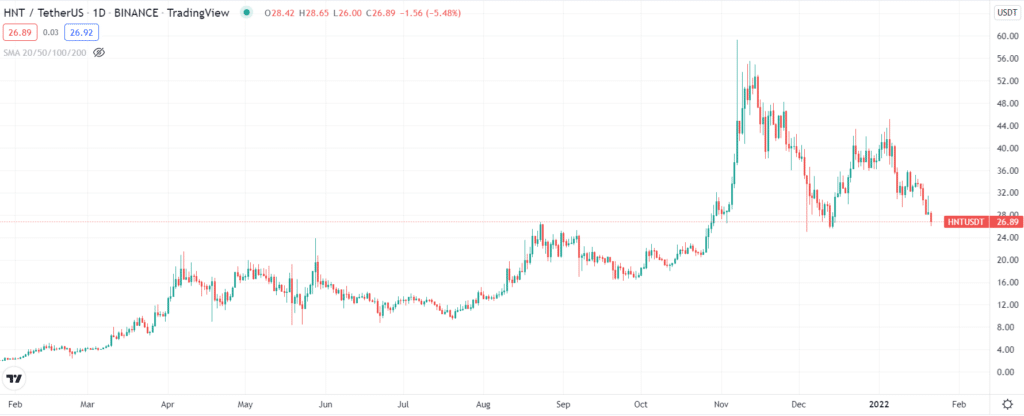 52-week range: the Helium project has its highest at $69.31 and its lowest at 1.77.
1-year price change: its price has increased by 1,575.77% in the last year.
Forecast 2022: on average, Helium will cost $44.53 in December 2022. A 15% increase is forecast for the price of Helium for December 2022, which is $44.98.
A popular cryptographic project known as Helium makes the Internet accessible to everyone. Using this project, ISP giants such as AT&T and Verizon will face competition on the web.
The help of blockchain and physical hotspots provide users with internet access worldwide. Users can buy hotspot hardware that can be installed in apartments. In Helium, users can find nearby hotspots and connect to them actively if they wish to communicate outside the building.
Livepeer (LPT)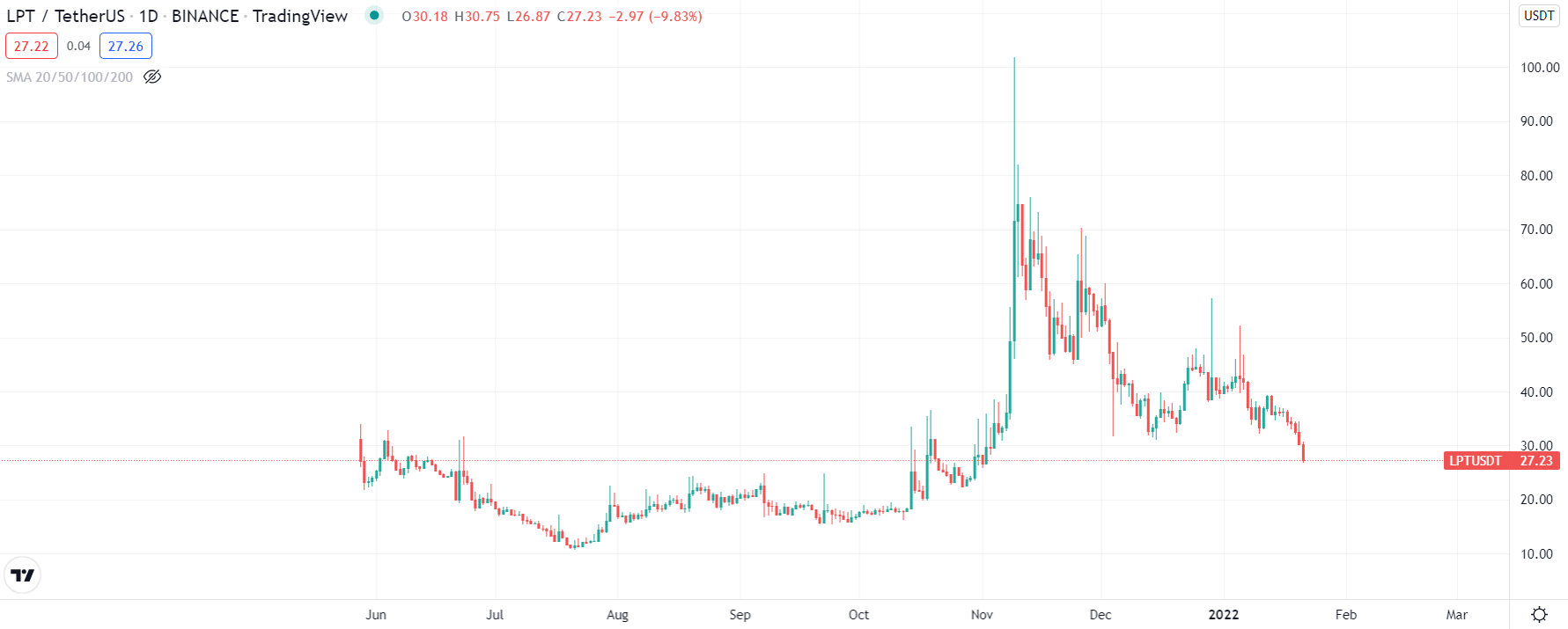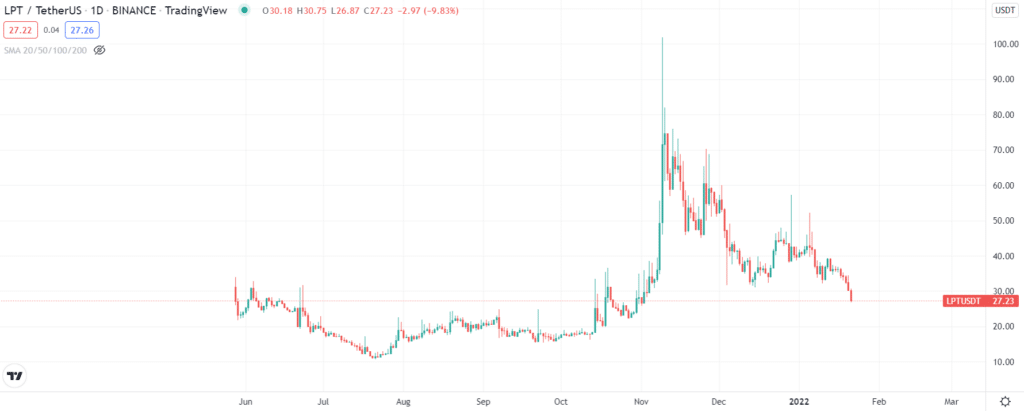 52-week price range: the LPT has a 52 week low of $1.09 and a 52 week high of $100.24.
1-year price change: the coin can reach $73.88 in one year.
Forecast 2022: according to projections, the coin price is expected to reach $34.161 at the start of 2022. It may rise to $37.097 by the end of 2022.
Built on the Ethereum blockchain, Livepeer is a decentralized video streaming platform. Due to its open-source nature, the platform can be managed and maintained by developers and users alike.
In addition to ETH, the holders of the LPT token can stake the token in the network to earn both ETH and LPT rewards. Miners of videos on the blockchain can use their GPUs to transcode videos, and they receive tips in the form of ETH and LPT.
Audius (AUDIO)


52-week price range: the AUDIO has a 52 week low of $0.1747 and a 52 week high of $4.99.
1-year price change: in 1 year, it could rise to $2.76.
Forecast 2022: numerous websites and forums offer a seamless approach to this currency. Based on the predictions of this platform, Audius prices will stay the same for quite some time. The AUDIO will reach its maximum value of $2.19 by 2022. If the market gets bullish, the minimum price can increase to $1.85.
Audius is a decentralized music streaming protocol that aims to make it possible for anyone to distribute, monetize, and stream any audio content. In addition to providing access to exclusive features, $AUDIO serves as the native token that allows for network security and community governance.
It is possible to stake $AUDIO to run discovery or content nodes. Aside from unlocking artist tokens and badges, $AUDIO will also let artists "receive votes from fans who want to share in their success."
Upsides and downsides
| | |
| --- | --- |
| Upsides | Downsides |
| As time goes on, their viewpoint can gradually change. | Investors and venture capitalists will own it. As a result, the control may still be centralized. |
| It serves as a user system in the form of creator-driven platforms and is designed by the users themselves. | Older devices won't be able to handle this technology. |
| The decentralized blockchain technology aims to return power to creators and users. | Data on one's own and public data is easier to access. |
Final thoughts 
The human race stands on the brink of another technological revolution. In addition to being a transformational event for humankind, Web 3.0 could also significantly impact your financial future. When the world begins to embrace all that Web 3.0 can offer, investors and builders who embrace the possibilities will find themselves in an advantageous position.