Since Mark Zuckerberg announced that his company would change its name from Facebook to Meta, all we have heard about is this metaverse concept that will change our lives forever. This thing taken out of sci-fi movies will transform the way we see reality, how we work and how we trade. For this last thing to be possible, crypto-currencies are essential, and some are already ahead of others in developing this new technology.
Solana has been by far the most exciting new crypto of the year. It has experienced a price increase of over 10.000% since January 1, 2021. The altcoin wants to be one of the big players in the future, and by investing on time, you can profit from it.
Learn which are the top three Solana Metaverse projects to invest in during 2021/2022.
Why invest in Solana Metaverse projects?
The Metaverse is here to stay. The whole technologic world is pushing in that direction, and at least publicly, the two biggest competitors are Mark Zuckerberg's Meta and Microsoft. So the issue is not whether you should invest in the Metaverse. The clear answer to that is yes.
The Metaverse will be so big that Bloomberg forecasts that by 2024 that this virtual universe could represent a global business of USD 800,000 million by 2024.
The real issue here is what is the right way to invest. Knowing that cryptocurrencies are essential for this universe, we can assume that putting money on projects based on which crypto is being used may be a great start.
Solana has proven to be a great alternative to the big crypto. An altcoin is considered one of the most significant Etherum competitors. One of the greatest advantages of Solana over Ethereum is the velocity of the platform to process transactions. While ETH has a rate of 15 Transactions per second, Solana's rate is an impressive 50,000 transactions per second. So, if this keeps this way, with Solana gaining stability and reputation, more and more projects will keep flowing to Solana's blockchain, and its price and market cap will keep increasing.
How does it work?
The attractiveness of every crypto is the decentralized way of making transactions. However, to verify every transaction, different coins use different methods. The most famous is proof of work. This is the one Bitcoin uses. Solana, on its side, uses proof of history (PoH) and proof of stake (PoS). The huge difference in transactional efficiency between the two models has made Solana one of the greatest competitors of Etherum in the future.
Like Ethereum, Solana allows users to make smart contracts. Still, the difference between the two is that Solana's transactional rate is so high that you can compare it to multinational agencies like Visa that claims it can manage 24,000 transactions per second.
How to start?
There are more than 5,000 cryptos in the world today. You will see even more of those coins be created as the Metaverse evolves. Unfortunately, not every currency is worth investing in. Most cryptos are called shitcoins because their value or their projects are worthless. The same happens with Solana projects. Just because a project is based on Solana's Blockchain doesn't mean that it is worth it. You need to research and investigate. Here are a few steps to start with the right foot in Solana's projects.
Study the project. You need to understand how exactly is that investment make you earn money
Avoid FOMO. Chances are, you are not missing a great opportunity but avoiding a huge failure. Wait until you are sure it is a good idea.
Choose your investing platform. Go with great investing platforms like Binance, Bittrex, Poloniex, etc.
HODL. After you buy your crypto, you need to keep a close eye on it. But understand that you will get a lot of volatility, so be prepared to go your money up and down until you finally sell.
POLIS
52-week range: $0.061181-$1.801125
1-year price change: $ 3,5316%
Forecast 2022: $0.879
Polis is the cryptocurrency of the Metaverse game Start Atlas. This game beat Axie Infinity as the most popular Play-To-Earn game. Start Atlas provides a AAA gaming experience, and Polis is one of the coins of the game. Cryptocurrency has an interesting feature. As Polis is distributed, players gain power over the future of the game. So, having Polis gives you the possibility to decide where this Metaverse is going.


Raydium
52-week range: $8.71 – $13.43
1-year price change: +70.3%
Forecast 2022: $ 17.56
Raydium is an automated market maker built on Solana's blockchain. Raydium projects offer to be cheaper and faster than the projects based on Ethereum. For the operators, Radium offers a trading interface to see TradingView charts and place limit orders.
You can see already important projects being launched with Raydium. Perhaps the most popular is Neopets NFT that released a collection of more than 20.000 in association with Raydium.


Serum
52-week range: $0.8888-$13.7206
1-year price change: + 521,32%
Forecast 2022: $10.76
The decentralization of transactions that is so attractive on cryptos also represents challenges. Decentralization has underlying weaknesses that the Serum project claims to solve. Serum builds a functional decentralized derivatives exchange at the highest speed available in the crypto world.
Built on Solana, it offers the two main features that made Solana's projects so popular. Speed and low fees. The crypto of the project is Serum (SRM), and its price is above $7.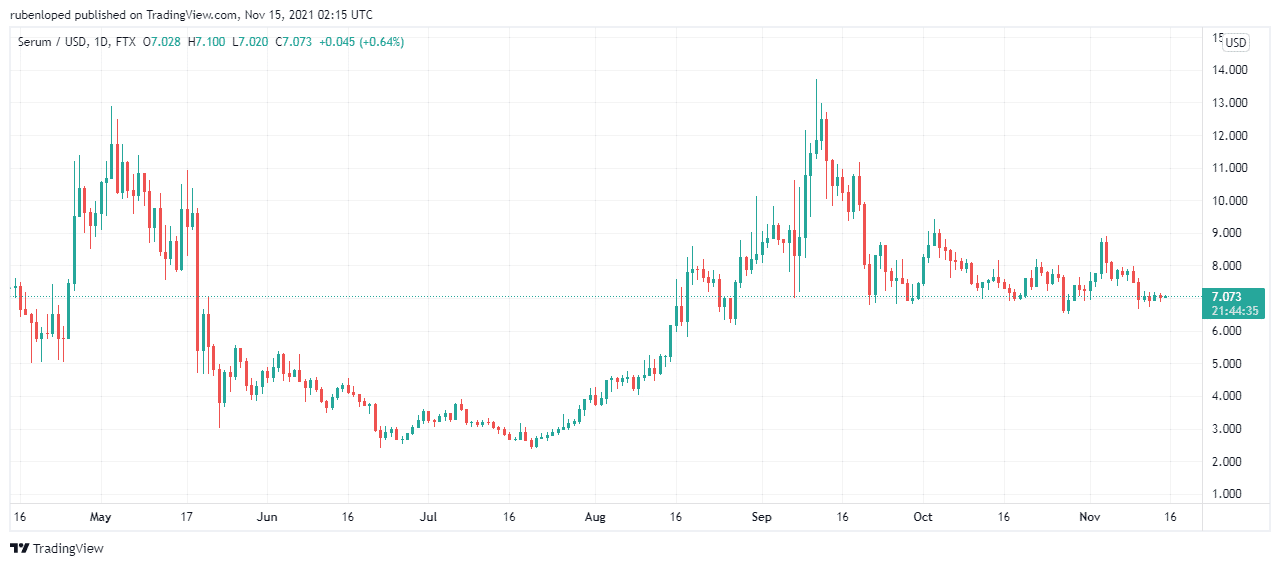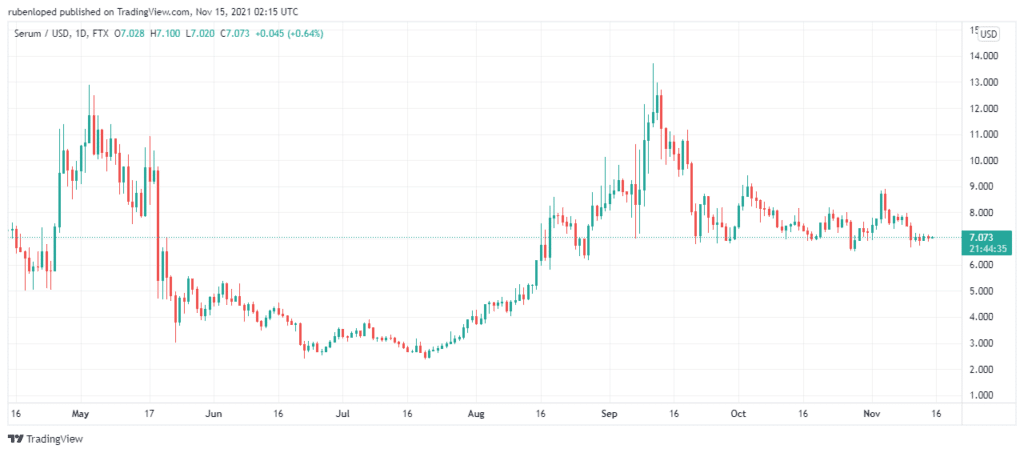 Upsides and downsides
Like every project, Solanas projects have their drawbacks. Just in September, the platform was down for more than 10 hours. Furthermore, its lack of stability places its competitor ahead of the coin until the market trusts the project again. Let's see the best upsides and downsides of Solana's project on the Metaverse.
Upsides
Downsides
Transactions per second (TPS)
As we already mentioned, the coin has a transaction rate that is not comparable to the major cryptos.
September's outrage
September's outrage generated fear among investors who confirmed that the rapid volume increase risks the platform's stability.
Smart contracts
Solana allows users to make smart contracts. These contracts establish conditions that the platform can verify and make all parts confident that the contracts will be respected.
Don't decentralize enough
Since there are less than 200 validators, Solana has been criticized for not being decentralized.
This year's uptrend
The increase over this year has proven the coin's worth, so you are sure that this is a serious project for the future.
Hardware price
Necessary hardware to run Solana is a little expensive.
Final thoughts
The Metaverse will shape the way we interact with the world. The pandemic has taken us closer to virtual reality, but it also makes its limitation more evident. Metaverse developments aim to make our interactions more realistic in every way. Solana seems to arrive just in time to be a part of this development, and the growth the crypto experienced during the year puts it in a good position to compete.