Diversification is the best strategy to adopt if you want to protect yourself during investment. One significant aspect of it is risk tolerance. By running after the safest and risk-avoidant investments, you are leading yourself to encounter low returns.
This is the turning point when penny stocks come your way based on higher risks and the potential of greater rewards. Right through this guide, we will inform you about which penny stocks are worth buying in 2022. Let's dive into the discussion below.
What are penny stocks?
When investors are talking about penny stocks, they generally those trades which are less than five dollars. Due to their lower price, they never trade maximum shares which their high-priced rivals are trading.
Penny stocks are generally associated with smaller companies, trading infrequently. They have ready buyers and a lack of trading liquidity in the market. Therefore, investors might issue selling the stock because maximum buyers are not available to purchase it.
What are the benefits of investing in penny stocks?
These stocks usually are sold out at lower prices. You can make it sell at the price of $5 per penny share. This is quite an attractive investment opportunity for the new investors. There is no need to break your pocket to see how this stock market can work for your benefit.
They are a lot easier to purchase. A variety of companies are available for the general public, offering penny stocks for investment. It would help if you were careful in selecting a reputable company and guaranteeing profitable results.
Due to lower prices, the penny stocks even increase the chances of buying more of them. If you are confident about gaining better results with the penny stock investment, you can purchase double in the next phase. For any beginner who does not understand the stock market basics, investing in penny stocks is a real blessing.
Being sold at a low price will also minimize the chances of facing huge losses. This can benefit the investor investing in a penny stock for the first time. Still, if the risk arises, an investor needs to understand a few warning signs to figure when they should withdraw or invest in a stock market.
Top three penny stocks under $5 in 2022
Gerdau (GGB)
On top of the list, we have Gerdau, also known as GGB. It is famous as a well-known producer of Brazilian steel. They perform their operations all over North America, Brazil, and South Africa. However, few of their primary product lines are manufacturing slab steel, rebar, structural steel, and rolled steel.
In the US, choosing steel stocks for investment is increasing demand. This is because of its giant push to revitalize the infrastructure.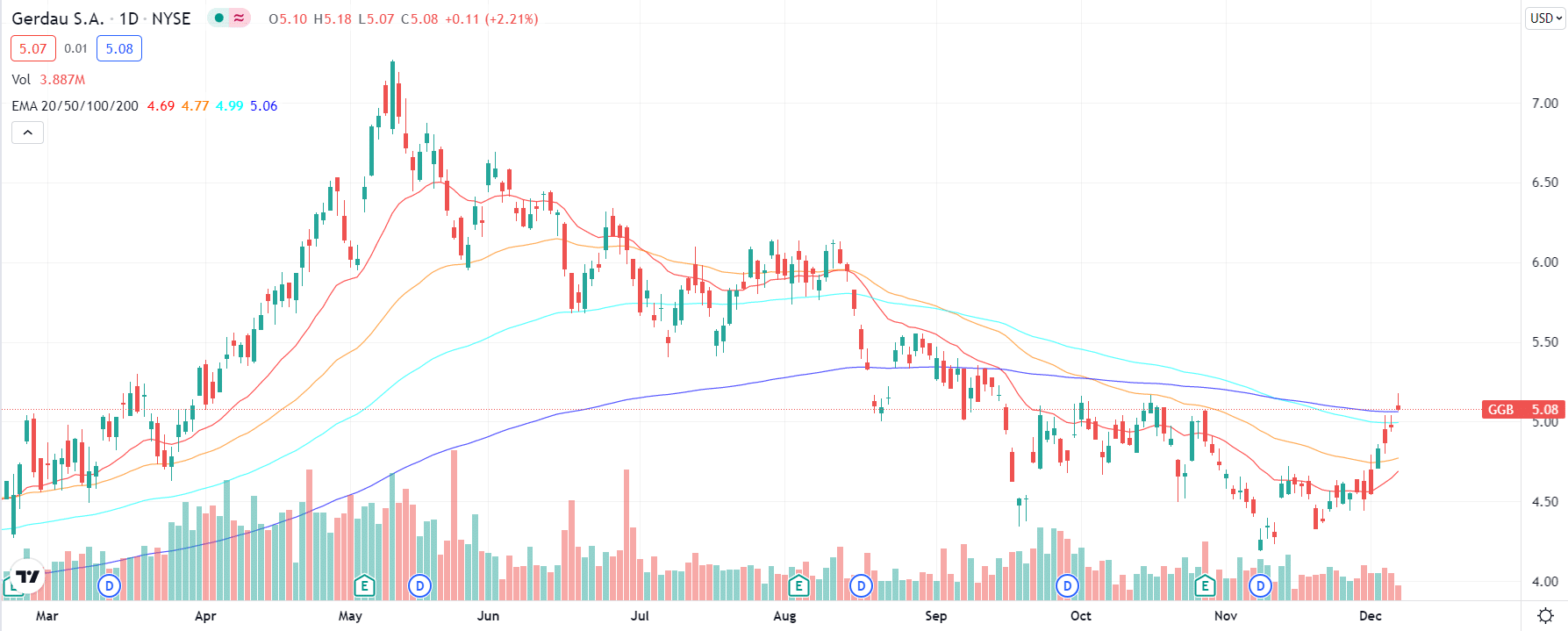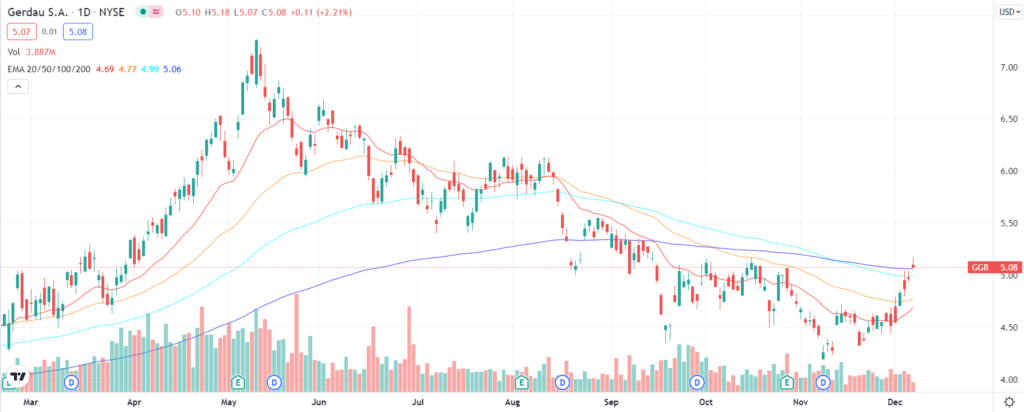 Gerdau has proved to be the strongest market in their second year quarter. Thus, the company has seen a tremendous revenue increase of 119% in the quarter cycle. Plus, their gross profit is also rising by 654%.
In addition, the stock of GGB carries a robust buy rating and varied upside depending on the target price. It is currently trading at $5, but according to analysts, the consensus target is around $7.93.
Ion Geophysical Corp. (IO)
Secondly, Ion Geophysical, a well-known Houston Exploration and Production (E&P). It has been associated with the oil industry for many years. This company is quite different from the rest of the oil stocks due to its lower fixed price.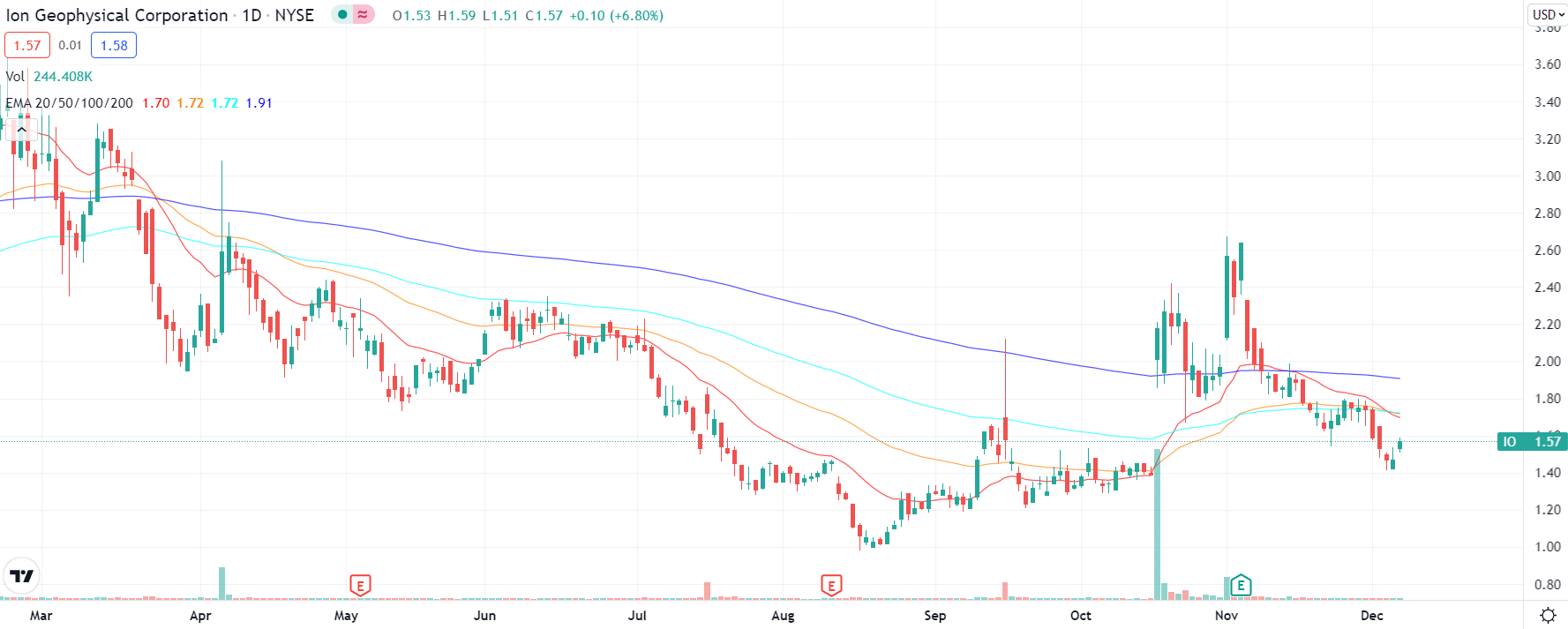 Ion is working as a data firm. Therefore, there is no need for the company to pay for certain things such as pipelines, mining rigs, or any high-cost asset related to oil drilling.
During the pandemic, the company encountered some massive jolts. Within the first quarter of 2020, this company hit a total revenue of $56.4 million which declined to $14 million during the first quarter of 2021. But still, the company has earned a high profit due to the nature of being high-asset.
Team Inc. (TISI)
Thirdly, we have Team Inc., in which the company is generally dealing with the analytics and service for the oil industry. In addition, the company is also dealing with asset assurance and its overall optimization. This is how the company is responsible for in-depth inspection and repairing assets analytically.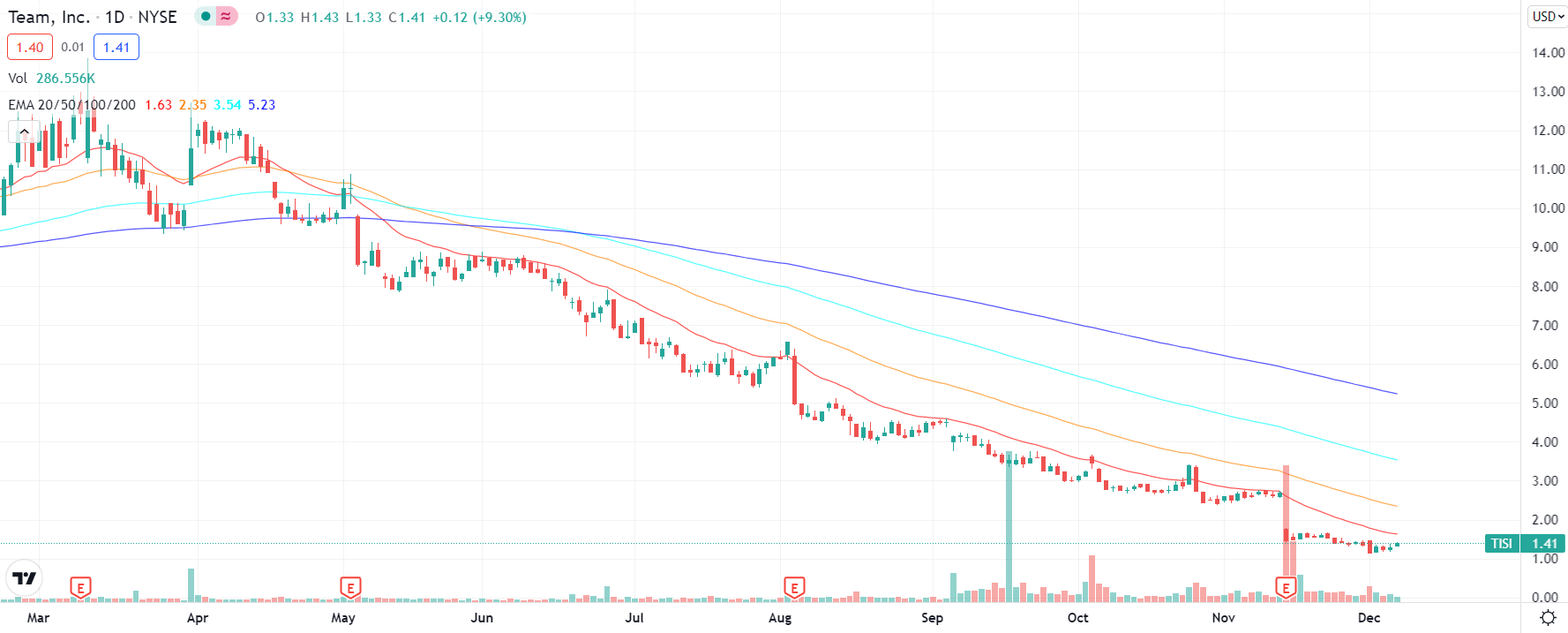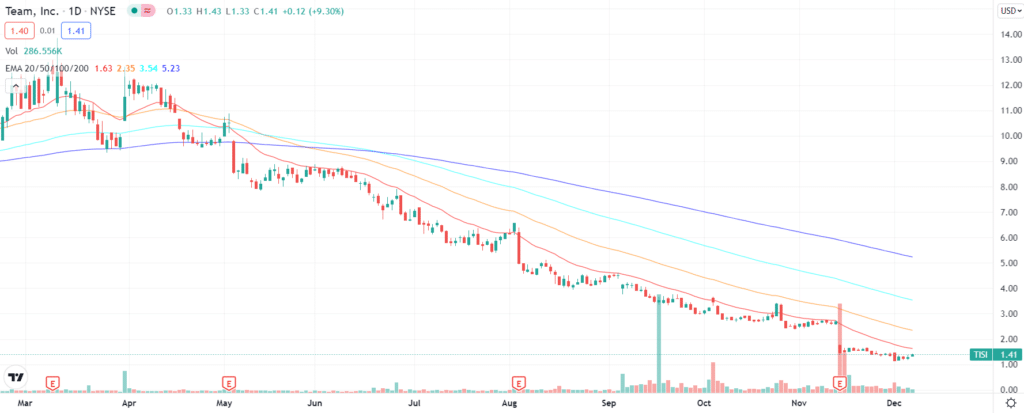 But just like Ion Geophysical, Team Inc. is also offering its services outside the oil sector. For example, they are involved in pulp, aerospace, or paper manufacturing.
Regarding the TISI stock, they have the vast potential to display the results, triple the original price. Their average target cost is $10 where they are currently trading at the ratio of $1.40.
Risks or limitations for investing in penny stocks
If you are investing in penny stocks, you need to be ready to encounter fraud risks whose chances are incredibly high. No such compliance requirements or minimum standards will simplify scammers to utilize the penny stocks. Investors need to understand the significant difference between promotions or reliable equity research.
Penny stocks are generally available with high volatility. Even though they are rewarded highly, penny stocks still come with a highly volatile nature. Therefore, investors should stay a bit careful to identify the signs of when they should invest or withdraw from the trade market.
Any investor about to invest in the penny stock should be ready to face a loss in which they can lose their entire investment. Due to its high volatile nature, you cannot predict the accurate rate of stock movements.
Investors might face some issues once they have decided to sell the penny stocks because they are traded infrequently. However, a few hurdles might come in obtaining correct quotations for these penny stocks.
Final thoughts
Although on the one hand, penny stocks are considered a harmful investment. But on the other side, you can acquire some tremendous rewarding benefits from it. Various astonishing stocks are available for newbie investors to start their successful investing journey.
Be careful, research, and start investing with a smart decision.