The use of hydrogen fuel might grow in the future as the number of countries responding to the call for sustainable development is increasing. Although carbon dioxide emission decreased by five percent in 2020, it is anticipated to increase by 4.8 percent in the coming years as industries get back to regular operation.
To alleviate this issue, countries worldwide are considering producing clean fuel by tapping into natural sources, such as solar, wind, hydrogen, geothermal, and more. In the US, gas producer Equinor declared to allocate $11 billion of capital toward developing hydrogen fuel out of natural gas. The company's goal is to significantly lower carbon dioxide discharges from steel and cement plants to the atmosphere.
Apart from the US, other regions and countries like Europe and China made the same vow to contribute to reducing CO2 emissions. As more and more countries heed the call, the green energy movement could pick up steam. As a result, companies producing hydrogen fuel could greatly benefit from developments in this sector.
In this article, we will look at three of the best hydrogen stocks and evaluate if they are worth buying in 2022. Before we get to that, let us first understand what hydrogen stocks are and how to purchase them.
What are hydrogen stocks?
Hydrogen stocks are those producing hydrogen fuel products. They may use solar, wind or geothermal energy to generate power and store it in hydrogen fuel cells. The great thing about hydrogen fuel cells is that they do not emit carbon dioxide during combustion, only water. Furthermore, this type of fuel has a wide range of applications. Hydrogen fuel can generate electricity to heat buildings, power electric cars, trucks, and electronic devices, and more.
Over the years, hydrogen fuel has seen growing demand as a power source. Similar to batteries, hydrogen fuel cells can store energy. Unlike batteries, hydrogen fuel cells do not need to be recharged, provided that fuel is continuously supplied. The worldwide demand for hydrogen fuel in 2020 was about $264 million. It could grow to around $1,341 million by the end of 2027.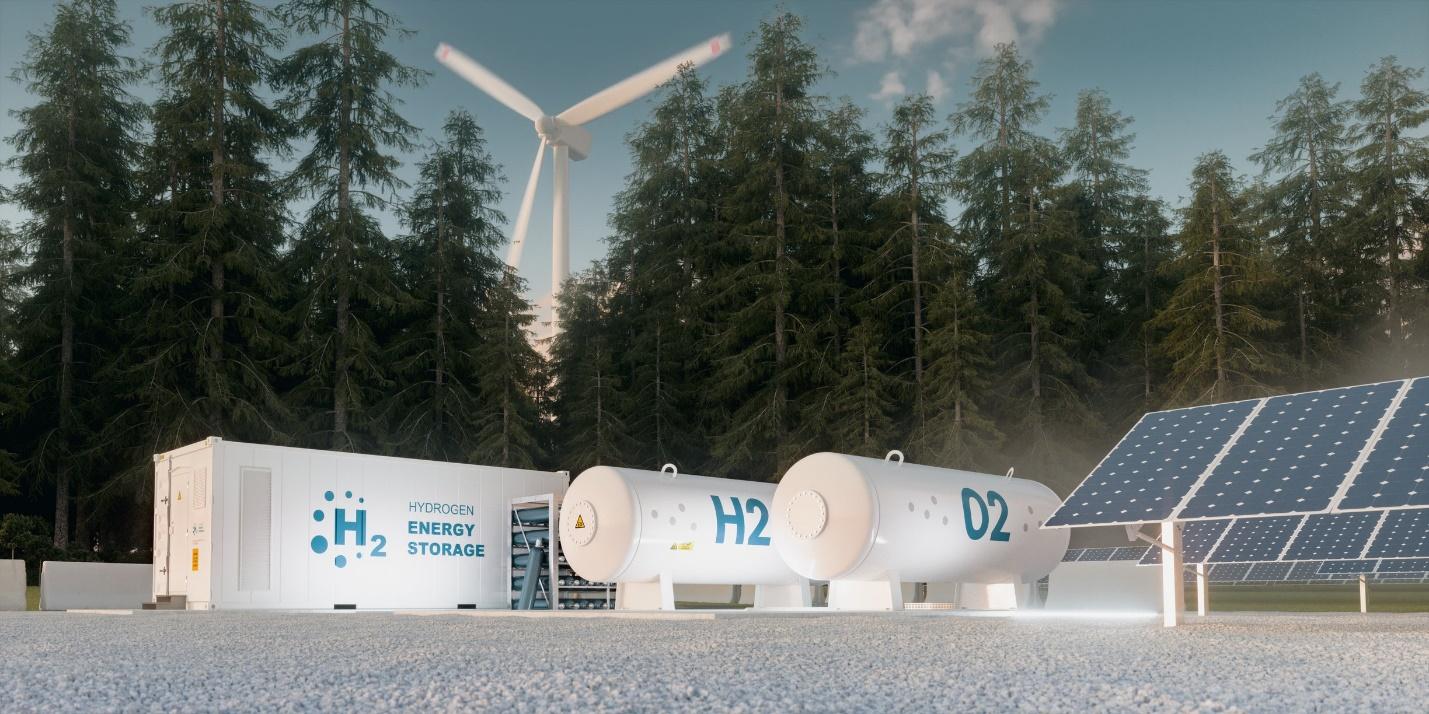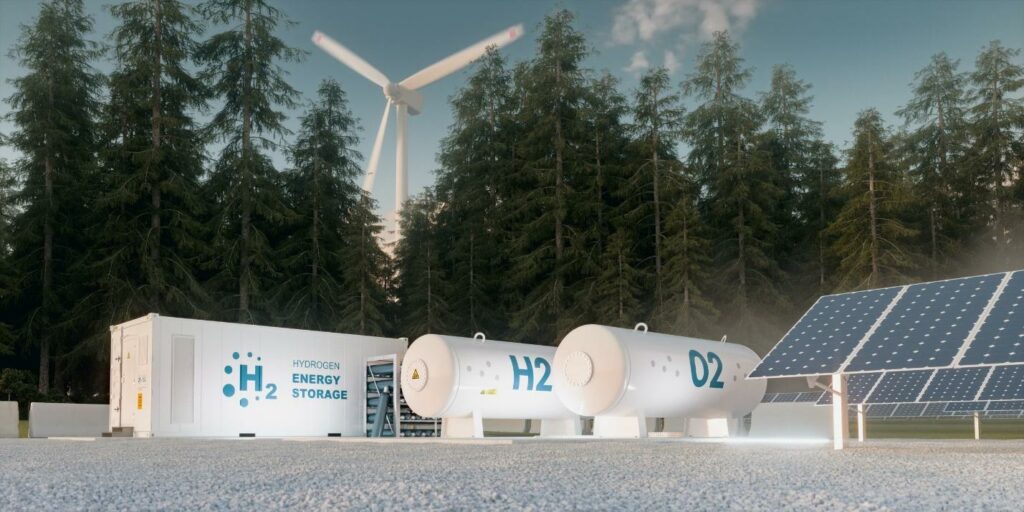 How to buy hydrogen stocks?
Hydrogen stocks have been getting attention from investors recently, but investing in this sector is not as straightforward as it appears. You cannot simply pick hydrogen stocks, buy shares, and hope to get returns. The outlook of companies engaged in producing clean energy looks good overall. However, not every hydrogen company may greatly benefit from these developments. Quite possibly, the larger market players might reap a better harvest than small market players do.
Over the past five years, those companies specializing in hydrogen fuel products were losing money and were trying to get by. That bigger companies might acquire smaller companies is not a far-fetched idea. You must think about this risk when investing in hydrogen stocks in 2022 and onward. One investing strategy is to put your money in the prominent market players in the industry. Also, consider lowering your capital allocation to this sector if you feel the risk is significant.
Diversifying your hydrogen stock investment
If you want to have a diversified portfolio of hydrogen stocks, you can do that using an ETF. With this investment security, you can spread your risk among multiple stocks in just one investment. An ETF typically includes stocks from the same sector. The most common stock sectors are shown in the image below.
One hydrogen ETF you can buy right now is Global X Hydrogen ETF (HYDR). This ETF debuted on NASDAQ on July 14, 2021. By doing a quick online search, you can see that its current price is $20.77, just $3.73 lower than the initial release price of $24.50.
To purchase ETF products, you need to have a brokerage account. The good news, you have plenty of options in terms of brokers offering both stocks and ETFs. Plus, many brokers allow you to buy shares or fractional shares through your mobile phone.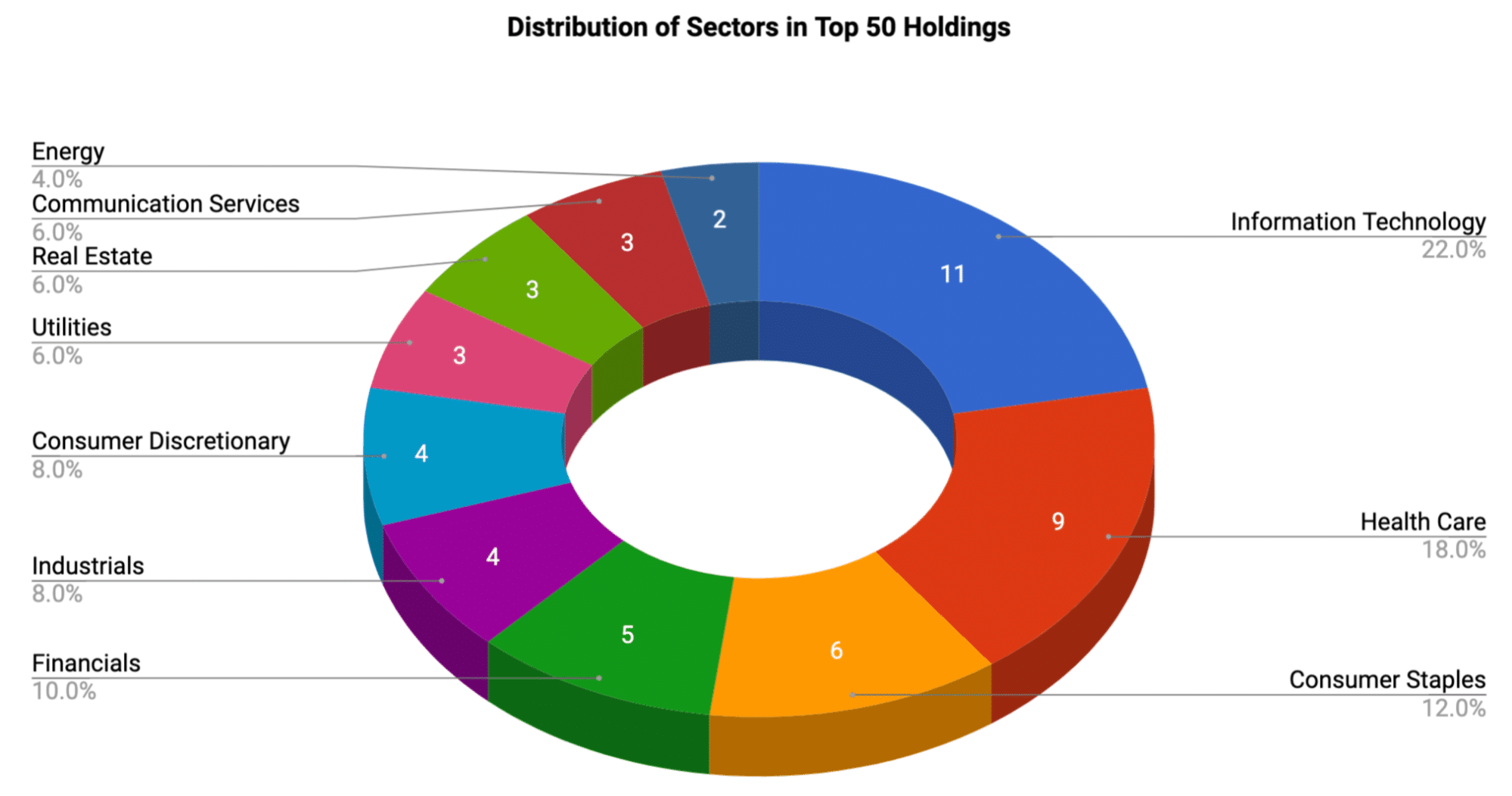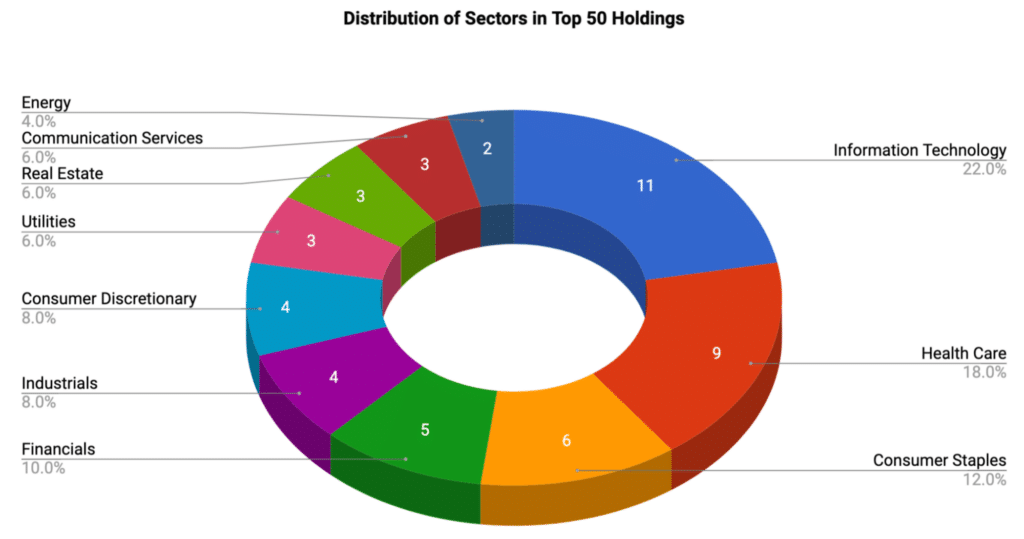 Top three hydrogen stocks to buy in 2022
Here are three popular hydrogen stocks you can keep on your list in 2022.
Linde (LIN)
Linde is based in the United Kingdom, and the company is producing different types of industrial gases, including acetylene, hydrogen, oxygen, and others. This company operates the giant hydrogen plant running on clean hydrogen in the entire world. It produces hydrogen by harnessing the power of the wind. Linde has successfully tested using hydrogen fuel to power steel plants.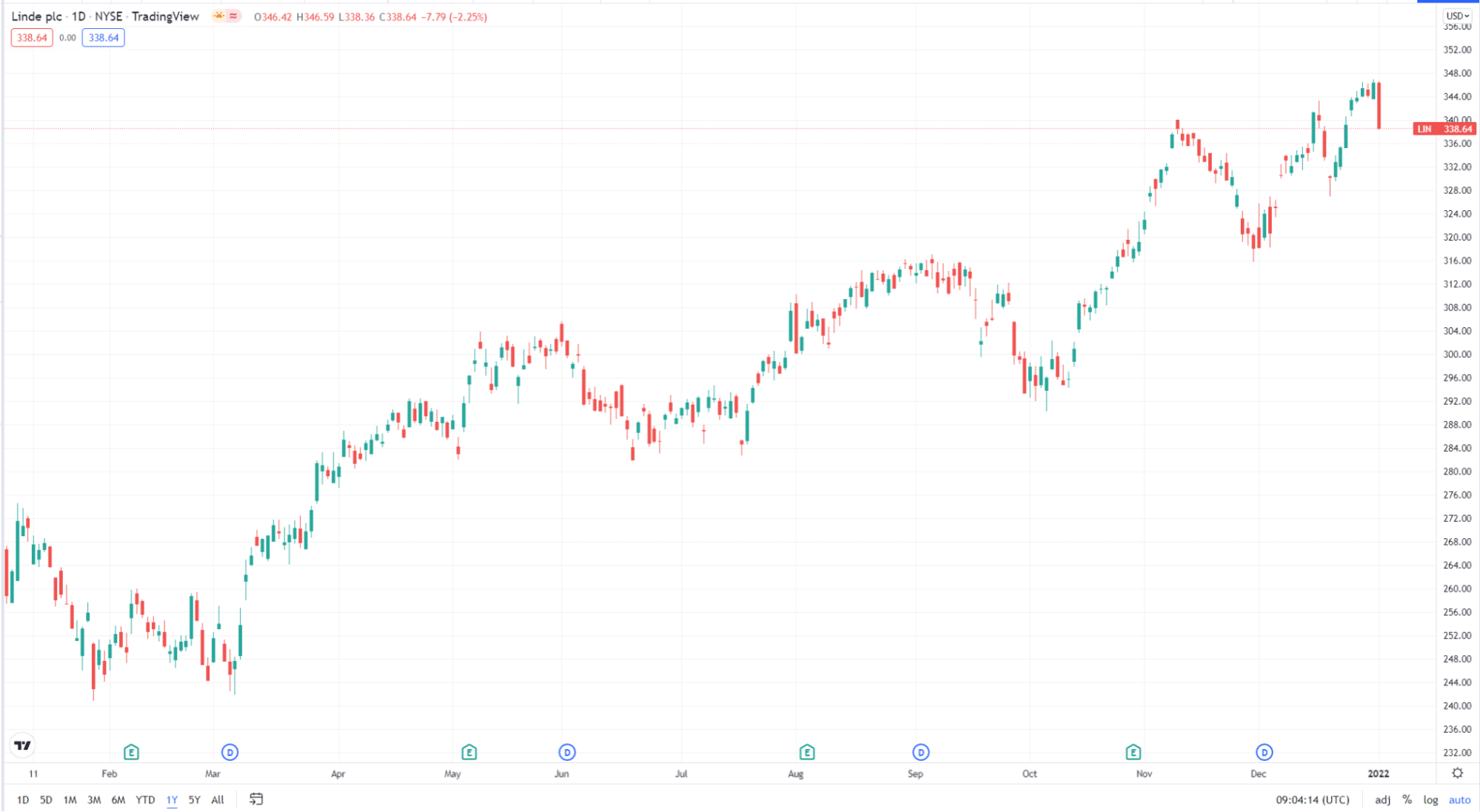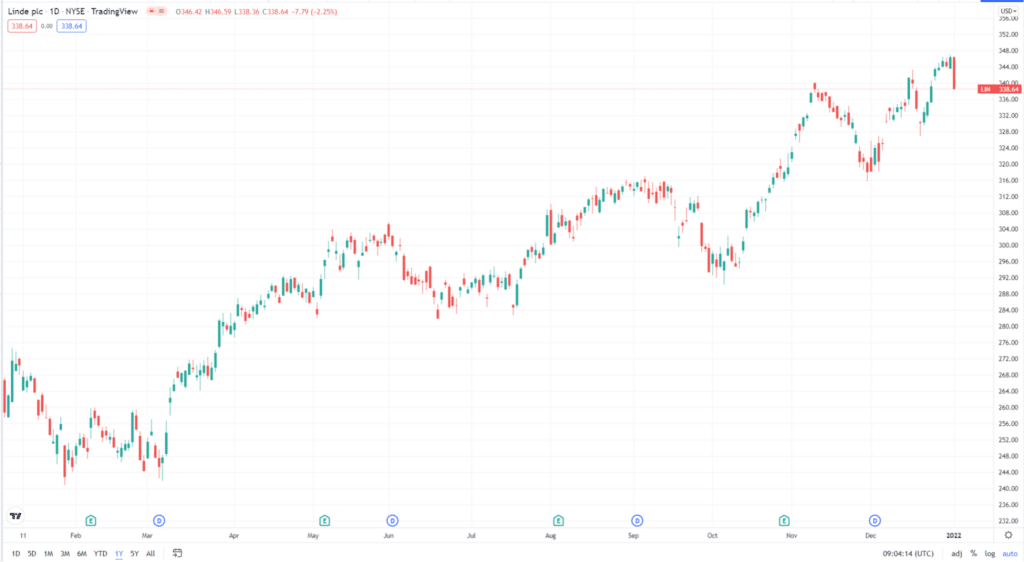 The share price of Linde stock has been continuously growing over the past five years. The biggest growth came in 2020 when the company saw a 48.4 percent rise in share price. The stock managed to gain 14.4 percent in 2021, considering the current $343.79 as of December 29, 2021. Looking at the yearly chart of this stock, you can see that it is making a parabolic move.
DuPont (DD)
DuPont manufactures chemical and pharmaceutical products and is also engaged in biotechnology. Although it does not directly produce hydrogen products, the company is considered a hydrogen stock. However, it supplies PEM products used by hydrogen companies. The company generated a revenue of around $20.4 billion in 2020.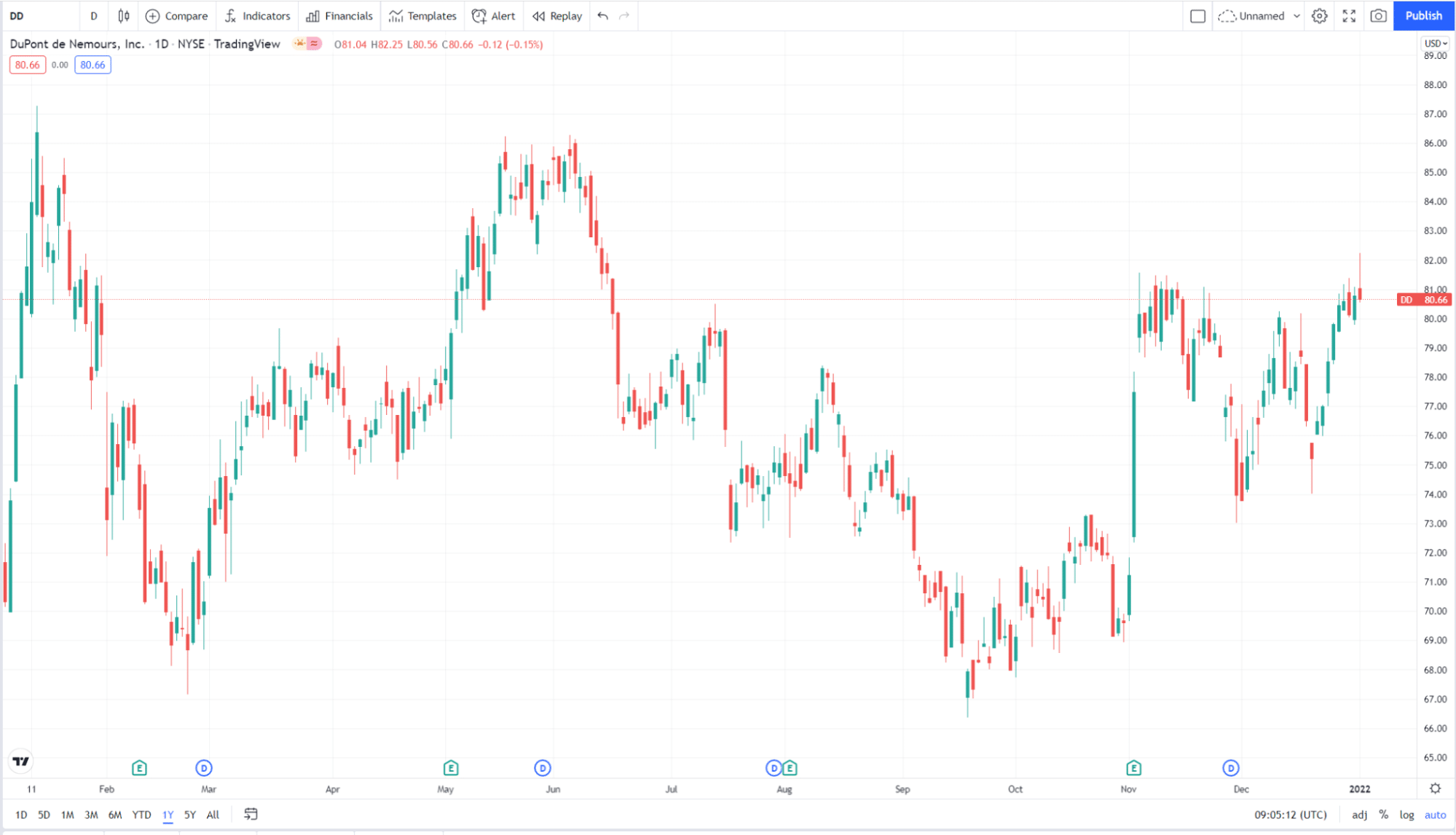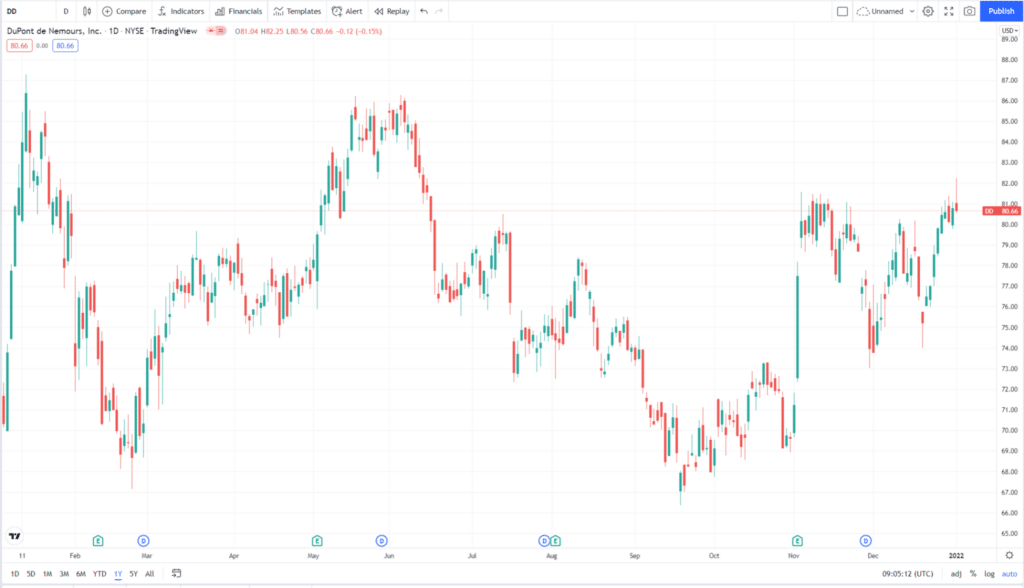 Unlike Linde, DuPont is not moving in a parabolic fashion. The company faced losses in 2018 and 2019, but it managed to make a significant recovery in 2020 despite the crippling effect of the pandemic. The stock price might end close to breakeven in 2021 or a little lower than the 2020 close. It all depends on Santa if he comes to its rescue. However, the overall picture looks good. The yearly chart shows a step-up ladder formation with many upside potentials.
Cummins (CMI)
Cummins manufactures and sells natural gas engines, diesel engines, and related parts and provides maintenance services. A critical milestone in the company is the acquisition of Hydrogenics in 2019. Hydrogenics makes fuel cells. In a statement released in November 2020, Cummins planned to work with Navistar to manufacture semi-trucks running on hydrogen fuel.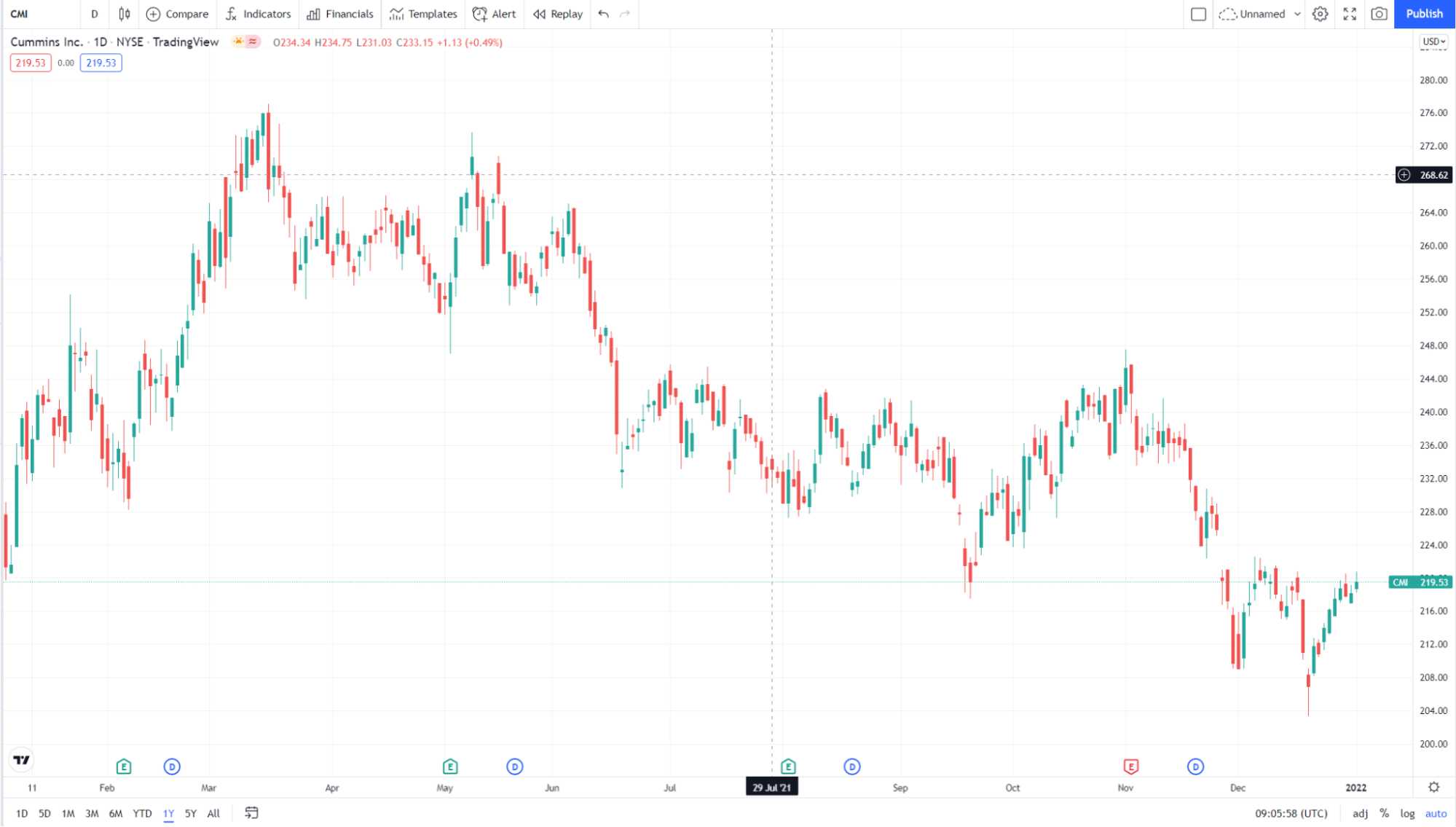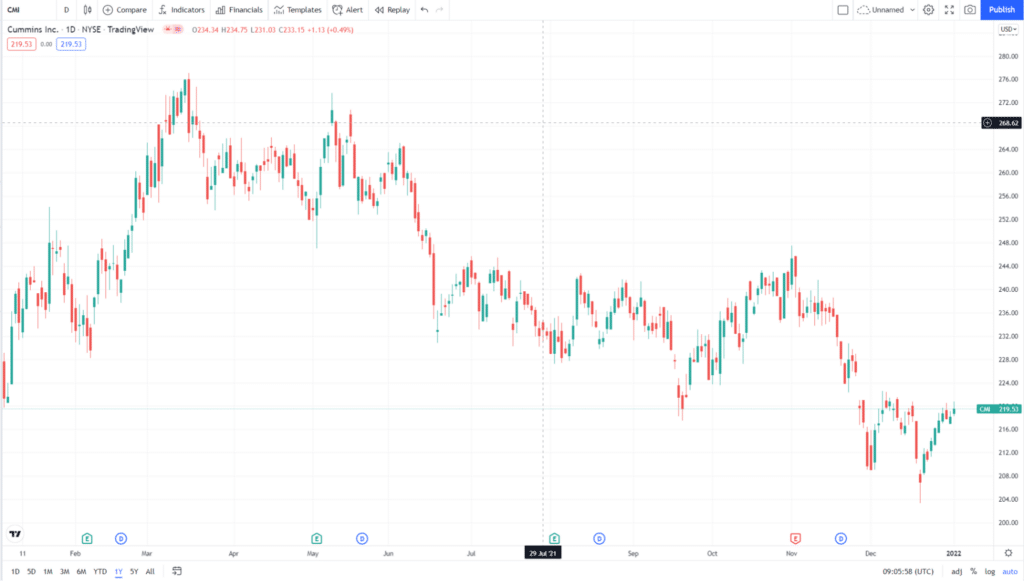 Cummins is a stock with a stellar performance, though not as impressive as Linde. If you look at the yearly chart, you can see that the stock makes an upward parabolic motion. The stock made a massive bull run four times in the previous five years. It encountered a loss only in 2018.
The biggest gain came in 2020 when it made a monstrous gain of 46.5 percent. The company might suffer a slight loss in 2021. At the time of writing, the stock had already lost 7.2 percent from the 2020 close price of $234.42.
Final thoughts
You might see significant developments to capitalize on. Hydrogen fuel cells have been found to have the capacity to store energy as batteries do. At this point, the adoption rate is not exciting, but it could increase significantly in the future as corporations and governments take a stand against environmental issues. Keep an eye open for hydrogen stocks in 2022.