Litecoin was developed in 2011 to facilitate speedy and inexpensive Bitcoin transactions. It was created with a copy of Bitcoin's source code and is one of the earliest altcoins, a phrase that refers to any cryptocurrency other than the industry leader Bitcoin. We can say that LTC is an affordable version of BTC, and there is a buzz around the coin.
This guide will explain what Litecoin is all about and its future forecasts.
LTC fundamental analysis: let us dig deeper
First, let's talk about the positives. MimbleWimble (MWEB), a major Litecoin upgrade, has been authorized by most nodes and is ready for activation.
According to David Burkett, lead MWEB developer, this procedure will be finished in the following two weeks, at the height of block 2 million, or on May 19.
MimbleWimble, the most awaited upgrade since its debut, will give Litecoin users improved performance and privacy features. As it presently trades in tandem with other cryptos, this might increase demand for the underlying coin.m
Charlie Lee, the inventor of Litecoin, recently took to Twitter to announce that the LTC network's hash rate has reached an all-time high.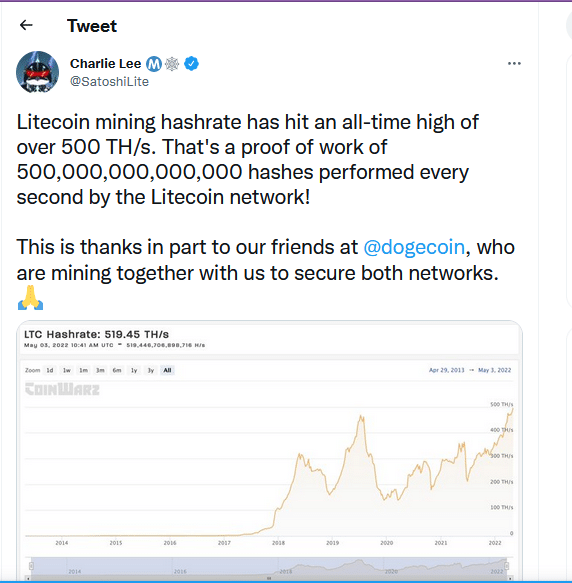 This week, Gucci said it would accept crypto payments and ten cryptocurrencies, including Litecoin. However, Litecoin could not use this statement to begin a comeback and eventually collapsed due to broad market fear. With a 0.96 correlation to Bitcoin, Litecoin investors should keep an eye on the Bitcoin chart rather than the LTC chart, as the former will climb first, followed by the latter.
LTC technical analysis
At the time of writing, LTC is trading at $67.62. In the previous 24 hours, the price has risen by 5.46%. Litecoin's price movement has significantly hit in the previous five days due to a big FUD (fear, uncertainty, and doubt) sell-off. As a result, for the first time since December 2020, it fell as low as $64.29, although the decline gave a decent discount for investors willing to ride the recovery wave.
On the higher time frames, the chart above reveals that Litecoin has been in a downtrend since mid-November. It is true for a large number of cryptos on the market. The $100 range was retained as support for LTC throughout February and March, but the selling pressure of April undermined bids in this area, and the price was able to drop lower in late April.
In the last two weeks, the $80 level has also been crossed and retested as resistance. On the flip side, the $52.5 and $40 levels are expected to function as support in the coming weeks.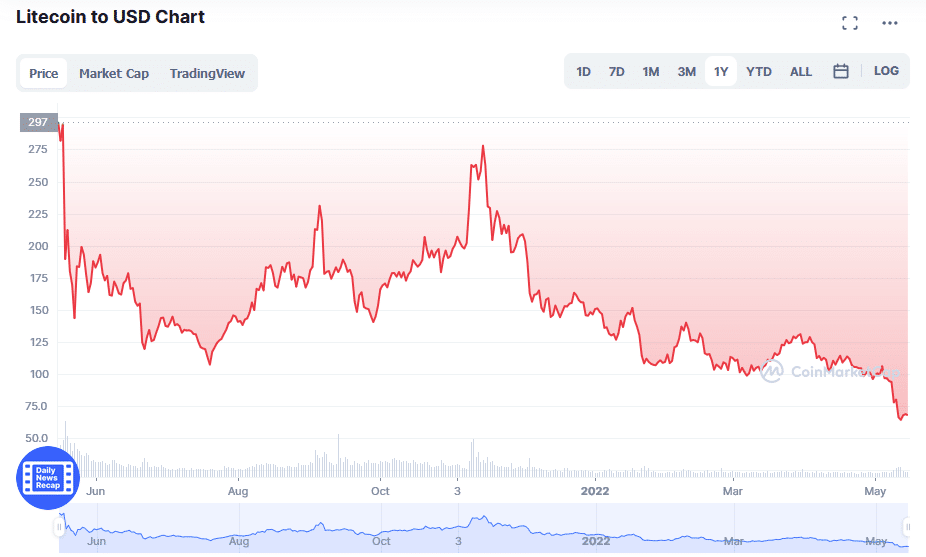 LTC price prediction for 2022
According to technical analysis, its prices can hit a low of $80.43. The highest price can reach $94.71. The average trading price is estimated at $83.05.
LTC price prediction for 2023
The minimum price of the crypto in 2023 will be around $122.13. The maximum level is approximately $138.87. The average trading price can reach $125.45.
LTC price prediction for 2024
According to technical analysis, it is anticipated to have the lowest and maximum prices in 2024: about $170.76 and $209.25. The average projected cost of trading is $177.03.
LTC price prediction for 2025
The minimum price in 2025 can reach $250.15, with a high of $295.00. The average cost of trading will be about $257.23.
LTC price prediction for 2030
According to market forecasts, it will have a minimum price of $1,572.50 and a maximum price of $1,933.41. As a result, the average price in 2030 will be around $1,617.92.
How much will LTC be worth in 5 years?
The average price can reach $527.48. After that, it might fall to a low of $512.39, but it can rise to $642.78 during the next five years.
LTC staking APY
There are 11 crypto exchanges where you can stake this crypto and earn up to 10 % APY.
How to stake LTC?
Here are the steps to stake LTC:
Step 1.
Open an account with a secure and reputable crypto trading exchange. There are 11 exchanges where you may stake LTC and earn up to 10% APY.
Step 2.
Deposit LTC tokens into your crypto exchange's wallet.
Step 3.
While staking might vary based on the coin, most employ staking pools. Crypto traders pool their cash in these staking pools to increase their chances of receiving staking rewards.
How to mine LTC?
Because Litecoin is based on Bitcoin, learning about Litecoin mining will be simple if you're already familiar with BTC mining. While mining Litecoin is similar to mining Bitcoin, there are a few crucial distinctions. To begin, Litecoin has 2.5-minute block times rather than 10-minute block times.
Litecoin's proof-of-work method is similar to Bitcoin's. However, it requires more memory from several users to function. The approach implies that users will still need to mine for the money actively, but the amount of power required will be less than that of Bitcoin.
Litecoin, like Bitcoin, has an upper fixed coin limit. Therefore, a limited number of 84 million Litecoin units will ever be generated.
To mine the LTC, you need to follow these steps:
Step 1.
Get mining hardware.
Step 2.
Download mining software.
Step 3.
Join a mining pool.
Step 4.
Start mining LTC.
Summary
Litecoin might be a good place for the newbie crypto investor to start with a little commitment to learning the ins and outs of crypto trading. Since May 8, LTC has seen an upsurge in the number of active addresses. This is most likely an indication of good accumulation and reflects the recent price increase.
As a result, we can observe LTC making a higher move. However, you need to be careful and stick to your trading strategy as an investor.