A unique aspect of Nexo is that it provides a way to earn interest on your cryptocurrencies investments. Interest rates vary based on coin type and distribution method, but generally between 6% and 12%. Moreover, since the platform operates in Switzerland, it does not have to worry about the US's growing regulation of crypto lending platforms.
While it is currently impossible to buy or sell cryptocurrencies through Nexo, investors can earn money by investing idle coins and fiat. It also lets you borrow against the number of cryptocurrencies you have in your account without selling them back and rebuying them. Rates start at 590% APR. Throughout this review, we will examine all of its features and determine whether or not this is a suitable option for growing your cryptocurrency assets.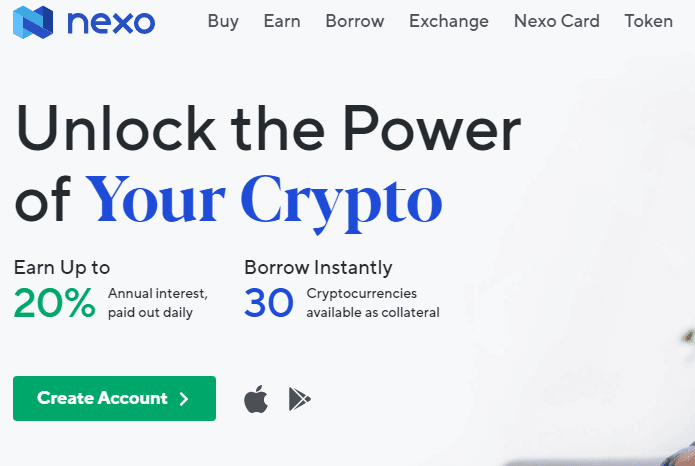 What does Nexo passive income app have to offer?
As part of its cryptocurrency loan program, this company offers clients financial benefits for storing crypto assets within a Nexo secure wallet, including Bitcoin and Ethereum. Antoni Trenchev, co-founder and managing partner of the company, is the company's chief investment officer. In addition, Michael Arrington, the founder of TechCrunch, is a well-known investor.
In 2017, the platform had processed over 1.5 billion dollars across 200 jurisdictions, supported over 40 fiat currencies, and served over 2 million users. In addition, a growing number of people and companies are turning to the lending service as an alternative means of investing and storing their crypto assets. As a result, decentralized finance has emerged as a growing trend in the emerging decentralized finance industry.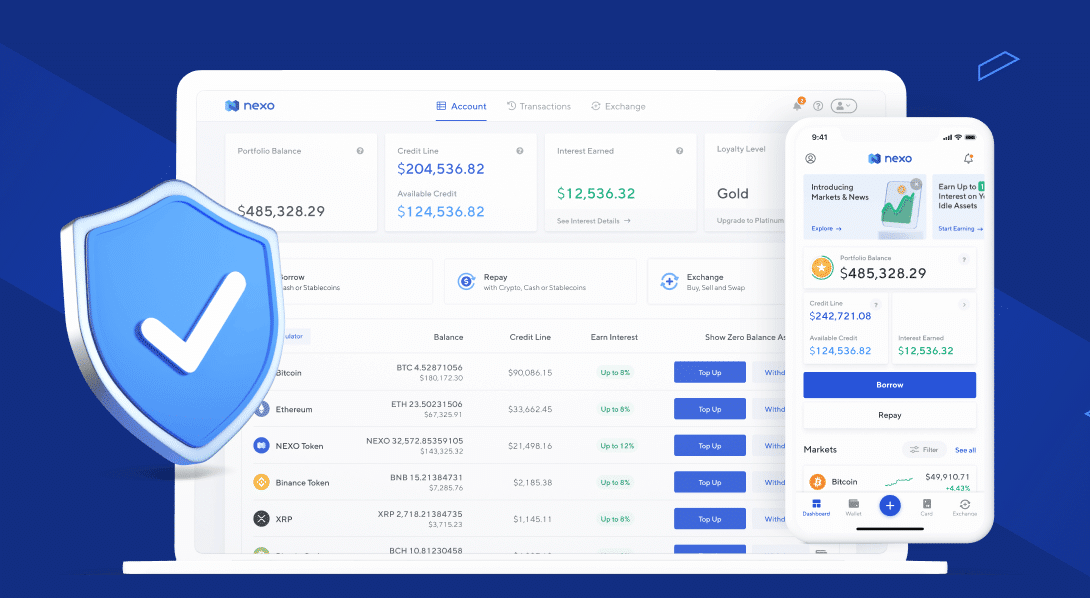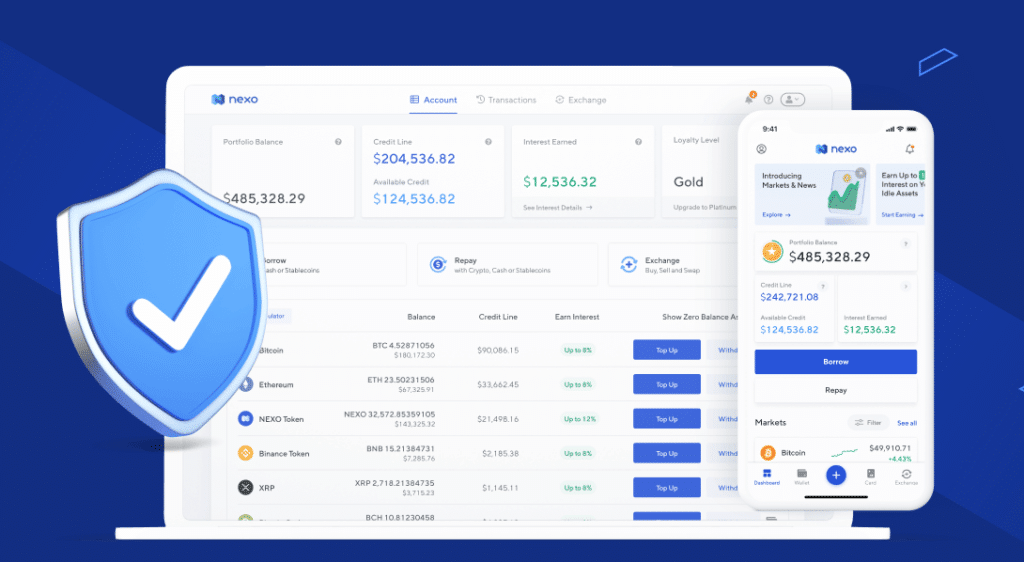 1. Safety and security
Nexo utilizes 256-bit encryption and 100% offline cold storage wallets managed by BitGo, a world-class custodian with successful cryptocurrency security certifications and SOC 2 compliance. With the bank-like storage solution, the safety and security of customer funds will be at the highest level. In addition, multiple signatures help to eliminate a single point of failure and ensure that the private crypto keys cannot be lost or compromised.
2. Membership plans
Compared to other crypto savings accounts, Nexo charges very few fees. You are free to withdraw your cryptocurrency from the company at any time, and it charges no maintenance fees like a traditional savings account.
Moreover, the platform layout is straightforward. View your current credit and holdings, and get to know everything you owe in just a few clicks. The even for keeps brand new to trading cryptocurrencies or transferring them. Additionally, it offers two-factor authentication to prevent any gaps in security coverage and maximize the protection of your assets.
For stablecoins like USDT, USDC, PAX, TUSD, DAI, and HUSD, users are eligible to earn 10% and 6% for BTC, BNB, ETH, XRP, LINK, BCH, LTC, TRX, PAXG, and XLM if they choose the "earn in-kind" option. The term "earn in-kind" implies that users will receive interest in their base currency; BTC deposits will earn interest in BTC.
3. Budgeting and goals
Nexus is an entirely free platform. Nexo's three features: Nexo Earn, Nexo Borrow, and Nexo Card — are all free to use and have no paid features hidden behind a paywall. In addition, Nexo has both desktop and mobile versions that are free and user-friendly.
With Nexo Earn, you can earn up to an 8% interest rate on crypto. Meanwhile, the gain is up to 12% on stablecoins and up to a 12% interest rate on fiat currencies.
Its instant crypto credit lines are what Nexo prides itself on. You can borrow cash or stablecoins from 5.9% APR without selling your crypto assets with these credit lines.
4. Transactions and reporting
Nexo will cover all transaction fees on your account end, which means that you will only pay brokerage fees when you transfer from an exchange wallet directly to your Nexo account. The prices will vary based on the brokerage. To begin earning interest, you do not need to deposit a minimum amount of cryptocurrency into your account.
Your cryptocurrency wallet will tell you the minimum withdrawal, depending on the crypto you hold. For example, the minimum withdrawal amount for Bitcoin is 0.001 coins, while the minimum withdrawal amount for Tron is 20 tokens. It's worth noting that transaction fees will also apply when transferring cryptocurrency between wallets. This is because any interaction with a cryptocurrency's blockchain will result in fees.
A crypto-backed loan program is also available at the company. Nexo's crypto loans are unique because they allow you to keep control over your crypto assets and profit from appreciation without having to sell them to make the loan payments. If you default on the loan, you will be required to repay it with your collateralized cryptocurrency.
You'll pay interest on the amount borrowed when you borrow through the platform, and rates start at 6.9% APR. To secure a loan, you will need to place collateral in the form of cryptocurrency, which will vary depending on what kind of token or coin you plan to use.
5. Special features
The Nexo app keeps track of real-time price changes for all supported assets, so you never miss the perfect time to buy, sell, or lend your crypto.
With the Nexo app, staying focused and productive is now accessible. Organize your Dashboard by hiding other assets and showing your favorite coins first with the new filter.
Never miss a thing relating to crypto again by staying in touch with the Nexo app. The world's most popular crypto news outlets include Coindesk, The Block, Decrypt, and Cointelegraph.
6. Alerts
Make sure you do not miss any critical updates by activating the desktop alerts. To access the signs, follow the screenshot.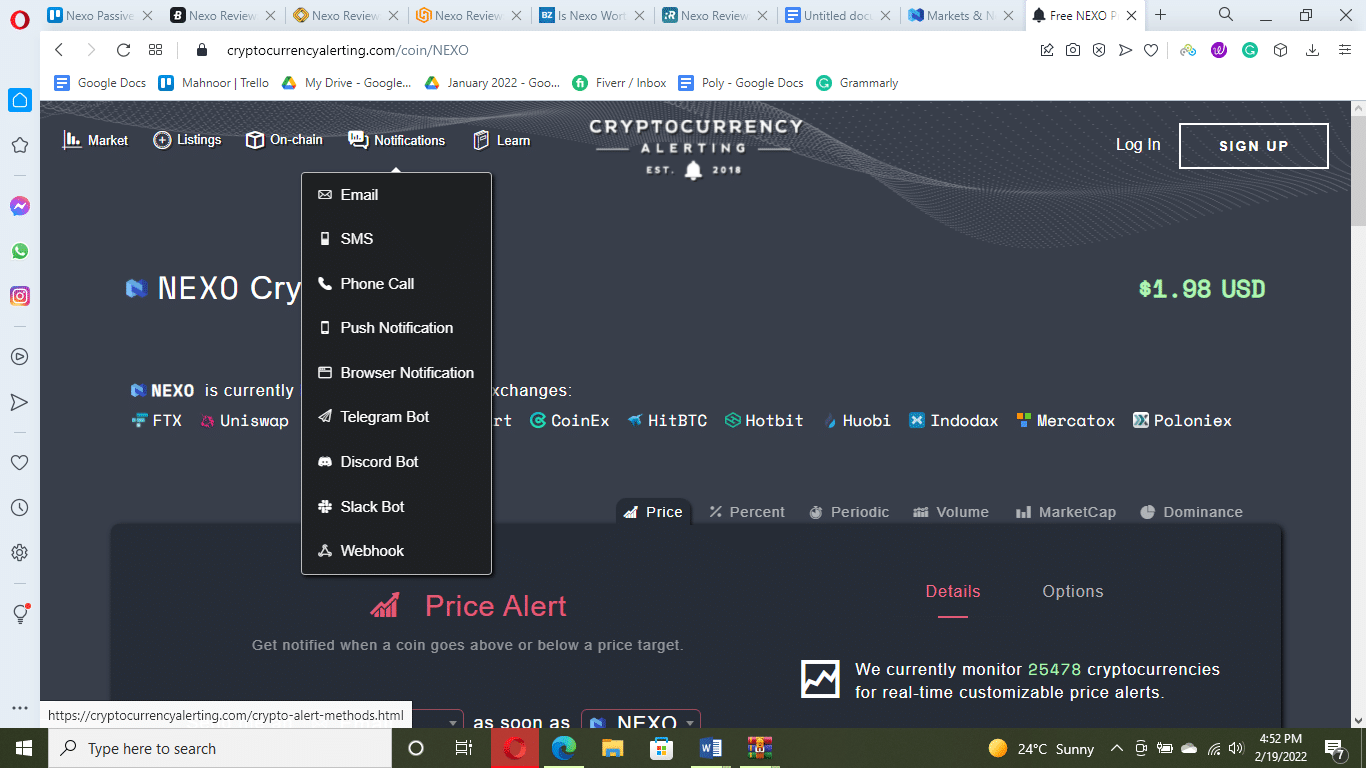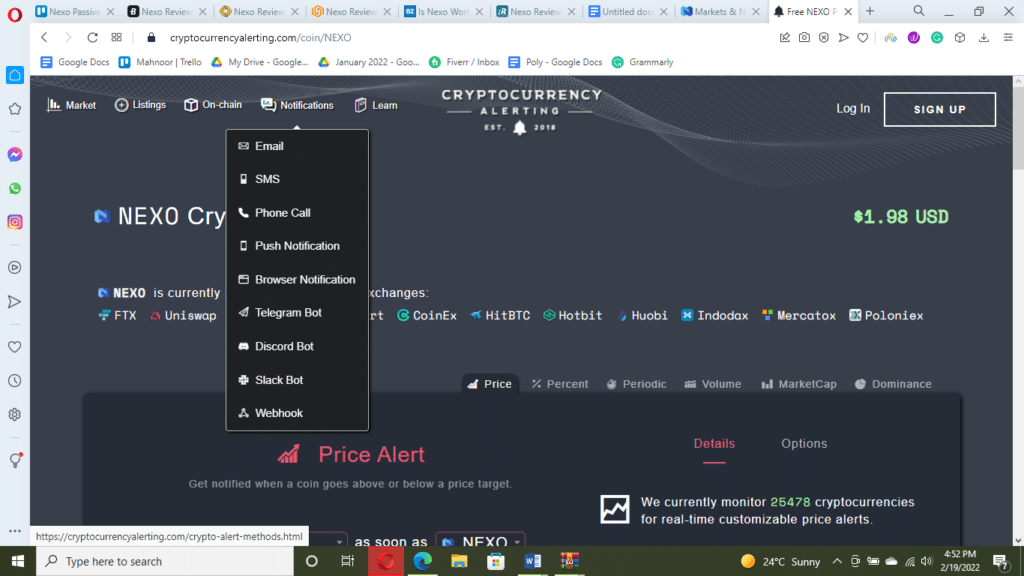 7. Support
Nexo offers customer service in three ways.
Send an email to [email protected] to reach Nexo.
Please fill out an online help request form to contact Nexo customer service.
Visit nexo.io and then click on the blue speech bubble that appears in the lower right corner of your screen to reach Nexo via live chat.
Nexo's customer support team monitors customer service requests round the clock, seven days a week.
| | |
| --- | --- |
| Pros | Cons |
| Nexo is an automated platform. | The US version does not offer some features. |
| The app provides a crypto-backed loan. | The rates are higher than other apps. |
| It is completely regulated. | A limited number of liquidation options. |
Final thoughts
Nexo has overgrown since its inception, being fully regulated and compliant in several countries and offering loans in more than 100 fiat currencies.
Nexo's systems are very secure. Your private information is only accessible by a limited number of people who have access rights. In addition to that, Nexo covers $375,000,000.00 in digital assets.
There are no fees, and the interest rates are very decent. However, the interest rates could be better than some of its competition. It would also be awesome if Nexo made some of its features available shortly for US users.