BlockFi is like a crypto bank that offers all the benefits that a bank would. The BlockFi service allows users to earn up to 3.5% interest every year by holding cryptocurrencies. The same applies to borrowing cash, trading cryptocurrency, and using other services similar to bank services.
The cryptocurrency industry has grown with the possibility of earning passive income from cryptocurrencies. Media coverage has encouraged more consumers to invest in cryptocurrencies. The increase in demand for cryptocurrencies such as altcoins also leads to cryptocurrency accounts. In this regard, BlockFi comes into play. It will generate interest for account holders as the market for these currencies continues to grow.
This article will explain how you can earn interest on deposits while receiving loan services.
What does the BlockFi crypto passive income app have to offer?
As a cryptocurrency custodian, it allows its customers to obtain loans in USD against their crypto assets. Flori Marquez and Zac Prince initiated the company. The company was founded in August 2017 and resides in Jersey City, New Jersey. The company raised $158.7 million through a Series C round.
As Crunchbase reported, Prince tells Crunchbase that the sector is in its early years, and everyone is working to make it more accessible worldwide. Our business is fortunate to be in an overgrowing position as the cryptocurrency market grows.
With BlockFi, you can earn interest on your cryptocurrency while also taking out loans in USD. The platform also allows you to trade cryptocurrencies. A limited number of cryptocurrencies are available to trade on the site, including BTC, ETH, LTC, USDC, and GUSD.
1. Safety and security
Known as a lender and one of the pioneers in the DeFi segment, the company is highly concerned about security. This company is based in the US, has institutional backing, and doesn't have a utility token or a coin that funds operations. The platform instituted several security measures and best practices to ensure that its subscribers receive monthly interest on their crypto holdings and withdrawal requests meet promptly. It includes assigning a significant amount of digital assets to third parties such as Gemini and Fidelity for withdrawal.
Purchases primarily CFTC-regulated futures and SEC-regulated equities as principal.
By employing risk management in institutional lending, lenders can reduce their credit risk through credit due diligence and collateral (such as cash, crypto, or other assets).
As a safety mechanism, multiple counterparties lend to minimize the risk using an automated margin-call system.
It is imperative that BlockFi present security measures that assure investors that the company is doing everything it can to protect investors.
2. Membership plans
It takes just minutes to start earning interest, borrowing USD and managing your portfolio through a simple, easy, all-in-one mobile platform.
New clients in the USA or located in the United States are no longer allowed to open a BlockFI Interest Account (BIA). US citizens or U.S.-based clients will not transfer new assets to their BIAs. BIAs do not qualify under the Securities Act of 1933. They may not be offered or sold in the United States, to United States persons, for the account or benefit of United States persons, or in any jurisdiction where such offers are unlawful."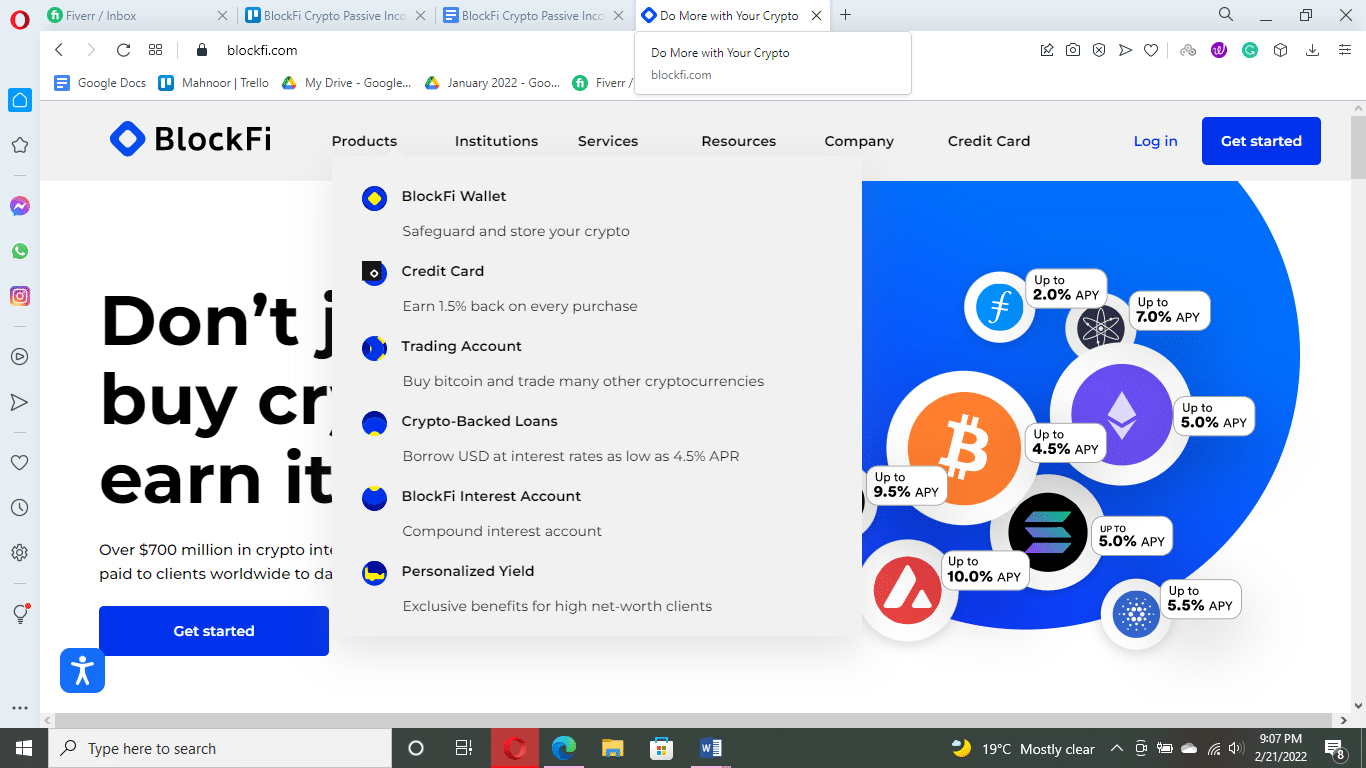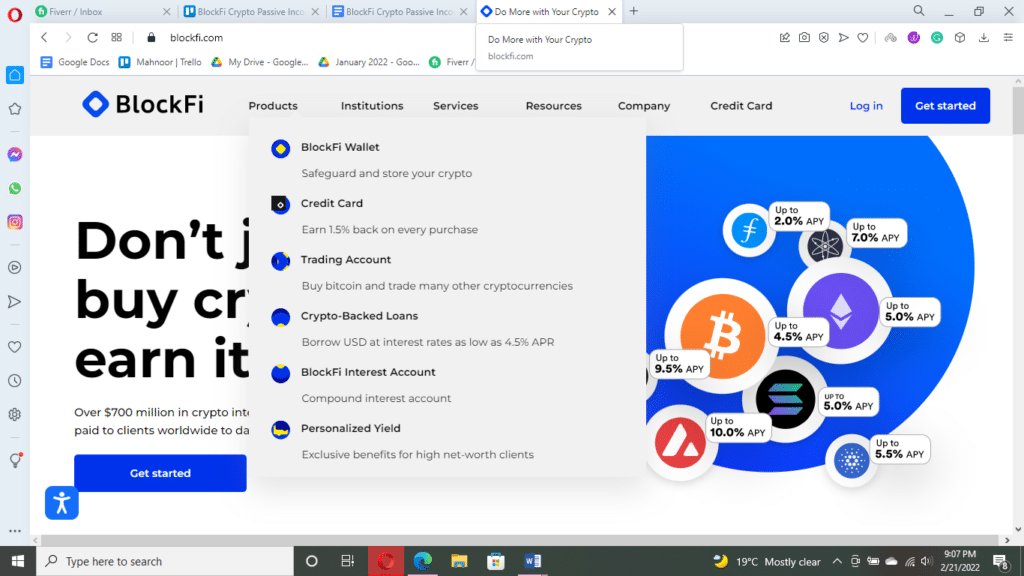 BlockFi Interest Account is the account that pays interest. You receive interest on BTC, ETH, LTC, USDC, GUSD, and PAX. It is not necessary to maintain a minimum balance.
BlockFi International (Bermuda) is BlockFi's subsidiary, which offers this account exclusively to non-US citizens.
3. Budgeting and goals
Users who hold BTC, LTC, and stablecoins can withdraw one free withdrawal each month. However, the company started in December 2021, and due to rising gas costs, free withdrawals for Ethereum blockchain tokens (ETH, LINK, PAXG, UNI, and BAT) would no longer work.
As part of a record $100 million settlement with federal and state securities watchdogs, the company announced it would seek SEC approval of accounts that pay clients high returns for lending out crypto. As a result, new Jersey-based Jersey City Investment would gain the first sanctioned product of its kind from the Securities and Exchange Commission.
The SEC agreed that BlockFi could maintain interest rates for existing customers, but it could not sell products to new American clients as part of its agreement. In addition, it must comply with SEC regulations within sixty days. The company also hopes to register a new crypto-lending product that will comply with agency rules.
4. Special features
Following are the unique features of BlockFi.
Users can transfer funds directly from their crypto wallets into their BlockFi accounts through this app. With Interest Payment Flex, you can choose what cryptocurrency you'd like interest to be paid in without making new investments.
The BlockFi team has accumulated decades of experience in the trading industry. Now you can track market changes on the go.
With facial recognition, you will be able to rapidly access all crypto services you need by just scanning your face.
Deposits and withdrawals occur via bank wire and ACH.
5. Support
BlockFi's support team is available in two ways. Submit a support ticket for the first option here. Like many cryptocurrency platforms, BlockFi is also known by telephone at 646-779-9688 from 9:30 AM to 5 PM (ET) Monday through Friday.
BlockFi's Trustpilot rating of 3.7/5 is not that bad for a cryptocurrency company (Comparatively, Coinbase's Trustpilot rating is 1.6/5). However, according to the Better Business Bureau (BBB), BlockFi has a B- rating.


6. Alerts
Currently, we do not feature the ability to set text alerts for purchases made through the application. These alerts are, however, available through your Visa account.
7. Transactions and reporting
A new wallet, BlockFi wallet, allows users to exchange, buy, sell, trade, and store cryptocurrencies. As well as storing crypto rewards, it is also capable of storing rewards earned from a BlockFi Rewards Credit Card.
The BlockFi wallet doesn't earn interest on assets stored within it. If you want to make interest, you must hold your tokens in a BlockFi Interest Account.
Pros & cons
| | |
| --- | --- |
| Pros | Cons |
| A licensed and regulated app in the US. | The account cannot be joint or custodial. |
| Traders can trade instantly. | Taking withdrawals from interest accounts is limited. |
| There are no minimum deposits or monthly fees. | The failure of a bank does not protect your savings. |
Final thoughts
BlockFi is a risky company to use, so you'll need to have a certain level of risk appetite. The risk tolerance of someone who trades cryptocurrencies is usually relatively high, especially if they've been doing it for a while.
In comparison to other cryptocurrency exchanges, BlockFi's risks are lower. However, their main draw, the BlockFi Interest Account, is no longer available to US citizens. Due to this, other crypto trading platforms may be more suitable if you're interested in trading.