While passive income mobile applications are not a viable way to earn a living, they can generate extra cash if you start investing immediately.
Passive income apps allow you to earn money even when you are not actively using them. Instead, they generate passive income using various technologies, including investments and algorithms.
It is feasible to set up most of these programs, earn passive income, and then ignore them. However, if you're ready to pay for a "premium" subscription, you may be able to produce a more substantial passive income stream through your preferred app. This article highlights the features of the DiversyFund passive income app, which seems the best for savings & investing.
What does the DiversyFund app have to offer?
The app might get your attention if you're thinking about investing in private market assets, like stocks. When you use DiversyFund, you have a lot more access to these private assets than most people would have.
Regular investors use these platforms to invest in a lot of different stocks. For the average investor to get a lot of diversification as institutional investors can, they can use this platform to invest in many different stocks.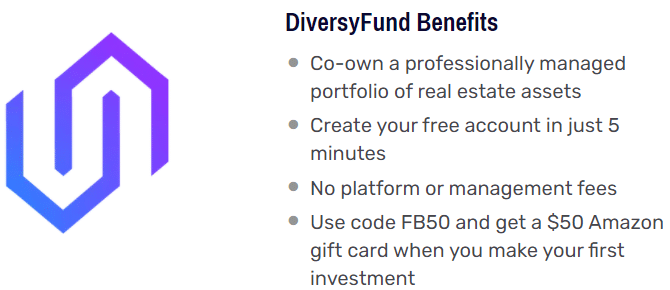 Top features of DiversyFund app
Here is a list of the top features of this app.
1. Safety and security
A privacy policy explains how an official website collects and uses members' personal information. Please note that this Privacy Policy solely relates to information gathered by DiversyFund technology. Visit or use the app and its subdomains only after reading the terms of use.
DiversyFund is committed to protecting any personal information that users supply to the app while using it. Personal information is submitted collected through the DiversyFund Technology. Users' personal information is protected by "privacy and policy," directly linked to the app service.
Privacy and security policies are reevaluated regularly, and they are adapted as necessary to meet new challenges.
2. Membership plans
To start investing with DiversyFund, you will only need to spend $500 of your money. If you don't want to invest a lot of money in real estate right now, $500 is a good amount to start with. There are two major membership plans in this app as follows:
Growth REIT I
Growth REIT II
The rental income is used to pay for renovations until the asset is sold. Investors get a share of the money they make when they sell their assets, including dividends and profit gains. If you want to cash out or reinvest at that point, DiversyFund lets you do so.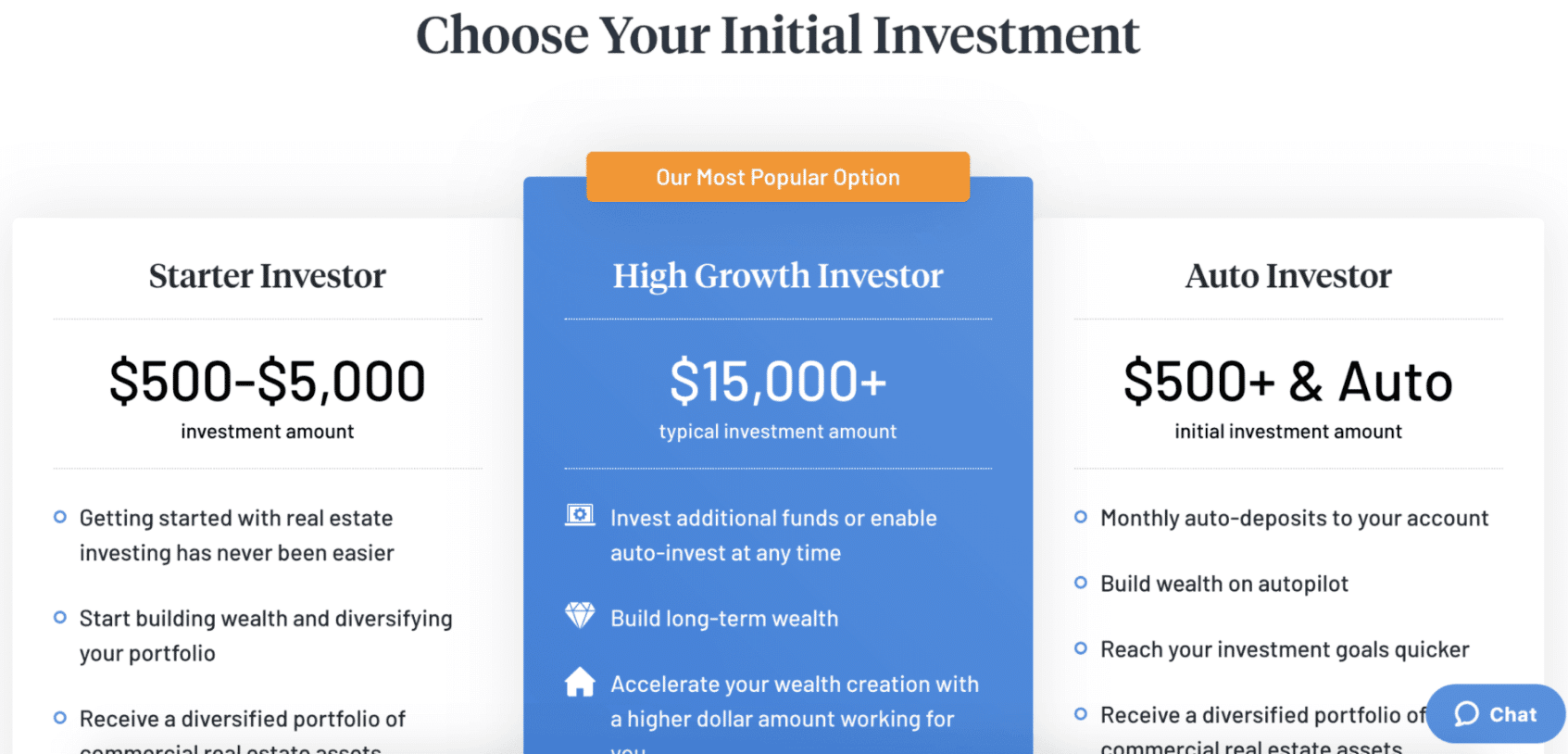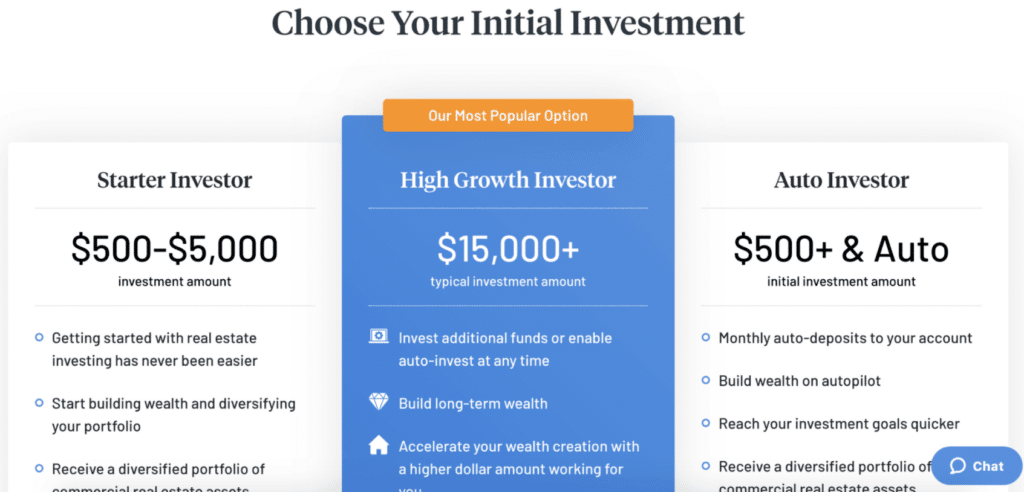 3. Budgeting and goals
DiversyFund does not charge its investors any management fees. It owns and manages the real estate developments; therefore, there are no annual membership fees associated with your account.
DiversyFund owns all the real estate assets it sells, so the company makes money from them and the sales of the other assets. In addition, it claims to give each investment a preferred rate of 7% additional.
So even though you'll need $500 to start, DiversyFund's investment minimum is less than that of other real estate apps like CrowdStreet ($25,000) and Yieldstreet ($1,000 to $10,000).
With just $500, you may join a pool of investors to acquire real estate with DiversyFund.
Growth REIT I and Growth REIT II use a value-added investment approach that aims to boost growth over a 5-year cycle as quickly as possible.
4. Special features
Here are the special features of the DiversyFund app over other investing apps.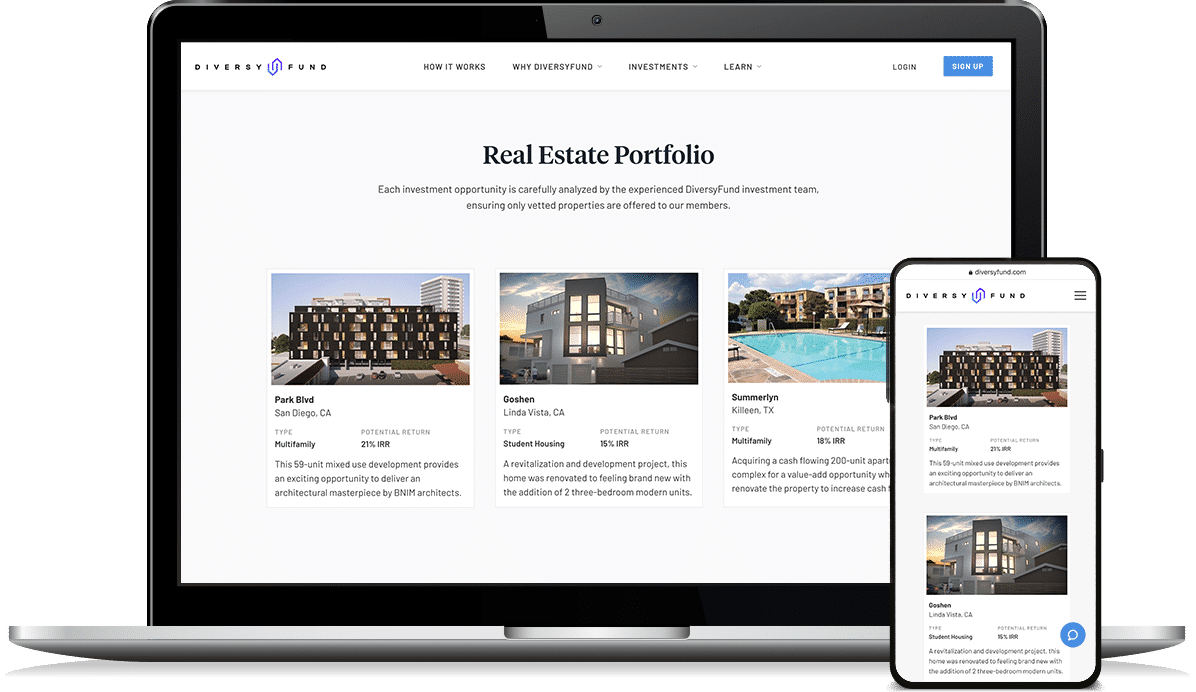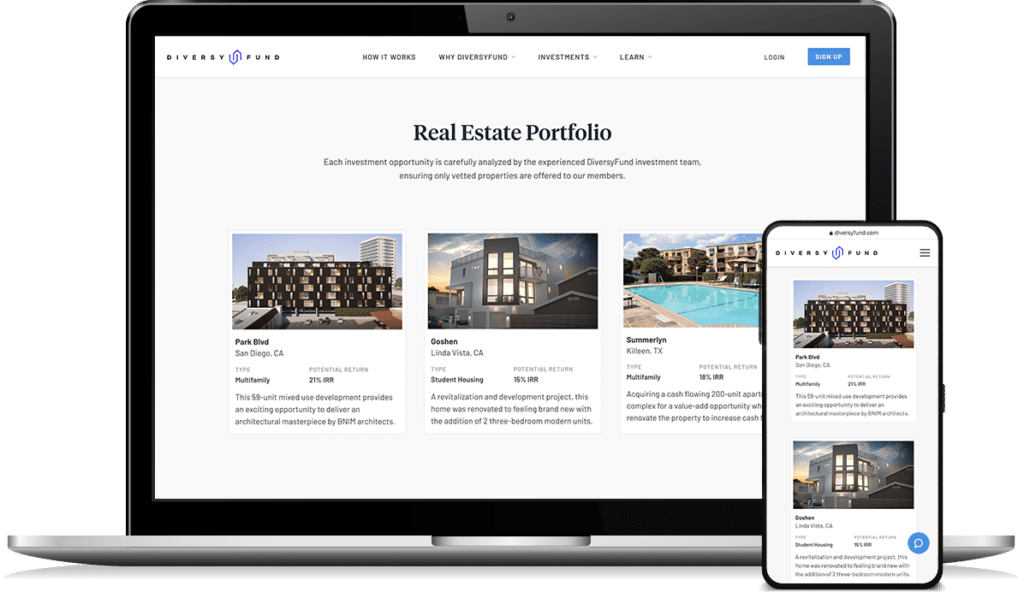 Its educational blog network covers investing, business, news, and personal finance. Additionally, you may subscribe to get investment alerts and articles by email.
DiversyFund has an A+ rating with the Better Business Bureau. This is the highest grade a firm may achieve and often signifies that the organization excels in business procedures and customer service.
No account management fee.
5. Alerts
Some alerts you must keep in your mind before joining the DiversyFund app.
It requires a minimum initial investment of $500.
You may be disqualified from participating in investment programs and membership plans based on your demographics.
6. Transactions and reporting
PayPal is frequently used for payment. Additionally, you may reinvest your earnings to increase your profits and upgrade your membership plan.
Visa and Mastercard are also acceptable forms of payment. But, most importantly, sometimes withdrawals are not allowed.
7. Support
The connected chat option enables customers to reach out to the support team at any time of day or night. If you have problems or would like to learn how to make money from your membership plan by using the app, you may access this option.
To get help with your account, you can communicate to DiversyFund through chat or email at [email protected]. You can also call DiversyFund directly at 858-430-8528.
Pros and cons of using the DiversyFund app
A few significant pros and cons of this app are given below.
| | |
| --- | --- |
| Pros | Cons |
| As little as $500 may be used to get started in the investment. | There will be no refunds. |
| An easy-to-use investment tool with a hands-off approach. | You cannot pick your investments as an investor. |
| There are no yearly management costs. | There are no retirement accounts to be acquired. |
Final thoughts
It is an investment platform for real estate. All the money DiversyFund makes comes from investing in apartment complexes that have at least 100 units. Multi-family apartment complexes that aren't worth as much as they should are bought by a company's growth real estate investment trust (REIT).
Property values rise at the same rate as rental income. It makes commercial properties like office buildings and apartment buildings more valuable when rents and earnings go up, making them more valuable. Users can make changes to these assets to make them more profitable, which will make them more money.