As 2022 begins, crypto experts expect meme coins to continue to be an essential element of the blockchain ecosystem. Redditors' enthusiasm for meme coins has also driven Wall Street into the meme coin arena.
The emergence of meme currencies has resulted in the rise of meme investment, an investment in which money is invested into prospective assets that, in internet jargon, can reach the moon.
This guide will talk about the top three meme coins by market cap. So, if you are looking to invest in any one of these coins, make sure to stick to the end.
Why is it worth investing in meme coins?
The year 2021 was a watershed moment for the cryptocurrency sector. Furthermore, because of the activity of social media influencers and retail dealers, meme coins witnessed enormous growth throughout the year.
Cryptos are down dramatically today, but investors are sure to invest in the next meme currency after such enormous returns last year.
For example, in 2021, the price of Dogecoin increased by more than 1,500%. Furthermore, Shiba Inu gained more than 500% at its peak. As a result, even a little investment in such coins in your portfolio might result in massive returns.
How does it work?
Some meme coins have a high market capitalization. In contrast, in other cases, the price per coin soars thousands of percent in a matter of days, making some investors wealthy and mainly triggering to others that they, too, may be able to do so.
It's also worth mentioning that these meme-based cryptos aren't usually real, meaningful initiatives, as they're frequently established by copying and duplicating code from another coin.
They also lack strong development communities, which aid in keeping them safe and technologically current. Dogecoin development, for example, has almost stalled at several points over its existence.
How to start?
You may buy the more popular meme coins on cryptocurrency exchanges, such as DOGE and SHIB. Other, less well-known meme coins can be found on decentralized markets.
There are now over 200 meme currencies for trade, and if you are new to crypto trading, it is hard to identify which ones you should buy. Fortunately, we have done everything for you, and here are the top three meme coins.
Dogecoin (DOGE)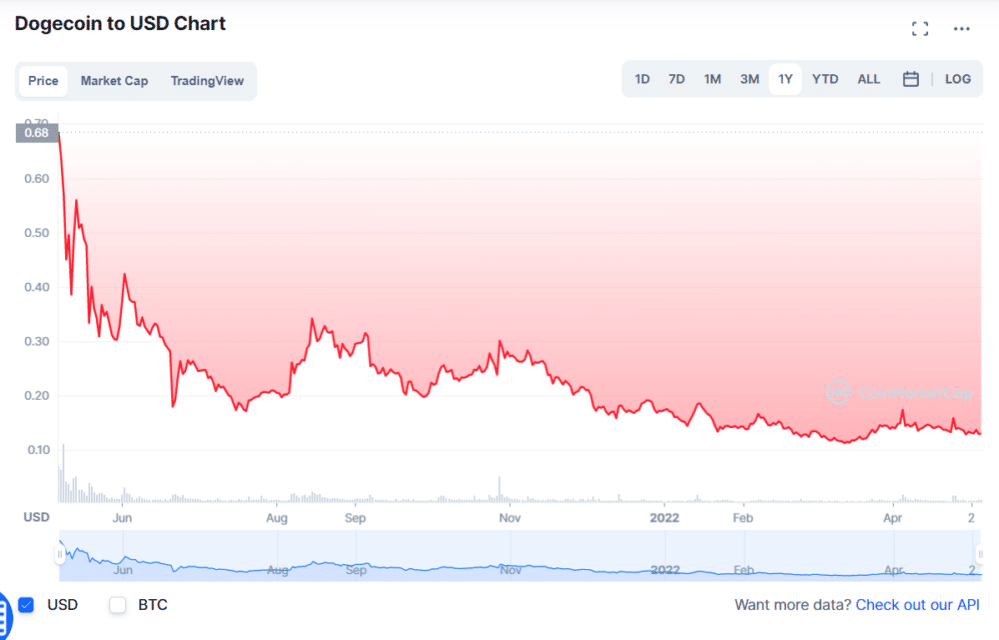 52-week range: $0.1096-$0.7376
1-year price change: -86.00%
Forecast 2022: $0.07-$0.35
Dogecoin is our top pick for the best meme cryptos to invest in in the long run. In addition, it is regarded as one of the greatest shitcoins and most affordable cryptos in 2022. Dogecoin is maybe the first meme cryptocurrency. In 2021, it was the most-searched digital item in the United States. DOGE finished the year with a gain of almost 3,000 percent. Last year, this outperformed any single stock.
Elon Musk, called "The Dogefather," is perhaps the most significant motivator for DOGE. Musk owns three digital assets, one of which is Dogecoin. So his tweets have served as a signal for crypto traders to buy DOGE coins.
So, if you want to acquire cryptocurrencies and are looking for the most promising meme coin, it's worth analyzing. Elon Musk's purchase of Twitter in April 2022 may result in a fresh bull run for Dogecoin.
Shiba Inu (SHIB)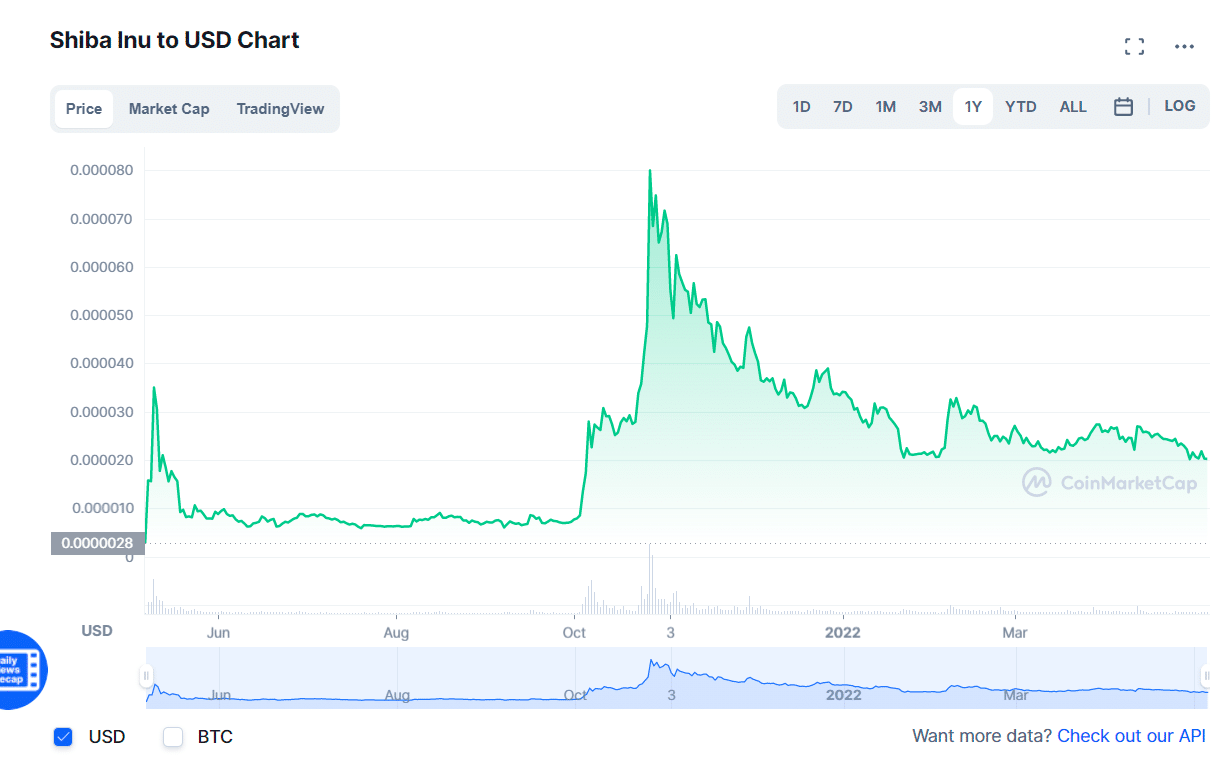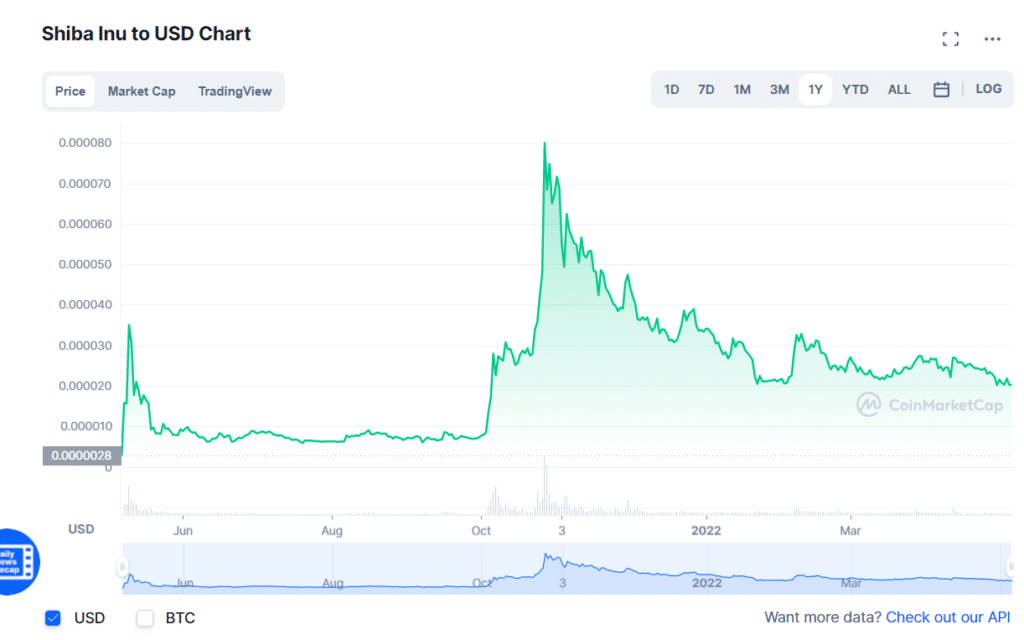 52-week range: $0.000001-$0.000088
1-year price change: 1,086.26%
Forecast 2022: $0.000015-$0.00015
With the release of the Shiba Inu in late 2020, the meme coin race has become even more fascinating. Shiba Inu is a crypto-based on Ethereum named after the famous Japanese dog breed of the same name. SHIB is a spontaneous experiment on the community-driven movement, according to its anonymous creator Ryoshi.
Though being second in line after Dogecoin, Shiba Inu rose more than 21,000% at the peak of the 2021 price rise, making the asset one of the best meme crypto to buy this year.
Firms like Ask The Doctor and AMC Entertainment have just adopted SHIB as a payment option. Furthermore, the reputed Flexa Payment network has accepted the currency as a payment method.
Likewise, its founder has been working on creating a Metaverse in which Shiba Inu would play an important role. As a result, the cryptocurrency might be in for a spectacular year ahead with such developments.
Dogelon Mars (ELON)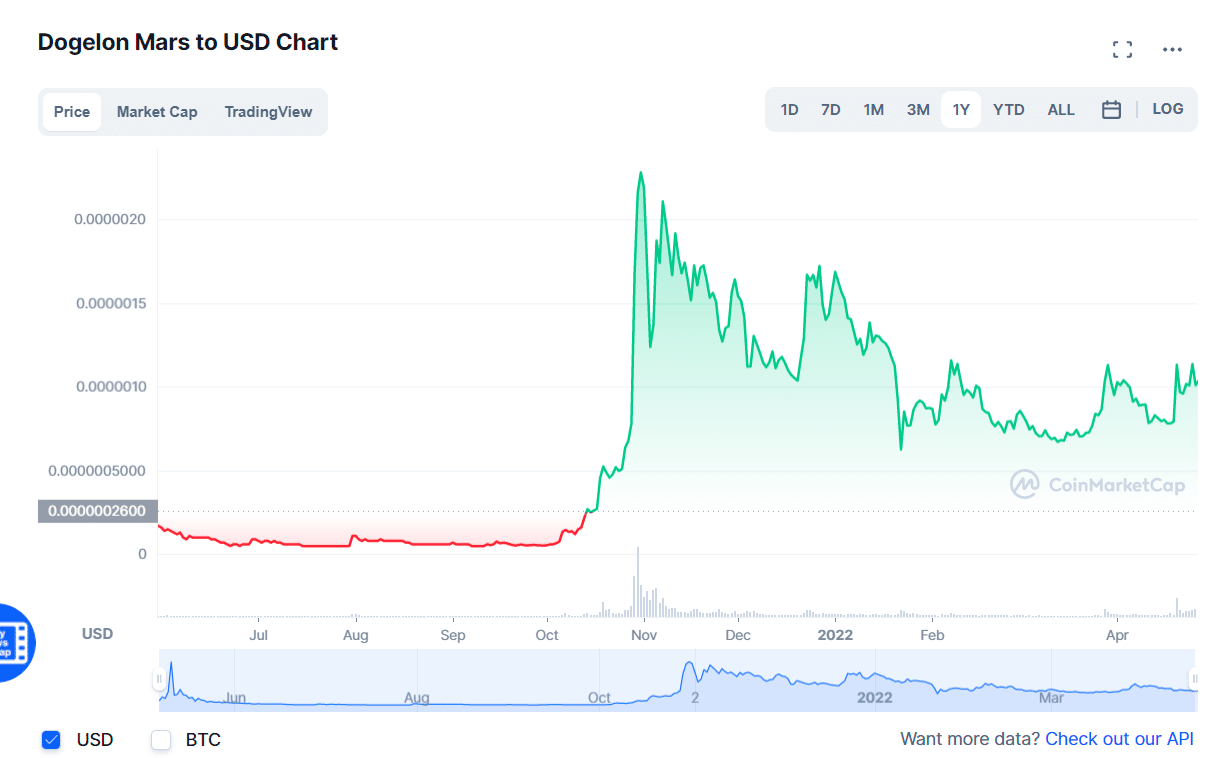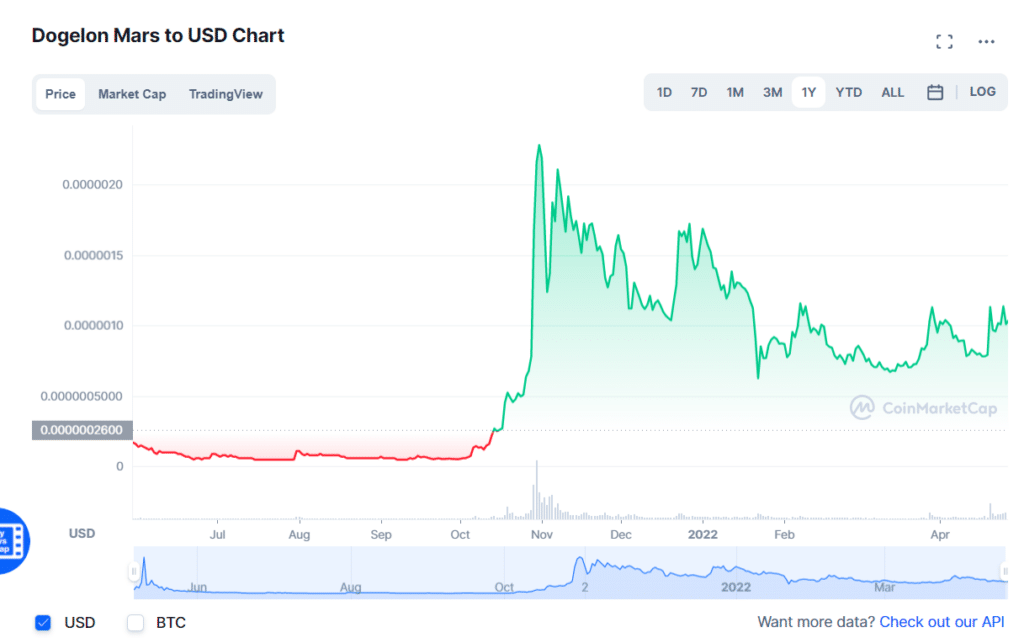 52-week range: $0.00000004-$0.00000258
1-year price change: +188.94%
Forecast 2022: $0.000000951-$0.00000173
Dogelon Mars is an ERC-20 token that aims to mimic the popularity of Dogecoin's original meme token. It has a total supply of one quadrillion ELON and about $400 million in market capitalization.
The creators of this currency, which is quickly gaining steam on Reddit, have locked half of the coin's liquidity in a liquidity pool for Uniswap. As a result, Uniswap is one of the most widely used cryptocurrencies globally.
Dogelon Mars, like most meme cryptos, is community-driven and decentralized. The project's main narrative revolves around the planet Mars and depicts how the dog-themed in-game meme travels around the cosmos and meets new buddies.
Additionally, the meme coin was designed to keep track of Elon Musk's tweets, and it has proven to be a success thus far. Musk has been a vocal supporter of digital assets and was instrumental in creating Dogecoin. Dogelon Mars, it seems to assume, can benefit from a similar effect.
When Musk makes a favorable comment about cryptos, Dogelon Mars is generally one of the first to pump. As a result, ELON's partnership with Musk will benefit the company in the long run.
Upsides and downsides
| | |
| --- | --- |
| Upsides | Downsides |
| Potential to go up quickly. | Are inflationary with no maximum supply. |
| It is backed up by several well-known figures like Elon Musk. | High volatility can lead to pump and dump. |
| They are available at a low price. | It is prone to scams. |
Final thoughts
When investing in or trading meme coins, it is critical to avoid making emotional decisions fueled by FOMO or greed. When engaging with cryptos, especially meme coins, try to be as honest as possible.