Even though the word "blockchain" is widely used, only a small percentage of individuals know exactly what it means. People are prone to react with a mixture of words and phrases that don't make any sense when you question them. Alternatively, the explanation will take so long that you will lose interest.
In the simplest terms, it is safe and challenging to hack records of transactions and who owns what. Using peer-to-peer networks, blockchain employs distributed ledger technology to store data securely. Initially, it was created to facilitate Bitcoin cryptocurrency trading, but its capabilities go well beyond that.
Blockchain ledgers may store value, from titles to debts to identities. It is still in its early stages, but its potential impact on business and everyday life is enormous. This article will walk you through the top three crypto blockchain projects to invest in in 2022.
Why is it worth investing in crypto blockchain projects?
In the past, cryptocurrency has shown to be an excellent investment. On the other hand, investing in cryptocurrency has a higher risk than in equities, commodities, or real estate. Both Ethereum and Bitcoin can shake up the whole financial services industry. Despite their ambitious aims, cryptocurrencies offer growth potential, unlike any other investment.
How does it work?
Blockchain technology protects cryptocurrency, a kind of electronic money. Hence, crypto investment works in many ways. It includes investing, trading, hodling, etc. For example, a crypto exchange or a small group of broker-dealers may be used to receive cryptocurrencies.
How to start?
Investing in cryptocurrency may be done in several different ways. eToro and Gemini are great places to start for new traders. Visitors to their websites or mobile apps may contribute to these transactions. Using common payment methods, you may buy cryptocurrency on Gemini, eToro, and other exchanges. If you already use Robinhood to trade stocks, then using it to acquire cryptocurrencies is a no-brainer.
Ethereum (ETH)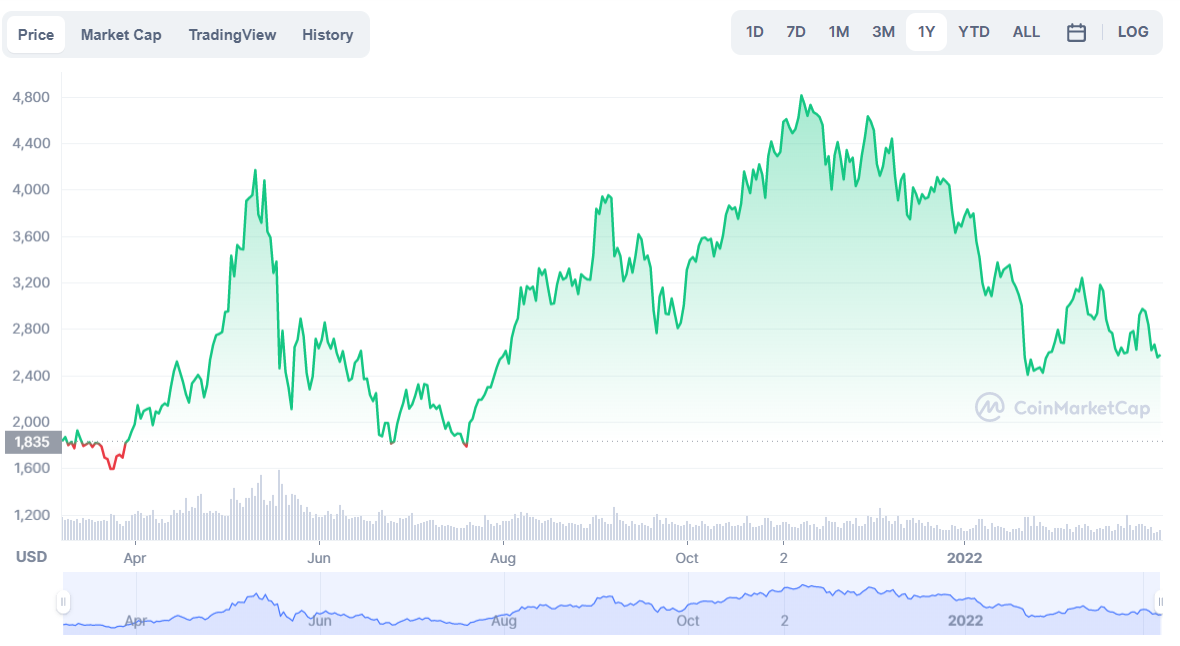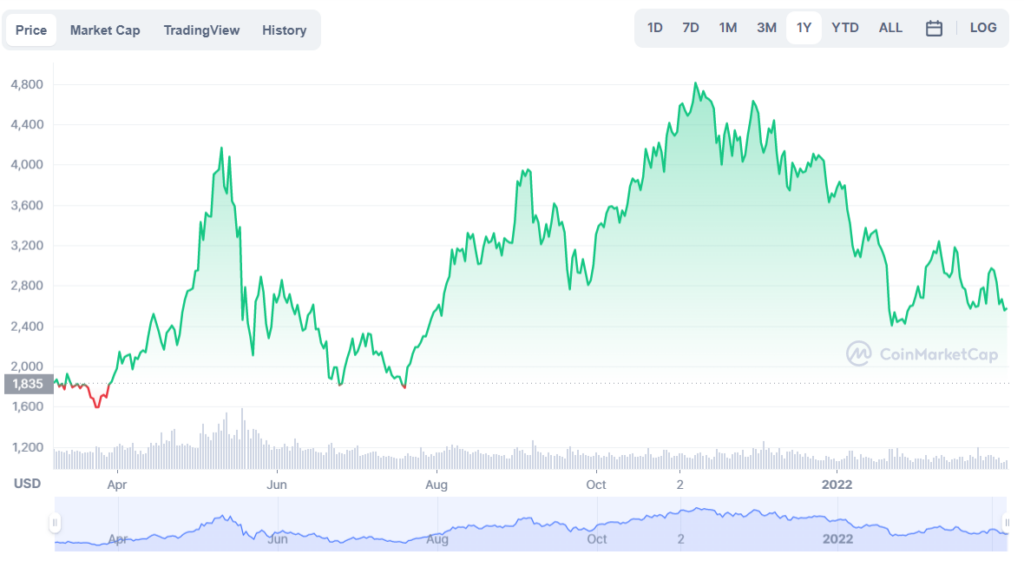 52-week range: $1,560.37-$4,891.70
1-year price change: ETH reached an all-time high of $4,878.26 on November 10, 2021. It now has a market cap dominance of 17.04%. It showed a net yearly gain of 56.5%.
Forecast 2022: The market anticipates ETH crypto to perform well, reaching a level of $7500, which is ambitious in terms of price but undeniably attainable for Ethereum's near-term ambitions. This is stated having viewed a significant dApp adoption in the recent year that pushed the price movement of ETH currency. Also, an upgrade dubbed Ethereum 2.0 has been issued in stages, which is a further expansion of ETH.
Several of today's most successful startups started thanks to Ethereum, widely considered the foundation of blockchain technology. The native cryptocurrency is Ether (ETH).
Are you interested in decentralized finance, non fungible tokens, and stablecoins? Then Ethereum is a fantastic cryptocurrency to invest in. A solid long-term investment, Ethereum is expected to grow in popularity as the crypto industry grows and more users join the market to acquire crypto assets.
Ethereum has a market capitalization of about $360 billion, out of a total crypto sector value of over $2 trillion. More than a million transactions take place every day on the Ethereum network. So today's leader in the crypto realm may be tomorrow's trailblazer.
Polygon (MATIC)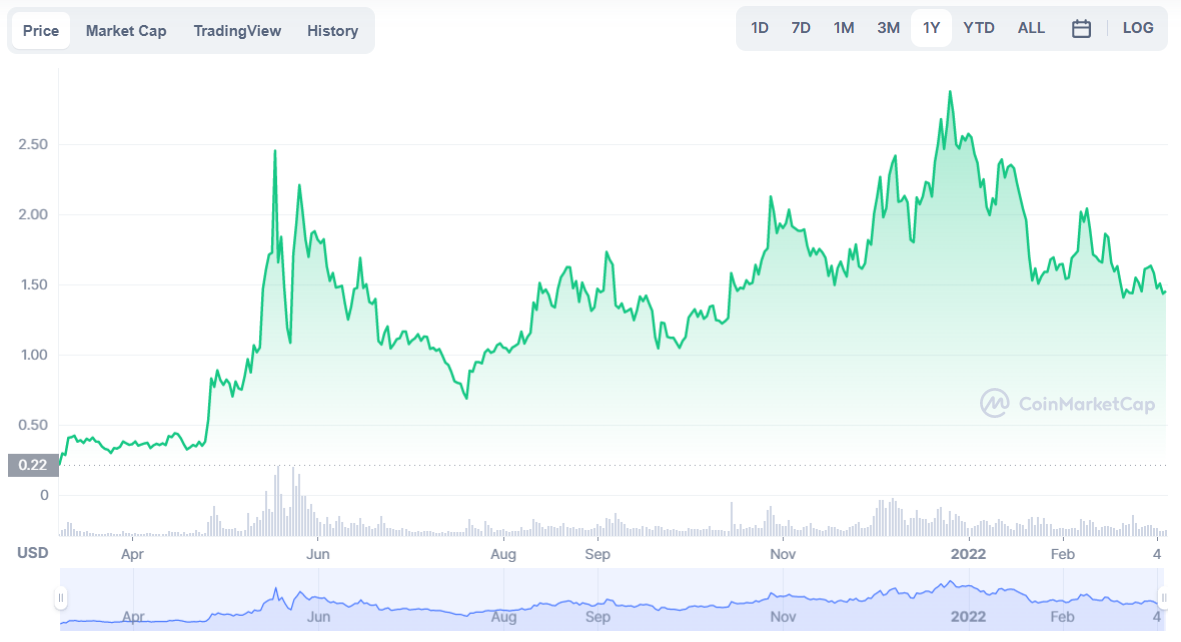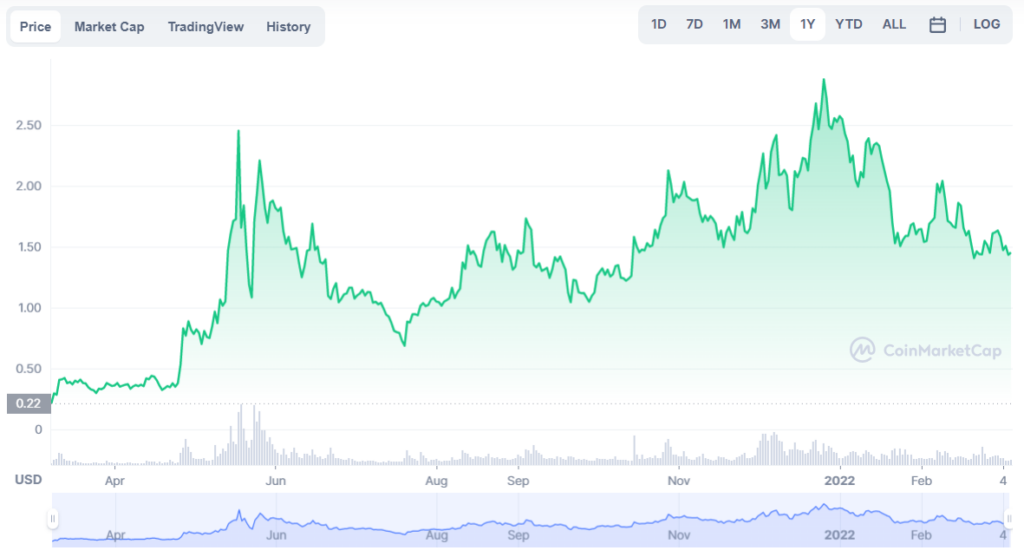 52-week range: $0.20-$2.92
1-year price change: MATIC reached an all-time high of $2.92 on December 27, 2021. It now has a market cap dominance of 0.55%. It showed a net yearly gain of 585.2%.
Forecast 2022: MATIC's Polygon price was propelled by adopting more than 50 dapps. As a result of partnering and working together, the network will handle 65,000 transactions per second. According to the market cap, Polygon MATIC is predicted to achieve a price of $3.4 by the end of 2022.
After Ethereum, Polygon is the second most popular blockchain. Because of its lower transaction costs and increased user appeal, Polygon aims to assist Ethereum in growing. In addition, we take pleasure in our low-cost infrastructure, which enables us to serve our customers promptly and affordably. This is one of our most significant selling points.
Mitchell Amador, CEO of Immunefi, a security services platform, states that "Polygon is a layer two blockchain built to extend a layer one blockchain, such as Ethereum."
The fear of spending $500 on a transaction drives Polygon's growth, says Amador. Experts say it's not designed to compete with the Ethereum blockchain, but Polygon still has room to grow. As Polygon develops and becomes its ecosystem, it "may become competitive over time."
Polygon's most popular decentralized financial and NFT initiatives like Aave, SushiSwap, and OpenSea. Polygon's popularity is on the rise. Polygon has aided the development of approximately 7,000 dApps.
For example, Coinbase Global Inc. (COIN) is a significant cryptocurrency exchange. Using Polygon as a scaling option will enable Coinbase customers to invest in a variety of different ways.
NFT collectibles have been created with the help of Draftkings Inc. (DKNG), a sports betting company. Thanks to Polygon's technology, millions of DraftKings users in the US and Canada may now purchase NFTs on the site. It is estimated that Polygon's market value is at $14 billion, whereas Matic's is around $2.
Cardano (ADA)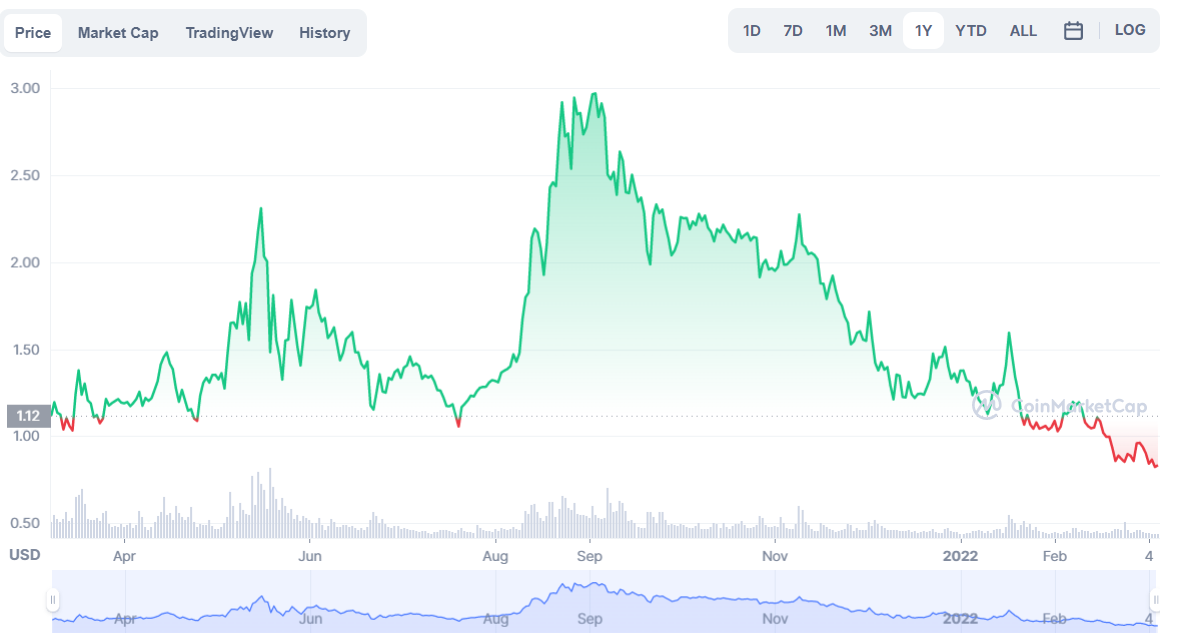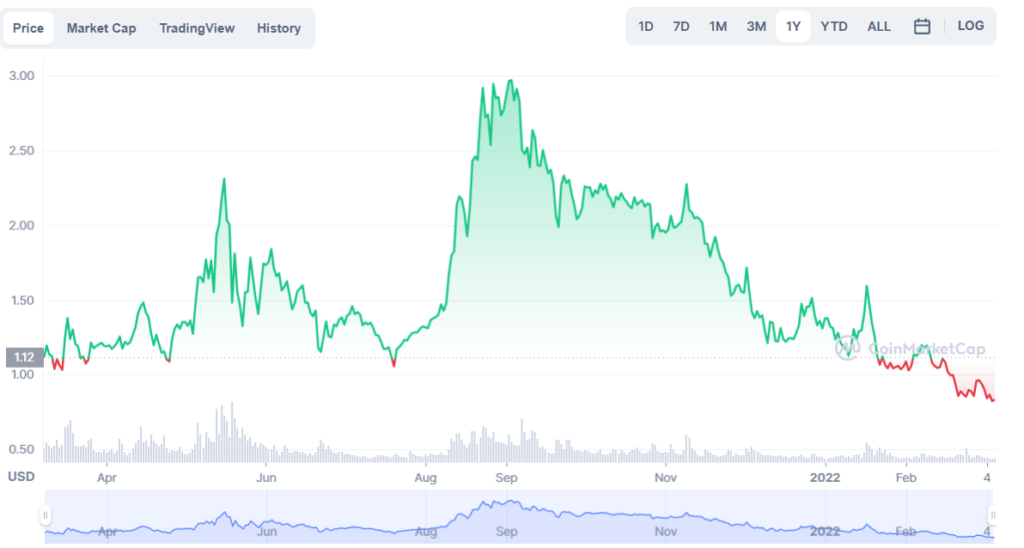 52-week range: $0.75-$3.09
1-year price change: ADA reached an all-time high of $3.09 on September 02, 2021. It now has a market cap dominance of 1.47%. It showed a net yearly gain of -26.7% as it broke below the $1.00 mark amid the crypto market crash.
Forecast 2022: in an announcement made on October 31, 2021, Cardano founder and CEO Charles Hoskinson said that his company's current emphasis is on expanding the usage of blockchain technology in Africa. According to him, Cardano blockchain-based digital IDs for 5 million Ethiopian students are expected. As a consequence, it is virtually inevitable that the price of Cardano will climb. According to current projections, between 2022 and 2023, the cost of ADA is expected to reach an all-time high of $3.10.
Cardano (ADA) uses proof-of-stake to confirm transactions for a fraction of the usual energy cost, unlike other blockchain systems. In addition, the protocol aims to be the most environmentally friendly blockchain solution on the market to attract investors.
What sets Cardano apart from its competitors? There are two layers to the Cardano blockchain. Both the Cardano Settlement Layer and the Cardano Computing Layer manage the ledger of accounts and balances, and they are responsible for running the whole Blockchain. By splitting the Blockchain, Cardano may process 1 million transactions per second.
Cards are intended to increase transaction speed as more users join the platform, and as a result, transaction speed will increase in tandem with platform growth. To ease Ethereum network congestion, this will be beneficial.
Many cryptocurrency exchanges allow you to buy and sell Cardano's ADA tokens. Its market capitalization exceeds $38 billion, making it one of the most sought-after blockchain assets.
Upsides and downsides
Now, let us look at the upsides and downsides of investing in crypto.
| | |
| --- | --- |
| Upsides | Downsides |
| Personal information privacy. | No refund policy. |
| Instant and secure transfer. | Risk of cyber hack |
| Self-managed and regulated. | High risk and volatility with certain coins. |
Final thoughts
Cryptocurrency investment is not for the faint of heart, even though many prominent investors believe that everyone should have some exposure to digital assets. You should limit your exposure to cryptocurrencies based on your risk tolerance because they are more dangerous and less regulated than conventional investments.