Binance is the world's biggest crypto trading platform and, through its projects department, is betting hard on Metaverse developments. The most popular version of this technology is GameFi Metaverse.
Metaverse is a virtual world where users create avatars to interact with other users and define their reality. Your performance in video games has a real connection with your economy through blockchain technology and cryptocurrencies within the game. The most popular Play2Earn game is Axie Infinity, but it's not the only one.
While Axie Infinity runs on the Ethereum platform, Binance wants to power many other projects that will be the future of the internet and can make you profit. Learn which are the most exciting developments on the Metaverse powered by BSC.
Why invest in Binance Smart Chain Metaverse projects?
In 2020 Binance released Binance Smart Chain to support smart contracts and Ethereum blockchain, which is currently winning the Metaverse race.
A year from its release, the project has joined different exciting developments that the company expects will take some of the increasing interest of users on Metaverse games.
Being the world's largest exchange, Binance has evident advantages over many platforms. So, many developers are seeking to team up with Binance Smart Chain to take their projects to new stages.
BSC is taking new projects from Ethereum's platform, and also existing projects are migrating to the BSC, especially NFT's platforms.
How does it work?
In 2019 the creation of the Binance Chain was intended to support Binance DEX, but the chain did not support smart contracts. That's why in 2020, Binance developed Binance Smart Chain.
Binance Smart Chain supports tokens BEP-20. Binance Smart Chain is more used than Binance Chain, but you can transfer between the two networks through Binance Bridge.
How to start?
Today all you hear is how much money cryptos cost, and you think you can make capital from it. There is a lot of money in this world, and there will be even more in the future. In addition to understanding how cryptos work, you should also consider whether Metaverse projects you plan to invest in will be competitive in the future.
Let's see the top three most exciting Metaverse projects on Binance Smart Chain.
BabySwap
52-week range: $0.01952 – $1.63
1-year price change: 267%
Forecast 2022: $2.5
BabySwap is a Metaverse where you can trade, mine, and earn cryptos. The platform is AMM and NFT Decentralized exchange for new projects based on Binance Smart Chain.
Released in June 2021, BabySwap already offers different services like Decentralized Exchange (DEX), Trade Mining, Farms, Pools, Non-fungible Babies (NFB), Initial DEX Offering (IDO).
The Baby Metaverse is a world in which the users will have personalized avatars. You'll have NFTs, AMMs, and games in this Metaverse, and you'll be able to trade cryptos.
Baby's Metaverse will be a free virtual game in which the players can make all kinds of things. The world in which the game will take place is still under construction, but the creators promise it will be ready soon.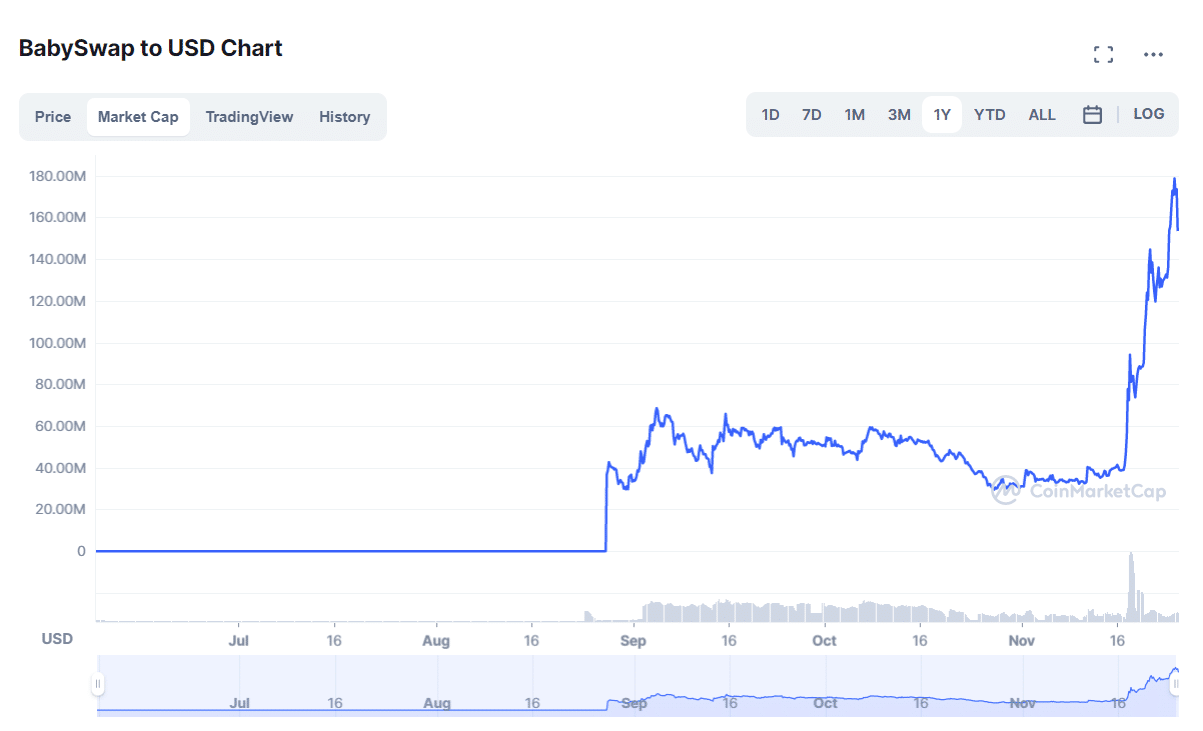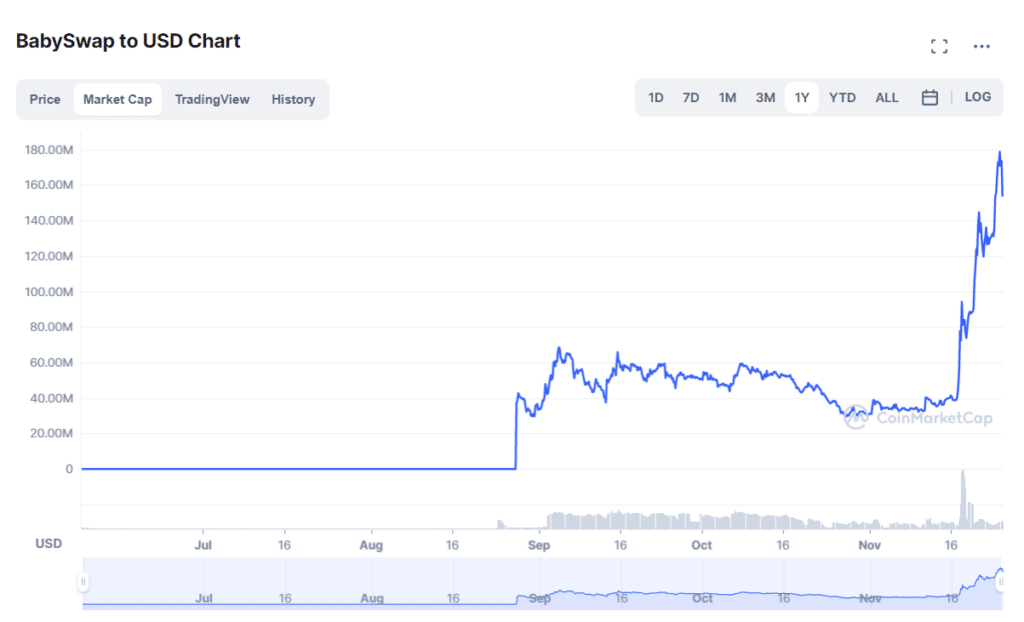 Hero Arena
52-week range: $0.7518 – $1.86
1-year price change: + 12.06%
Forecast 2022: $4.50
Hero Arena is a DOTA-inspired game built on Blockchain technology. It is a Play2Earn game based on Binance Smart Chain. In the game, players get heroes to fight other players. By completing missions, Heroes earn the game token, which is HERA, and then they can trade those tokens to buy different game Items.
The whole Metaverse will have 20,000 heroes with their strengths and weaknesses. Heroes can train and become stronger. As they become stronger, by winning battles, they also become more valuable.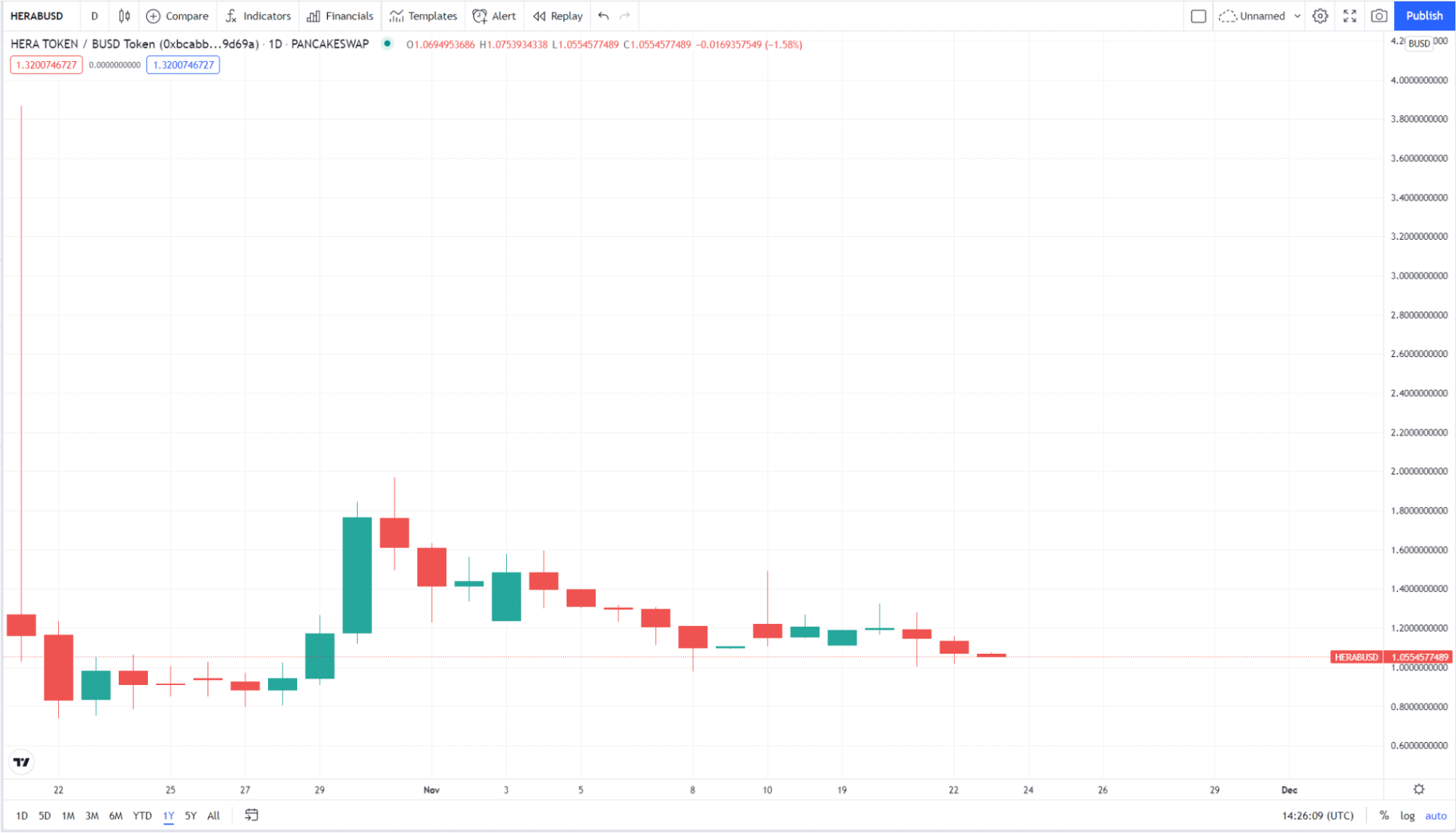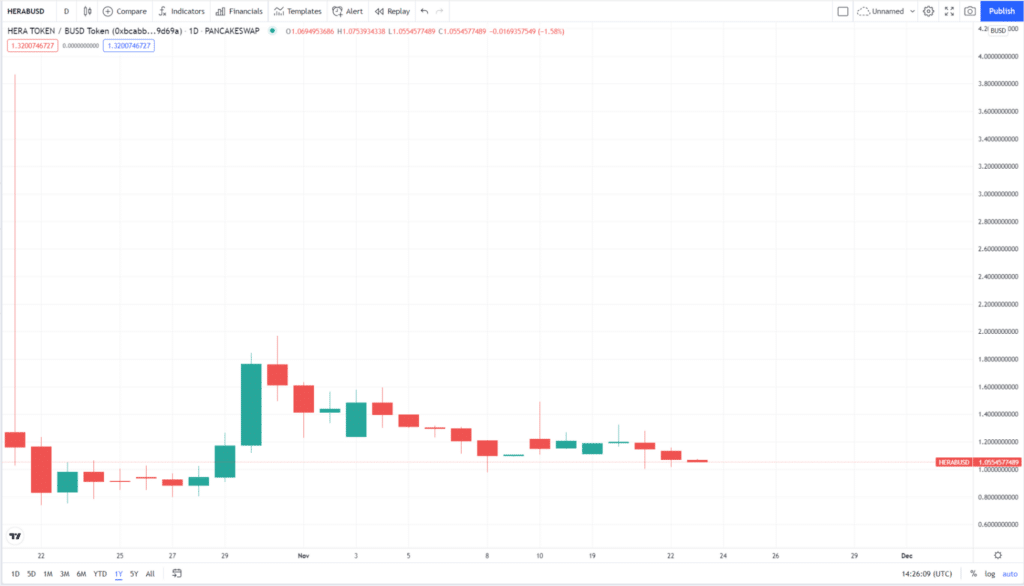 Polka City
52-week range: $0.04374 – $2.89
1-year price change: + 875%
Forecast 2022: $5
Polka City is a Metaverse video game in which players make money by owning taxis, gas stations, and other services. The Metaverse includes DeFis and NFTs to create this world for investors of the game.
First, based on the Ethereum blockchain, Polka city has added Binance Smart Chain so users can claim their reward on BSC to get higher speeds and lower fees compared to the Ethereum chain.
With the incorporation of BSC into the game, players gain the liberty to farm and do all kinds of activities without fearing facing high fees. Although there may be a little downside of this new deal with BSC, The developer team of Polka city warns users that if they use BSC to transfer NFTs to BSC, they may have to wait 30 seconds for the platform to complete the transaction.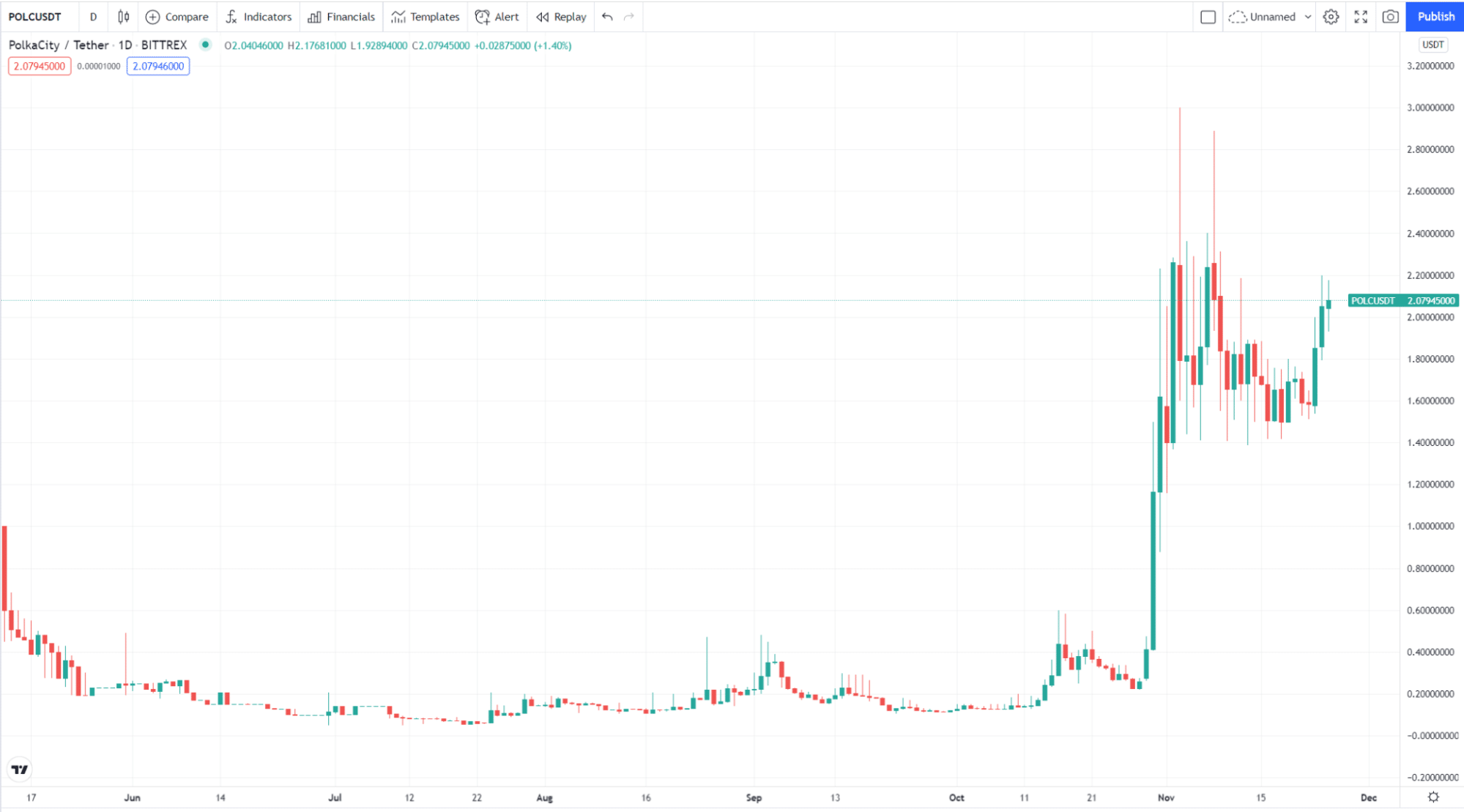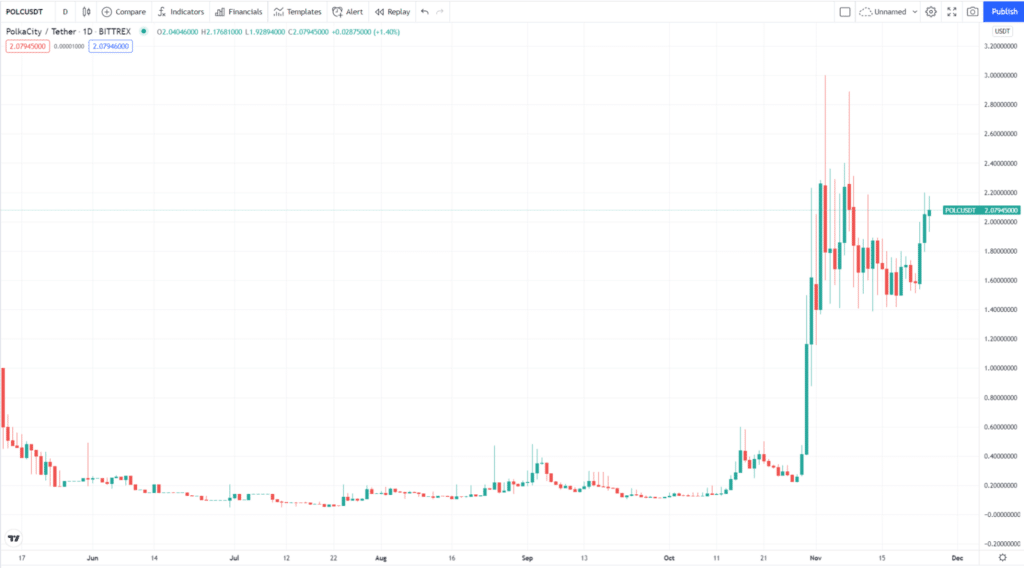 Upsides and downsides
BSC has entered the Metaverse competition, and it is a formidable challenger for Ethereum Hegemony. However, some people claim that the centralization of the platform and the fact that BSC is largely based on Ethereum's platform, Binance is still one step behind Etherum. So, let's see the main upside and downsides of this platform.
Upsides
Downsides
•Largest crypto exchange
Binance is the largest crypto exchange market in the world. Its platform gives huge relevance to every project the company decides to support.
•Centralization
BSC is highly centralized. Decentralization is a key characteristic of blockchain technology.
•Low transaction fees
Compared to Etherum's platform, the transactional fees of Binance are almost 95% less.
•Ethereum dependence
BSC is based on Ethereum's platform, so the innovation is taking place on Ethereum's side.
•Transaction speed
Binance Smart contract is one of the fastest platforms today.
•Proof of stake authority
While proof of stake seeks to improve proof of work problems, it could also lead to more centralization.
Final thoughts
Metaverse technology has gained relevance in video games, but what changed the game is its impact on the real-world economy. A phenomenon like Axie Infinity is a breaking point for this technology, and the presence of the largest crypto exchange in the development of different Metaverse will only strengthen the revolution.