A blockchain is like a database storing information or data. These are well known for their critical function in keeping a secure and decentralized ledger of events in cryptos like Bitcoin. The uniqueness of blockchain is that it maintains the reliability and security of a data record while also building trust without the need for a third party.
The technology is a decentralized, distributed ledger that tracks the lineage of digital assets. For example, cryptos are powered by blockchain technology. But on the other hand, many investors are unaware of blockchain or the best ways to participate in this interesting technological advancement.
All of your searches will end with this article, as we'll talk about the top three blockchain startups.
Why is it worth investing in blockchain?
However, blockchain is a technology that provides unprecedented levels of security and is used by IT, finance, and all industries, making it an exceptionally flexible technology. As a result, hacking hazards to your company will be decreased.
There is no need to pay for the services of centralized corporations. As a result, businesses can complete transactions more quickly.
How does it work?
Blockchain is a ledger of transactions replicated over a network of computer servers. A user-initiated transaction will result in the creation of an irreversible digital signature. If someone tries to manipulate the transaction data, the digital signature will be significantly altered, and the transaction will be refused.
It is important to understand the difference between blockchain and crypto. Blockchain is the underlying tech that underpins cryptos, but it has various other uses also. Blockchain cannot be invested in since it is only a tool for storing and processing transactions. You may, however, leverage this technology to make investments in assets and enterprises.
How to start with a blockchain?
The simplest way to start with blockchain is through investing in cryptos like BTC and ETH. Another possibility is to invest in blockchain firms that use this technology. American Express, for example, accepts blockchain payments, and if you wanted to obtain access to blockchain technology in your portfolio, you might buy its stock.
Top three blockchain startups to consider
Now that you know what blockchain is and why it's worth investing in, here are the top three startups you should consider adding to your portfolio.
American Express (AXP)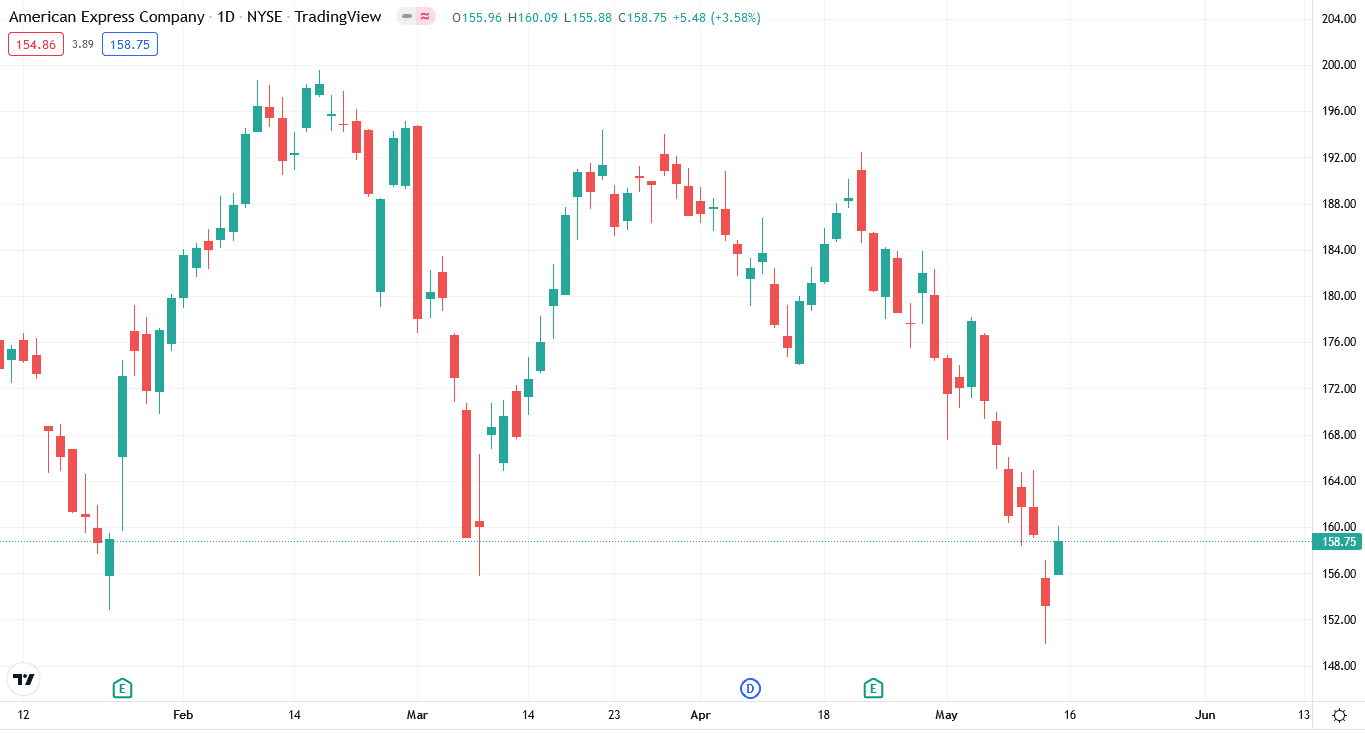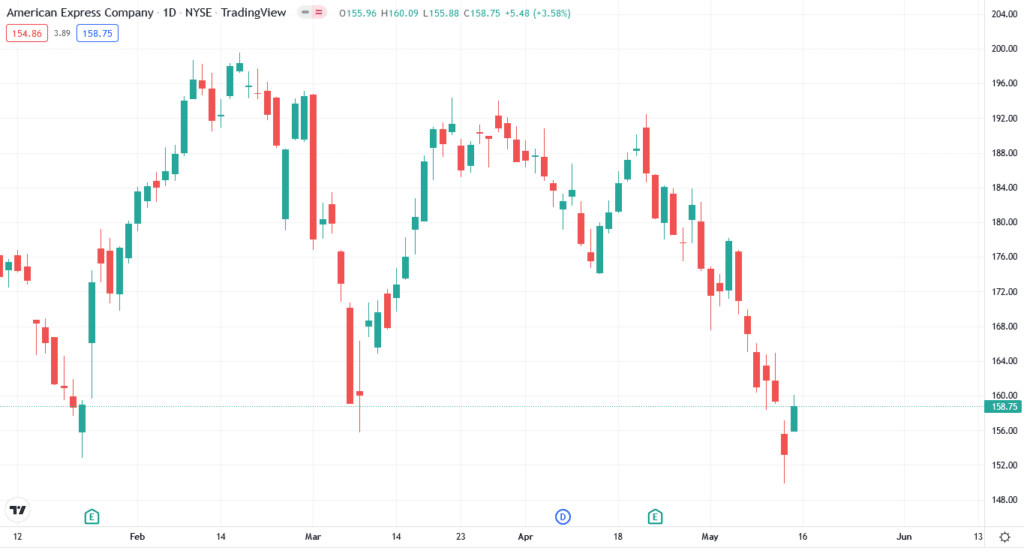 52-week range: $149.88-$199.55
1-year price change: 1.20%
Forecast 2022: $149.85-$199.55
American Express was founded in 1850 and had headquarters in New York. The company has a history of service and development. AXP cards are recognized at several retailers worldwide, including those granted by third-party banks and other institutions on the American Express network.
It is a global integrated services organization that connects customers to products, data, and activities that help them live better lives and grow their businesses. The business provides services that are publicly traded. It offers credit loans and network processing services, giving it various competitors.
Credit/debit, merchant-acquiring, and card-networking firms are part of its integrated payroll process. AXP is a global leader in offering payment products and services to a diverse population, including individuals, small businesses, medium-sized businesses, and major corporations.
It has filed seven trademark applications for emblems associated with Metaverse, NFTs, and the digital asset hub. Every outsourcing partner that sells AXP stock can help you buy it.
Amazon (AMZN)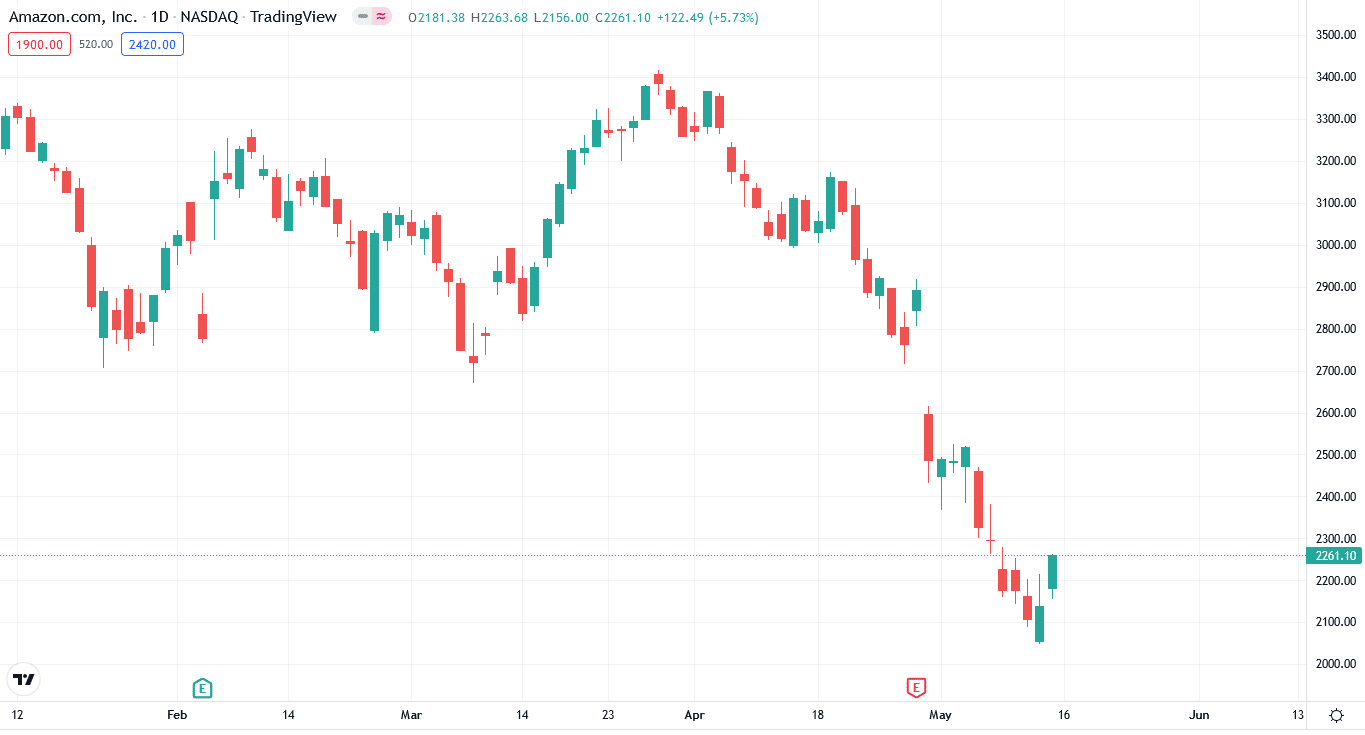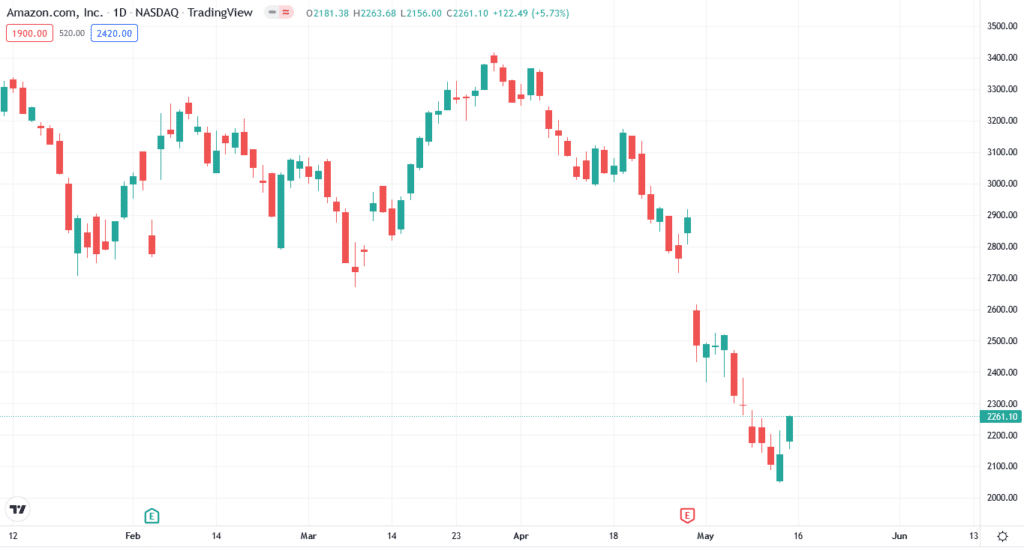 52-week range: $2,048.11-$3,773.08
1-year price change: -30.86%
Forecast 2022: $2048.11-$3416.63
Amazon.com Inc. began its life as an online bookshop in 1994. However, Amazon's founder and former CEO, Jeff Bezos, envisaged the company as more than just an online store. Instead, Bezos viewed Amazon as a technology business with a competitive edge in making online transactions easier for customers.
AMZN is a global leader in e-commerce and cloud computing, making it one of its most valuable firms. Electronics, fashion, furniture, food, and toys are among the things available on the corporation's online marketplace, dominated by other merchants. It also provides streaming video and music. In addition, Amazon's cloud services platform hosts a variety of web apps for various clients.
Using Amazon Managed blockchain, you can create and administer blockchain networks. In the last ten years, the price of AMZN has soared. The stock rose the most during the pandemic. AMZN is available for purchase through an online stockbroker.
Coinbase (COIN)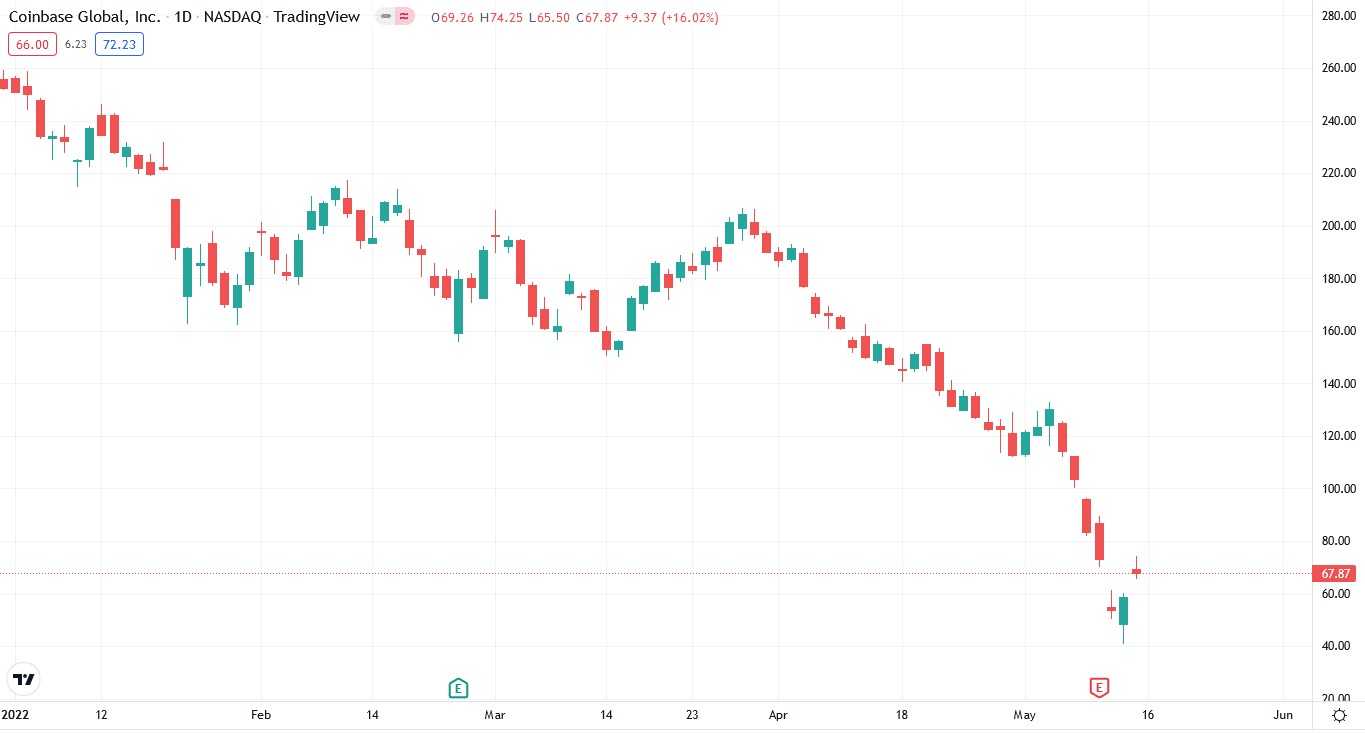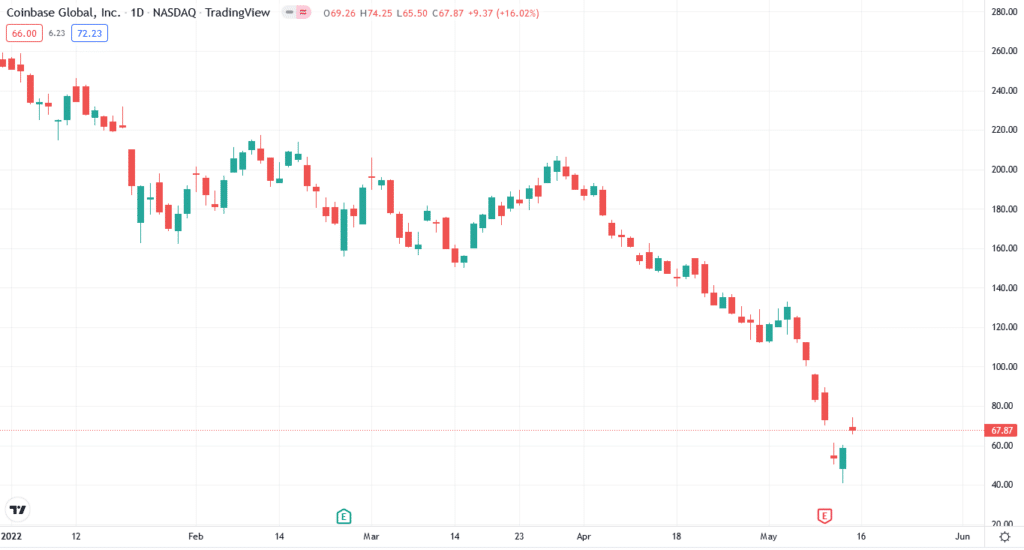 52-week range: $40.83-$368.90
1-year price change: -72.66%
Forecast 2022: $40.83-$217.49
Perhaps you've never heard of Coinbase before. Maybe you're not sure what it is at all. Here's a basic rundown. Coinbase is a digital currency wallet and platform where merchants and customers may deal with emerging digital currencies such as Bitcoin, Ethereum, and Litecoin. It came on the scene in June of 2012.
By creating an open financial system, the company hopes to bring more innovation, efficiency, and equality of opportunity to the world. Its first aim is to make digital currency more accessible and approachable to Coinbase is a crypto exchange that enables you to buy and sell BTC, ETH, LTC, and around 50 different cryptos.
You can also use this technology to convert or transfer one crypto to another. Like stock trading apps, you may be acquainted with it, which displays the current price and trends for cryptos and your portfolios of holdings plus industry news.
Upsides and downsides
| | |
| --- | --- |
| Upsides | Downsides |
| Blockchain technology has the potential to explode in the coming years. | Blockchain cryptos can be super volatile. |
| Some of the world's largest companies are aggressively investing in blockchain technology. | Blockchain is vulnerable to economic and political crises. |
| There are many ways to invest in blockchain. | Some companies are skeptical of blockchain growth. |
Final thoughts
Blockchain might become a big part of finance, technology, and various other businesses in the coming years. As a result, focusing on firms that will surely benefit from the evolution of blockchain technology is a sensible idea.