Elon Musk is probably the most influential person on the market right now. His decisions and opinions affect more Bitcoin prices than China's policies. Between May and June, Musk tweeted several times about Tesla's relationship with BTC.
When Musk tweeted that his company wouldn't accept Bitcoin anymore, crypto's price dropped 15%. Then a series of tweets in Behalf of Tesla's CEO moved the price in ways that even China couldn't.
This means that Musk is not just a visionary who knows when and where exactly he will put his money. Instead, Musk is a market maker, and you want to bet on the same cards as him to improve your chances to earn money. Keep reading to learn how today Elon Musk moves the market to his will and how to follow him to profit.
Why invest in Elon Musk stocks?
Elon Musk is considered today as a real-life Iron man. You may have heard about him from five or maybe ten years ago, but his first big hit comes from a very long time ago. In 1999 Tesla's CEO founded what we now know as Paypal, which is probably the pioneer company in making it possible to work with digital money out of the bank's platforms.
With Tesla, Musk made it possible to have efficient total electric vehicles and beat strong competitors like Toyota, taking the lead with its Hybrids car. He also owns exciting companies as Neuralink, and if that wasn't enough, he works with Nasa to send people to Mars through his company SpaceX.
All this is important because all the power he has over different assets is due to his reputation. Sometimes it is not about investing in companies you think he will do work, but to invest in companies which you know its price will increase just because Musk is betting on them.
How does it work?
Ideally, we will choose stocks that have benefited from Musk's interactions and those directly related. That way, you want to invest in those companies where the stock's prices have changed positively depending on Tesla CEO's comments.
Of course, this may not always be a good idea. The Bitcoin experience is clear. After Tesla announced that it would buy $1.5 billion in February and receive Tesla as a valid payment method for its cars, the price trended until it reached its all-time high until the date in April.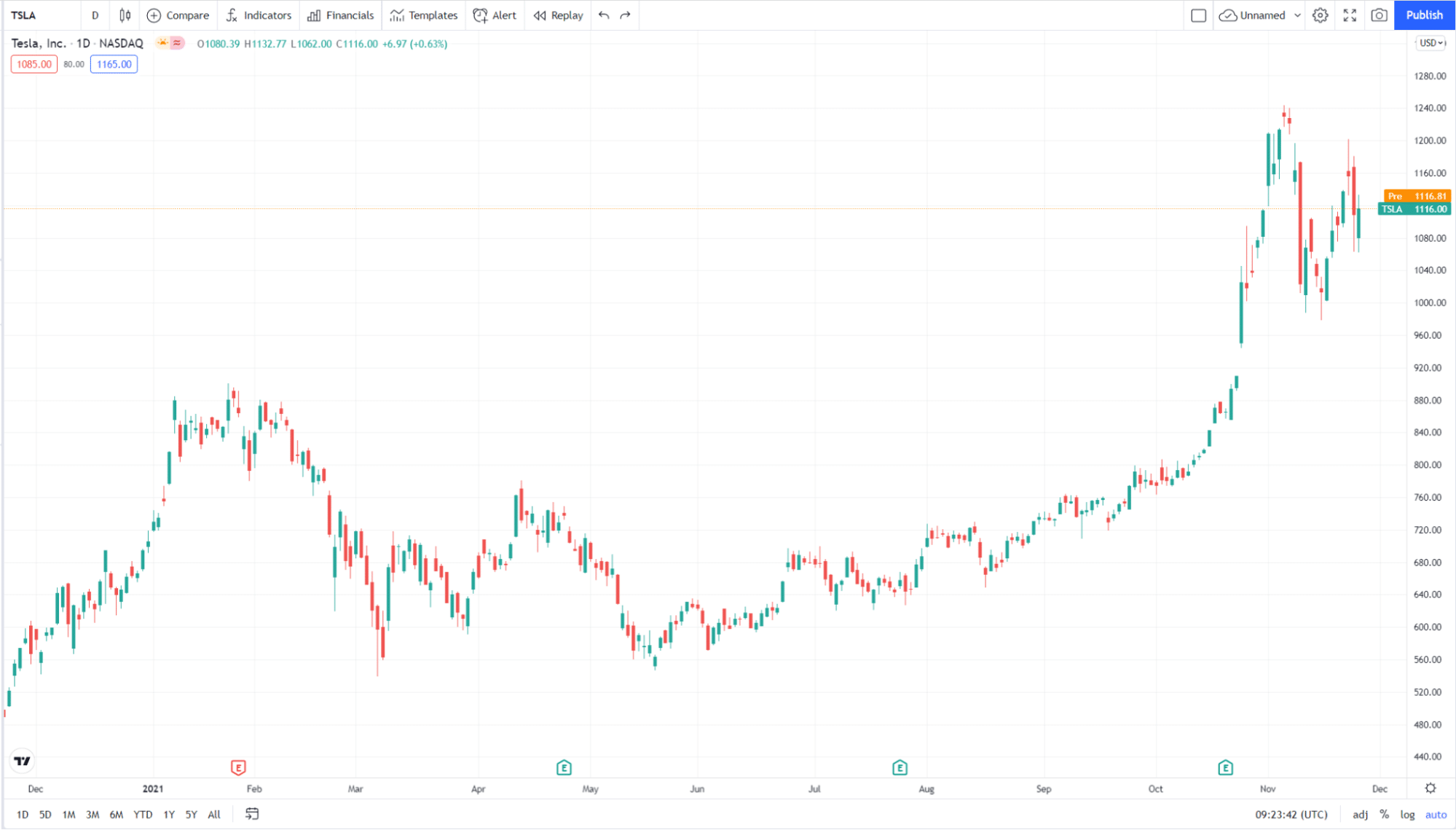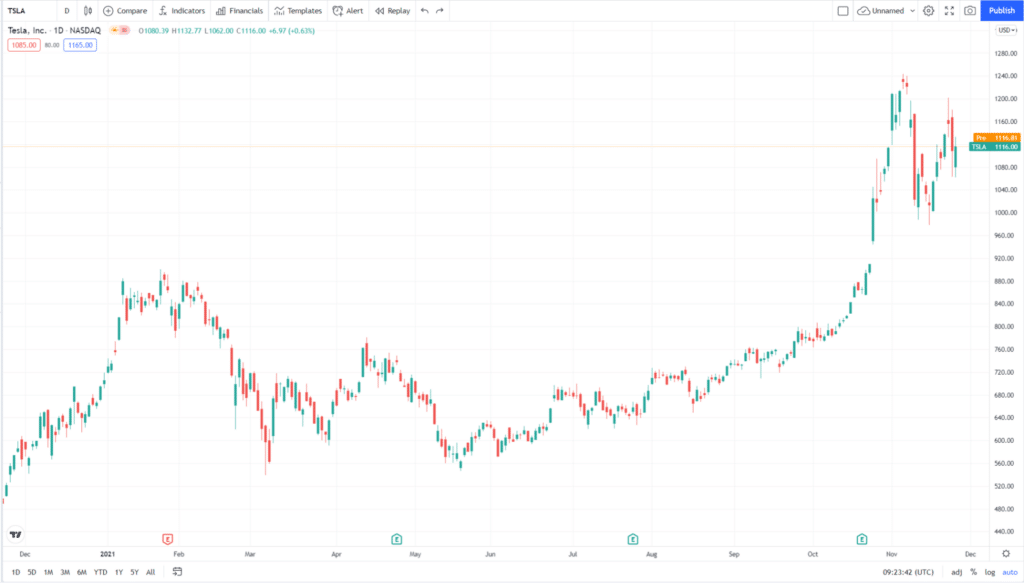 Then, in May, Musk changed his mind about BTC due to its environmental problems. This also moved the BTC price but this time downwards. So, having such a big player in the game could be a great advantage on the market since by only following his lead, you could make money. But if he says something bad about that company, your earnings could be wiped out.
How to start?
First, you want to know what is the relation between Musk and the company. It would help if you considered buying the stock of one or more companies that Elon Musk owns since you want your interests aligned with his.
Companies previously owned by Musk, such as Paypal, are also a good choice.
Finally, there are these companies on which Musk has thrown some comments. These companies often increase their stock price if the review is positive. With this in mind, it may be an excellent choice to follow the man on Twitter. Now, based on these recommendations, let's see the top three Elon Musk stocks to buy and hold in 2021/2022.
AGC (ASGLY)
52-week range: 10.04-18.11
1-year price change: 32.01%
Forecast 2022: $14.75
The company is a Japanese glass manufacturer that supplies its products to all kinds of industries. The relation of this company to Elon Musk is through Tesla Motors since AGC is the company that made Tesla's windshields. So, with AGC, you have an alternative to invest directly in electric cars.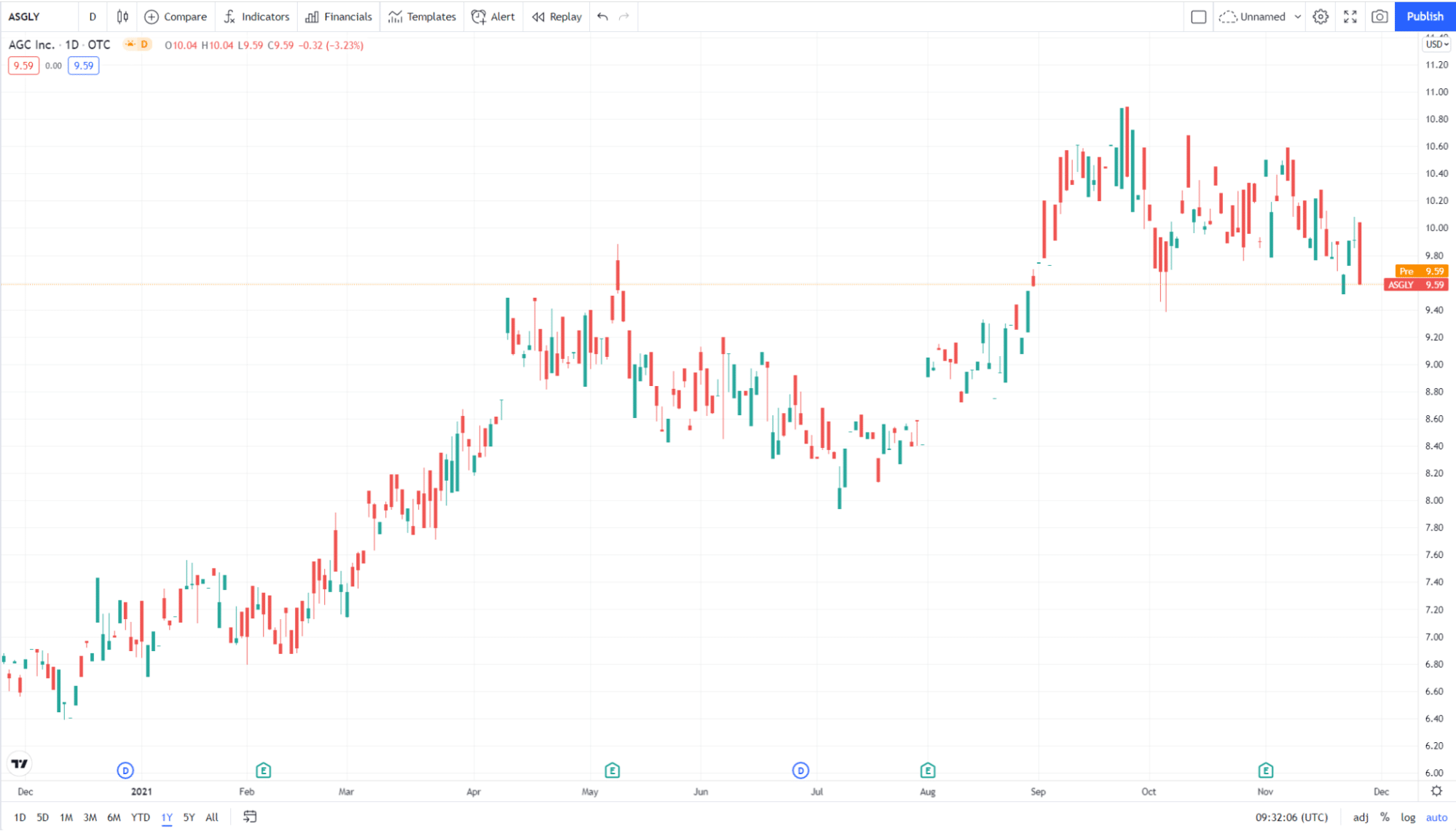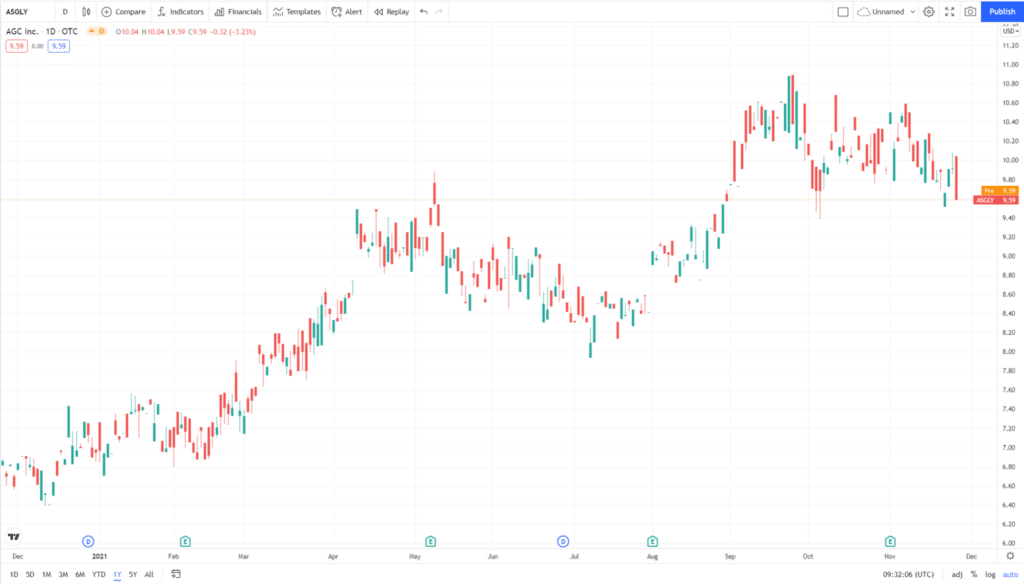 Tesla (TSLA)
52-week range: $404.09-1,243.49
1-year price change: 152,97%
Forecast 2022: $1552
Of course, we have Tesla on the list. Elon Musk owns about 167 million shares, owning about 17% of the company. This is the base of Musk's empire and is the company that is changing the world right now.
Tesla was a company that did not report earnings until last year, but still, everyone wants a piece of it. Tesla now has a market cap of over $1 trillion, and the price of each stock is over $1.100.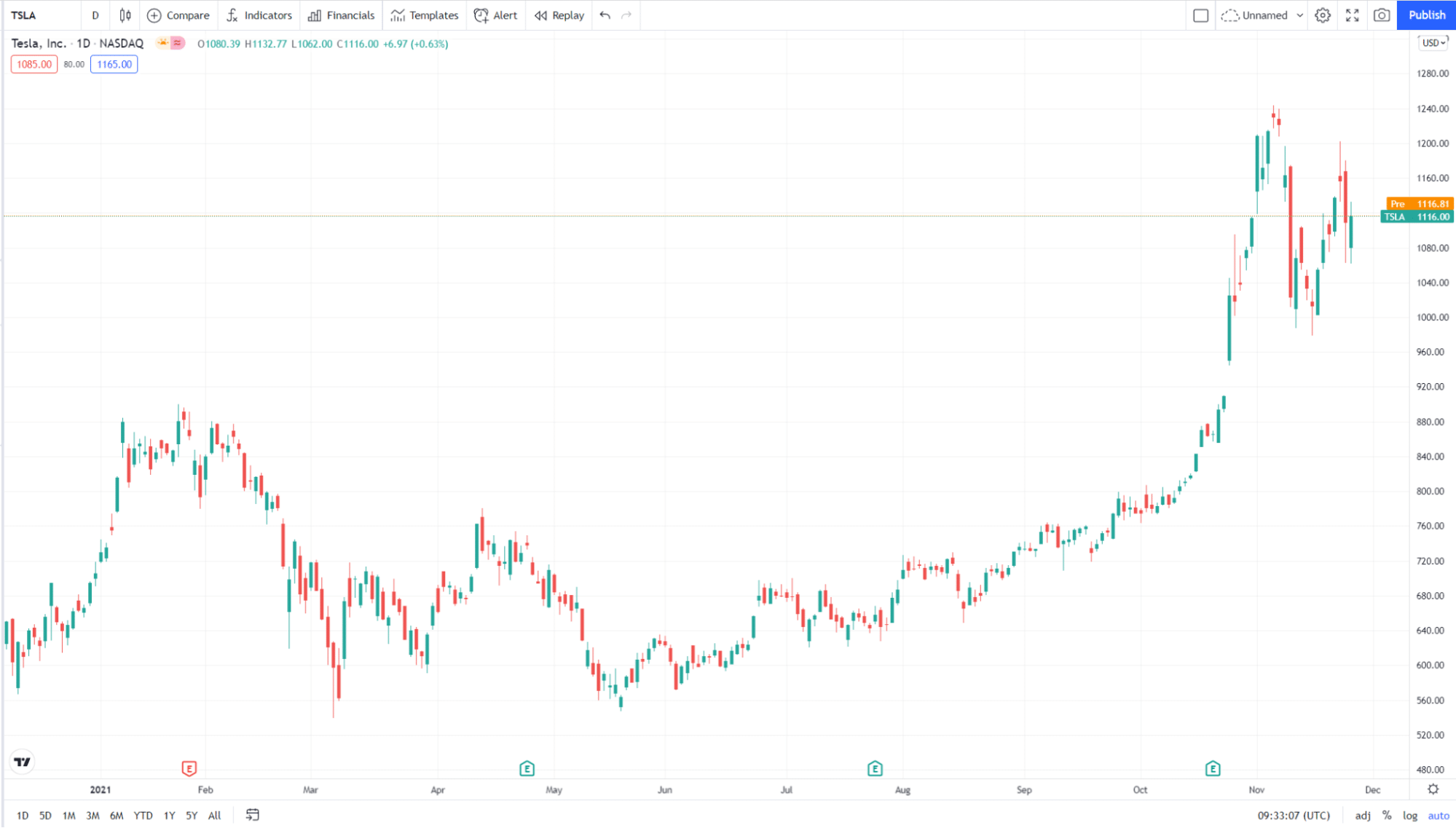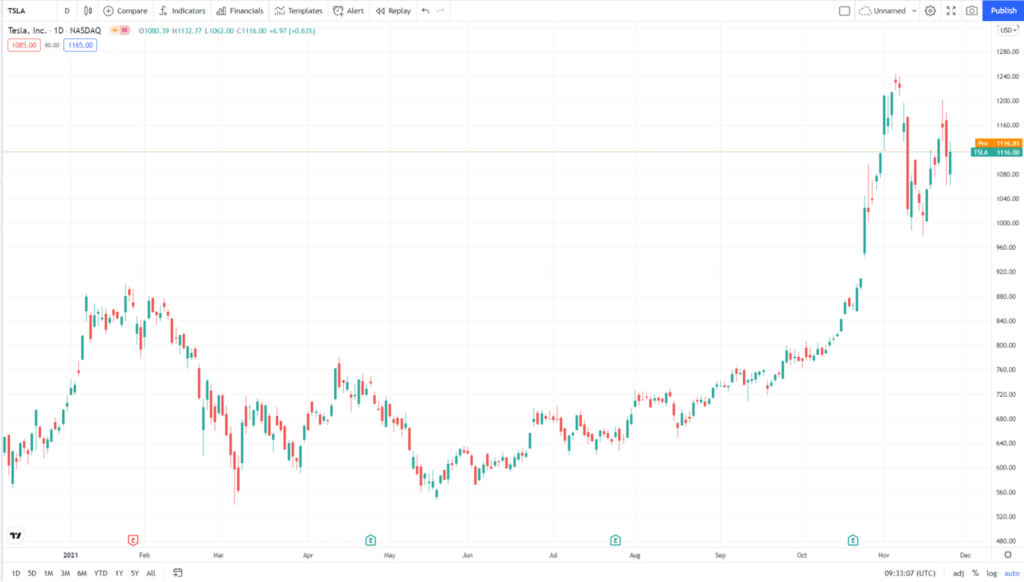 Etsy (ETSY)
52-week range: 120.50-283.40
1-year price change: + 117,85
Forecast 2022: $250.97
This year, in January, Elon Musk tweeted, "I kinda love Etsy," and that was enough to make the stocks of the company rise 10%
Etsy is an American company that operates an online shopping site to find handcrafts, vintage and decorative items.
In October, Etsy released its result for the Q3, and the paper showed total revenue of $451.5 million. Today Etsy's market cap is 34.503B, and each share costs $272.15.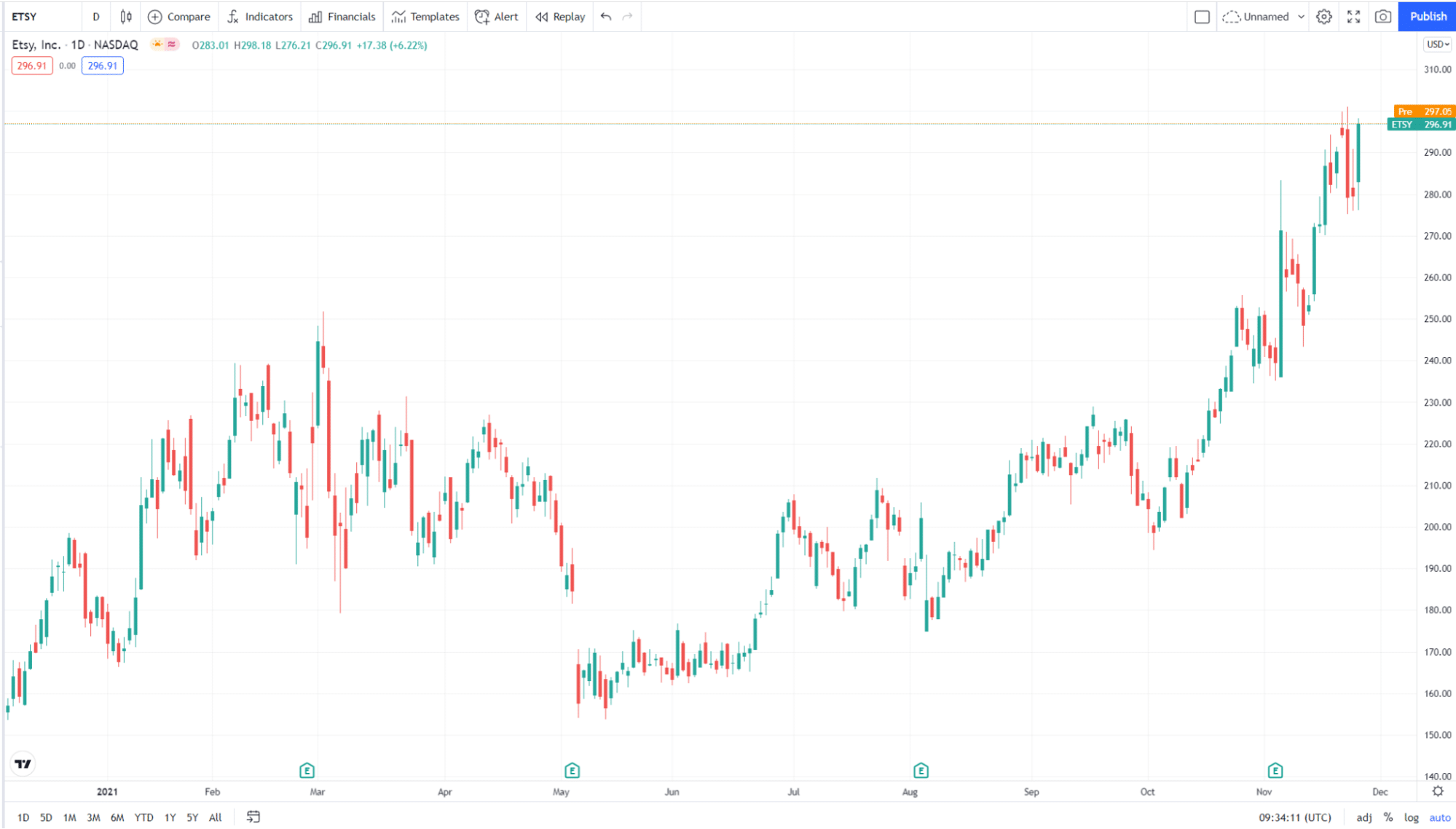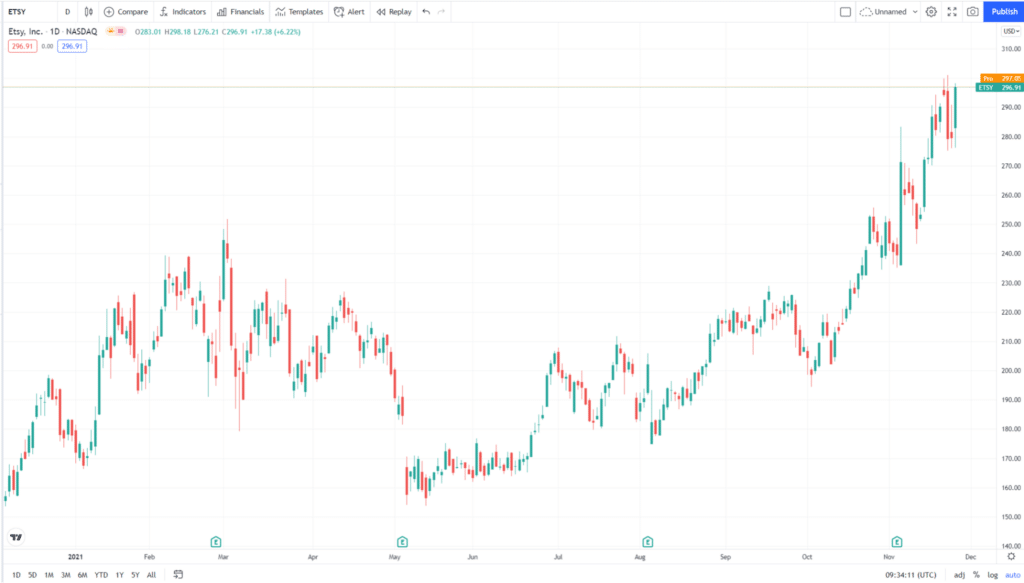 Upsides and downsides
Even when Elon Musk seems to be the most relevant individual market maker, not only because of his choices but because of the way he chooses to communicate, that just one man has so much power can be a really bad thing. Let's check the top upsides and downsides of Elon Musk stocks.
Upsides
Downsides
•Bet on the winner
Follow Elon's lead and buy the same stocks as him, or buy stocks of companies he mentioned. Then, you know that the company is going to grow.
•He changes his mind
Using Musk as an indicator, you depend on the man's consistency. As fast as he can raise the stock price, he could make it drop.
•Easy access to info
You do not need to read papers or lookup reports to know if your investment is right or not. The man's way of thinking is often public, and everyone with a Twitter account has access to it.
•Too much power for one man
Not only is he the richest man on the planet, but he also moves certain markets to his will. It's never good to have a man with that much power.
•Great to beginners
Choosing the right set of stocks to invest in it can be challenging. By following Musk's lead, you do not have to overthink about it, and you will have the richest man on earth backing you up.
•The Musk effect will have a limit
If Elon Musk starts to choose many companies to invest in, the first ones will experience benefits, but slowly the effect will pass, and Musk's opinion won't be that relevant. On the other hand, if he keeps betting publicly on just a few companies, following Musk stock won't allow you to diversify your portfolio.
Final thoughts
Elon Musk is one of the figures of the century. The man who made electrical vehicles a real alternative to regular cars is trying to send us to Mars with SpaceX and get into our brains with Neuralink. His reputation is capable of moving the markets as any other person can. Following his lead could make you earn a lot of money, but you have to be aware of every move he makes.