Recent years have seen the emergence of social trading platforms gaining incredible popularity and being in high demand in the online market industry. The purpose of such platforms is to offer users the possibility of interacting with other traders, sharing ideas, and copying the trades of other top-performing participants on the same network.
Professional market participants can see what retail traders do on the network and execute the same deals on their broker's platform or app. Traders with experience can also use social trading platforms such as MyFXbook, DupliTrader, and MetaTrader since they're all looking forward to hosting profitable traders. Learn more about which social trading platform is right for you. Additionally, we'll describe what social trading is, the benefits of these social trading platforms, and how you can get started.
What is social trading?
It is a way in which traders can exchange ideas and information about trading. Essentially, it is based on the belief that the collective is superior to an individual's performance; therefore, users can interact with others in the network and use the copy trading system to connect accounts.
Social trading is not all a new concept. It has been used by many professionals for several decades and has emerged as an essential tool for investors ever since the internet became readily available.
There have also been many famous social trading platforms that have sprung up since then, including MyFXbook, and DupliTrade. These platforms have maximum potential to give high returns in the next few years.
Here we will list some of the best platforms offering social investing software to assist you in finding the best social trading platform.
MyFXbook
It is an automated trading system that will help you become a better trader.
The AutoTrade service from MYFXbook allows you to copy trades from successful FX trading systems. In addition, it allows you to build your portfolio without having to pay management and performance fees. The best part is that auto trade runs on its dedicated servers, so no software is required on your end.
Features
System selections are hand-selected, hand-screened, and tested for real-world success, rather than just practice accounts.
With accurate statistics and mobile access, you can analyze and improve your performance wherever you are.
Manage your system easily by adding and removing them as needed.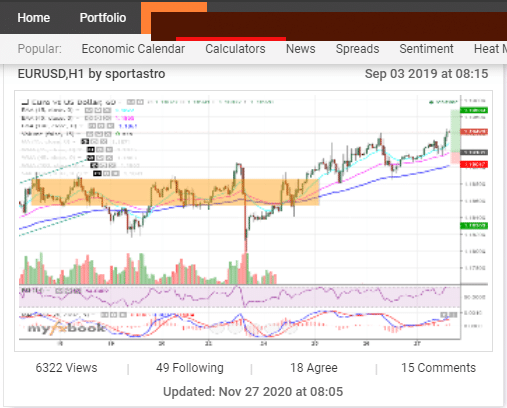 How to start?
1. Create your trading account:
Apply for an account online.
Become an AutoTrade member.
Already a client?
Sign in to your client area.
Choose to request a new account.
AutoTrade can be requested.
2. Link your trading account to MyFXbook AutoTrade:
Step two is to go to the MYFXbook website and link your account to the MyFXbook AutoTrade feature.
Connect your accounts.
MetaTrader signals
They provide real-time access to thousands of trading strategies and signals from successful traders, eliminating the guesswork and emotion involved with trading.
Features
By using multiple strategies, you will diversify your trading.
By utilizing multiple signal providers with different methods, you will reduce portfolio risk.
Getting rid of constant chart monitoring
Maintain low costs: MT4 signals are often free or low cost.
Save time by eliminating paperwork.
Easily manage your account: close trades, switch to another strategy, change your stop loss and remove a strategy at any time.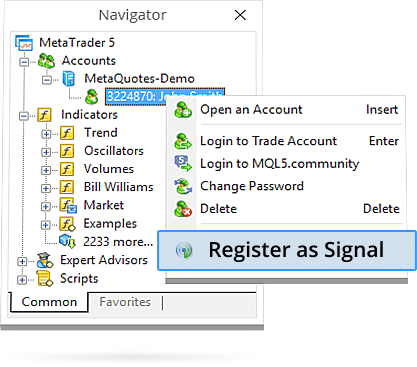 DupliTrade
A popular platform, VantageFX, offers DupliTrade, which was established in 2017 to provide crypto and currency trading services. However, DupliTrade is primarily recognized as a professional network for traders owing to its strict system of approving traders for the privilege of launching strategies on the DupliTrade network and the fact that traders invented it for traders.
Features
DupliTrade operates in a similar way to ZuluTrade. However, users are required to open an account with one of DupliTrade's partner brokers.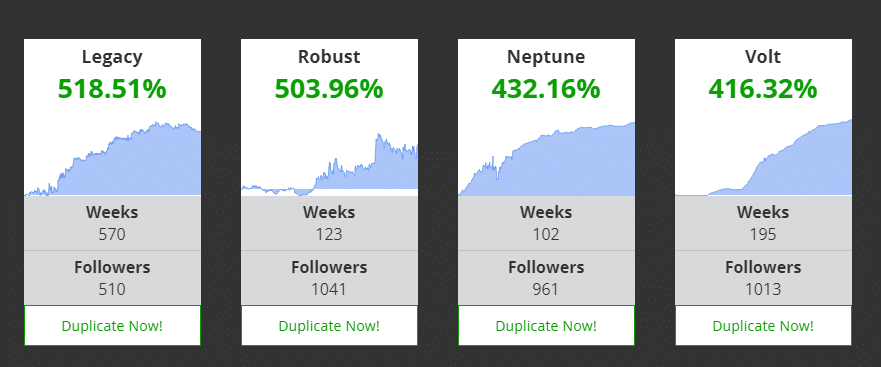 Among all brokers that partner with DupkiTrade, one of the most trusted is vantage FX. VantageFX and DupliTrade can be linked to your MT4 software by simply opening an account with both companies. To take advantage of DupliTrade's social trading features, you need to make a minimum deposit of $2000 with VantageFX.
In addition, if you deposit a minimum of $2000, DupliTrade offers its advanced auto-execution mirror system. One of the key features of DupliTrade is the strategy description — you get a glimpse of the market, the trading method, frequency of the trade, style of trader, and leverage ratio. Even though DupliTrade is not the most user-friendly social platform, it has received amazing reviews online and is extremely effective.
How to start?
Set up a live account if you haven't already.
DupliTrade accounts can be created with any mobile app.
You can request a DupliTrade account link by contacting us.

Upsides and downsides
| | |
| --- | --- |
| Upsides | Downsides |
| Such platforms provide the advantage of making money by following others and increasing your capital faster. | Social trading has cons since you depend on the skill of others and can lose your investments if you fail to pick your investments wisely. |
| Platforms provide all the necessary information about market movements so that you can immerse yourself in them. | You must spend more time on your account to determine if you are getting the return you expected. |
| Diversifying your portfolio with alternative asset classes that you would not normally trade is a good idea. | The market has to be monitored continuously; you need to know what is happening before entering the market. |
Final thoughts
Today, with every person owning a mobile phone and a laptop, social trading is accessible to everyone. In addition, social trading networks have seen a tremendous increase in users, making it very likely that these platforms are now highly efficient and profitable. If you follow a trader, you are responsible for knowing what they are doing when they decide. Now you know the benefits of social trading and the top social trading services currently available to retail traders. So, you can invest in one of these platforms.