Binary options trading is popular among the favorite markets for Millenials and gen Z. The ease of trade makes such a method a great choice for people just entering the trading world. The calls in this type of trading are, as the name indicates, binary.
So, the only job of the trader is guessing where the price is going concerning the current level. The market works as a betting agency, so the broker can offer rewards as high as 90%.
Now, a new feature provided by many platforms has become popular. We are talking about social traders. This feature allows traders to see what other traders are doing to learn and even copy them. Read on to find out what this binary options social trading is about and learn how to use it for your benefit.
Best way to use binary options social trading
Binary options social trading's favorite feature for most traders is to copy operations from the most successful members of the platforms. Besides copy trading, social trading includes forums, blogs, profiles, brokers, signal services.
Social trading can improve your performance with binary options. This market, although it looks simple, is difficult. More than 75% of people lose money in binary options trading. The learning curve can be painful, so a little help from experienced traders is a good thing.
Copy-trading binary options five tips
You could consider copy trading as the most outstanding social trading feature. Since the features were released, it became quickly popular because it allows many traders that don't have the knowledge or the experience, to trade like a professional without having to experience all the losses of the first stages in every trader's career. However, success is never guaranteed, and copy trading can have significant advantages, but it also can lead to losing money like any other strategy.
We have to remember that we are just replicating another person's operations, but that person can also be wrong, so copy trading doesn't guarantee you'll make money every day. That's why next will give you the top five tips to apply copy trading with binary options.
Tip 1. Choose the traders to follow wisely
Choosing the trader to follow is the most fundamental part of copy trading. It requires the same analysis that investors use to determine which fund they want to invest in.
How to avoid the mistake?
To avoid choosing the wrong trader, check the record and statistics of the trader and if the market in which he trades is the same in which you want to trade.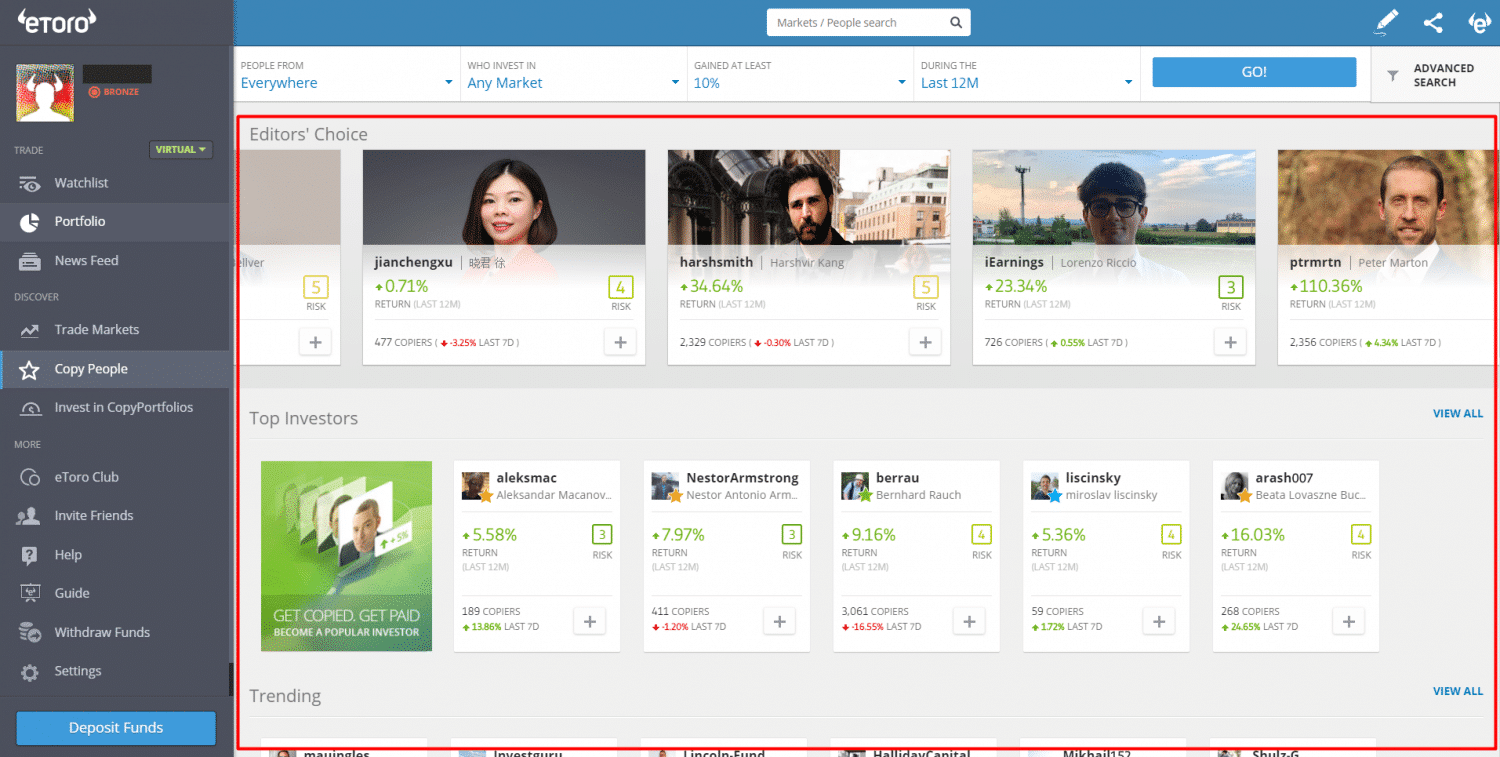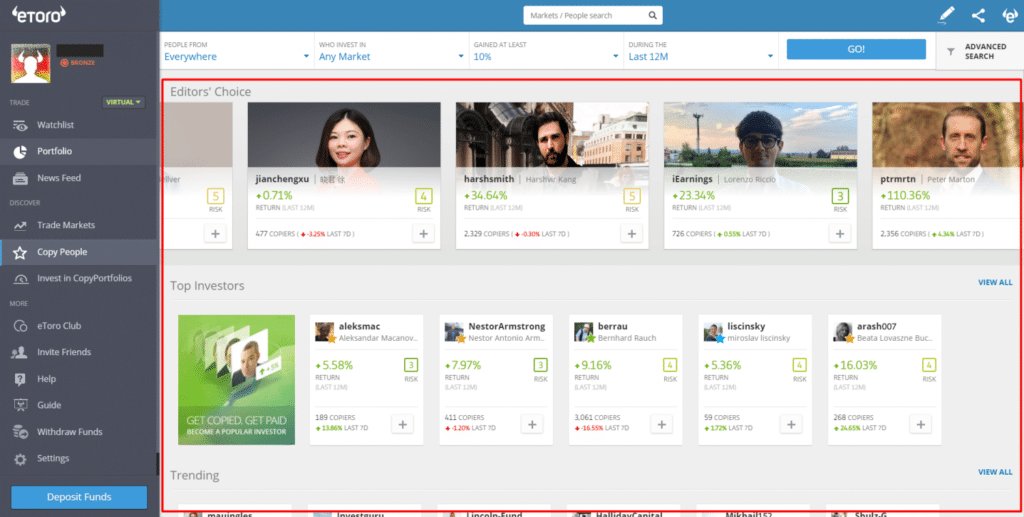 Tip 2. Check your stats regularly
Leaving your money in the hands of a stranger is the worst thing you can do. No one will take care of your money as you will. Of course, he is also trading with his money and doesn't want to lose either, but that trader could have a higher risk tolerance than you, so, before you notice, your account could be ruined.
How to avoid the mistake?
Don't trust only in the good qualifications of the trader. A good record in the past doesn't predict your performance in the future.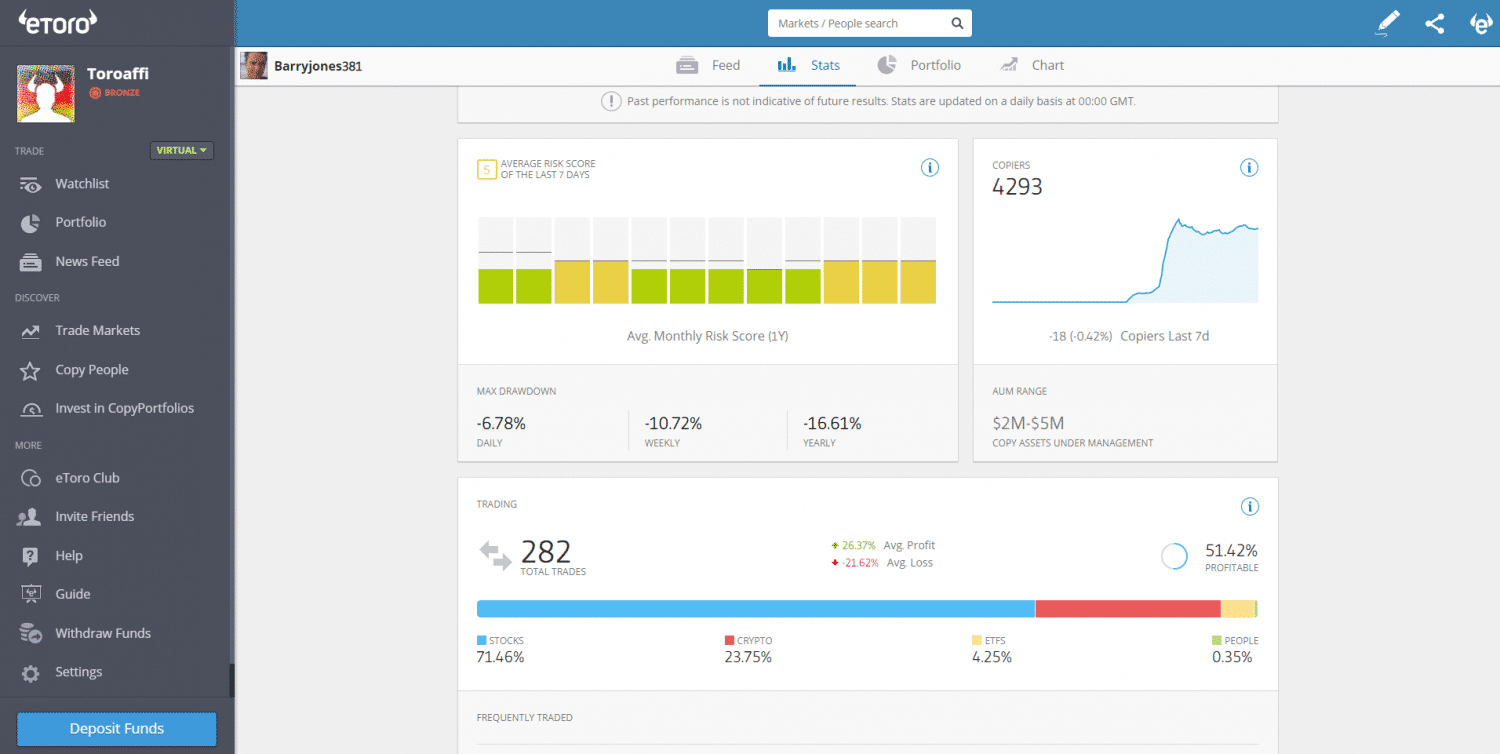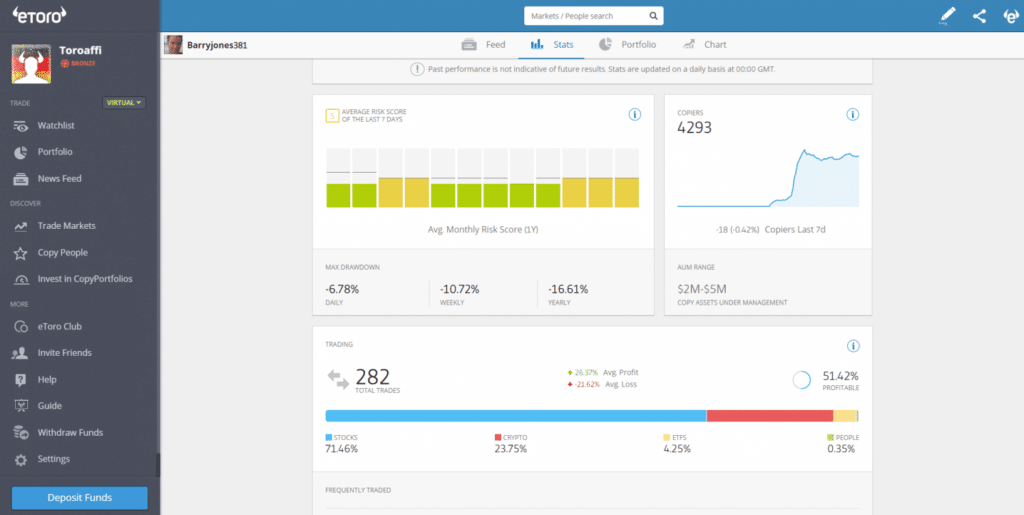 Tip 3. Don't get greedy
The operations you'll get involved in will be like any other. It would help if you kept the basic rules of trading. Don't put more money than 3% of your capital in one trade.
How to avoid the mistake?
Never invest more than you are comfortable losing.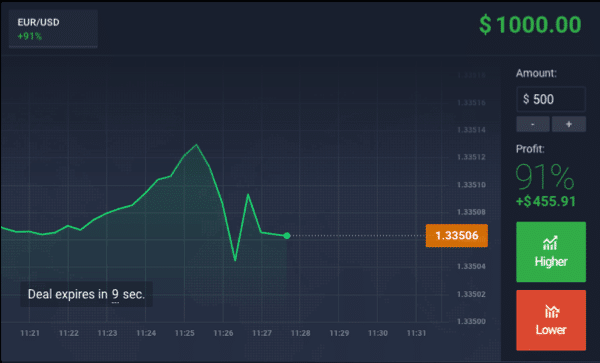 Tip 4. Diversify your risk
Once you find a good trader to copy, you need to find others. Depending on just one source increases your risk. If you find one trader, it is sure you can find another with similar characteristics.
How to avoid the mistake?
Sometimes, if the trader you follow makes trades bigger than yours. That could expose a greater percentage of money. You can limit that by adding a factor that makes your automatic copy trading tool investing only a fraction of what other investors trade.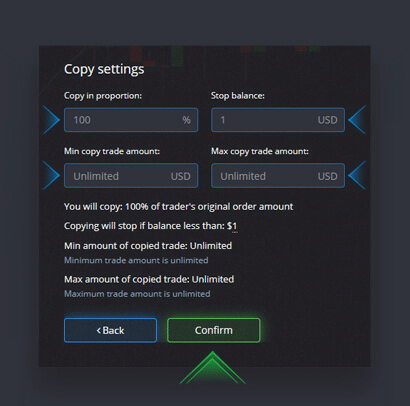 Tip 5. Take a binary options broker bonus
Some brokers offer new user bonuses to trades, but they require a trading volume to assign the bonus to you. Take the bonus whenever you can.
How to avoid the mistake?
Using social trading, you can quickly reach the trading volume required for the broker to get the bonus.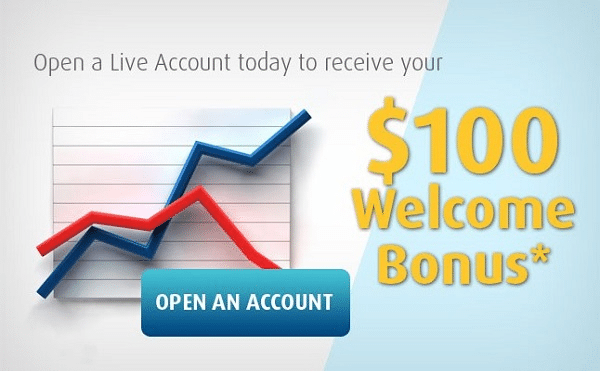 Upsides and downsides
Nothing is perfect and social trading is another tool for traders to use, but it can't guarantee success. While social trading has many pros, it also can lead to bad habits that will result in significant losses. Let's review some of the more relevant upsides and downsides of binary option social trading.
Upsides
Downsides
Copy operation
This is the most important feature. Copy trading allows every newbie to follow the best trader of the community and profit like them.
Bad habits
When you find a trader with a reasonable winning rate, you tend to follow only his/her trades. But things can change. Maybe the market changes in a way that your favorite trader can't understand, and he/she starts losing. In that case, you'll be left without any knowledge, and you won't make good traders until you finally learn or until you find another good trader to copy.
Learning
By comparing every trader's operation and opinions, traders engage in discussions that give them a better understanding of the market. Even the bad trades can be a learning opportunity if we analyze where the traders went wrong.
Ruin your account
If you automatically copy a trader, you must remember that the trader is operating his account, not yours. So, if the trader has more risk tolerance than you. A bad trade could be just an obstacle for him, but for you, it can ruin your account.
Avoid an expensive learning curve
Before, the only way of learning how to trade was by making our own expensive mistakes. Today, while it is still true that we mostly learn from our mistakes, we can alternate our operations with copied operations to make a little money while we develop our trading style.
Maybe you don't want it
Not every trader wants to share its operation with the community. If that's your case, you may think that social trading is not for you.
Final thoughts
Binary option social trading is a tool like any other. It is not the Holy grail, but it can improve your trading dramatically, especially if you are a new trader. Start using that tool is highly recommended to profit from the job of others but also to learn how other traders think and add their strategy to your game.