After a sharp drop in price followed by several days of steadily falling prices, several cryptos have fallen to their lowest point in six months, down more than 50% from their all-time high in November.
Speculators expect it will take years for bitcoin and the more significant market to recover from the severe dip. Crypto prices have fallen due to several factors, including a decrease in the stock market and expectations that the US Federal Reserve may raise interest rates shortly.
Bitcoin, Ethereum, and other leading cryptos often sell-off when the broader financial markets are shaky. The crypto market has lost nearly $1.5 trillion in the preceding two months, with each of the top cryptos losing value recently.
More than $175 million in BTC was liquidated on Bitcoin's "Black Friday," as some commentators dubbed it. This article will look at the top three crypto coins to recover after the Black Friday crypto crash.
Why is it worth investing in cryptos?
Income from a passive source. It's uncommon to find someone who doesn't appreciate a "freebie." People desire to expand their money in a short amount of time, which is why mining has become so popular. It is sufficient to purchase the appropriate equipment, build the farm, and install the software to become a miner. It's only a matter of pressing the start button to begin mining your chosen crypto.
Decentralization. No one can manage or monitor the issue of money or the movement of cash on the account because of this characteristic. Decentralization allows cryptos to be self-contained. Anonymity. You can't monitor a person's details; their wallet number and transactions are all you can see.
How to start?
A list of exciting coins may be compiled after learning more about the procedures involved and doing some study on specific projects. There are several brokers and exchanges through which you may buy and sell crypto. Be aware that crypto investments might be pretty risky. Prices might change substantially.
People like us see service costs as crucial in their decision-making process. For what reason would you pay more for the identical product? You may also invest in various projects on a single website, which appeals to a broad spectrum of people due to the high currency supply.
Let's look at the top three crypto coins to recover after the black Friday crypto crash.
Bitcoin (BTC)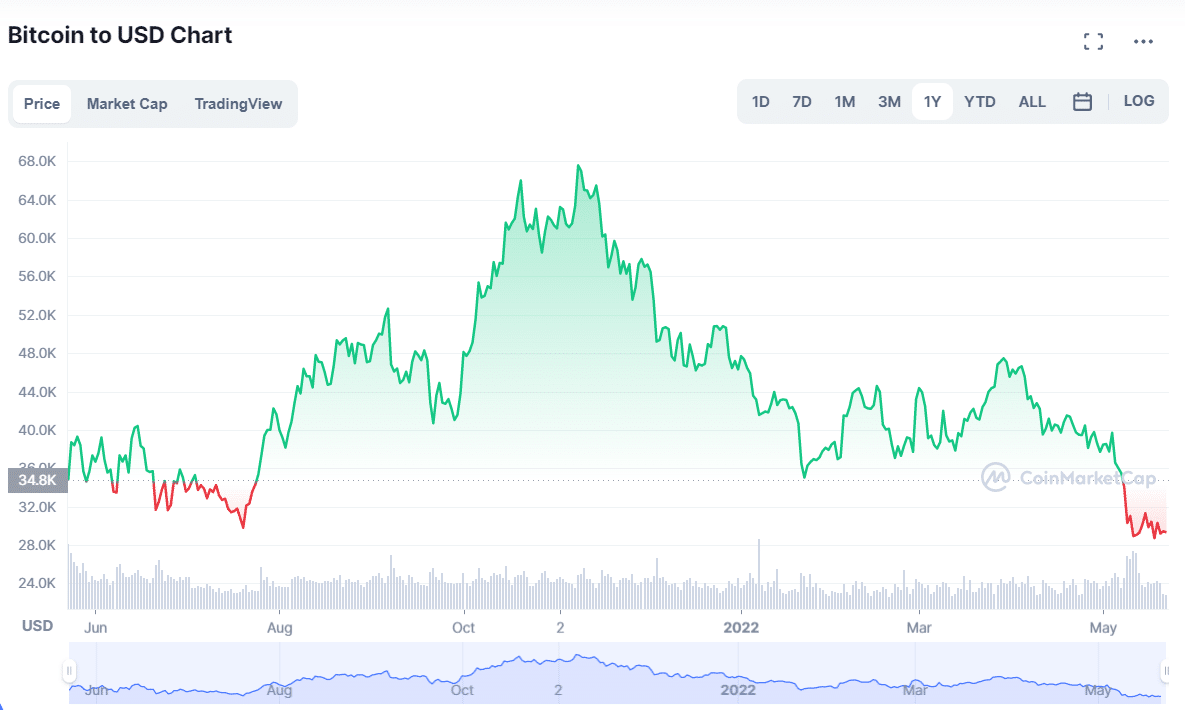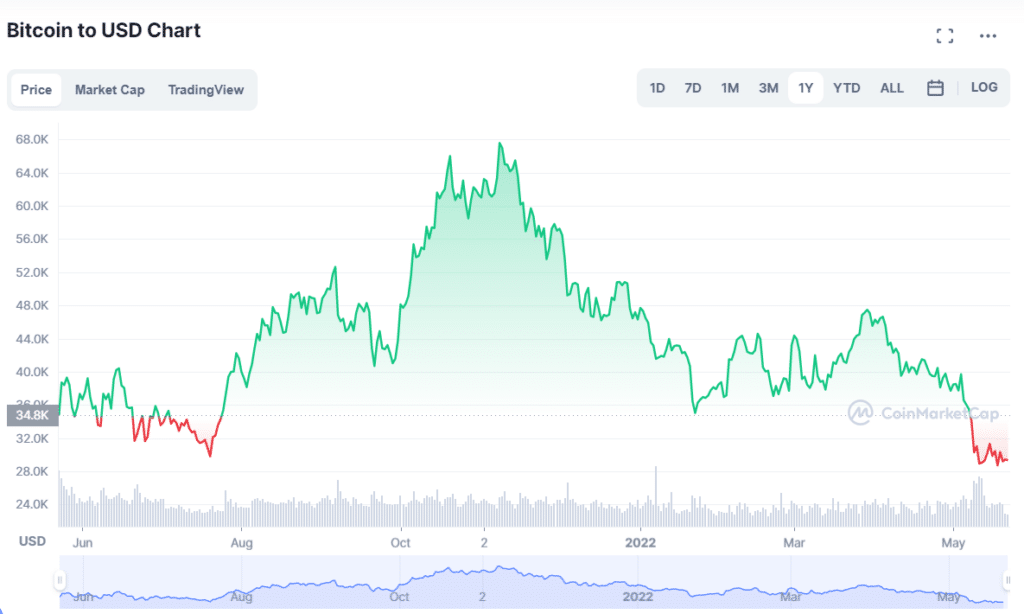 52-week range: $26,350.49-$68,789.62
1-year price change: -27.4%
Forecast 2022: with Bitcoin's significant fall since then, the prediction game is even trickier. The most extreme crypto skeptics say Bitcoin will tank to as low as $10,000 in 2022, but a middle ground might be that the crypto can still climb to $100,000 like many experts predicted late last year — just on a slower timeline.
The first crypto, Bitcoin, emerged in the market in 2008. However, unlike other cryptos, no one knows who created Bitcoin. So instead, we only see the alias Satoshi Nakamoto.
You may discover more about Bitcoin here, the digital money founded on the blockchain distributed ledger. In the case of online money transfers, Bitcoin eliminates the need for third-party intermediaries like banks and credit card companies.
Rather than going via your financial institution, you may transfer one Bitcoin to a friend. The best of the decentralized and digital worlds come together in Bitcoin. As a result, currencies like the US dollar, British pound, and Japanese yen are under increasing pressure from this new currency.
A vast and active community of developers and investors makes BTC one of the most promising for the future. Since all significant exchanges and wallets support Bitcoin, even amateurs may buy it. In addition, companies are increasingly accepting Bitcoin as a form of payment. Bloomberg, Microsoft, Overstock.com, and Expedia are just a few organizations that have begun accepting Bitcoin payments.
Ethereum (Ether)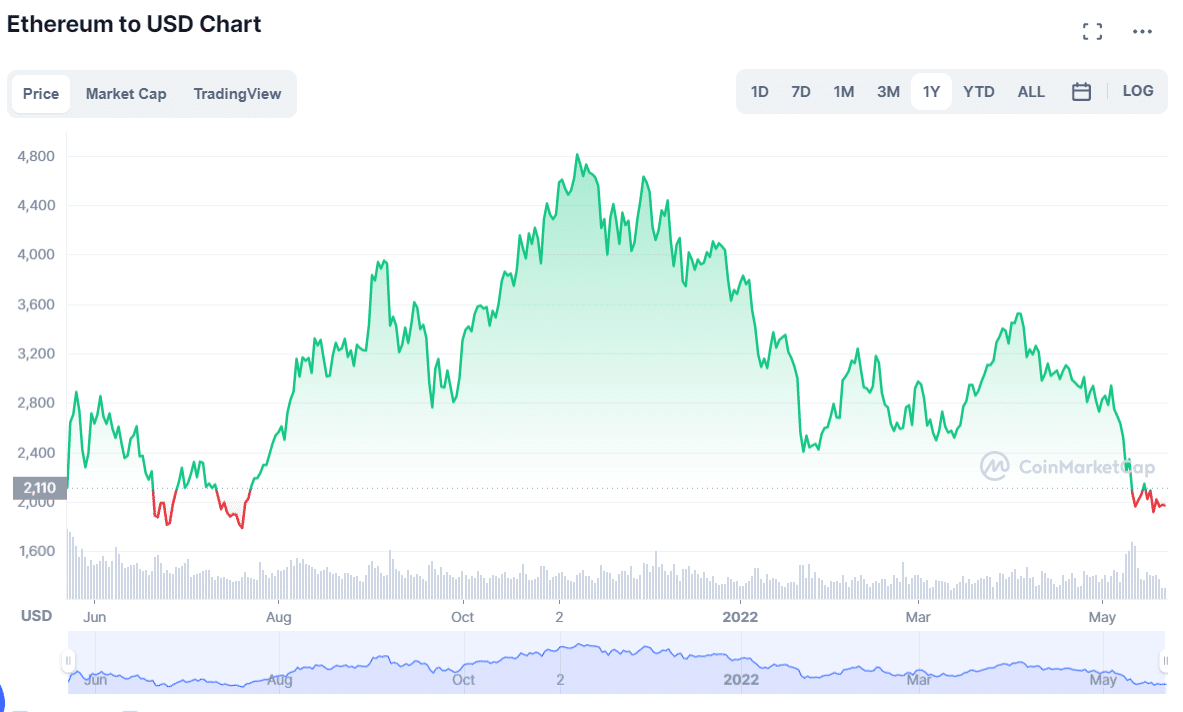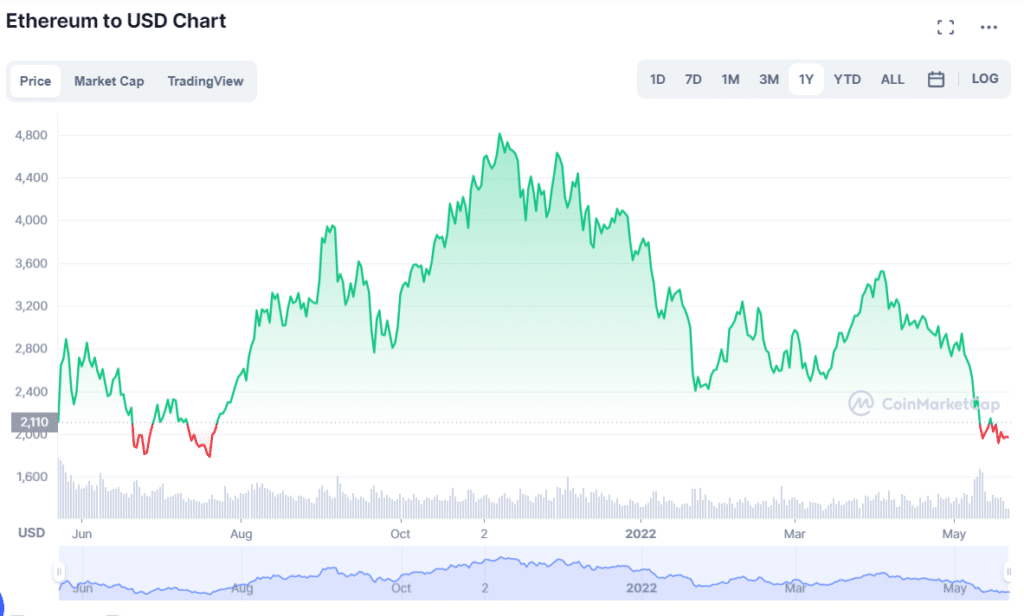 52-week range: $1,707.60-$4,891.70
1-year price change: -29.1%
Forecast 2022: despite the challenge of predicting the price of volatile crypto, the experts we spoke with generally agree ETH could once again break $4,000 in 2022. And a recent Ethereum prediction by Bloomberg intelligence analyst Mike McGlone has it ending the year between $4,000-$4,500.
A close second to Bitcoin in terms of market capitalization is Ethereum. Vitalik Buterin launched Ethereum in 2015, and it's much more than crypto.
Ethereum is a decentralized software and innovative contract platform built on the Ethereum blockchain. The Ethereum blockchain's primary currency, Ether, is used in all transactions. Smart contracts and "blockchain-based agreements," on the other hand, need to be distinguished.
A company or application idea that uses blockchain technology does not need the creation of a blockchain. Ethereum is the only primary crypto that can be mined straight from the Ethereum blockchain. This platform is often used to develop smart contracts, viewed as the next big thing in the BTC industry.
To launch other blockchain companies' Initial Coin Offerings (ICOs), Ethereum is an attractive choice. Cryptocurrency ICOs raised $5.6 billion in 2017, most hosted on Ethereum. In addition, ETH, in contrast to BTC, may complete transactions in as few seconds.
Ripple (XRP)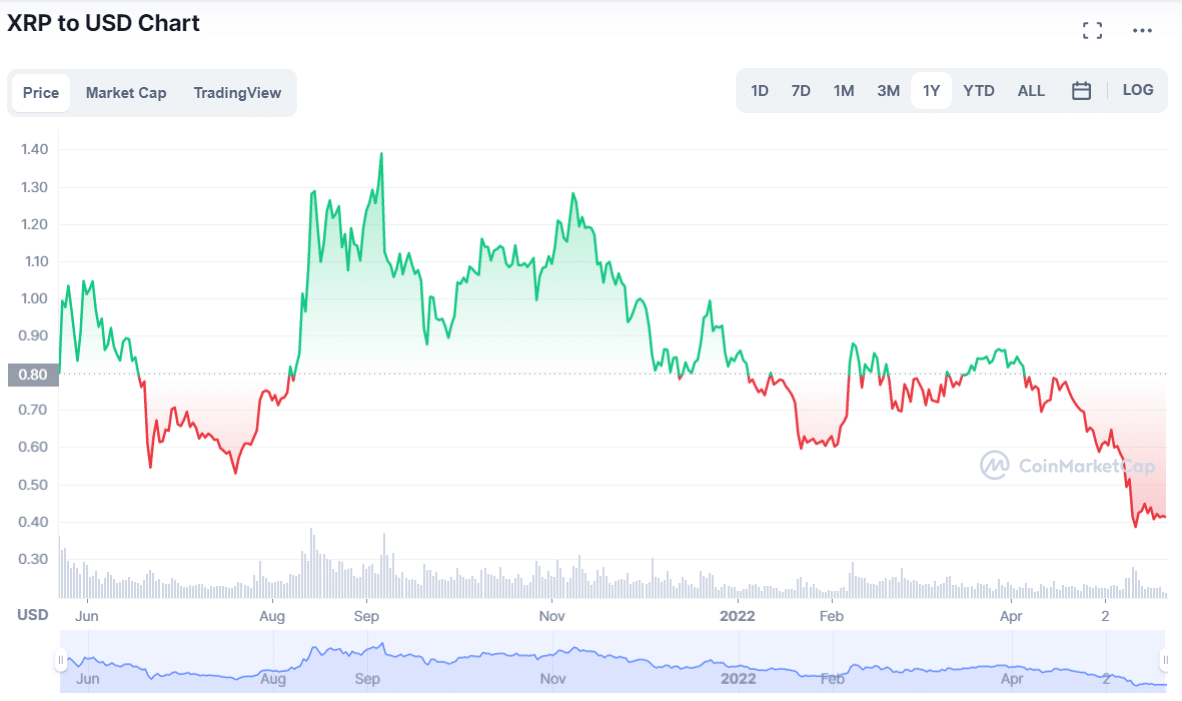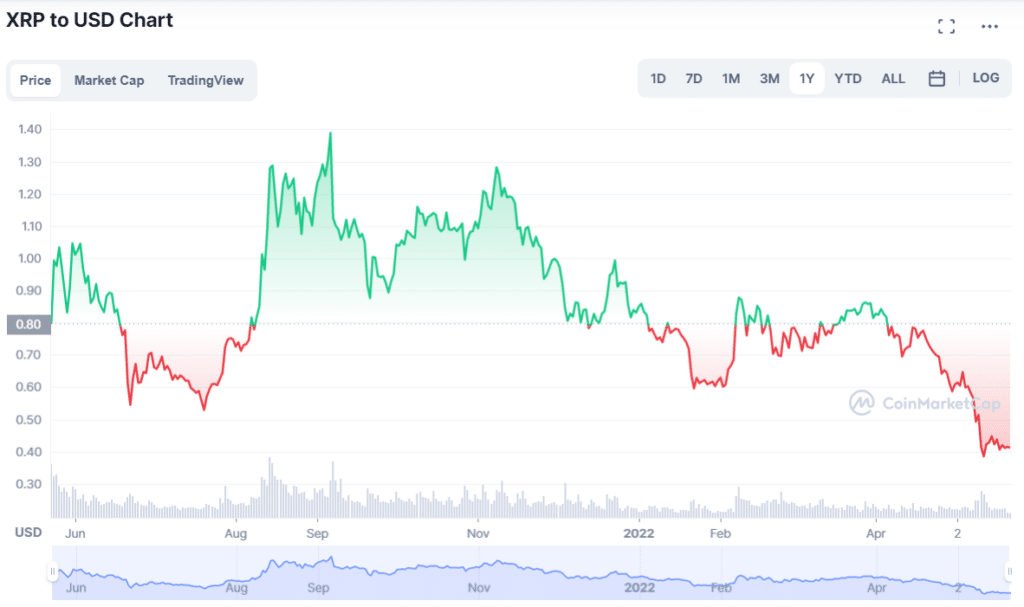 52-week range: $0.34-$1.4
1-year price change: -65.1%
Forecast 2022: according to the technical analysis of XRP prices expected in 2022, the minimum cost of XRP will be $0.47. The maximum level that the XRP price can reach is $0.56. The average trading price is expected to be around $0.49.
One of the unique aspects of Ripple's cryptocurrency is that it focuses only on international financial transactions. To make international transactions as fast and economical as feasible, it was founded in 2012.
Out of the 100 billion XRP that will exist, Ripple Labs now has 50 billion XRP. In contrast, no organization controls most of the coins in most of the ten most popular cryptos.
It might take up to a week to process an international money transfer. On the other hand, Ripple can do this in a couple of minutes. As a result, the expenses are far lower than those imposed by banks and other forms of digital currency.
Final thoughts
Since its inception, crypto volatility has been notoriously difficult to predict. Even though it has lately shown similar tendencies to more traditional financial markets, it has also been known to depart from such patterns entirely due to only one occurrence.
It's observed that a single tweet from Elon Musk or a statement from a world leader may lead to either a collapse or a surge. According to HashEx CEO and co-founder Dmitry Mishunin, "Crypto is Crypto because macroeconomic events do not bind its growth possibilities. A rise in market sentiment might reignite a price surge at any time."