Forex trading requires a minimum amount of deposit in a broker. The deposit requirement varies from broker to broker, and it is not hard to find one that allows trading with $100.
Individual investors are frequently choosing the FX market to increase their capital after 1990. Before this availability of technology, it was only a place for banks and financial institutes. Later on, the FX market becomes interesting as there is no limit for profits. In addition, some brokers offer no limit in minimum deposit, so you can start to participate in the forex market with a minimum deposit of $10.
In trading, novice investors lose their first deposit for lack of knowledge and trade management. This article will guide you on investing and increasing your capital from the FX market by investing $100.
Understand your goal
There are some basic requirements to start earning money from investing in the financial market. Setting an appropriate goal is one of them. Investing is related to the return that comes from how you are managing your funds. Before making any investment, you must set an achievable goal and know the potentiality.
A forex market is a place of opportunity for financial freedom, no doubt. You can make limitless profits from this market. Forex brokers offer leverage to their clients to make positions for assets beyond their buying power.
Successful or professional FX traders have a 5-20% monthly profits goal, not more than that. Investing without a plan or having an excessive profit target is a sign of a loser in the financial market. So we recommend having a realistic goal before making any investment in the forex market. It will help you to grow your capital by systematically investing in the FX.
Prepare for risk and volatility
Major participants of the forex market are banks and financial institutes. It is a trillion-dollar market with a lot of volatility. Therefore, it is often hard for retail traders to cope up with them with a lower deposit. When you decide to participate in this market, you have to prepare for uncertainty and risks.
Novice traders often lose their first deposit as they ignore some basic facts about the FX market. You must avoid emotional trading to avoid being a loser. Following proper money and trade management is also an important fact to be a successful forex investor. Money management involves you making the best use of your funds for a particular trade so that you can achieve the highest sustainability.
Trade management involves taking positions at any currency pair with a proper execution plan that includes a realistic risk ratio target. You have to keep in mind that you won't always be right about the price prediction. So even if you follow strong trade management and money management rules, there is a possibility of losing.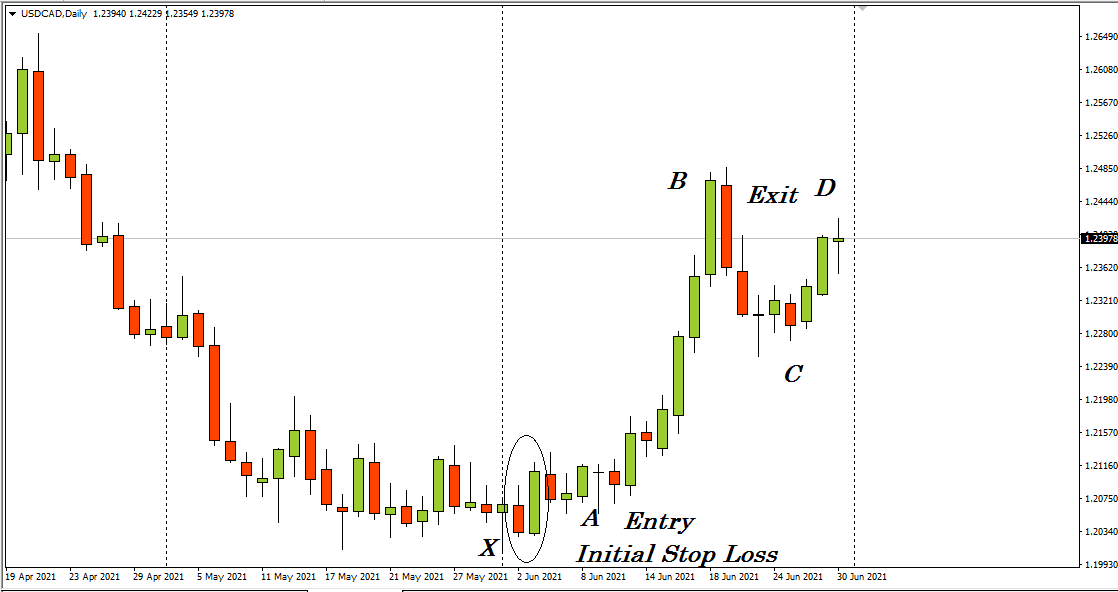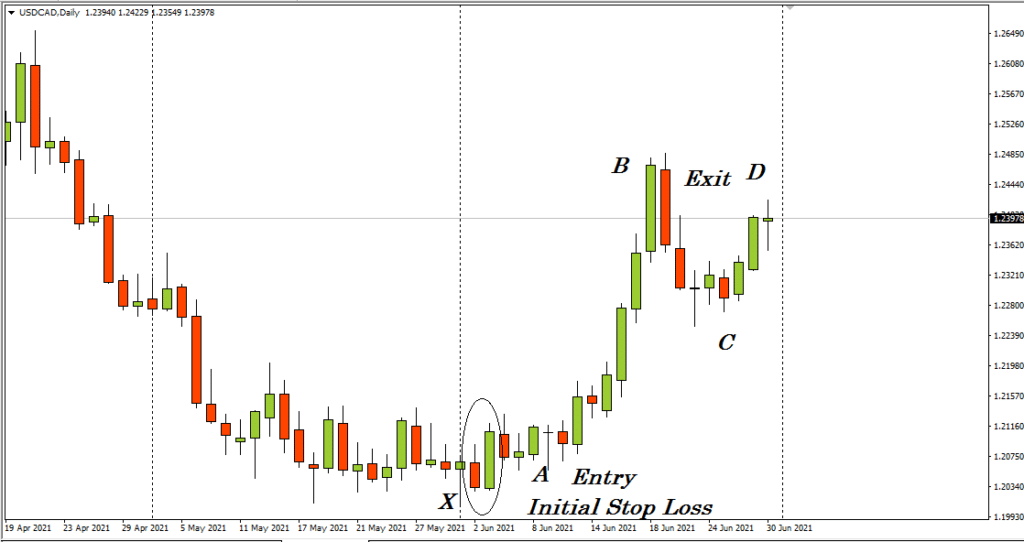 The above figure shows a daily chart of USD/CAD where we can see how we can generate huge profit with a minimum risk.
Professionals and smart traders risk a maximum of 2% of their capital in a single trade. So you must follow the risk management ideas and a proper strategy for investing and growing your funds. Otherwise, you will end up losing your capital.
Top 3 steps to invest $100 in forex
This part will show the top three steps to investing $100 in the forex market. You can start investing and make money from the FX market by following these steps.
Choose
It is the initial step to start investing in this market.
Choose a good broker with a $100 deposit flexibility will help you to utilize your capital decently. A broker should allow trading with a minimum cost and without unnecessary charges. Moreover, the price accuracy, leverage, availability of trading instruments, and flexible deposit options should be in a good forex broker.
Choose the currency pair or pairs that you are flexible with. More specifically, select currency pairs with good volatility, frequent price movement, demand, and available economic events. Do some research and check history about the currencies of target pairs.
Buy
After choosing the broker and currency pairs, it is time to make an advanced decision.
You should have strong knowledge about technical and fundamental analysis before buying and selling a currency pair. With this knowledge, you can easily predict the future movement of a trading instrument.
Deposit your $100 capital on the broker that you already want to make your investment.
Place an entry position or buy your target currency that you expect to increase in value. Before placing an order, check the data related to that pair very carefully and never misuse your capital by using leverage.
Secure
It is the last step for any order you place with your capital.
Set a realistic profit target that your investing strategy suggests.
Put the stop loss also to secure your rest capital.
Do not risk more than 2% of your capital when you start to take a position.
Remember when you avoid trading is also a part of investing as you avoid loss. If you are not sure about the potentiality of a currency, don't invest your money in it.
Avoid emotional trading or making decisions that will make you lose your money without gaining anything.
Final thoughts
Now you know the procedure to invest $100 in FX. It seems so simple, but novice traders often lose the entire capital of their first deposit as they don't want to obey the textbook rules and invest without proper strategy and plan.
If you want to be a successful forex investor, you have to be goal-oriented. To survive in the FX market, you have to do more research and obey the rules of investing. The professionals have a target of 5-20% profit from their investment in the FX market.
So you also have a realistic expectation of a profit target between $5-$20 by the end of every month with your investment of $100. We suggest not to take entries during the major fundamental trend-changing events. When you don't understand the market movement, please don't put your money in it.