It's never been simpler to go green by shifting from gasoline-powered vehicles, thanks to the advent of low-cost charging stations. Those who desire cleaner air and a more excellent fuel economy without thinking about traditional fossil fuels like oil or natural gas have a bright future.
In recent years, electric vehicle stocks have been among the best performing and most 'explosive' stocks. Investors see electric vehicle technology (EV) as a long-term expansion and growth opportunity, purchasing shares of EVs. The global EV market is set to grow across the $1 trillion mark as of 2028, as per the Fortune Business Insights.
This guide will talk about the top three battery stocks and why it's worth investing in them.
Why is it worth investing in EV battery stocks?
Battery technology has been around for more than two centuries, but the last decade has seen a considerable shift in the industry, thanks mainly to Tesla.
The firm paved the way for further EV adoption, resulting in more battery technology investment. Batteries are a vital investment topic rather than a particular industry, with a total market potential of $525 billion by 2040.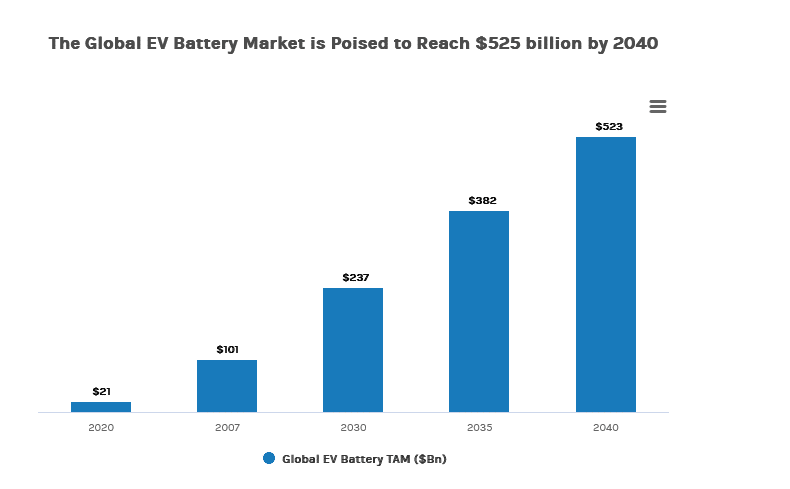 Investing in electric vehicle battery firms might be a smart move for investors hoping to profit from the clean energy revolution. EV stocks have been some of the most volatile in recent years. However, they are some of the best-performing stocks.
The battery industry has switched into high gear due to several reasons, including a renewed push for governments and corporations to decarbonize and increased expenditures by vehicle and battery makers.
How does it work?
Companies' already big battery makers are ramping up their investments to fulfill the growing demand for electric vehicle batteries.
Meanwhile, new technologies are being developed by start-up battery businesses that have the potential to transform the sector. As a result, it is an ideal moment to investigate electric car battery stock investments.
How to start?
One option to profit from this widespread changeover is to invest directly in electric car stocks. Another option is to invest in battery suppliers, as batteries are the most significant and expensive component of electric cars. Moreover, the need for EV batteries will rise if electric car manufacturing develops dramatically during the next decade.
NIO Inc. (NIO)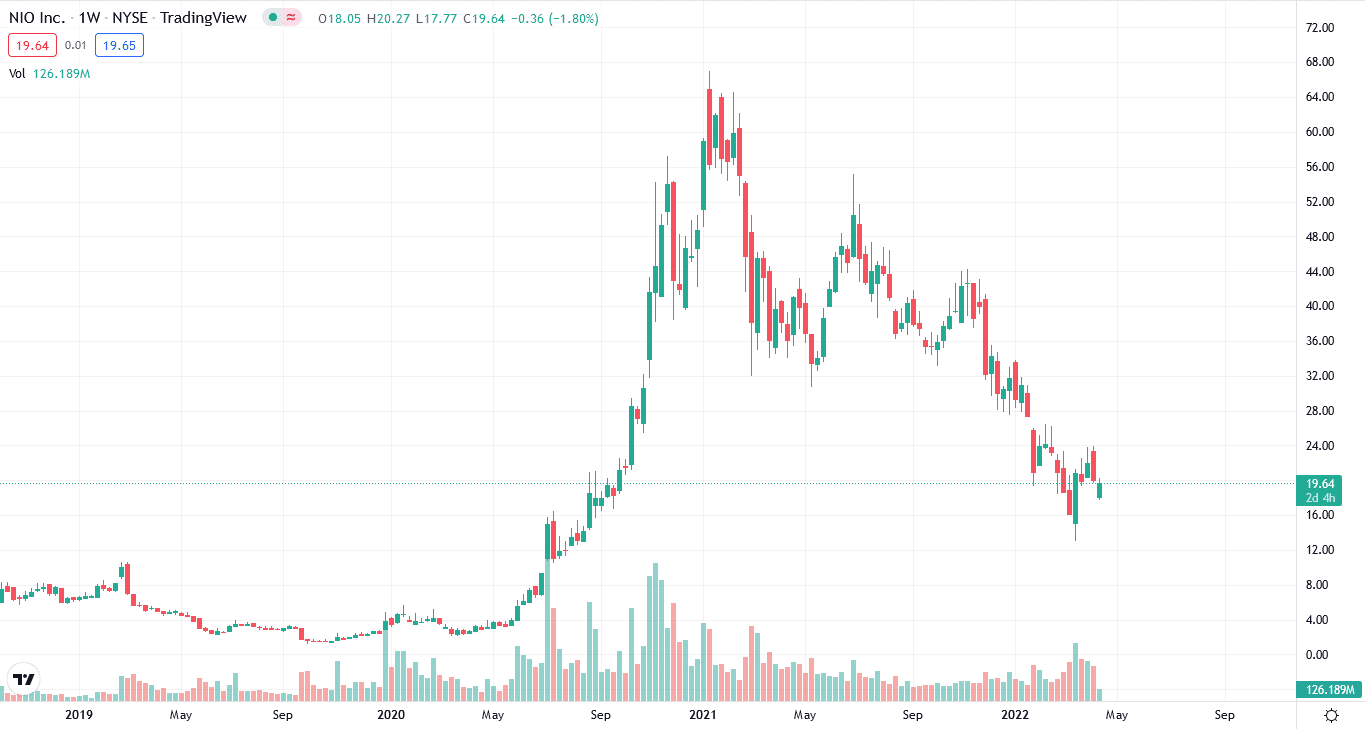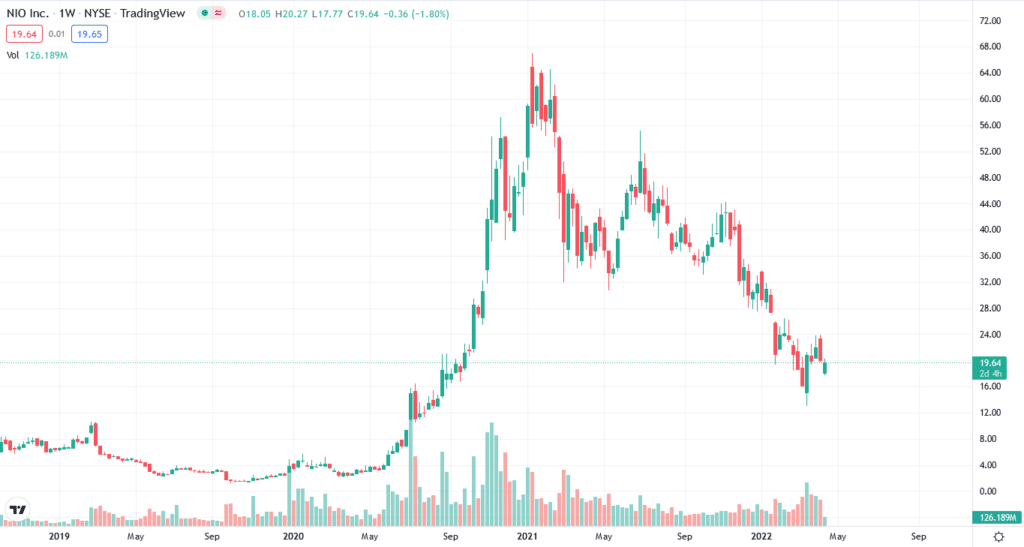 NIO is a Chinese electric vehicle manufacturer that was the first to provide EV users battery-as-a-service. NIO, founded in 2014, had no prior experience with car manufacturing.
52-week range: $13.01-$55.13.
1-year price change: NIO has decreased 42% from the last year.
Forecast 2022: You must evaluate the company's fundamentals to make a forecast for 2022. After debt and liquidity concerns hit shares, NIO's financial situation improves. It has drastically reduced losses while generating considerable top-line growth and boosting EV margins.
NIO has recovered from its March lows, but it still has a long way. Check back for updates on this excellent and high-growth EV stock. It's worth noting that Chinese firms listed in the United States have been under a lot of regulatory pressure in the last year.
A key point is that downside risks have increased in recent months. For example, Washington has raised the possibility of Chinese businesses being compelled to de-list in the United States if they fail to fulfill accounting requirements.
QuantamScape (QS)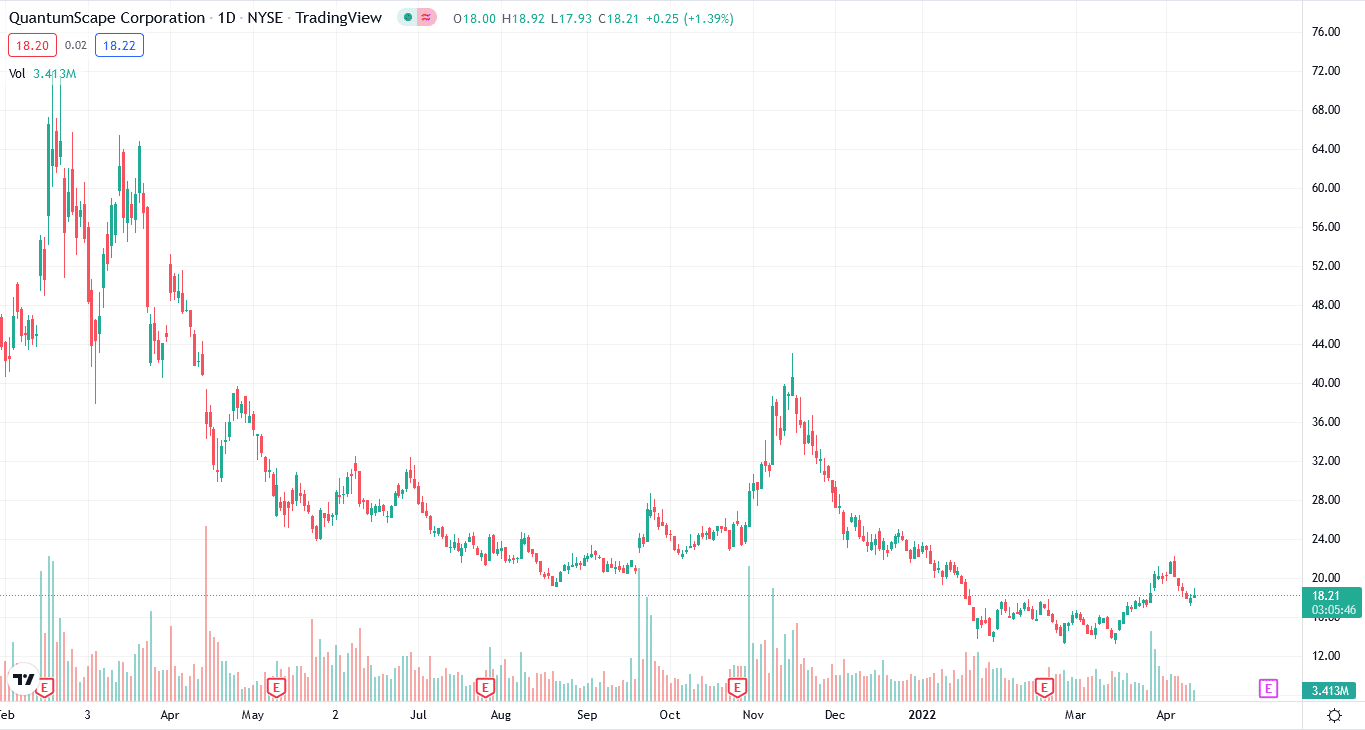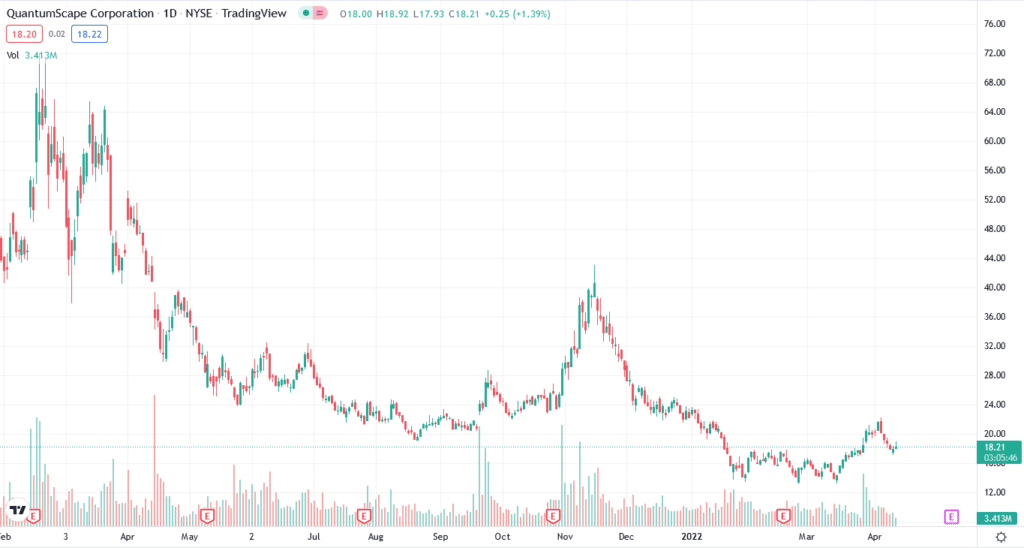 QuantumScape is working on solid-state battery technology that will extend the fleet of electric and make them easier to recharge. QS is a California-based electric car company developing solid-state lithium-metal batteries. QuantumScape Corporation is an electric vehicle company financed by Volkswagen AG that went public in 2020.
52-week range: $3.21-$44.27.
1-year price change: QS has decreased immensely from the last year. It has dipped by more than 59% from the last year.
Forecast 2022: in 2022, the business intends to send prototype battery samples to EV automakers, according to its prediction.
These macro issues have influenced growth companies like QuantumScape, as increasing bond rates and surging inflation have hit growth stocks like QuantumScape.
QuantumScape thinks its balance sheet is solid enough to fund several more years of research and testing. It's a promising electric vehicle battery firm with a lot of room for expansion in a fast-growing market.
Microvast (MVST)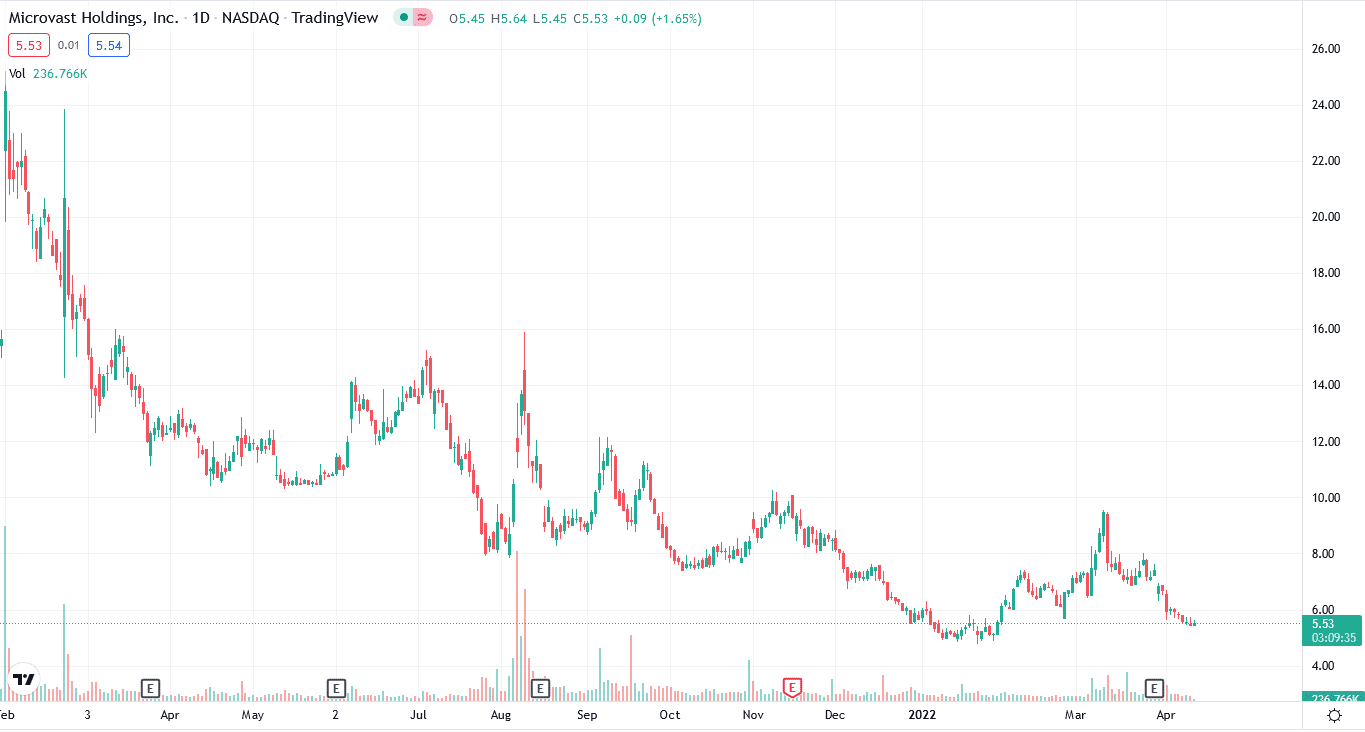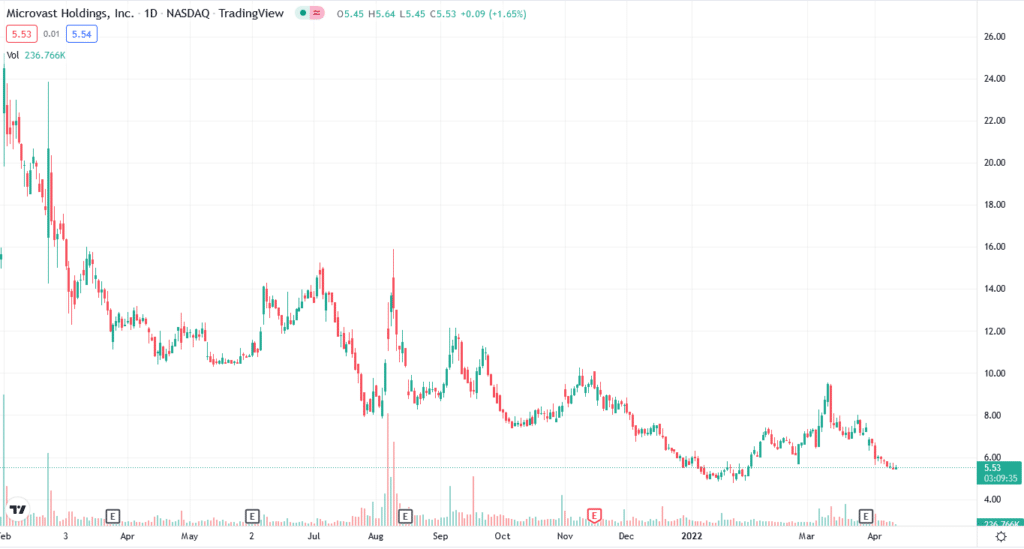 Microvast creates lithium-ion battery solutions by designing, developing, and manufacturing them. In addition, the Texas-based firm manufactures data center energy storage systems and battery backup units. The Texas-based corporation, founded in 2006, went public in July 2021 after merging with Tuscan Holdings.
52-week range: $4.77-$15.91.
1-year price change: MVST has decreased significantly from the last year. It has sunk by more than 55% from the last year.
Forecast 2022: the corporation plans to invest extensively to develop in the remaining years of 2022. According to the company, in 2021, Microvast aims to spend $120 million to $150 million on capital expenditures.
That's a big chunk of change for a corporation aiming for $145 million to $155 million in yearly sales. The funds will be used to increase battery manufacturing capacity and extend the company's battery solution offerings, allowing it to tap into a huge and developing market.
Upsides and downsides
| | |
| --- | --- |
| Upsides | Downsides |
| As the climate change situation intensifies, investors are looking to invest more in EV battery stocks. | When buying shares of EV stocks, you'll generally pay a high price relative to the underlying value of these companies. |
| The EV stocks provide a good diversification option. | EV stocks generally have lower growth potential. |
| The EV market is expanding rapidly, with an expected 25% increase in EVs by 2025. | Many EV battery stocks are not good for short-term holding. |
Final thoughts
EV battery stocks provide a new dimension to your investment portfolio. The EV stock trend is quickly catching up, but before investing in any stock, do company research.