Everyone loves low investment businesses and cheap stocks, which could make a good profit. Investing in small businesses with low stock prices or valuations could make you a lot of money. If you like it, you could invest in penny stocks — companies with less than $5 per share.
On the other hand, penny stock investors often lose money. Investing in risky stocks should be limited to companies that make a lot of money or have clear growth plans.
Let's go through the best three stocks under $5 to get more profit in 2022.
Why is it worth investing in stocks under $5?
Even though they have a lot of volatility, penny stocks have historically made much money for investors. In addition, because of their ability to overgrow, investors are drawn to them, making them a popular choice for the money.
Putting a small amount of money into an investment can pay off big. Such assets start with very little money because they have a name like that. Because of this, people can generate high revenue.
How does it work?
If a person is aware of the risks of investing in penny stocks, it might be worth doing. However, you need to be extra careful when investing in penny stocks. You should only invest money that you're willing to lose.
If you don't have enough money, it's more likely that you won't be able to find a buyer and have to sell for less. The price of these companies is often manipulated by people who buy a lot of shares and then make false or misleading statements about how good the company is, which is known as pump and dump.
Penny stocks, which have a lower price per share and a smaller market value, are riskier because they have a lot of very speculative and untested businesses in them.
These stocks aren't as well-covered by big institutional investors, which makes it more challenging to make intelligent trading decisions about them. If you don't have enough money, it's more likely that you won't be able to find a buyer and have to sell for less.
How to start?
A lot of things are speculative and cheap in the penny stock market. However, they are also very risky and can change quickly. So do your research before investing.
The NASDAQ and NYSE do have some penny stocks, but most penny stocks are traded on pink sheets or over-the-counter, where there are no minimum requirements for how much money you can buy them for.
Best three stocks under $5
Investing in penny stocks can pay off, but only if the investor is aware of the inherent risks. Here is a list of the best three stocks under $5.
Taseko Mines Limited (TGB)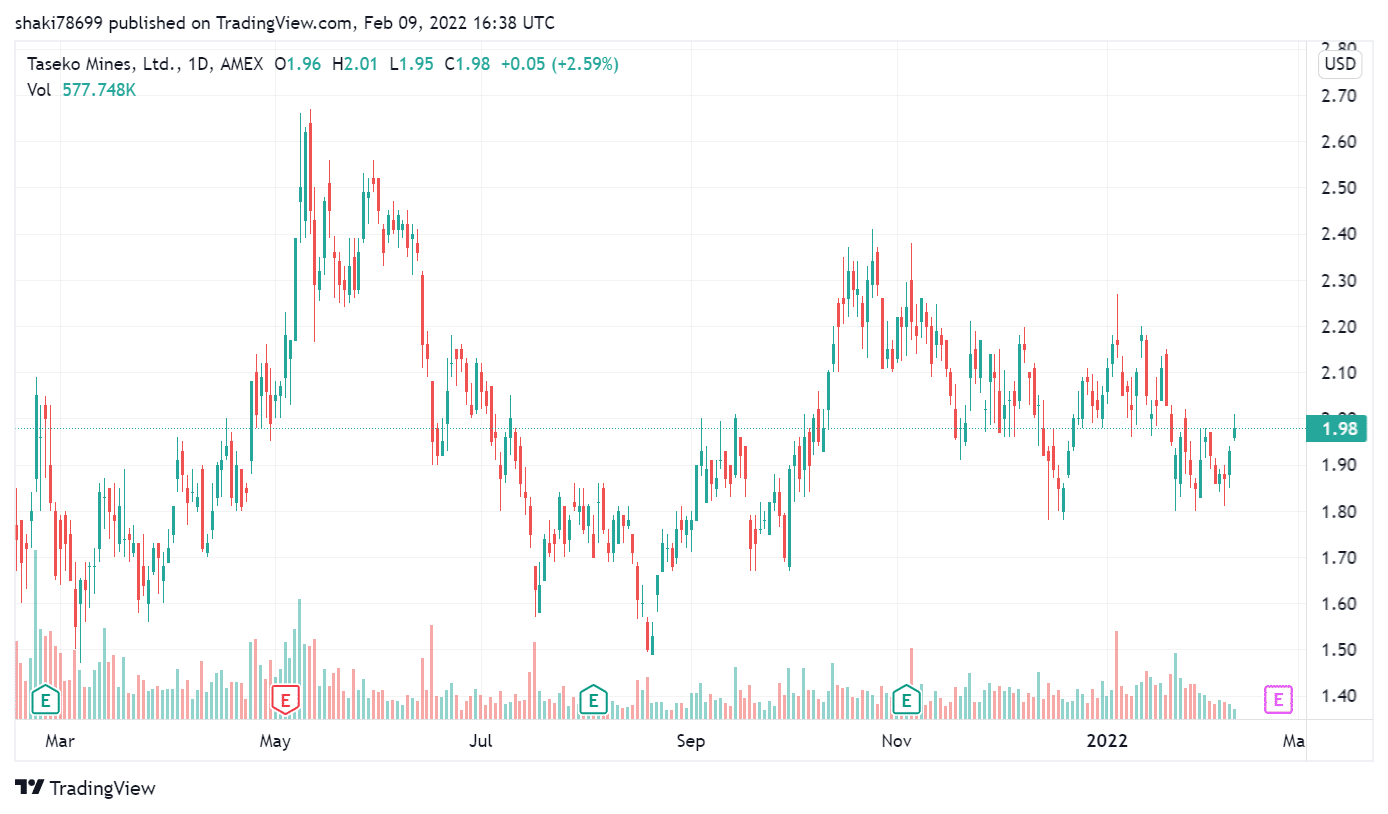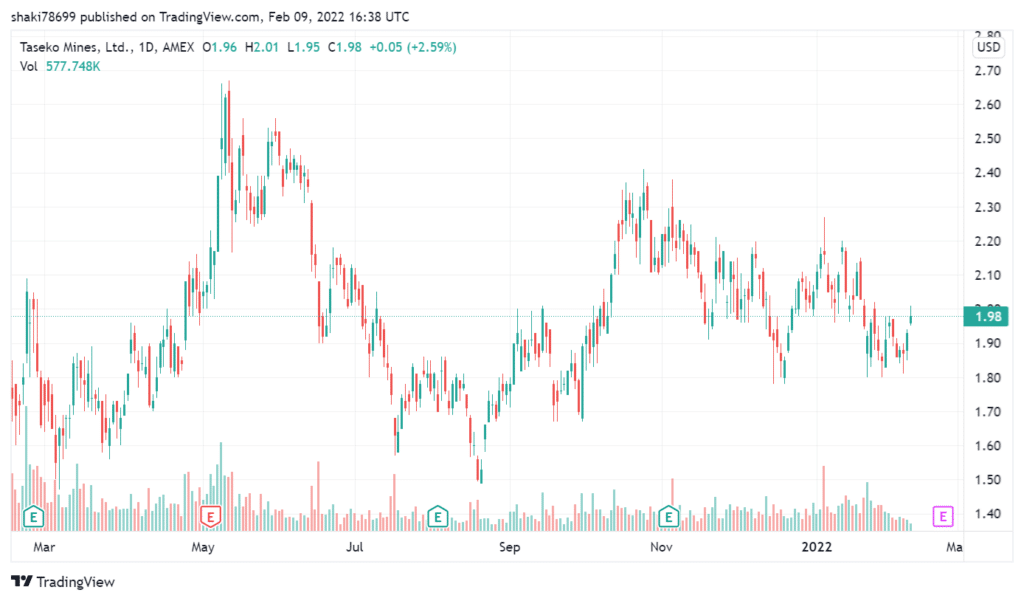 52-week range: $1.4-$2.67
1-year price change: the TGB is expected to reach around $5.75 in one year. The all-time high ($2.6) price was observed at the start of March 2021. The increase of 18.67% price across the end of 2021 was seen.
Forecast 2022: $6.3-$11
Company TGB is a company that mines copper. There has been a significant drop in copper prices, but the weaker dollar and a smaller global supply have caused copper prices to rise in 2022 (to an average of $4.45, compared to $2.80 in 2020).
Copper is expected to be used more in electric cars and infrastructure in the next few years. This is a good thing because the final EPA permit for the Taseko's Florence Copper mine was approved. The mine is likely to start in 2023 or 2024, depending on how long it takes the EPA to give the final permit.
If copper is worth $4 per pound, Florence could boost the company's positive cash flow by as much as $280 million, some experts say.
Snipp Interactive Inc. (SNIPF)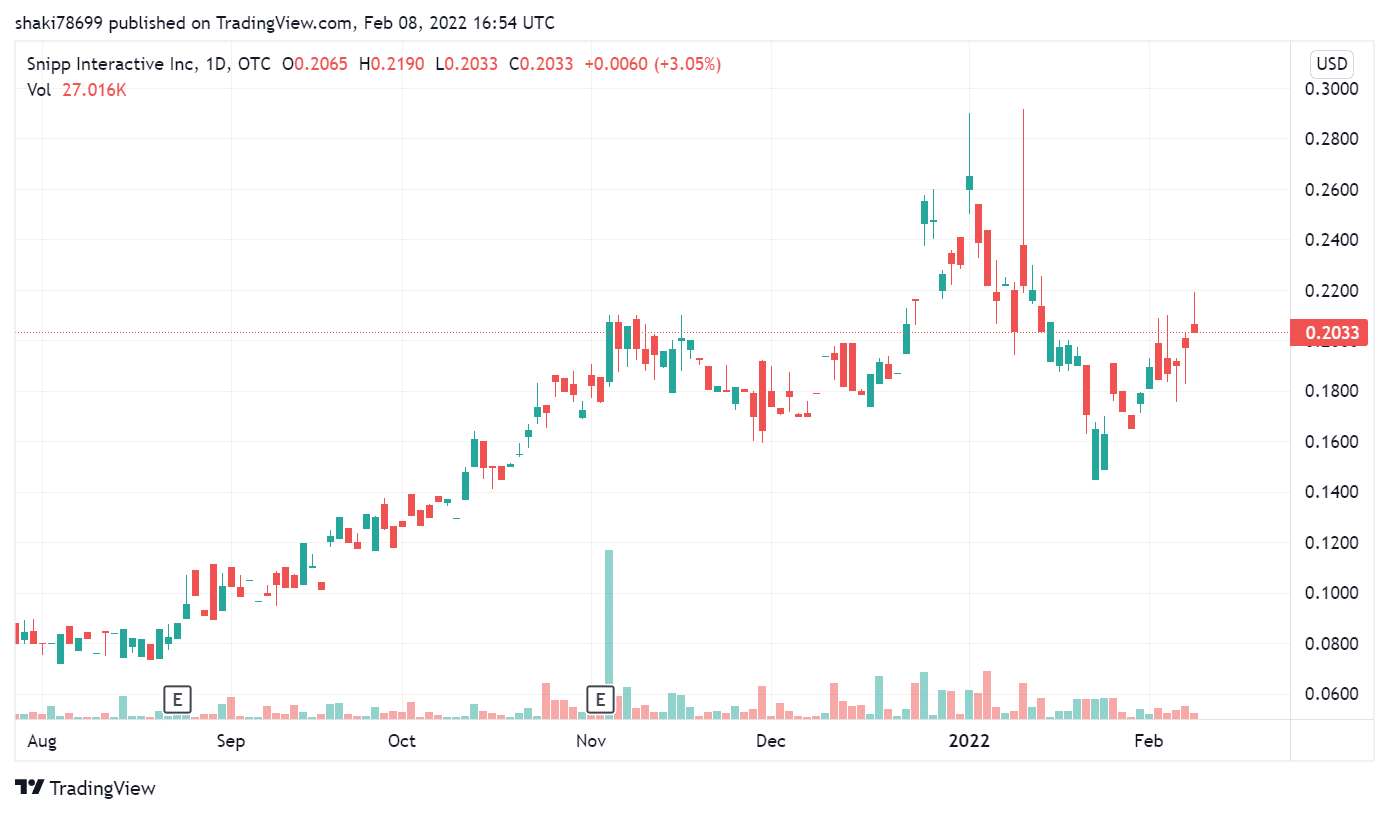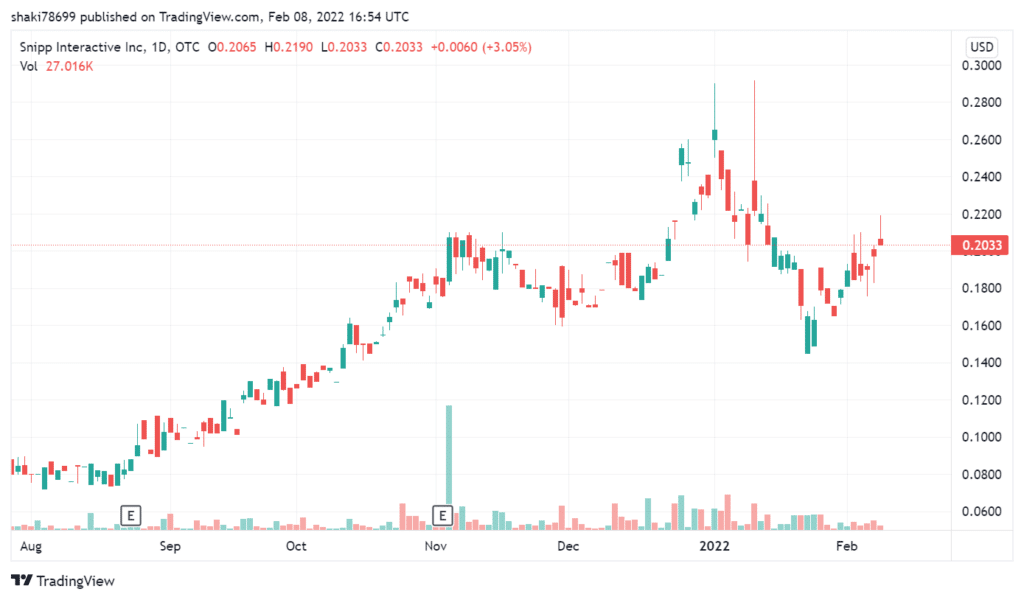 52-week range: $0.0630-0.2928
1-year price change: the SNIPF is expected to reach around $2.3 in one year. The all-time high price ($0.29) was observed at the end of December 2021, with a 58.22% increase in price across the year 2021.
Forecast 2022: $2.0-$4.3
People in the US, Canada, Ireland, and other countries can use Snipp Interactive Inc's mobile marketing, rebate, and loyalty solutions. SNIPF is a Canadian company that works with customer loyalty and promotions.
Snipp is a lot better than it should be because it's only worth $0.16. However, at the end of 2019, bookings at Snipp rose by 49% to $6.7 million. This shows that the company is moving toward profitability.
As of December 31, 2021, the company has a backlog of $10,000,000 in bookings, the largest in its history. As a result of these things, Snipp might be a good acquisition target. However, Snipp also has unique technology and a lot of customers.
Snipp stock should be worth more than it is now. The company's recovery could bring it back up to the $0.25 level and beyond soon.
Amyris Inc. (AMRS)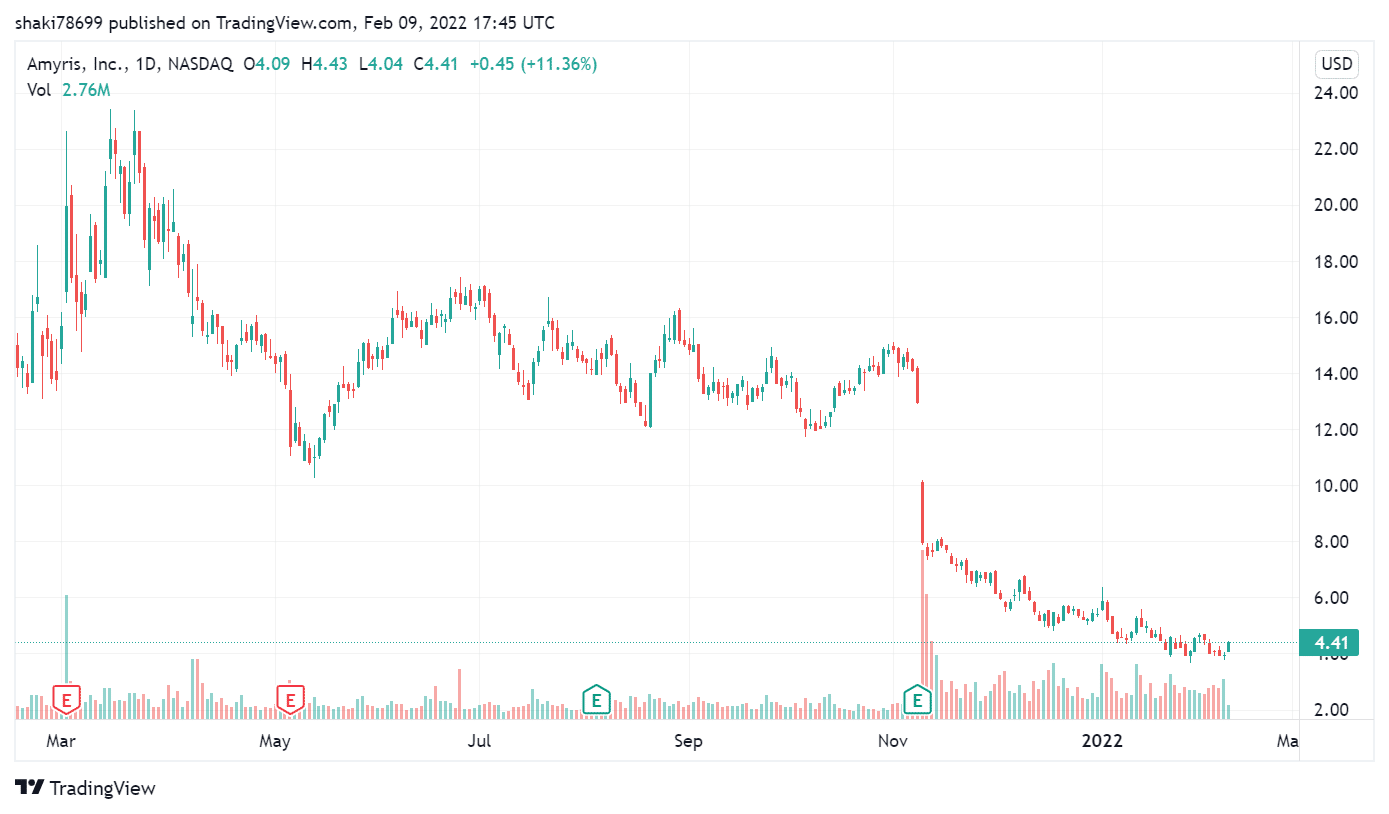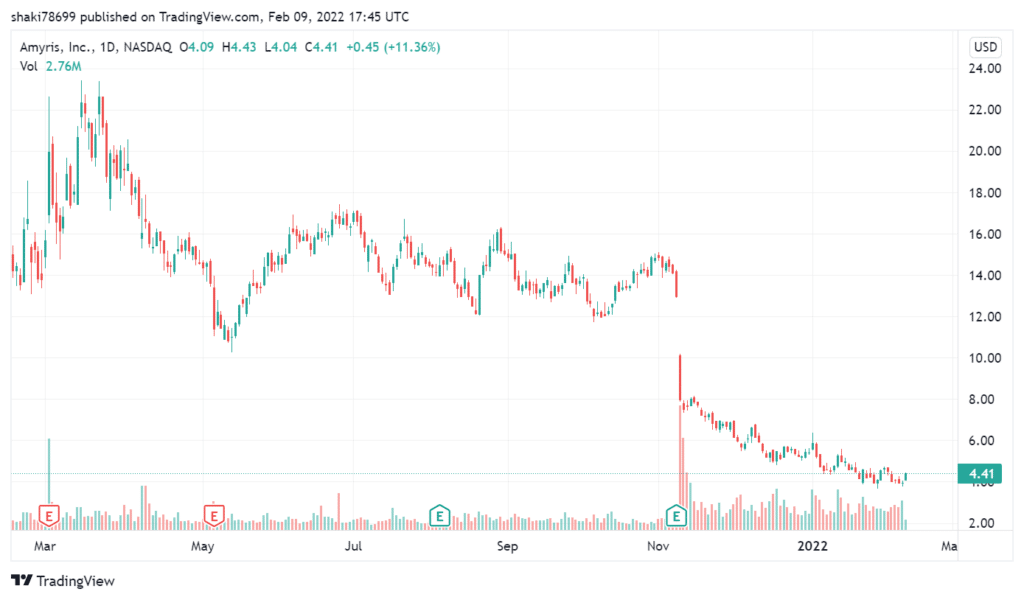 52-week range: $3.6-$23.4
1-year price change: the AMRS is expected to reach around $22 in one year. The all-time high price ($23) was seen in mid-March 2021, despite a 71.45% price decline in mid-year 2021.
Forecast 2022: $16-$25
Delays and issues with the manufacturing process in China are seriously affecting Amyris' earnings. As a result, the company's investors may have a problem with the quick and current ratios of 0.40 and 0.60, respectively.
Currently, the stock is trading at $4.07. The current sell-off may be excessive. Consider, however, that the firm is putting two new facilities online (in Brazil and Nevada) shortly, which should alleviate many of the transportation challenges that the company has previously encountered.
EPS and sales growth are in the double digits for Amyris, with a gross margin of 66.40 percent and an impressive return on equity (ROE) of 337.40 percent. Amyris is doing well.
Upsides and downsides
Here are some significant upsides and downsides of stocks under $5.
| | |
| --- | --- |
| Upsides | Downsides |
| Many people have made money with penny stocks despite their high level of risk. As a result, many people are willing to put their money into them. | Raising capital is difficult because of the market's low pricing. |
| A lot of money may be made with very little capital. | Owners have a more challenging time recouping their losses when they have less cash on hand. In addition, due to the lack of interest, there may not be many purchasers for the shares at first. |
| Typically, these stocks are heavily traded. As a result, more investors tend to invest in stocks under $5. | Since there isn't much information about the firm selling penny stocks, investors can easily decide which one to purchase. Companies with little or no history tend to have a poor or non-existent track record. |
Final thoughts
To make money investing in stocks under $5, you have to make educated predictions. There are several methods to make money, but this is the most common. It's also critical for traders to keep up with the latest news and international developments.
These kinds of stocks have incredibly high levels of fraud risk. Because there are no minimum criteria or norms that penny stock fraudsters must follow, it is simpler for them to commit fraud.
Investors must pay serious attention to distinguishing between stock advertising, promotions, etc., and stock research.