Currently, the majority of the investors within the stock market are considering lithium stocks to successfully invest in because of the booming revolution happening within the industry of electric vehicles (EV). If we talk about lithium stocks, they can range from either lithium mining stocks or lithium-ion battery stocks.
Before we dive into the list of excellent and best lithium stocks in 2022, let's first see why investing in lithium is so essential.
Introduction about lithium & for what purpose can you use it?
If we talk about lithium, it is lightweight and is a highly great conductor. Therefore, you will find this component the most common one in modern batteries, also known as lithium-ion batteries.
Hence, lithium is considered a unique material found in different electronic components, including tablets, smartphones, or tablets and television manufacturing products.
Currently, the popularity of lithium is extremely high in the in-vehicle market. It would not be wrong to say that the battery is one such technology that is advancing significantly with time and differentiates itself from the rest of the technological products.
How can you invest in lithium?
If you want to move into the lithium market in the coming future, plenty of opportunities come your way. Below are a few effective options to consider for moving into the market of lithium.
Various developed lithium stocks are yet available in the world of the current stock. The world's most popular lithium producer is Albemarle Corp. (ALB). On the contrary, Livent Corp. (LTHM) is the largest producer of electrical batteries worldwide. These companies are giving the lithium cycle a high coverage.
You can look for different lithium-focused ETFs in the market. But there are few commodities ETFs which are weighted heavily inside lithium. One best example is the Global X Lithium ETF (LIT).
Commodity indexes are yet available in limited variety. One major frontrunner in the Solactive Global Lithium Index (SOLLIT).
Above all, there are some secondary options that you can consider for your lithium investment. It is always better to start investing in lithium for better acquaintance than to invest in an EV or battery producer.
Tesla is the most renowned manufacturer of EV batteries worldwide.
List of top three lithium stocks for 2022
Piedmont Lithium
On the top, we have Piedmont Lithium, a top leading mining company that is in the process of proving the current economic mineral recovery of the lithium within North Carolina.
In short, we will call it the well-known lithium company which has its main focus on working as the strategic domestic supplier of battery-grade lithium hydroxide. It even involves the rest of the chemicals towards the developed electric vehicle and the battery storage markets within the US.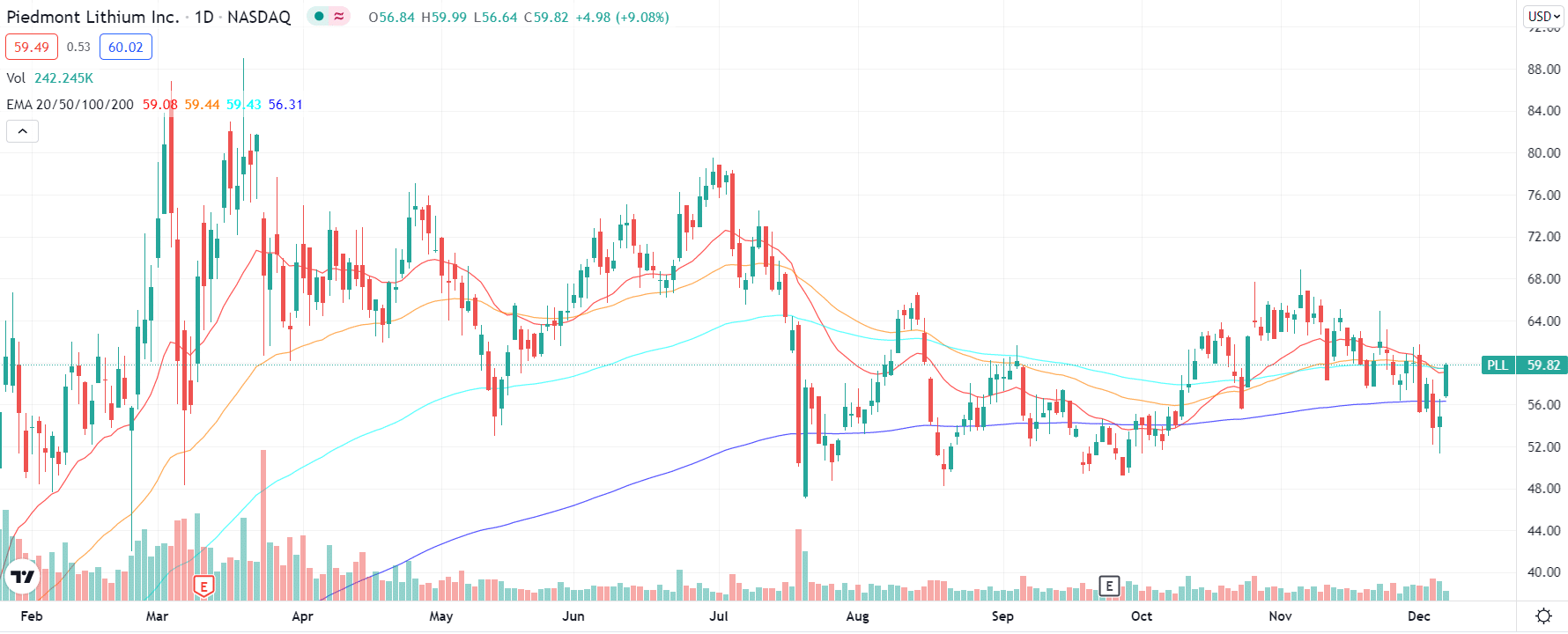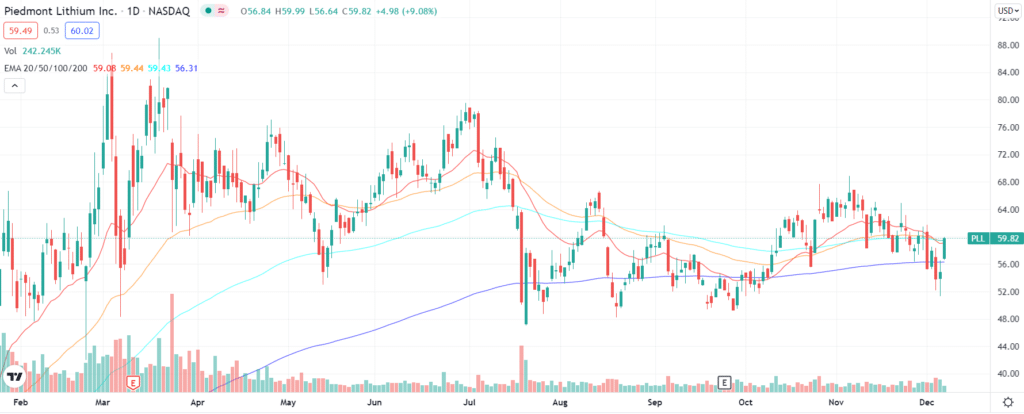 According to the recent trading session, this company is trading at 12.31%, making around $73.81. Thus, the company expects to increase its overall lithium resources to almost 40%. Piedmont has explained that their current mineral resource estimate for this project is 39.2 Mt which is 1.09% of lithium oxide with 55% of MRE.
As the scale of North Carolina mineral resources has increased, it has made itself the biggest lithium resource within North America. And it is the only one within the US. This highly expanded resource will also offer massive potential for increased annual lithium production.
Lithium Americas Corp.
Next on our list, we have Lithium Americas, a resource company focusing on the development of two different projects of lithium. These two projects are the Cauchari-Olaroz project in Argentina and the Lithium Nevada project in Nevada.
Lithium Nevada Project is a project based on smectite clay-based lithium. LAC is currently stocking trades at $15.06 and recorded 350% in 2020.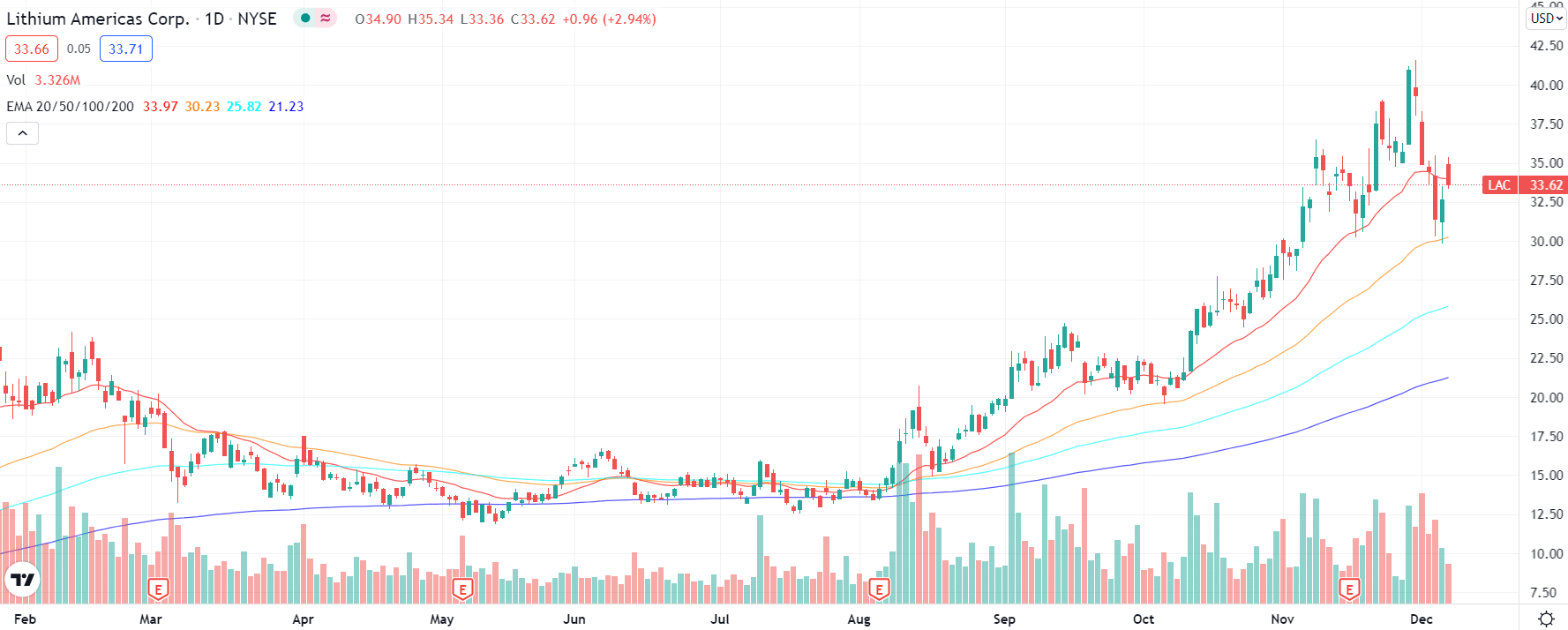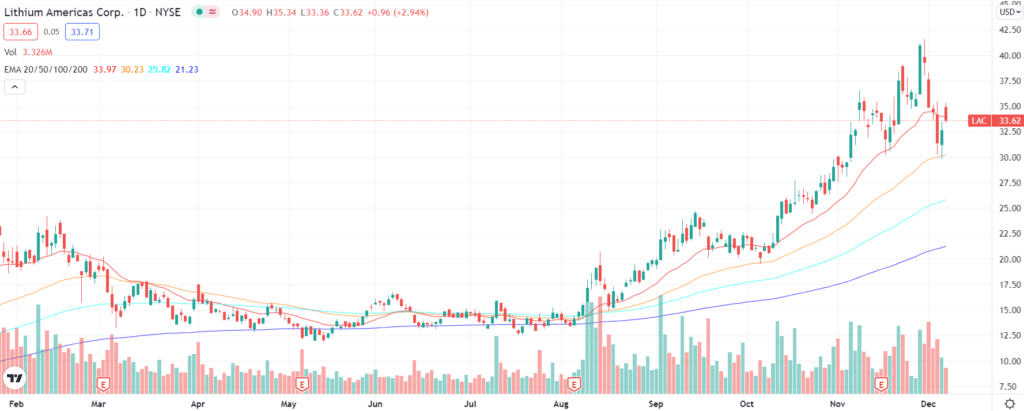 For the Cauchari-Olaroz project, few major construction activities are being held under the improved coronavirus health and major safety protocols within its place. However, according to Lithium Americas, significant development has been seen in the lime, lithium carbonate, and solvent extraction plants.
Keeping all the projects in mind, the company expects to start production by mid-2022. They have ended their year 2021 by making $148 million of revenue. The company is set to sell some more shares when the gross proceeds reach a scale of almost $400 million.
EnerSys
Last but not least, EnerSys is working as a technology provider and stored energy systems for industrial applications. The company focuses on distributing and manufacturing reserve power and motive power batteries. In addition, the company is a leader in manufacturing battery chargers or their accessories.
The company complements its extensive product line based on battery storage accessories and integrated systems and services. Currently, ENS has a stock trading at $93.02 and enjoys a maximum of 70% gains.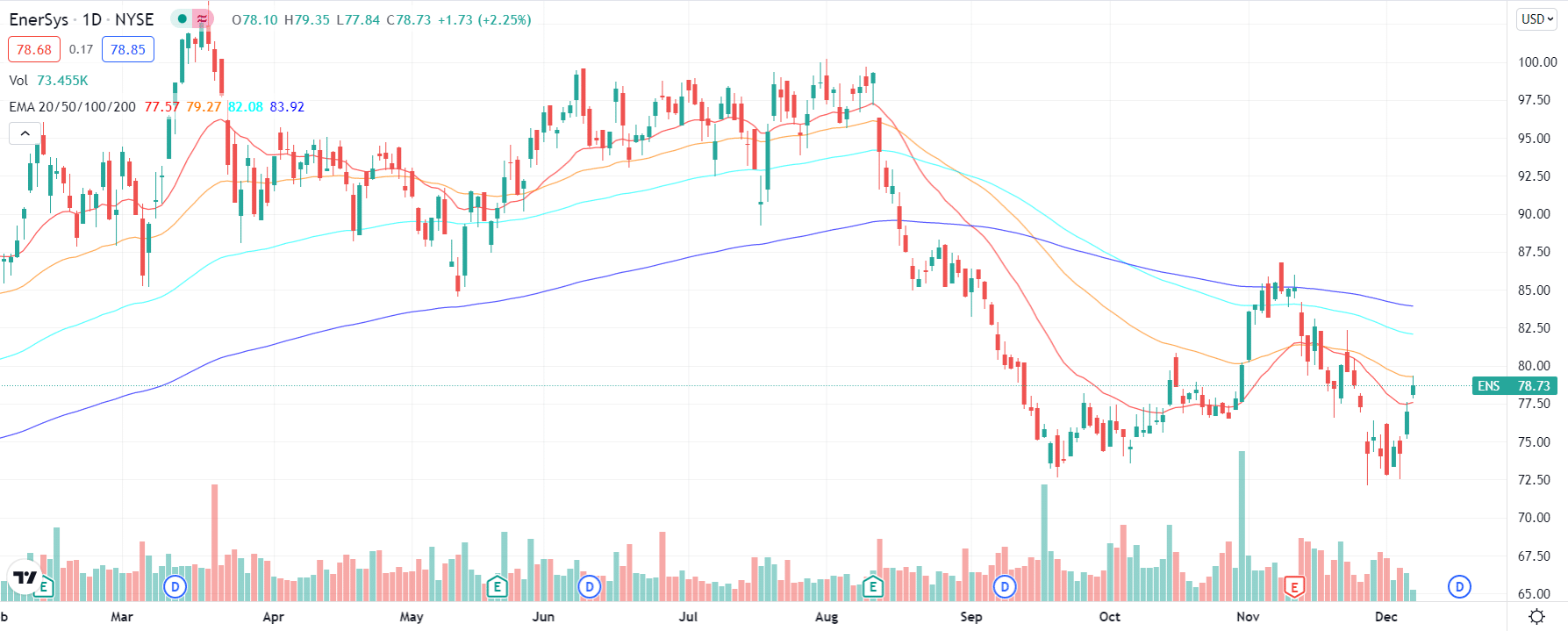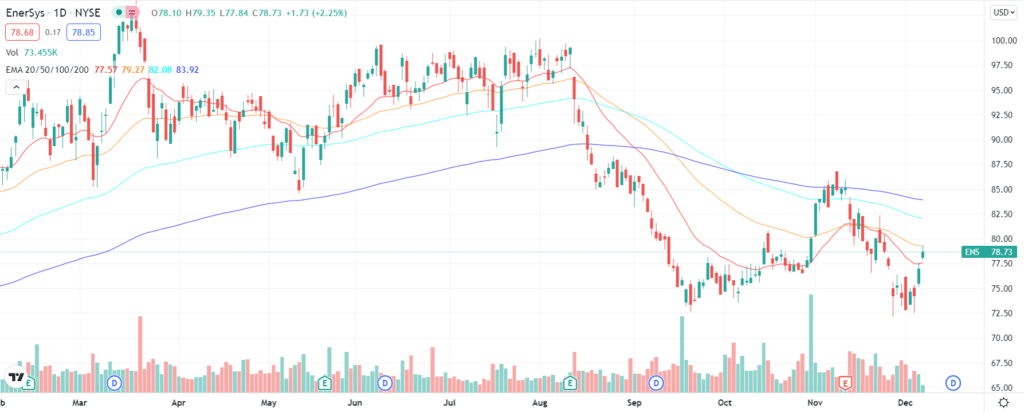 Recently, the company has reported that most of its revenue is generated through energy systems which make around $337.2 million. EnerSys has even reported the earnings per diluted share, which is $1.27 for the quarter.
Undoubtedly, the company has made an excellent development in its strategic initiatives. As a result, demand for their products is getting extensively high. However, due to the ongoing vaccination rollout, the company has some capacity constraints in its fourth quarter.
Is it worth investing in lithium?
In case if you already know about investing in commodities, then it is evident that investing in lithium is a familiar concept for you.
The lithium market lacks transparency, which clarifies the misconception about facing any risk for any investor. But there are a few ways to reduce the risk to a certain level. This can include lithium EFT or invest in securities specializing in metal investment.
Final thoughts
The reason why you should be investing in lithium is due to its high future demand. Every industry that depends on lithium is guaranteed to make a vast success in the future.
Apart from that, cross-sector reliance on lithium equally plays an essential role for the investors. Whether it is an automaker sector or electronic producers, they rely on lithium.