Finances are pretty tricky for anyone, and there is a necessity to learn it to carry out different services we need to make use of. To do so, we have tons of saving apps that help us monitor our money.
There is much need to secure yourself financially and to do so. A saving app can be your guardian. These apps keep track of how much you earned and your expenditure, and the money you saved.
Saving apps are not just for investors but also for the general public who wants to save money and work on personal management. You can find the best saving app by researching and choosing the best one that suits your needs.
Money Dashboard is one of the best saving apps for personal finance management, and we have listed everything you need to know here; read further to learn more.
What Money Dashboard has to offer?
It is a personal finance application founded in 2010. A team developed the app in Edinburgh, and their goal was to create an app that is transparent and accessible to everyone.

Money Dashboard has more than 500,000 users and 900,000 connected accounts. Calculus Capital is a significant investor in the project and crowdfunding of £1.5 million in 2017, which gave their users a share in the business. Furthermore, the app has been named the UK's Best Personal Finance App 2017, 2018, and 2020 at The British Bank Awards.
Money Dashboard top features
The online personal finance industry is becoming highly competitive, and there are numerous similar applications out there. However, Money Dashboard has many features that you can consider when comparing to other major players.
1. Safety and security
When you sign up for personal finance applications, you need to ensure stringent safety protocols. Money Dashboard provides top-notch practices to ensure users' information is well protected. The app uses 256-bit encryption and biometric security on the app to keep access to your data secure.
Furthermore, the Money Dashboard is authorized and regulated by the Financial Conduct Authority. Their security levels are similar to major banks' systems and are audited, inspected, and regularly tested by qualified security data specialists.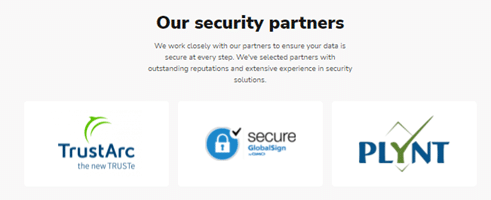 2. Membership plans
Money Dashboard has one membership plan, which is free for everyone. The process to sign up is very straightforward, and it takes four steps. There are no hidden or additional fees for using the application, and all users have access to all the features.
You need to access the Money Dashboard website and enter your details. Then there is a verification step for your email and cell phone number, after which you complete your profile and finally link your accounts.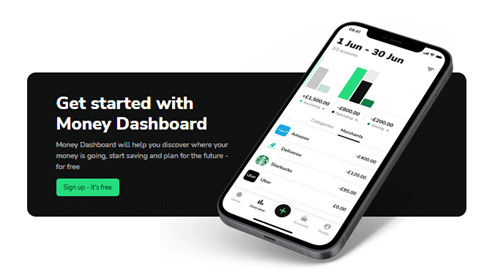 3. Budgeting and goals
The app also has a budgeting feature that you can create inside the application. You can customize the budget and tags as per your needs.
The app updates the budget automatically as per your transactions. Therefore, you don't have to enter information manually.
4. Special features
The application links all your current online accounts, savings accounts, and credit cards on a single platform. The app can connect to over 40 UK banks, including Bank of Scotland, Barclays, Clydesdale, First Direct, Halifax, HSBC, Lloyds, Monzo, Nationwide, Natwest, RBS, Revolt, Sainsbury's, Santander, Tesco, and TSB.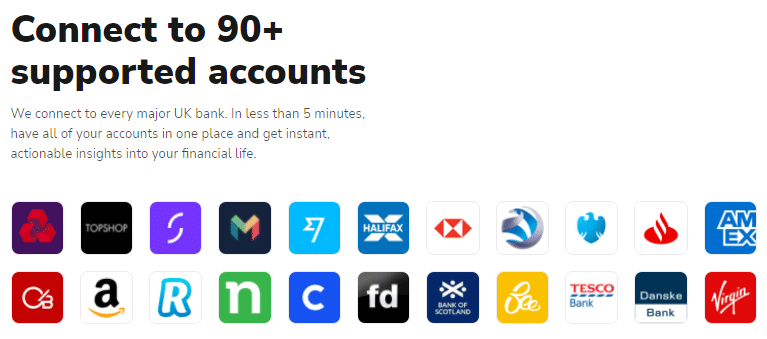 Besides syncing transactions with your bank accounts, you can also transfer money between accounts via the application.
5. Alerts
Money Dashboard application has an excellent proactive alert system. Thus it can forewarn the user of a potential looming cash flow crisis. To use it, you need simply clicking a checkbox and setting a threshold for the budget alert.
If triggered, the alert will be sent by email, allowing the user to rectify the position and avoid potentially unwelcome charges quickly.
6. Transactions and reporting
Once the accounts are linked, the app allows you to track your spending via the dashboard at a glance. Furthermore, you can categorize the spending transactions simply by tagging them to existing categories inside the app. Tags like home, family, bills, and insurance, to name a few.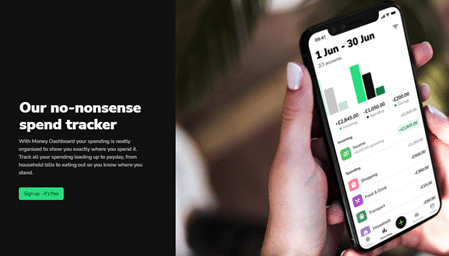 You can access spend reports directly from the application. The reports are visible as a side-by-side slide. The app shows your income and expenses first, then spending according to categories. The application also displays the money spent on the top ten merchants and how often you purchase from them.
Under the transaction history section, you can view transactions as far back as December 2007. The unit is easy to navigate, and you will find it via the transaction history tab located on the dashboard.
7. Support
The Money dashboard website has a dedicated Help section to access FAQs, community, contact support, and help center. The FAQs cover topics related to the applications' features.
Under the community section, they share relevant updates regarding the application as well as money-saving tips.


The help center is a categorized guide of information to help you set up and navigate the application.
The Money Dashboard support team is reachable via email or phone. You can also raise a ticket via the user support section on their website.
Pros and cons of Money Dashboard
There are many types of online personal finance apps, and each has its upsides and downsides. Similarly, Money Dashboard has pros and cons that we need to consider.
Pros
Cons
•Safe and secure transactions via open
banking APIs and Yodlee.
•100% free access to all members.
•Multiple forms of support and
guidance.
•Easy and user-friendly application
interface.
•Link accounts to over 40 banks.
•Transfer money between accounts via
the app.
•No export feature for reports.
•This app uses your data to provide
insight to companies on market research.
•Users have complained about poor
connectivity to banks.
•It can be a 4-5 day buffer between
making a transaction and seeing it on the
app.
Final thoughts
If we look at the features of the Money Dashboard app, there is not much difference compared to others in the same niche. However, what sets Money Dashboard apart is their commitment to their users as they have a vested interest in the business. Furthermore, the application has a high level of security which is a critical component for online financial services.
Another plus is that the application is free for all users, and there are no additional fees for using the features. Money Dashboard has received multiple awards and has high customer ratings, which speaks to its reliability and customer commitment.