Controlling costs is always tricky. This applies to large companies conducting hundreds of financial transactions per day and to ordinary users. To deal with such a problem, you need to use Expensify. This practical application will become a true friend and help you put all your financial affairs in order. You will learn how this is done and what makes this product unique from our Expensify review.
About Expensify
If you are looking for a quality app for managing your finances, look no further than Expensify. Expensify, Inc owns it. This company is not the most famous developer, but its software is popular worldwide. She honestly conducts her activities, for which she deserves respect and many positive reviews. The main office of the company is located in San Francisco. Also, there are official representations in other cities in the USA, Melbourne and London. Their addresses and contacts are on the site, so finding any office will be easy.
Expensify is a universal application. However, it is best suited for private clients and small businesses. This is due to a basic set of tools that will not satisfy some large companies. This disadvantage is also an advantage. It consists of the maximum simplification of work with the application. Expensify can be used on computers with different operating systems and mobile gadgets. This feature is very popular with users, making it possible to switch between versions of the program and not part with it for a minute.
Expensify offers customers a large number of plans. Among them, there are free and paid offers. The first ones are ideal for users who can be content with a minimum of features and additional features. At the same time, paid tariffs are intended for people who want to use all the available functionality. A paid subscription costs vary from $10 to $18 per month. In case of payment for a year in advance, a discount of up to 50% is due.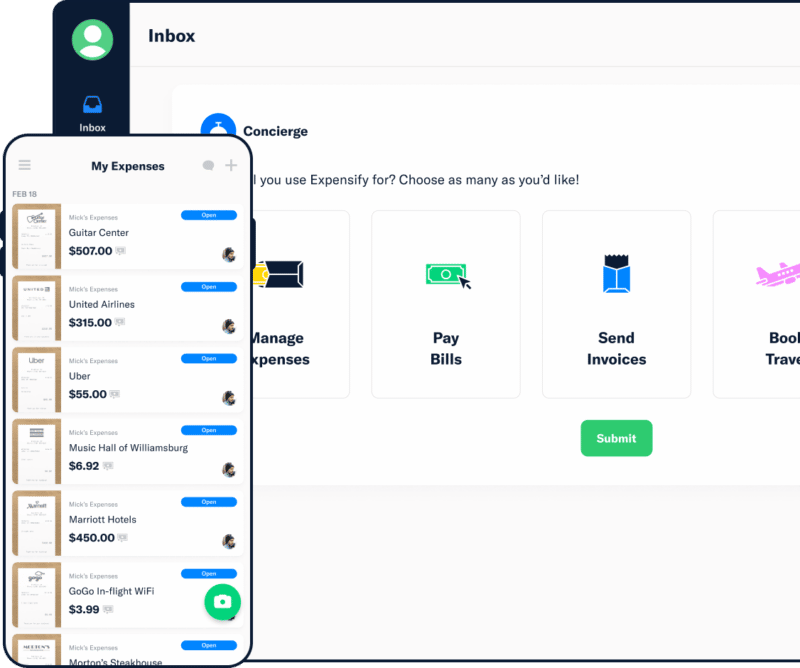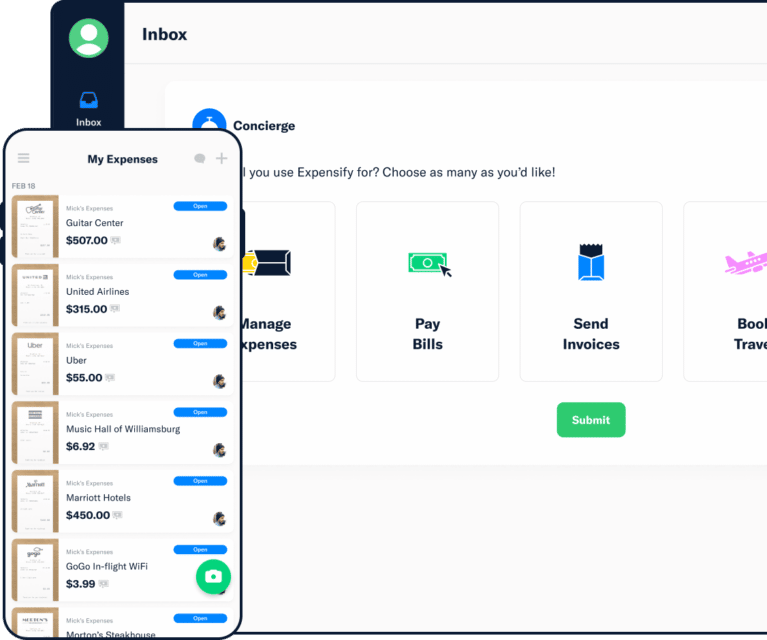 Important features
It would be best if you were not afraid of Expensify, as even a child can use this application. To achieve this effect, you need to perform a little preparation. It consists in carrying out simple activities that everyone can handle.
Action algorithm:
Go to the official website of the application developer.
Find the blue "Get Started" button and click on it.
Next, a new window will open in which you need to enter your phone number or e-mail.
At the next stage of registration, specify the standard personal data.
Immediately after that, there will be an automatic transition to your account. There you will be asked to confirm the information provided earlier.
Having done this, go to the settings. Change various parameters and save changes.
Next, choose a tariff plan and, if necessary, pay the subscription fee.
Wait until the end of the payment, and start using Expensify.
Using Expensify, you will have much free time that you used to spend on managing your finances. It can be used to explore the features of a given application. The knowledge gained will help make working with it even more effective.
Important features:
Customer support. The effectiveness and efficiency of this service deserve good reviews. All answers become available very quickly, so you don't have to wait long. You need to use a unique phone line or online chat to contact the operators. The first option is suitable for users fluent in English, and the second is for clients who can only write their questions with an interpreter. You can also use the Forum to find answers. Here users help each other with advice to solve problems of any complexity. All questions are divided by topic, so finding what you need will be as easy as possible.
Account security. Expensify has no security issues. At least people using the application are silent about this. At the same time, there needs to be more information on the official website about the measures taken to improve the account's security. The developer needs to pay more attention to this aspect, but it indicates to users the need for a more responsible approach to choosing passwords for entering their accounts.
Scanning receipts. Expensify has a SmartScan feature. It enables the application to recognize scanned receipts. This will save users from manually entering information and simplify the process of controlling finances. SmartScan acknowledges not only the amount but also the date of the operation, currency, seller's name, and so on.
Mobile version. The Expensify mobile app is even more convenient than the desktop version. It allows you to control financial transactions in any convenient place. You only need a stable Internet connection and a minimum amount of free space in the gadget's memory for its operation. All owners of iPhones, smartphones, and tablets on iOS or Android can use the application. At the same time, the requirements for the characteristics of devices are minimal.
If you still need help organizing your financial management process correctly, then Expensify is a must. This easy-to-use application will help you control expenses, keep track of your account balance and do many other things. By making friends with him, you will get a good assistant who will be faithful to you for many years.
Expensify review: positives and negatives
Expensify review: positives and negatives
The Expensify app is a top product that has many positives. For this, ordinary users and heads of large companies love him. However, even Expensify has its drawbacks. They do not spoil the overall picture, but every user needs to know about them.
The Expensify app is a top product that has many positives. For this, ordinary users and heads of large companies love him. However, even Expensify has its drawbacks. They do not spoil the overall picture, but every user needs to know about them.
Positives
responsible developer
a large number of users
ease of use
cross-platform
discounts for advance payment
many available tariffs
the efficiency of the support service
convenient mobile application
much positive feedback
Negatives
practically useless for large companies
inflated prices