The phenomenon of decentralized finance (DeFi) is emerging as a transformative, global, and open alternative to established financial systems. Users connecting to the web have access to various financial products 24 hours a day, seven days a week, including borrowing, lending, saving, trading, and payments.
It is still in its infancy because it only started taking off a couple of years ago. However, it has accumulated considerable capital through various blockchain-based applications.
The amount locked at the end of 2021 was $10.3B and will reach $100B by the end of 2022, according to DeFi Pulse. Investors seeking high-interest rates on their funds may find DeFi attractive, but it has traditionally been a complex affair reserved for tech-savvy users.
Projects have evolved that allow the average investor to access this opportunity conveniently and securely. One such project is AQRU. Below is its unbiased review if you want to enroll in the best app for earning interest.
What is Aqru.io?
We want Aqru.io to be the trusted location for crypto investors to store and manage their assets. The platform will pay interest rates ranging between 7% and 12% by holding your digital assets. Furthermore, Aqru.io allows for real-time earnings tracking, is user-friendly, and is free of unnecessary financial terms.
Top features
Many online personal finance applications are available, and the industry is becoming highly competitive. When comparing Aqru with other significant players, there are many features that you can take into consideration.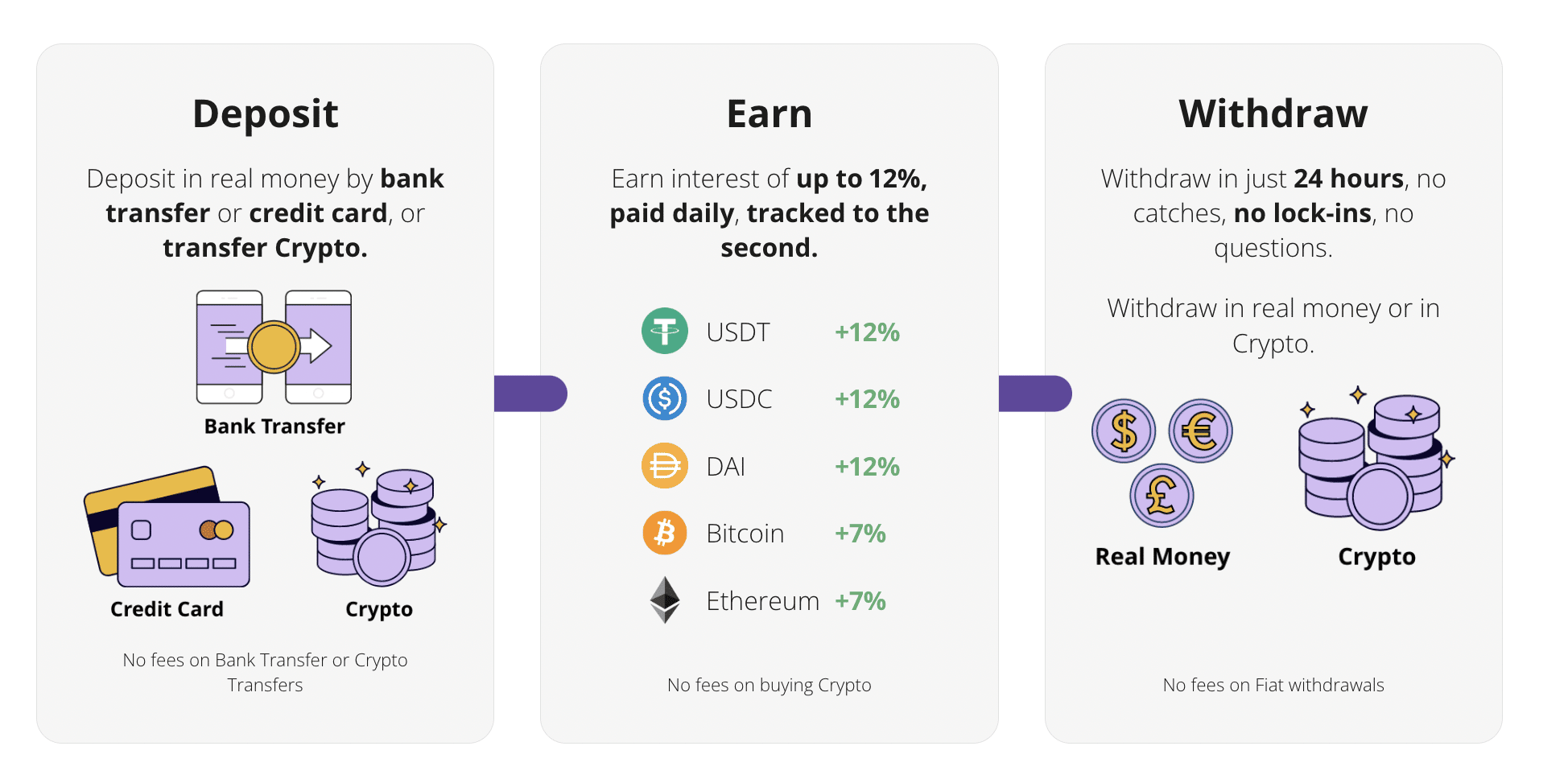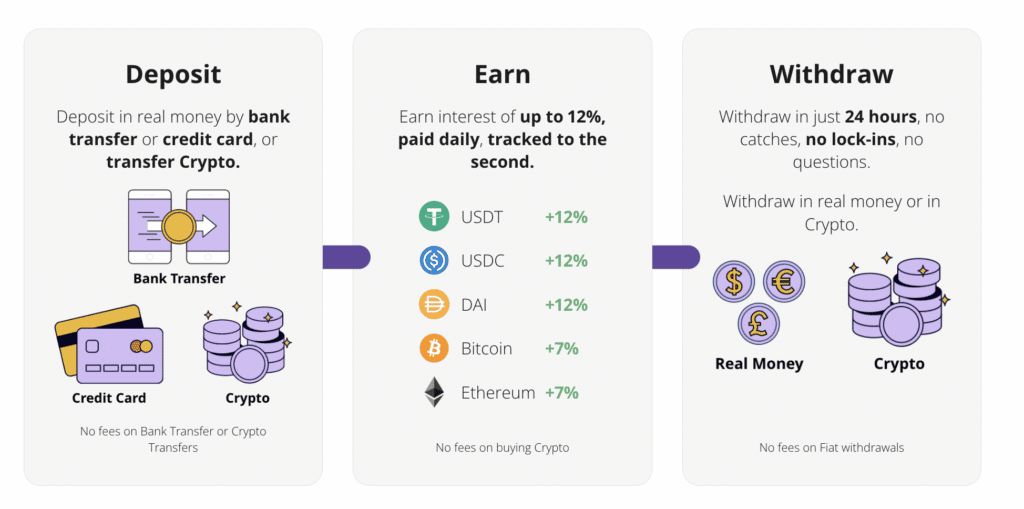 1. Security
A few words have to be said about security to complete the review of Aqru.
Despite being fully insured, Fireblocks ensures the security of this platform. More than 70 financial institutions use this platform to secure digital assets. Additionally, the account is secured by two-factor authentication before any funds are deposited.
AQRU's custody solution comes from Fireblocks, one of the leading companies in this field, which collaborates with top investment banks such as BNY Mellon, which also participated in the Series C funding round last year. The firm employs yield farming methods based on the most liquid and most significant digital assets with established DeFi protocols, a track record of robust auditing, and substantial assets under management.
As a precaution, AQRU has a US$30 million insurance policy. It's nonetheless a risky investment. The volatility of crypto-assets and the robustness of blockchain protocols and DeFi intelligent contracts continue to pose risks for investors.
2. Membership plans
According to our research before writing this guide, ACRU.io currently offers its users a single account through which they may invest in cryptocurrencies. This platform also accepts corporate clients throughout the globe. Due to this, to onboard a customer of this type, they will have to identify the business, directors, and beneficial owners.
3. Syncing of bank accounts
Crypto can be deposited into other wallets by AQRU's customers. A customer can move the pounds or euros to AQRU's app by credit card or bank transfer, then earn interest by buying crypto through Moonpay. The user can withdraw their funds instantly without restrictions as long as interest accumulates daily.
4. Special features
Even though clients have left a few comments because AQRU.io is a new crypto lending service on the market, we have found that the staking platform offered by this provider is meant for beginners because it is simple and free of unnecessary features. With the AQRU mobile app, you can even log in to your crypto staking account on your mobile device.


Customers can deposit fiat currency or cryptos they already own. They can even buy cryptos to earn interest using the app.
5. Budgeting and goals
The withdrawal of fiat currency is free of charge. In the case of crypto-crypto and crypto-fiat exchanges, AQRU charges 0.5% of the transaction value. A withdrawal fee of $20 applies.
The withdrawal fee does not have a minimum as long as there is sufficient coverage. The minimum amount is a deposit of €100, or slightly more than $110.
The fees that AQRU charges are minimal, and it strives to keep them transparent. No fees apply for deposits or bank transfers. Nevertheless, card payments include fees, which the card provider charges. The fee is $20, which is high and accounted for in the asset you withdraw. Fiat withdrawals do not have a price.
6. Transactions and reporting
Deposits of at least 100 euros are required. There is no minimum withdrawal requirement for users as long as they can afford to pay the fee.
These lending platforms accept many payment types, such as debit cards, credit cards, bank transfers, and wallet-to-crypto wallet payments (at the moment, they accept BTC, ETH, USDT, USDC, and DAI).
Investors love AQRU because of the fast processing of payments, which makes it ideal for investment. In most cases, they will notify you within 20 minutes of receiving the funds that they have received your asset transfer.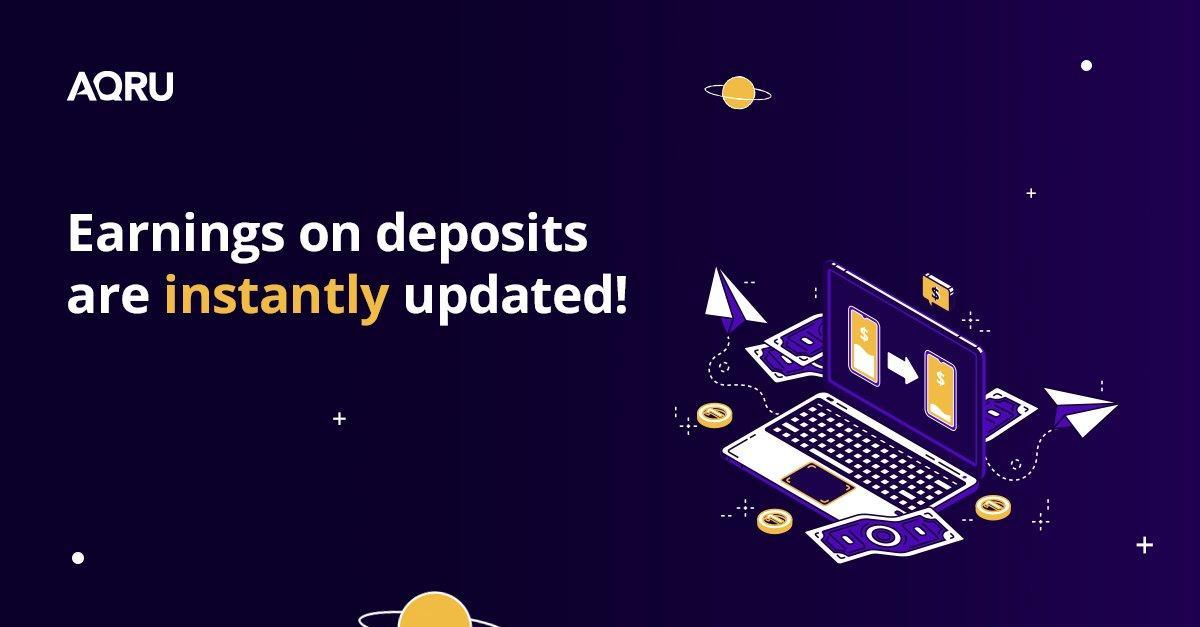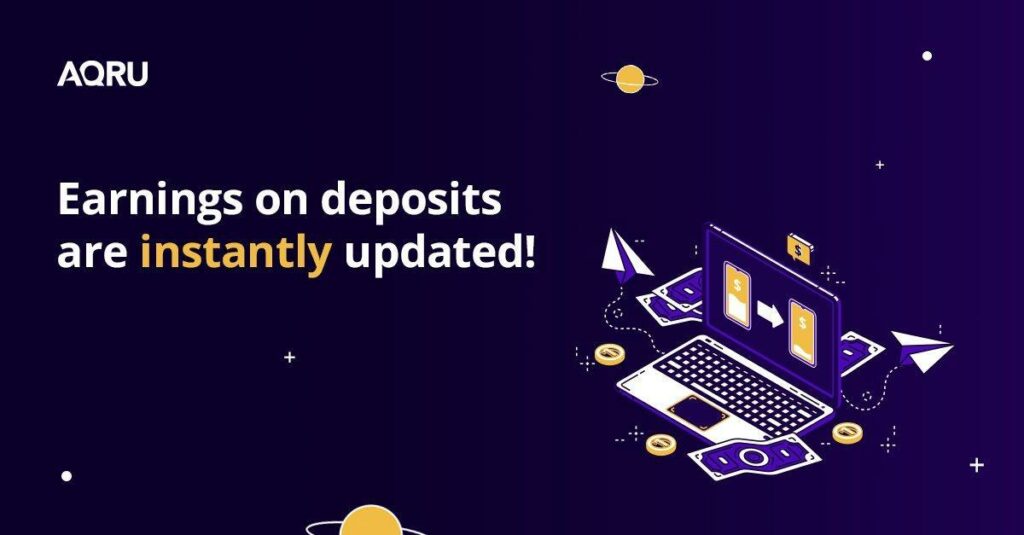 However, when using fiat currency, this will be decided by your bank and the payment method you choose. Some transfers can be confirmed within an hour by the recipient, while other transfers, such as international transfers, may take up to five days, depending on your bank's location.
7. Support
Clients of AQRU.io have access to their client portal. Platform users can access the platform's support portal, the Help and Support section, and FAQs. Aqru.io's blog offers some interesting insights, which anybody can access with an interest in learning more.
The Aqru.io team also offers several ways users can contact them if they require further assistance or customized answers to their questions. Using the client portal or live chat available 24/7, you can open a ticket with your question and send it to the support email address.
Pros and cons of Aqru app
| | |
| --- | --- |
| Pros | Cons |
| Rates of earnings. | Currency support is limited. |
| Fee-free deposits and withdrawals in fiat | FCA registration is not available. |
| $10 as a joining bonus. | Withdrawals from crypto have a high fee. |
Final thoughts
By offering an exchange that's easy to use, AQRU.io offers its users high yields on their assets. Aqru is a unique cryptocurrency company founded by a team of finance and technology experts fed up with the low returns people see when it comes to crypto.
The startup AQRU strives to make asset investing more accessible to everyday investors to make things easier. This easy-to-use lending platform allows you to invest in less than five minutes. Additionally, if the above weren't enough to attract its clients, it also hopes to provide them with high-quality services.