Many people prefer tracking their savings and spending; however, it can be a tedious task. Many applications are available, but few come with the automated and secure features that the busy individual requires.
We prefer digitalization in this day and age, and having a single platform to access all our transactions is an added advantage.
Established in 2009 and acquired by the software company Intuit, Mint is a savings and budgeting tracking application that you can download on your phone. The app allows you to track your expenses by syncing to your bank, lending, and investment accounts.
Let's go through features and special tools, which we will review in this article.
What Mint has to offer?
1. Safety and security
Mint prioritizes safety and security by providing multiple forms of security to safeguard your account. They use VeriSign for security scanning, which aids in the secure transfer of data. As a way to further protect your account, they encourage the use of multi-factor authentication.
By using multi-factor authentication, you not only depend on a single password to access the app on your device. The app also tracks your device activity. Furthermore, Mint randomly sends a secret code to you via email or SMS to maintain the security of your account.
In addition, Mint ensures safeguarding with a 4-digit code and Touch ID. If your device is lost or stolen, you can delete your account information remotely.
2. Membership plans
The Mint app is entirely free to use for any user. Unlike competitor apps, it does not have a paid subscription or premium plans. All features are completely free to use with no hidden fees or costs. However, for Mint to generate revenue, they allow advertising inside the app through partnerships with other companies. The ads cannot be disabled, and there is no paid option to remove the ads.
3. Budgeting and goals
Mint access your expenditures by allowing you to link your bank accounts, credit, and or debit cards to the app. It syncs with your accounts so that it can track your expenditures and savings.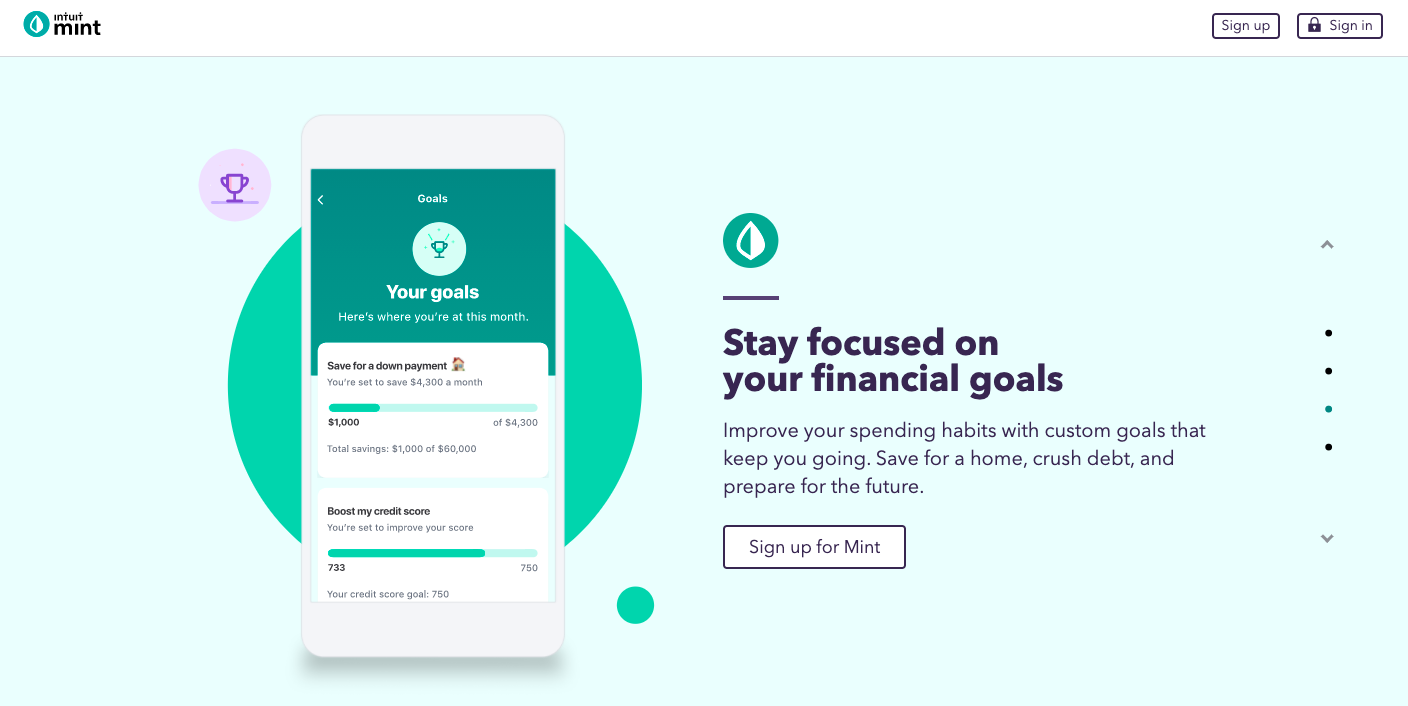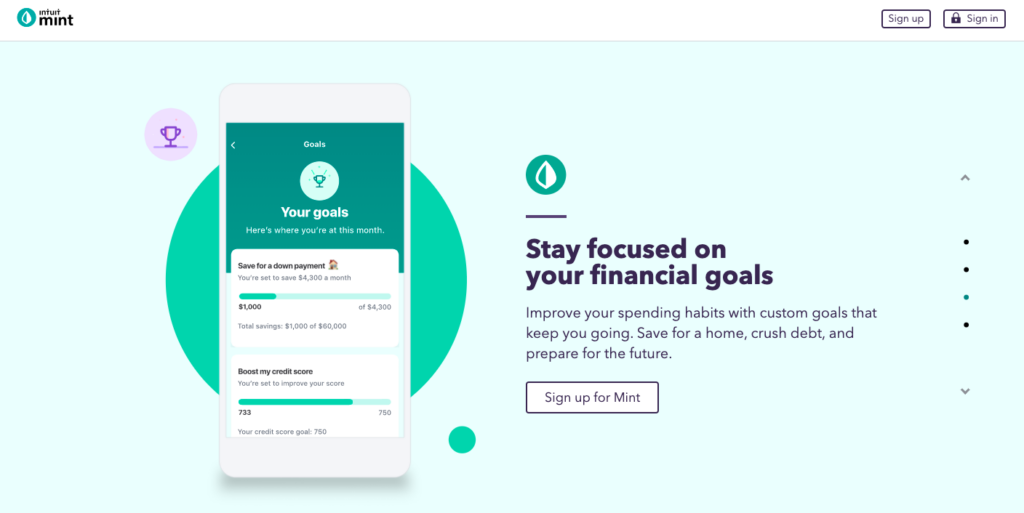 The app has a built-in budget planner which tracks daily spending. It also suggests goals based on the data it pulls; however, you can customize the goals by adding or removing new ones as you feel fit. Furthermore, the app will automatically create categories of your expenses.
You can track investments and savings in the app, and you can set your own goals.
4. Special features
Mint not only tracks savings and budget, but you can also view and track your investments with the app. The investments tracking tool allows you to link retirement accounts, IRAs, stock investments, and many more. The app also tracks fees related to your investments, and you can compare your portfolio versus the benchmark in the market.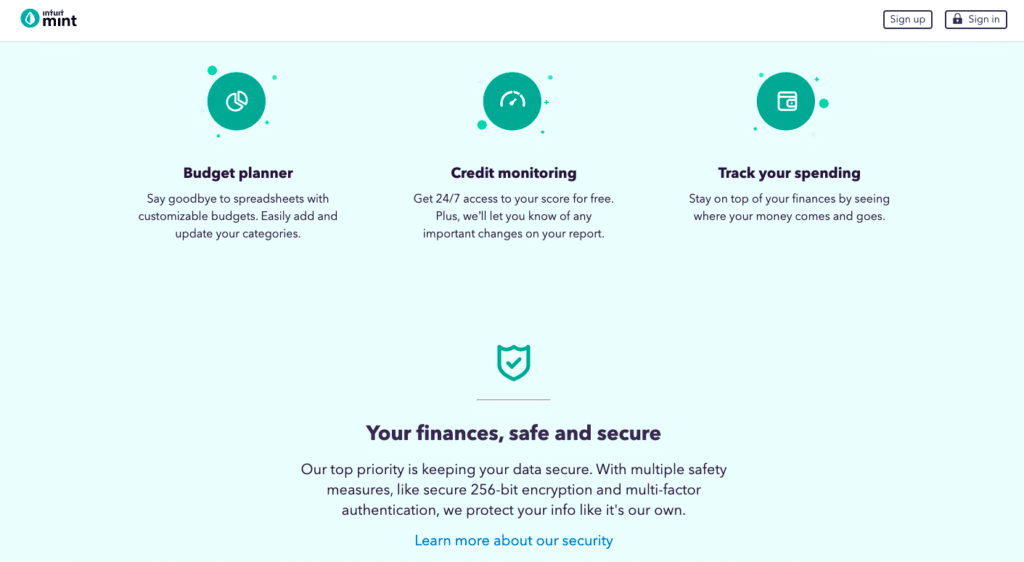 Another stand-out feature is the ability to access your credit score. Mint has a free credit score and monitoring tool. Through their partnership with TransUnion, you can view your TransUnion VantageScore whenever you prefer. In addition, by checking your credit score through Mint, there is no negative impact on your score.
Credit monitoring through TransUnion is a free service that Mint offers.
5. Alerts
Mint helps you stay on top of your finances by alerting you timeously. You can get alerts on ATM fees so that you are aware of how much you are spending. For impulsive shoppers, the over-budget alert warns you when you have exceeded your budget.
Mint also sends notifications in the form of email or text messages to remind you of bill payments. And as further protection, you will receive alerts on unusual spendings, such as significant purchases, which seem suspicious.
6. Transactions and reporting
Another free service that Mint offers is the exporting of transactions. You can access your transactions by signing into your account. All you have to do is select the type of accounts and download the data in an Excel format.
On the app itself, you will be able to view a breakdown of all your accounts linked to the app. The app also has a pie chart that shows the expenditure per category.
7. Support
Mint customer support is available seven days a week, and they operate from 5:00 AM to 9:00 PM. You can contact them via the chat service available on their website. However, they do not have a telephonic service. Mint also has an account recovery form if you fail to access your account due to an email or phone number that changed.
Pros and cons of Mint
Mint has many features; however, we have to consider the pros and cons of using this application.
Pros
Cons
•The service is 100% free to all users.
• Link investment and retirement plan to the app.
• Alerts and notifications on overspending and bill payments.
• Free credit score and reporting through TransUnion.
• Extensive safety and security protocols.
• Available to US and Canadian citizens only.
• No telephonic support services.
• In-app advertising can be intrusive to users.
Final thoughts
The power of the Mint app is the syncing of all your accounts to one single digital platform. The application has received high customer ratings, and it offers more than just a standard budgeting tool.
On the downside, the ads might be considered disturbing to some users. However, the attractive features and tools make up for this. The integration of multiple accounts, advanced security features, credit reports, and much-needed alerts are all reasons why the app is highly rated.