If you follow stock market news, you know that the markets had a bumpy start in 2022. The most popular stock market indices include dropping stocks, escalating inflation, interest rate rises, and year-to-date changes. The mining industry is a notable exception to this rule.
Let's look at why you may want to invest in mining companies and three of the top mining stocks you can pick and gain.
Why is it worth investing in mining stocks?
The mining industry is popular among investors because it consistently supplies previously used and industrial-use metals and other raw materials.
Investors have gained extensive exposure to a diverse range of precious metals. As a result, mining stocks of firms involved in the mining and exploration of precious metals have been go-to stocks for many.
Despite the economic consequences of Covid-19, some mining businesses have outperformed many others.
How does it work?
When you talk to any mining expert, they'll tell you mining is a cyclical business. During periods of economic stability, mining corporations have more money to spend on new mines and expansion projects. Mining businesses have outperformed the wider market substantially in recent years. As a result, the benchmark SPDR S&P Metals & Mining ETF has delivered 48.0% of one-year total returns.
How to start?
Before starting, investors in mining stocks should pay particular attention to a mining company's debt load. Companies with a high level of debt frequently struggle during economic downturns. In contrast, companies with low production costs are the most successful and are less likely to rely significantly on debt to fund expansion.
Here are some of the mining companies worth considering in 2022.
Barrick Gold (GOLD)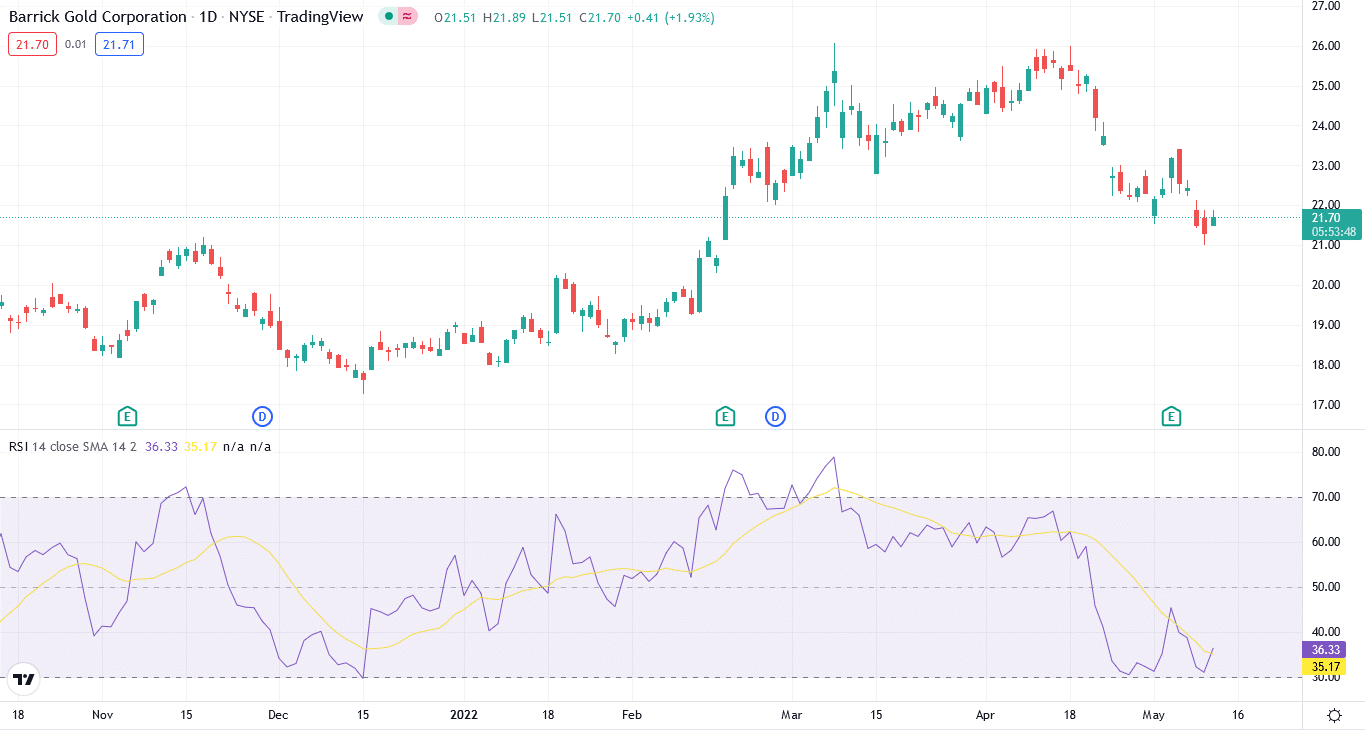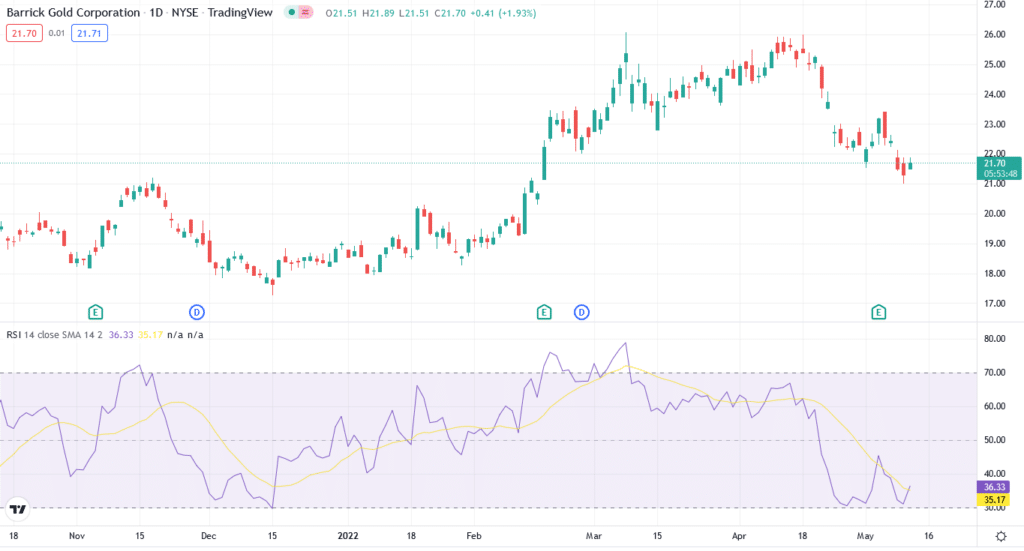 52-week range: $17.27-$26.07
1-year price change: -9.87%
Forecast 2022: $21.50-$26.00
Barrick Gold is one of the world's major gold miners, with operations in over a dozen countries. It is also a major copper producer. In recent years, Barrick Gold has emphasized rebuilding its balance sheet by selling non-core mines and utilizing the proceeds to service debt.
In this way, Barrick Gold has amassed a cash-rich balance sheet, allowing it to pay a growing dividend and invest in increasing its Tier One mining portfolio.
Barrick Gold announced fourth-quarter results above analysts' expectations for the eighth straight quarter since the second quarter of 2020 on February 16, 2022.
It has announced plans to expand its copper mining operations in Africa. According to Barrick Gold's CEO, copper is now a strategically essential metal critical for the electrification of transportation and green energy sectors. In addition, it generates around 20% of the company's profits.
Barrick Gold stock is up 13.3% year so far, despite lately pulling down from yearly highs near $26. After dipping lower since April, GOLD is starting to recover. At the time of writing, the price is trading at 21.70.
BHP Group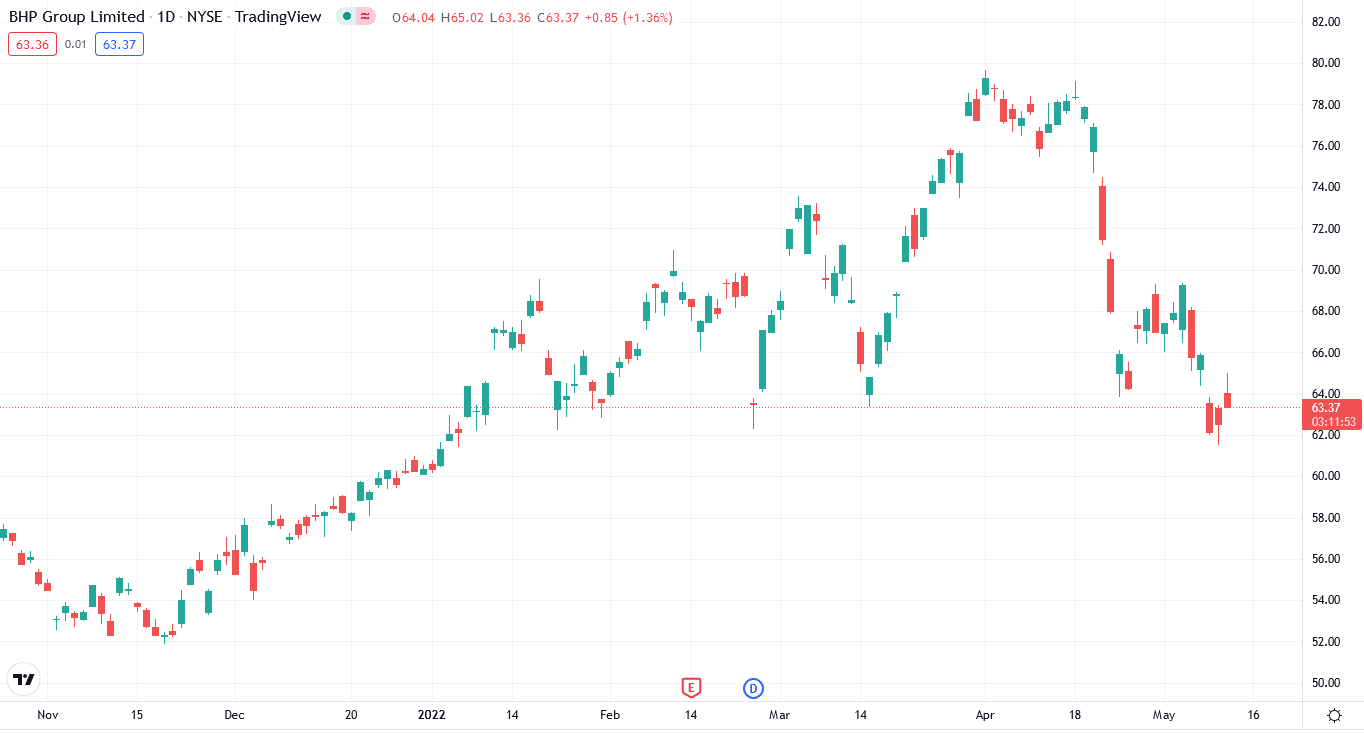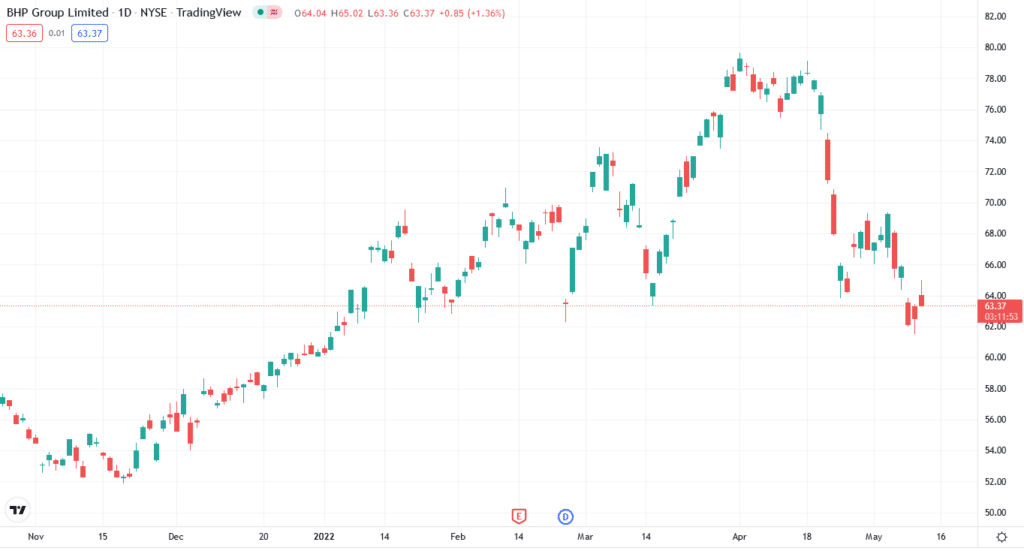 52-week range: $51.88-$81.03
1-year price change: -20.95%
Forecast 2022: $61.40-$79.55
BHP Group is a mining giant. It owns and runs mining assets that extract and process ore. BHP also has a petroleum division that produces oil and natural gas, although it is exiting the fossil fuel market.
The company is selling its coal assets, while its oil division is combining with Woodside Petroleum in a deal expected to complete later this year. BHP will become an entire mining business as a result of the deal.
BHP also mines gold, although it is part of a diverse portfolio. That's not ideal if gold surges and you want a pure gold investment. However, recent broader inflationary tendencies may elevate the overall BHP industry in the months ahead, offering you more options to benefit and a hedge against going all-in on gold if you want to limit your risk.
Even when commodity prices are low, the mining corporation is well-positioned to invest in high-return growth projects. Its output volume is pretty steady.
While cash flow varies, BHP's low expenses allow it to produce enough free cash flow to pay dividends and buy stock consistently.
Franco Nevada Corp.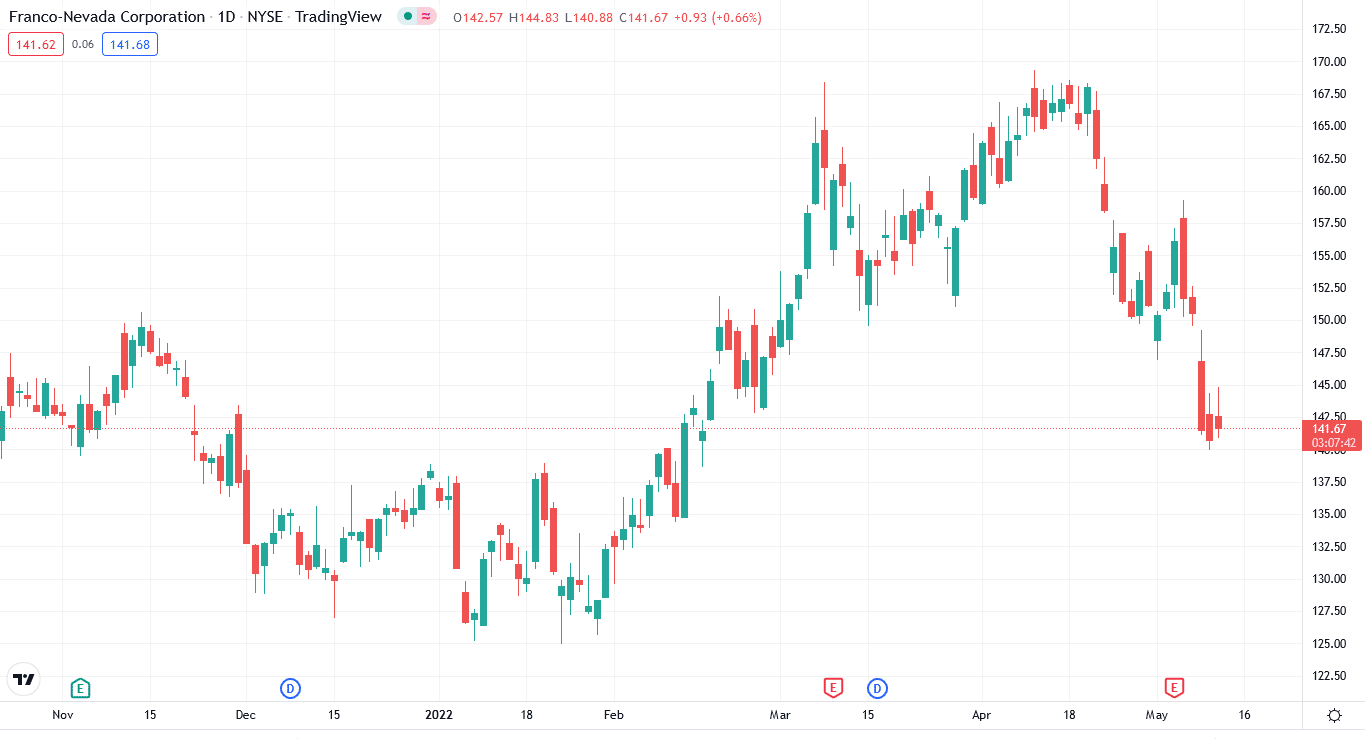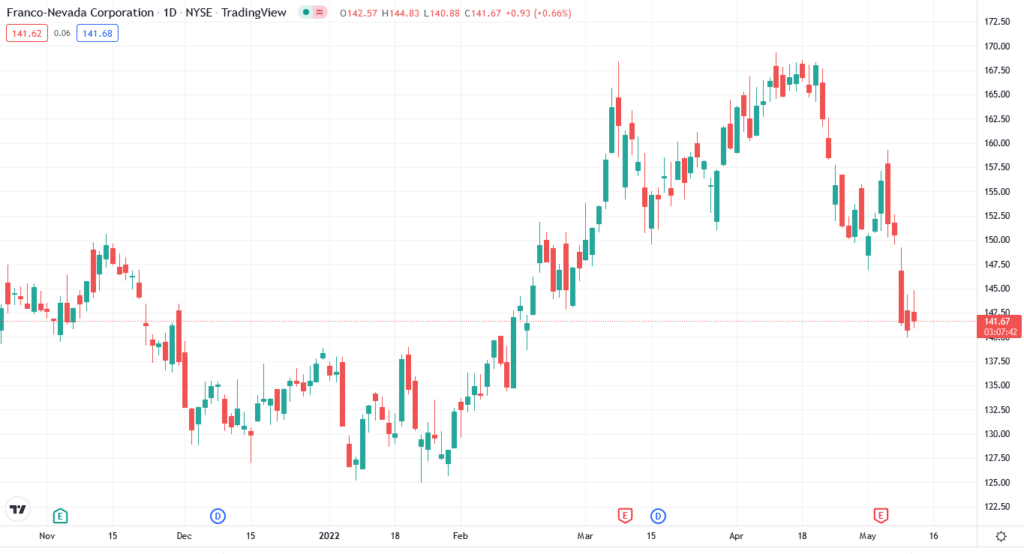 52-week range: $124.95-$169.32
1-year price change: -4.59%
Forecast 2022: $125.25-$169.33
Franco Nevada is streaming and royalties firm established in Canada. Its diverse portfolio includes contracts connected to gold, silver, platinum, oil, and gas. One significant advantage of Franco Nevada's emphasis on royalties and streaming is that it decreases risk. As a result, it is not subject to the capital and operating cost overruns previously plagued mining businesses.
Likewise, Franco Nevada's agreements position it to profit when its mining partners finish exploration and development projects.
Since its initial public offering (IPO) in 2008, Franco-Nevada has grown its dividend every year, reaching a milestone of 15 straight years in 2022. The firm also has a debt-free financial sheet, which is unusual in the mining sector.
Franco Nevada's stock has traditionally outpaced the price of gold and other gold mining equities because it can benefit from gold mining without being exposed to the risks of mine development. All of these elements combine to make it an excellent mining stock.
If you just looked at FNV stock from 2022, you may be impressed. However, from a larger historical perspective, this would not be the first time this stock has made such a move since 2020. In reality, over its history, the stock has generally traded sideways.
FNV has never appeared to have great growth possibilities. Since going public in 2011, it has only grown by slightly more than 330%. However, value investors may frequently rely on the stock to buy low and sell high.
| | |
| --- | --- |
| Upsides | Downsides |
| Mining sector has huge growth potential. | It's hard to do research about these stocks. |
| These stocks can act as a hedge against inflation. | These stocks don't necessarily grow during times of uncertainty. |
| These assets have good long-term potential. | Mining stock prices are linked with the metals, so any decrease in these metals can bring the stocks down. |
Final thoughts
Mining stocks have been stepping up in these uncertain times. So getting into mining stocks shows good long-term potential. If you want to invest in mining stocks, check the company's history and its financial data.