Imagine buying a stock today that shoots for the moon in a few years. With the profit earned, perhaps you can quit your job and start pursuing your bucket list one by one. After GameStop made a sizable rally in 2021, you might have added it to your list of prospective stocks to buy in 2022. The return on your investment would indeed be life-changing.
GameStop rose about 1,600 percent in January 2021. The stock has gone down about 68 percent from its high in January at the time of publishing. Despite the correction, the stock is still up by 700 percent in 2021. Had you invested $5,000 at the beginning of the year, your investment would have been $35,000 now.
With this huge run in one year, perhaps it is time to secure some profits or liquidate open positions. Experts say the share price could still drop by 78 percent. Whether the stock is worth buying or not rests on some key factors. Will the company make more sales, develop new products or services, or encourage institutional investors to jump in? We will find out next year.
If you are considering buying GameStop in 2022, consider this stock's fundamental and technical outlook in this article. This way, you can decide if this stock still has potential for growth and when you should buy.
What is GameStop?
Headquartered in Grapevine, Texas, GameStop sells consumer electronics, multiple-channel video games, and game accessories such as headsets and controllers. The company runs stores in the following locations: Europe, Australia, Canada, and United States. The image below shows one store.
Investors typically purchase shares of GameStop in the New York Stock Exchange through the ticker GME. Therefore, anyone who wants to buy this stock must connect to a broker with NYSE access. This is the primary exchange where you can trade GameStop.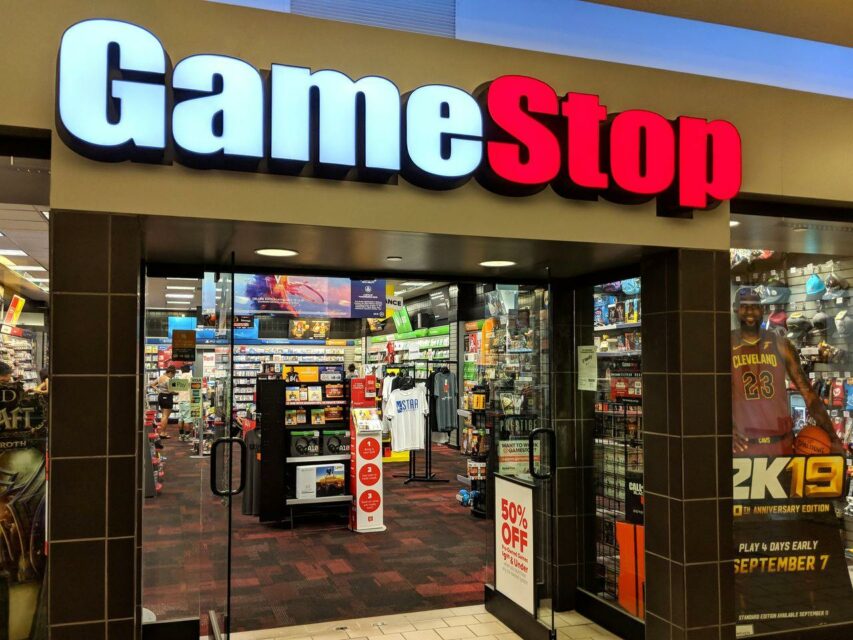 Can you trade GameStop now?
You may purchase shares of GME stock right now, but you should exercise caution. Because of the tremendous volatility this stock displays in 2021, some brokers limit how much investors can trade this stock. At some point, brokers even disabled the option to buy this stock and allowed selling only.
Due to the high volatility, placing stop-loss orders was a challenge early this year, and brokers even stopped trading altogether in the face of extreme volatility. While limit orders allow you to get the best entries, this might not work for GameStop. Your entries might get filled way beyond your desired price if you do.
Fundamental aspects of GameStop
The fundamental aspects of GME do not look so good. Market analysts estimate a loss of $1.74 per share in 2022. You should look at two essential metrics as an investor: the P/E ratio and EPS ratio. If you go to Yahoo Finance and do a quick search, you will find out that GME stock has an EPS of -2.19 and a P/E ratio of N/A.
The N/A P/E ratio is understandable because it depends on the EPS, which is negative.
On the company's part, having a negative EPS is not always bad. It could mean the company is not making profits right now as it invests money on essential projects. However, from an investors' point of view, a company with a negative EPS is generally a bad thing. Therefore, GME stock is not worth buying due to its negative EPS.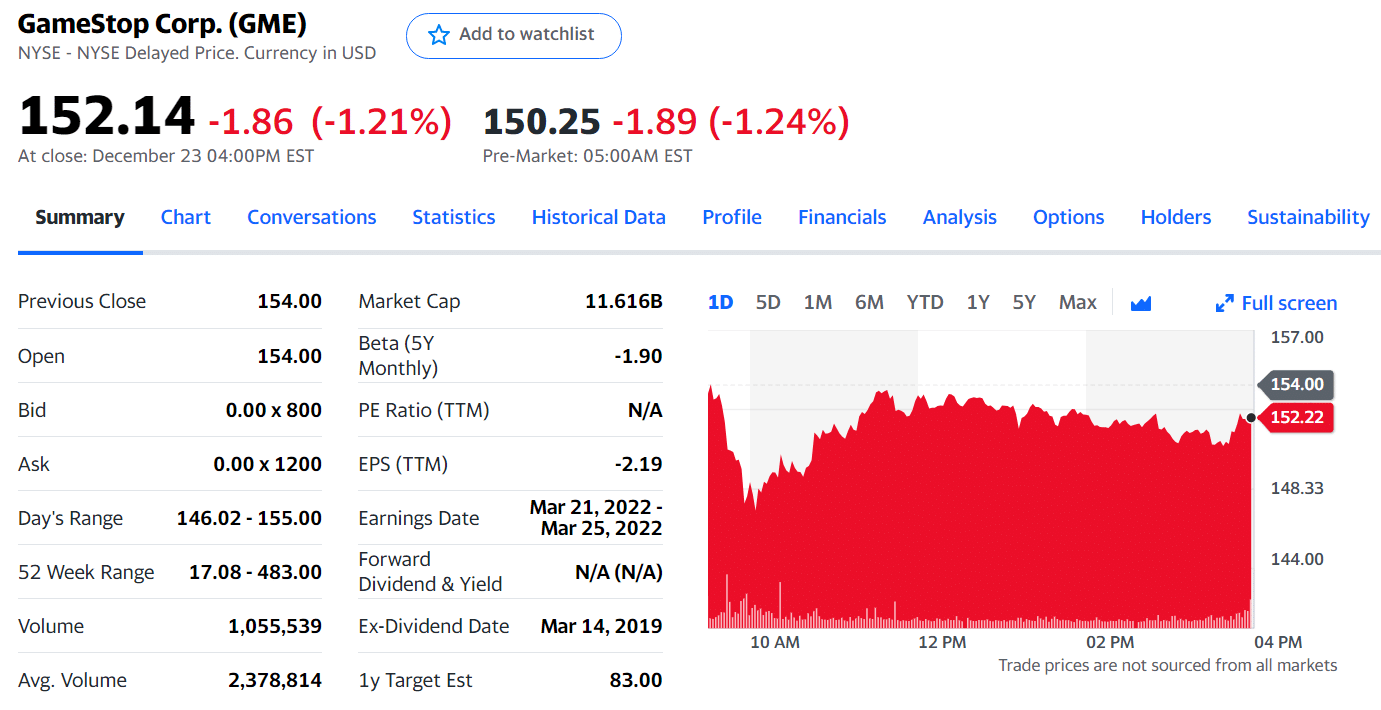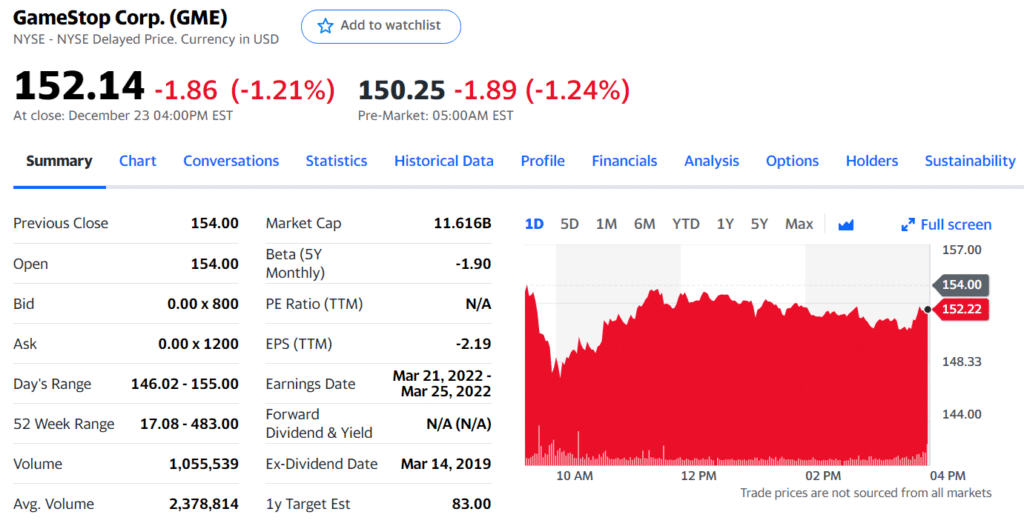 Technical analysis of GameStop
The chart below shows that price is stalling in between two long-term moving averages (200 EMA and 400 EMA). The uptrend is intact as long as the price does not break below the 400 EMA. Additionally, the price is above long-term support (refer to the first horizontal box).
However, the stock is currently in a do-or-die situation. If it breaks above the 200 EMA, the uptrend continues. If it breaks down 400 EMA, a downtrend may ensue. If the breakdown does happen, we can look to the two demand areas below the current support for clues if buyers may come in. If not, then a huge sell-off might occur.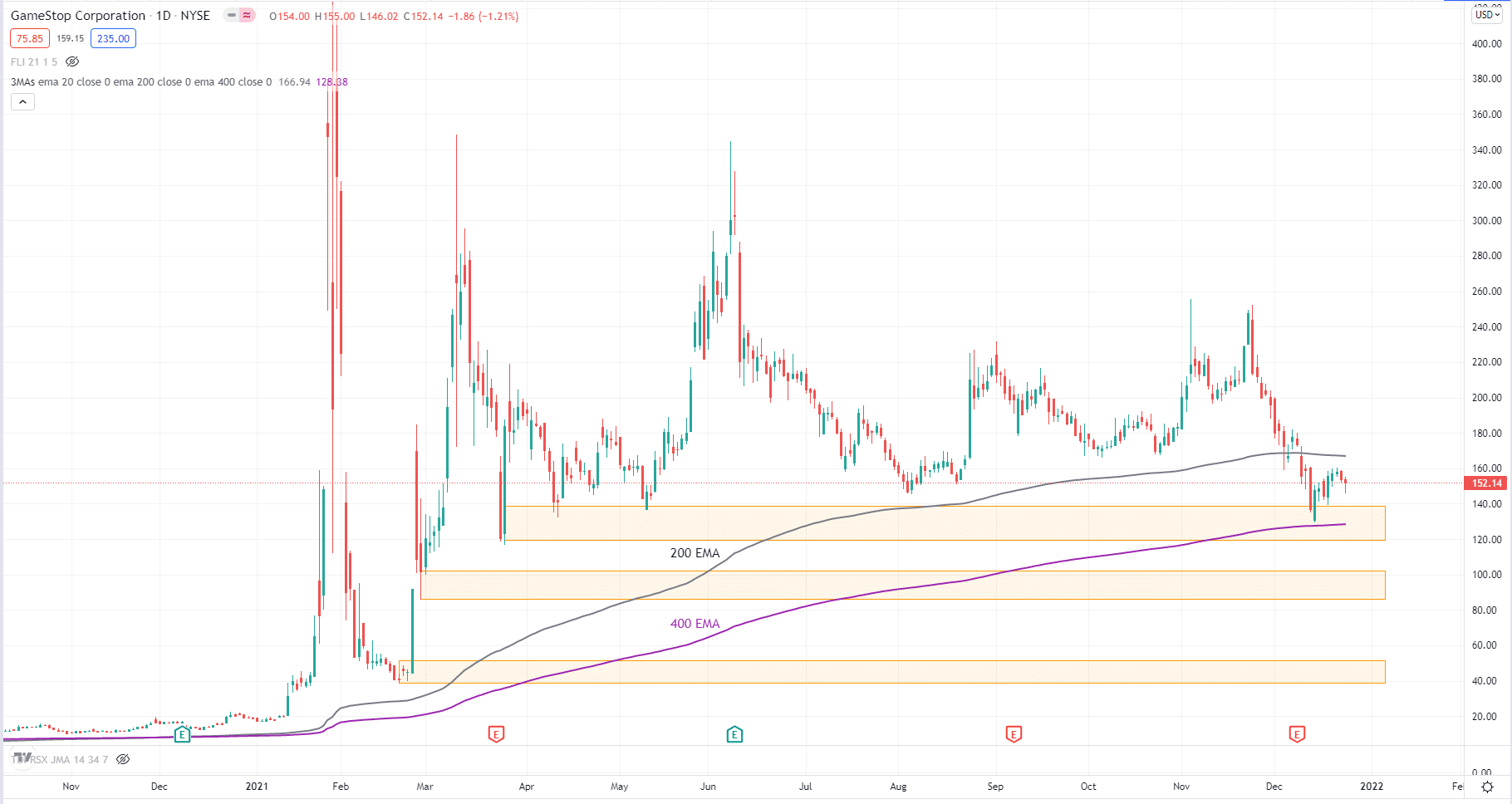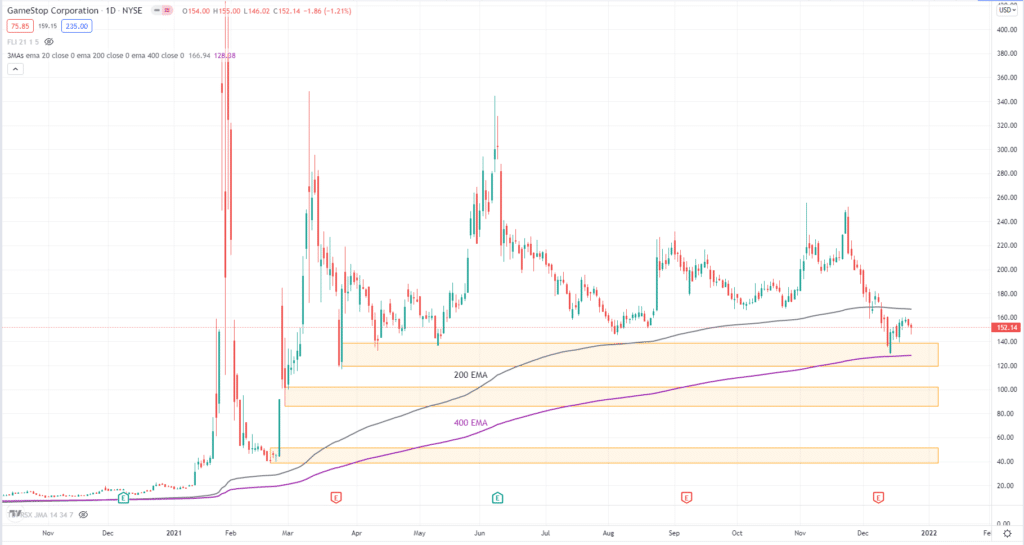 How to trade GameStop
Considering the fundamental aspects of GameStop are negative, you might stay away from this stock as a fundamentalist. If you are a technical trader, you might want to give this stock a chance as the trend is neutral. If you buy this stock, hoping for support to hold and the uptrend to continue, be sure to control the risk. Set your target as close as possible from entry, exit at the next resistance, and risk a small amount.
Keep in mind that markets typically accumulate before the markup phase. Therefore, when the price consolidates for several weeks and then breaks out, that is a good thing. This is a clue that you might see a sustainable trend. If you can wait for this scenario to unfold, that is a better entry.
Is GameStop stock worth buying now?
Investing in GameStop can be exciting, considering its performance in early 2021. Investors who got on board early should have earned hefty profits. However, that is already history at this point. What is important is what the future holds for this stock and investors. It appears the outlook is unclear. Fundamentals look bad, but technical aspects offer investors some hope.
The price chart looks volatile with no clear direction. Price seems to be stuck between the high and low established at the start of 2021. Although you can buy the stock while it is resting on support right now, we cannot say it will not break down. The minimum requirement for a buy entry is a bounce at support, the break of 200 EMA, creation of a higher low, and continuation of the upward movement.
Final thoughts
If you want to engage GameStop as a short-term investor, that is possible if you enter clear discount zones. Currently, the price is in one of the long-term support zones. This could be the best time to take a short-term buy. Just make sure you limit the potential loss by setting your stop close.
Keep in mind that the safest strategy is to invest over the long haul in stocks with long-term potential. To make the decision, check out the fundamentals. Is the company planning a project that could propel the share price higher? If what drives the price is only hype, the stock could plummet once the hype fades. If fundamental factors look good, look at the chart if it follows suit.