Everyone wants to earn money either through part-time or full-time jobs. Yet, InboxDollars puts forward the easiest way to make money in your leisure time only by doing random online tasks. It offers passive income or cash backs on regular and daily-based tasks like online games, online shopping, or filling surveys.
For example, by signing up for the InboxDollars application and responding to the introductory study, you can earn $5.0 and $0.50, respectively. See how easy it is.
InboxDollars is a treat box for both the consumers and brands as it serves as a connecting bridge between them. It promotes products and tends to increase viewer's engagement and sales and, in turn, reward the customers with cash or gifts regularly.
Since the popularity of earning passive income is increasing, there is plenty of information about InboxDollars available. This article further breaks down all the vital information regarding InboxDollars that you may need to achieve your goals or get to know whether the platform is perfect for you.
What does InboxDollars offer?
It is one of the most popular, accessible, convenient, and secure platforms to earn cash and not points for your daily online activities. These activities vary from playing online games, shopping, researching or reviewing surveys, watching videos, or simply using search engines or websites for any needed information.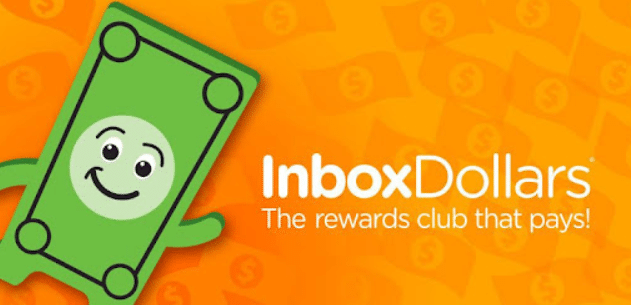 1. Safety and security
InboxDollars is a safe and secure platform for earning money online from the comfort of your homes or anywhere you want. However, it tracks your data and asks for personal information in surveys, but it is how you can earn money.
Moreover, this tracking is not different from Google and other sites that track your online activities for promoting brands and other purposes without giving you any penny for it. To note, it has gained 4/5 stars from 9000 viewers on Trustpilot. So, it is a legitimate source to trust on.
2. Membership plans
By now, you have already signed up to your InboxDollars account and earned a 5$ bonus congratulations. Now comes the real treat. You can add more to your earnings by referring the app to your friends, and when they sign up through your referral link, you get a $1 bonus.
Not only this, but you can also earn an additional 30% amount your referral has earned through InboxDollars. You can send a link by clicking on the refer friend option on the top grey menu bar and choosing the preferred share option.
So, just by sharing a link via various options, you can earn a member referral reward of, for example, $7.50 on your friend's making of $25.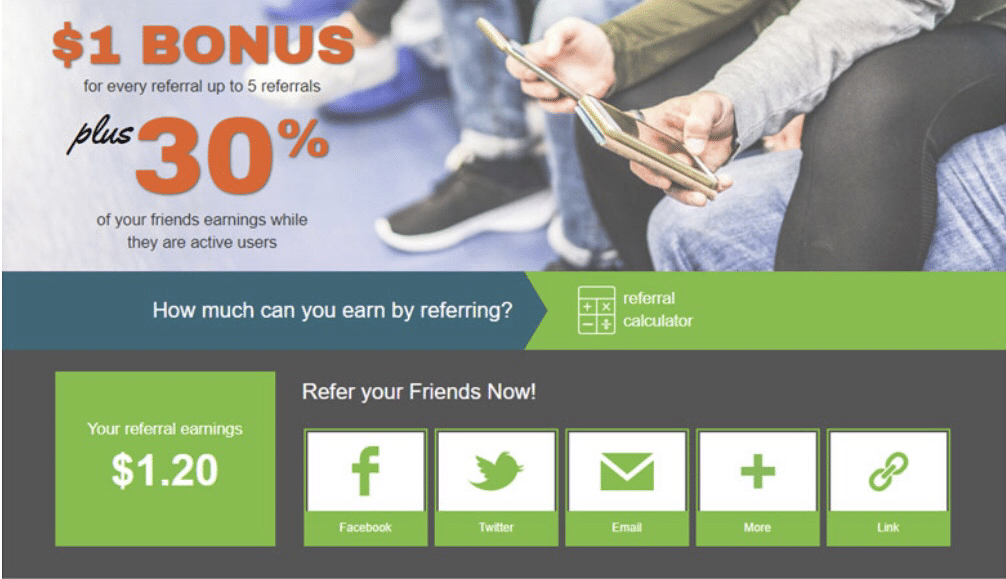 3. Budgeting and goals
InboxDollars has recently added a new feature of daily goals besides the daily list in the right upper corner of the homepage. It is a personalized cash amount for you to earn daily or exceed to get a bonus.
You can start your daily goal by completing small tasks like WinIt codes, scratch coupons, or surveys and videos that do not take several hours or a long time to credit. Moreover, you can earn an additional bonus on completing goals consecutively and managing a streak. Like you can earn $0.10 extra for a five days streak.
However, earning additional money doesn't mean spending it all. You can save this money by tracking the total earned amount through several sources and make a budget plan.
4. InboxDollars special features
Not only this, InboxDollars offers a long list of common activities that are usually done in free time and earn real cash and not gift cards or coupons.
For example, you can earn money by scrolling through InboxDollars videos, get cashback on shopping, or get paid by scratching coupons, playing games, responding to promotions, or even by only downloading or referring InboxDollars applications to friends.
You can use any cash-earning options and through any device that has a stable internet connection. You can use a computer, laptop, tablet, or mobile and even download the application on iOS or Android to earn and navigate your potential revenue easily.
5. Alerts
If you have logged in to your InboxDollars account and your mobile's GPS is on, you can be notified of the related offers or check-in alerts while passing by the markets or stores. Nevertheless, you can choose to get notified with the check-in notifications or when the notification appears from the in-app settings. In addition, InboxDollars also informs its members of the specific opportunities the member is constantly earning.
For example, you can receive an email regarding the PaidEmail policy or new in-app features to let you stay updated and earn more.
6. InboxDollars transactions report and fees
InboxDollars has collaborated with multiple trusted brands to offer easy and robust earning opportunities. As a result, it has rewarded approximately $57 million cash rewards to its members since 2000. However, to transact your income, you must have a minimum of $30 in your account. After that, you can go to "My Account," select "Request payment," and then choose payment options per your convenience and preferences to get your reward.
You also have to pay a $3 processing fee for your first $30 payout, but you can also waive this fee by agreeing to get your payout at a minimum of $40. Otherwise, it is free to use.
The total payout processing time for non-gold members is 10-16 days after your payment request. After your first payment is processed, you automatically become a gold member, and the processing time is reduced to 3 to 9 days. Gold members can also choose between payment options that are processed the same day. However, mailing cheques to the recipient through the US Portal office takes nearly two weeks.
7. Support
For further queries and support regarding the InboxDollars account or application, you can also click on the support center link on the member's section. It takes you to the contact information, and from there, you can discuss your query directly through the contact form.
Pros and cons of InboxDollars
However, this app is easy to use, but some things make the whole process a little tricky. Following are some of the main pros and cons of InboxDollars.
| | |
| --- | --- |
| Pros | Cons |
| • InboxDollars offer a $5 bonus to beginners on signing up for their application. | • The minimum payout amount is very high. For example, you must have $30 to get your first payout. |
| • It offers the easiest way of earning more money by providing multiple easy money-earning options. | • There is relatively less earning than this application's efforts, and some tasks are also time-consuming. |
| • You can transact money through multiple options like eGiftCard, Visa card, or cheque without paying additional fees. | • It doesn't offer PayPal or direct deposits, while most transaction options are limited to US residents only. |
Final thoughts
InboxDollars, irrespective of diverse views, is a secure platform with great options and benefits. You have to play wisely, and you are ready to go.
You can even optimize or make the most out of your generated income through InboxDollars by staying updated on the offers, other earning opportunities, and membership plans, as it can allow you to earn more money in less time.
So, InboxDollars is one of the best alternatives to make money online.