The Voyager app may come in handy if you seek the lowest price on your crypto and want someone else to do the hunting for you. The crypto brokerage offers various services that allow you to make passive income from your crypto assets.
If you're interested in crypto investing but don't know where to begin, our Voyager review will help you determine if this broker is ideal for you.
What does Voyager passive income app have to offer?
Voyager, founded in 2017, is a mobile crypto broker that offers commission-free trading on more than 100 cryptos and crypto services for both users and institutions.
The mobile-only broker provides a wide range of cryptos and enables commission-free investments with a few easy clicks. The platform's smart order is one of the key features, as it assures you always pay the best possible price for your crypto orders.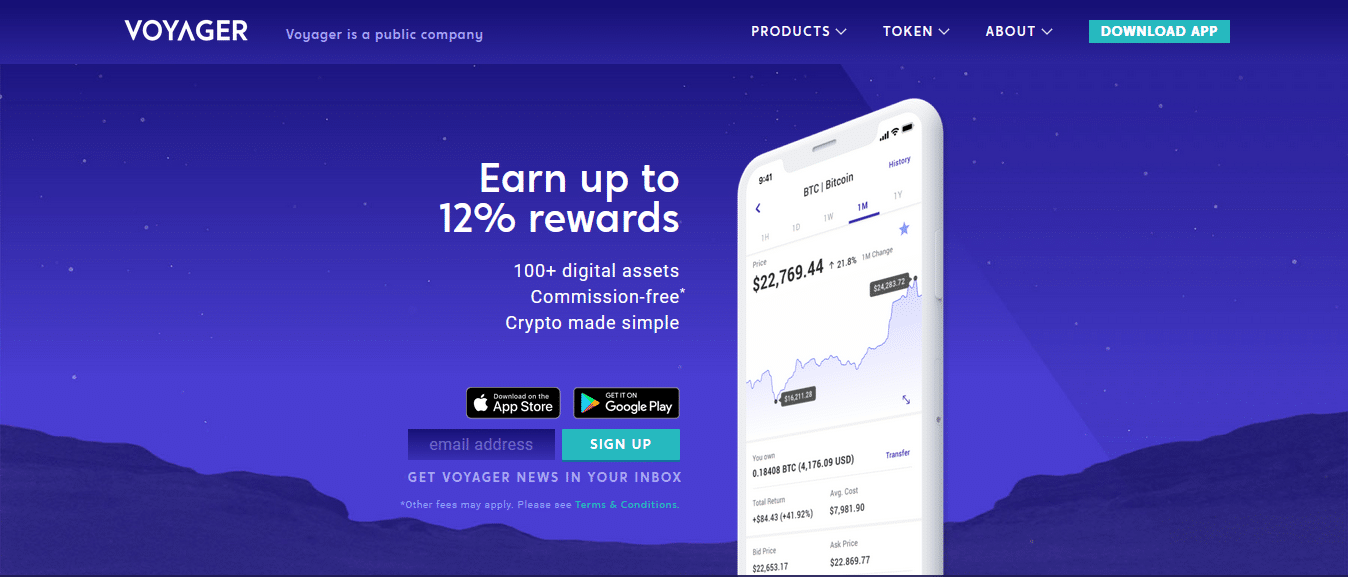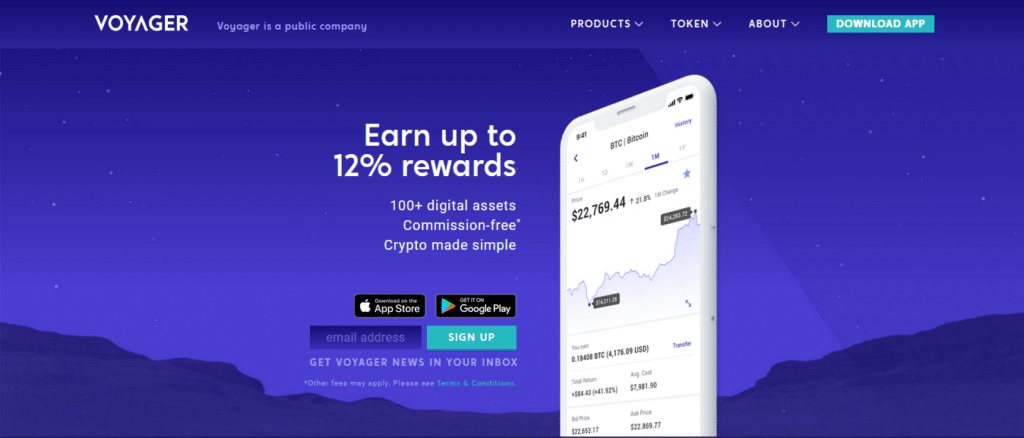 The broker also provides a terrific interest rate for storing your assets on the platform, which is great for anyone who currently has cryptos to test the Voyager platform.
It's worth noting that Voyager is a broker rather than an exchange like Coinbase or Gemini. When you place a crypto trade, Voyager collaborates with several exchanges and partners to assist complete your trade at the lowest possible cost.
Let's dive into how the broker scores in each area.
1. Safety and security
Voyager is a publicly listed corporation in the United States and is regulated. As a result, you should expect some security measures, such as having cash in your Voyager account guaranteed by the FDIC (Federal Deposit Insurance Corporation).
You can keep your coins in Voyager's custodial wallet or move them to an external wallet of your choice. Voyager claims to employ the best procedures to safeguard accounts. You may activate two-factor authentication, and the app recommends that new users create a secure password.
Voyager connects to your bank account via the Plaid service, which tokenizes your info to make it more secure.
2. Membership plans
Voyager uses the smart order routing algorithm to discover the optimum pricing rate by evaluating the price feed of over a dozen reputable exchanges and then taking advantage of movements in crypto prices.
When Voyager discovers price disparities, it profits from the spread. The technology in the program allows it to compare crypto values across exchanges.
When Voyager finds a price reduction, it transfers part of the savings onto you while keeping a piece of the savings for itself.
3. Budgeting and goals


Voyager, as a broker, links you with over a dozen crypto exchanges to trade over 100 currencies. When you make a trade, you choose which currencies to buy or sell but not which exchange they originate from. You may develop a diverse portfolio of crypto assets without signing up for and managing several exchange accounts.
4. Special features
You may earn staking rewards by buying and holding specific crypto-tokens contributing to the blockchain network. For example, Voyager provides staking incentives on 30 different coins.
The rewards are fairly high, with yearly increases of up to 12%. In comparison, Coinbase gives up to 5% in yearly staking rewards.
Voyager also provides a debit card with no annual charge that allows you to use USDC like cash and gives a 9% annual interest rate for storing USDC. You can also get rewarded for holding VGX, Voyager's native cryptocurrency.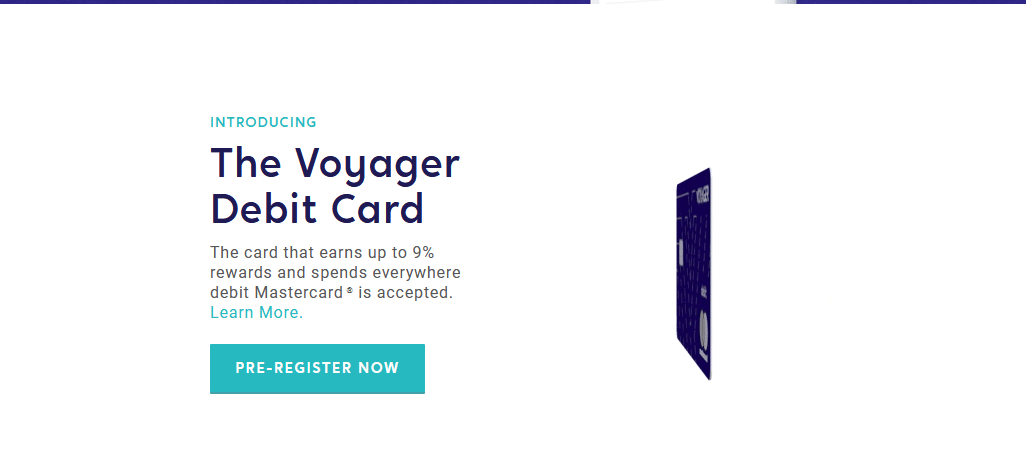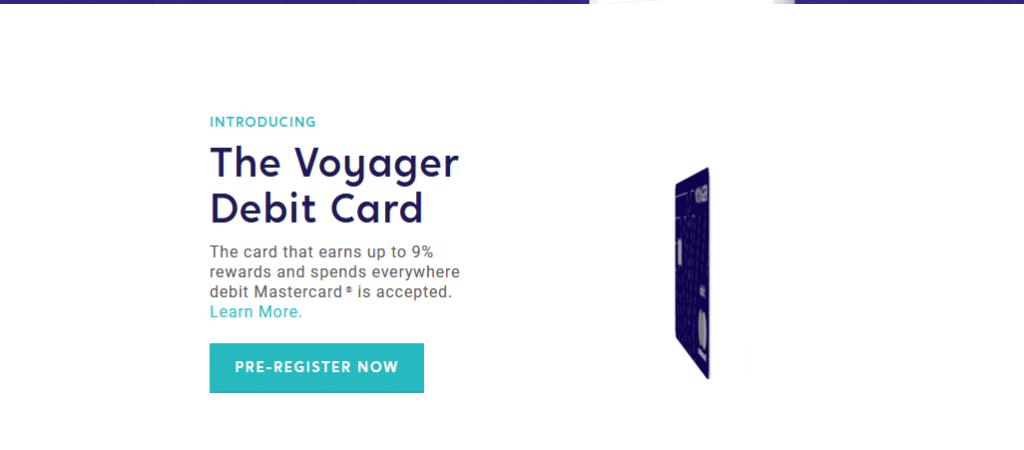 5. Alerts
Voyager names its blog a node. The blog aims to educate investors about current and forthcoming cryptocurrency projects, offering critical insight into why they could or might not be viable investments. The blog is routinely updated with information created just for beginners.
The Voyager app also contains a crypto news feed that refreshes in real-time, giving market information. This function is helpful for anyone who wants to invest in a crypto startup based on a favorable news piece.


6. Transactions and reporting
The minimum trade amount on the Voyager crypto app, including recurring orders, is $10. A market order has no defined price on Voyager.
Each crypto accessible for trading on the Voyager app has a daily order limit of $10,000. However, the quantity varies depending on the coin and is occasionally determined by liquidity conditions. You can make the deposits in either cash or crypto. Deposits are often processed and accessible for trading immediately.
New customers additionally have a $10,000 initial deposit limit and a $5,000 daily deposit limit. You can increase this amount by submitting additional verification docs. Withdrawals are available in over 30 cryptos and are completed within 24 hours without any fee.
However, if you want to withdraw your crypto to another wallet, you will be charged a dynamic cost. This fee is determined by the token in question and the current balance, and any network fees associated with accessing the blockchain to execute the transfer.
7. Support


Customer support is provided via email and in-app chat. The platform currently does not offer phone assistance. In addition to personal assistance, Voyager has a FAQ section that addresses some of the most frequent concerns customers have with the platform.
Pros and cons
| | |
| --- | --- |
| Pros | Cons |
| You can earn passive income on the app with the right investment strategy. | Only available in the US for now. |
| FDIC approves the Voyager app. | There is no crypto coin-to-coin exchange. |
| You can get up to 12% annual rewards on holding more than half of the coins. | No self-custodial function to secure digital assets. |
Final thoughts
Voyager's user-friendly mobile app makes investing in cryptocurrency very simple. It is also a possible passive income alternative due to the ability to receive crypto rewards through staking. Overall, the app is ideal for new traders or anybody looking for a low-cost option to trade crypto from their phone.