XFXea is an expert advisor that helps people with automatic trading. Now, it works on a real account for the developers. The presentation isn't informative enough. The developers insisted that XFXea can provide "regular profits" on our accounts.
The highlights of XFXea
The system has some features and details explained. We grouped them up in the following list. We hope it helps you to make a wise decision.
The system can work automatically on any account.
The developers decided not to show a strategy behind the robot. It's not professional.
We could find a combo of a Grid of orders and Martingale strategies.
They can be used on Trend and Price Action strategies.
"Thanks to special calculations and transaction algorithms, the developers were able to ensure that the system practically doesn't have loss periods."
It's featured by a recovery system to increase our profitability.
"The Entry Point calculates based on the range indicator data received from the terminal."
There are two pairs to trade: AUDUSD and EURUSD.
It opens orders with high frequency.
The main time frame to trade is H1.
Our account balance should be $1000.
The devs think that following features set the system apart from the other advisors:
Money management
The robot can calculate lot sizes for us and place TP and SL levels.
Generates monthly income
The robot provides up to 8% of the monthly income on average.
Drawdown control
The system controls drawdowns in order not to lose an account.
Trading strategy of XFXea
The robot works with Grid and Martingale strategies.
We can work with AUDUSD and EURUSD.
The time frame is H1.
Backtesting reports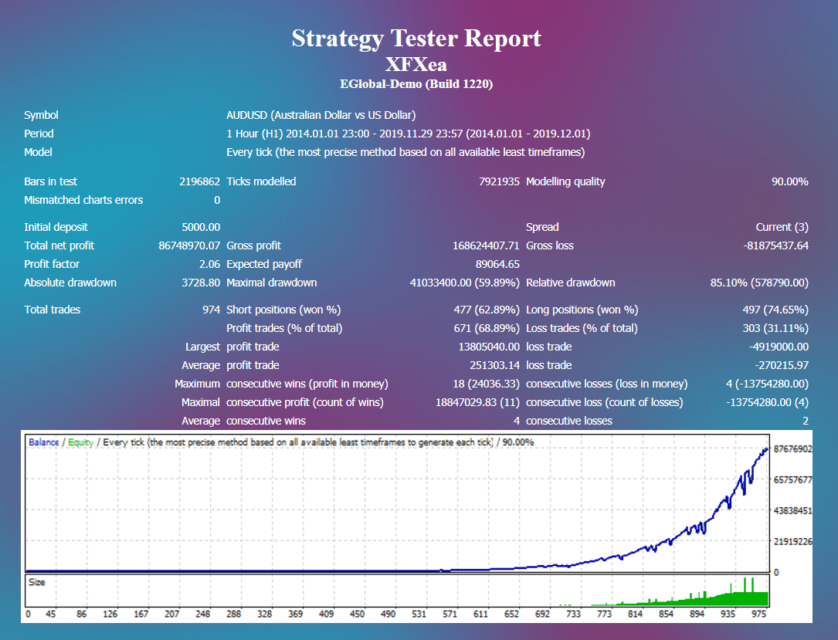 The devs provided us with an AUDUSD report on the H1 time frame. They picked a period of 2014-2019 years of tick data from EGlobal. The modeling quality was 90.00% with 3-pip spreads. So, they aren't representative. An initial deposit was $5000 that has become $86,748,970 of the total net profit. The profit factor was 2.06. The maximum drawdown was 59.89%. It's quite a risky number. The advisor traded 974 orders with a 62% win rate for shorts and 74% for longs.
Trading results in real time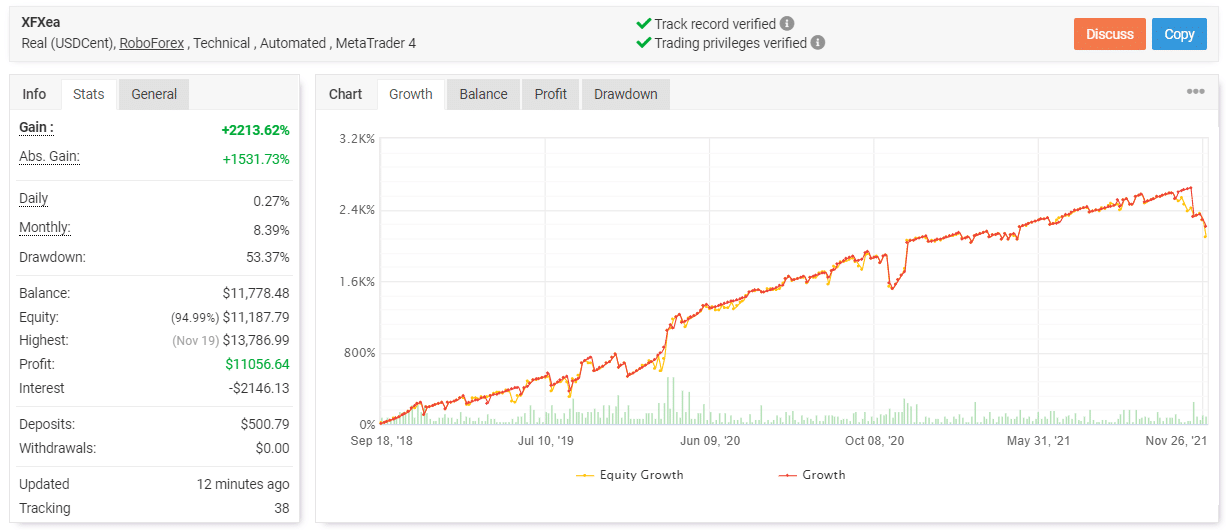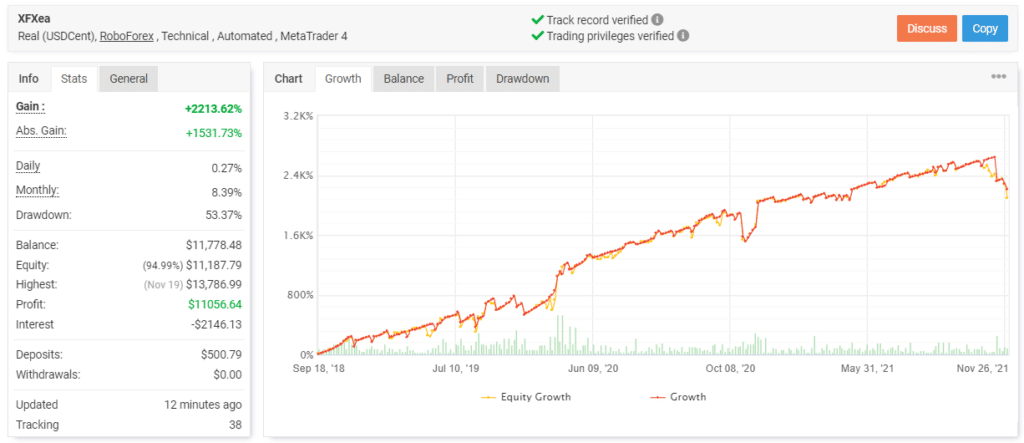 As usual, we've got a Myfxbook widget in the middle of the main page. The advisor has been running a real USDCent account on the well-known broker for automatic trading, RoboForex on the MT4. We don't know the leverage. The account has a verified track record. It was created on September 18, 2018, and deposited at $500.79. Since then, the absolute gain has become 2213.62%. Since our last visit, it's been 2600% or so. An average monthly gain is 8.39%. The maximum drawdown is 53.37%. It's an absolutely insane number.


The advisor has traded 600 orders with 3188.8 pips. An average win is 34.22 pips when an average loss is -47.20 pips. An average win rate is 62% for longs and 66% for shorts. An average trade length is three days. The profit factor is 1.41.


AUDUSD is the most traded pair with 336 orders at $6623.84.


The advisor prefers trading during the European session and just a bit during the Asian session.


Tuesday with 132 orders is the most traded day.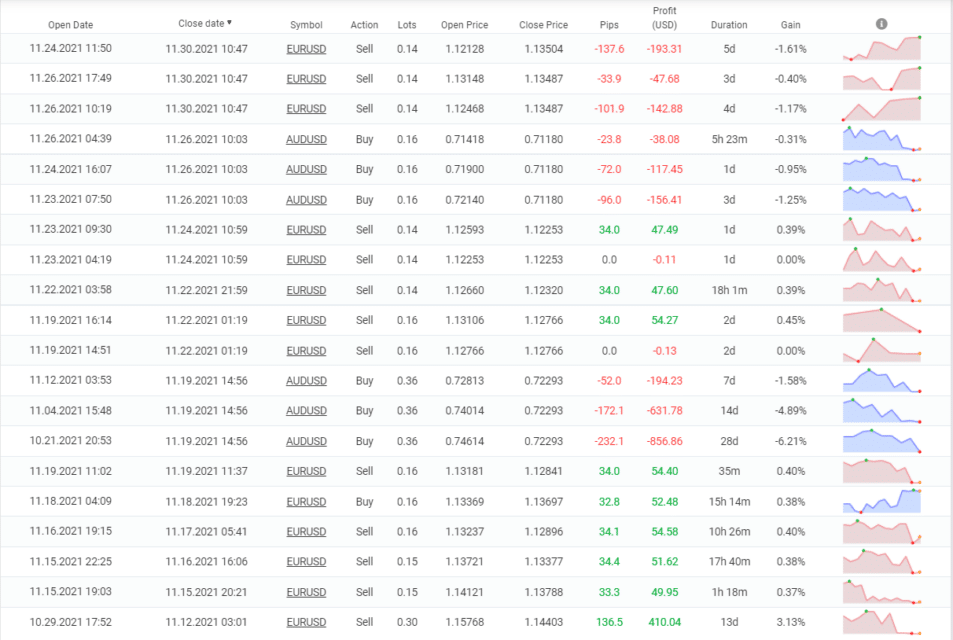 The last six deals were lost. As you can see, the system loses much more than wins.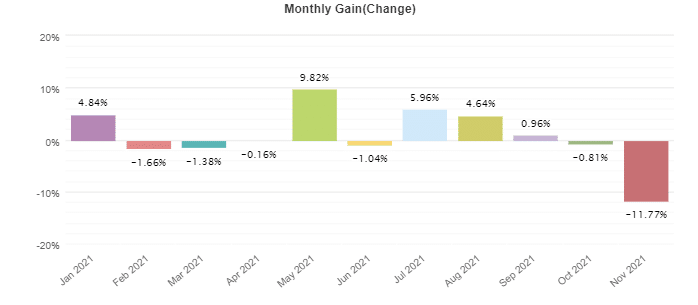 The system has never been a stable trading solution.
XFXea price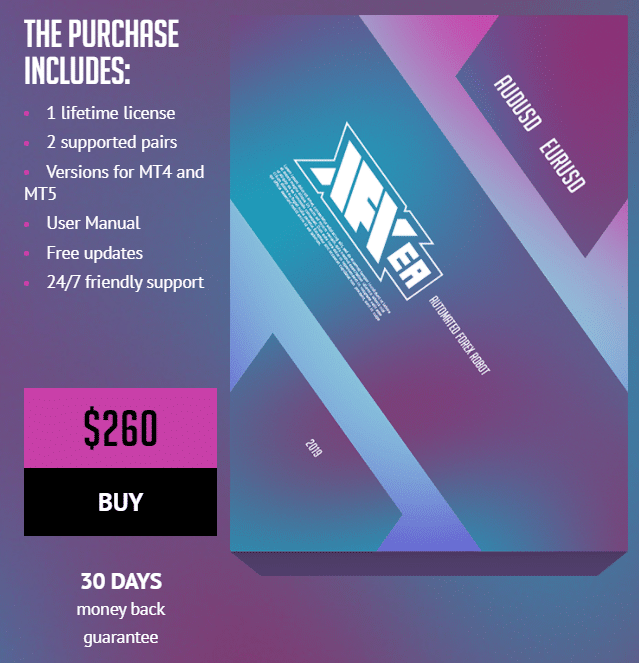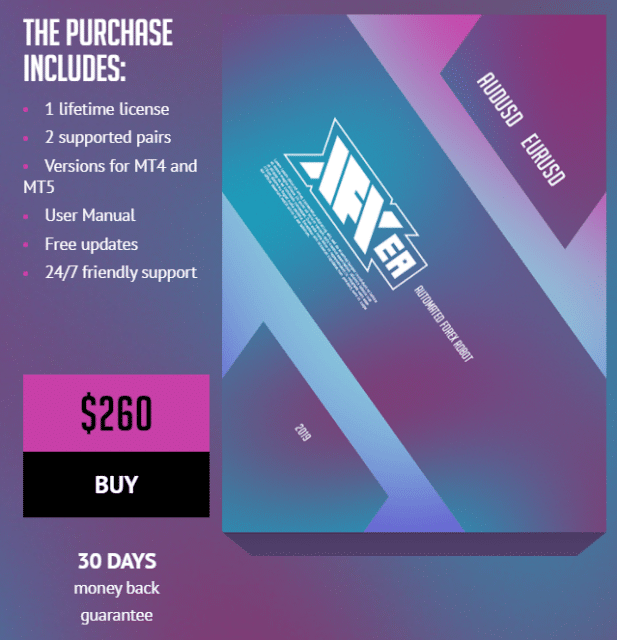 We can purchase a system for as low as $260. The package should include: one lifetime and two demo account licenses, MT4 and MT5 versions, user manual, free updates, and support. The refund policy lasts 30 days.
Customer support
The system provided average support. We can expect to get an answer within a day.
Are traders happy with XFXea?
As usual, "powered by Forex Store" systems have no Testimonials. It's a con because we don't know if the system is good to go.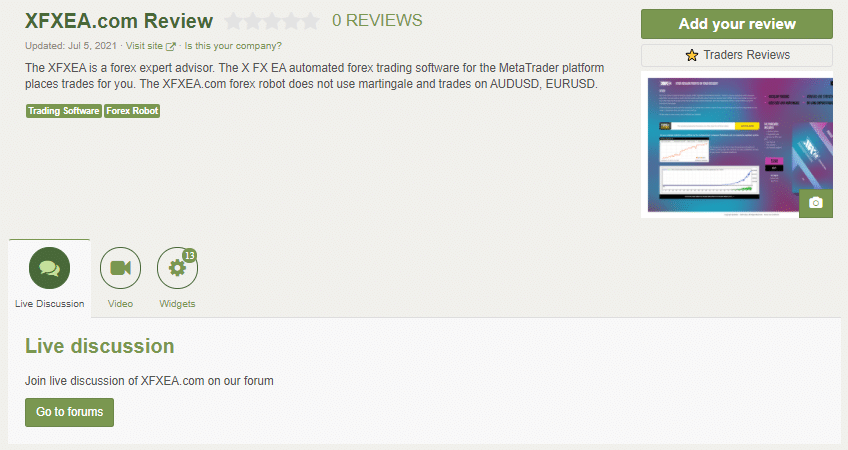 We have a page of XFXea on Forex Peace Army. Alas, there are no testimonials written about the system.
XFXea is a system that works with a risky Grid and Martingale combo. It forces the account to have huge drawdowns and big losses. We would like not to suggest you use this system. It's risky.
XFXea is a system that works with a risky Grid and Martingale combo. It forces the account to have huge drawdowns and big losses. We would like not to suggest you use this system. It's risky.
Advantages
Backtest reports provided
Trading results shown
Disadvantages
No risk advice given
No settings explanations provided
No team revealed
No strategy details explained
Horrible trading results
No testimonials written