Happy Algorithm PRO is a Forex expert advisor from the Happy Forex company. As per the vendor's claims, the system is suitable for pro traders as well as new users. It is a 100% automated system that is compatible with the MT4 trading platform.
Happy Forex is a company based in Germany that manufactures automated trading systems. It has been around for over five years. Some of the most well-known EAs from this team include Happy Power, Happy Galaxy, Happy Way, Happy Trend, Happy News, and Happy Fast Money.
The highlights of Happy Algorithm PRO
Here are some of the key features of this EA:
ECN brokers supported
This expert advisor is compatible with ECN brokers. These brokers use various liquidity providers, thus allowing the prices from multiple providers to compete in the same auction. As such, traders are able to get better prices and cheaper trading conditions.
Compatible with multiple account types
Happy Algorithm PRO supports Standard, Mini, and Micro Accounts. This makes it suitable for experienced traders as well as beginners who wish to get started with a small deposit. The recommended deposits for Micro (0.01 lot), Mini (0.1 lot), and Standard (1 lot) are $1000, $10.000, and $100.000, respectively.
Unlimited number of demo accounts
When you purchase this robot, you get access to an unlimited number of demo accounts. This lets you test the performance of the system without investing any real money.
Trading strategy of Happy Algorithm PRO
This is a robot that measures correlative deflections. It can also measure the performance of the settings and perform statistical analysis to get optimal stop loss and take profit. After measuring the valid price deflection of the correlative pairs, the robot shows the difference as a line.
Backtesting reports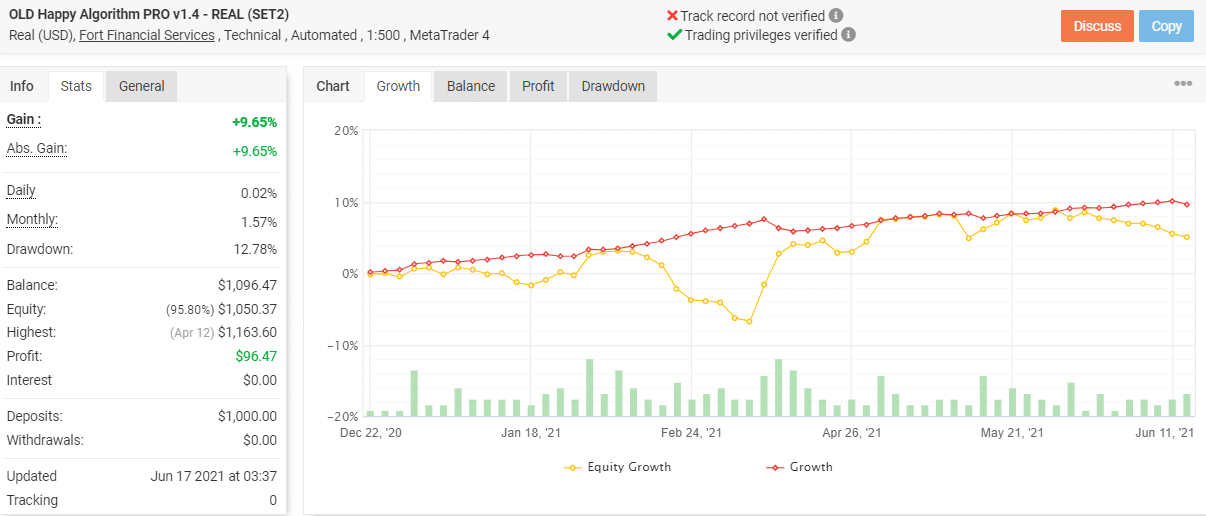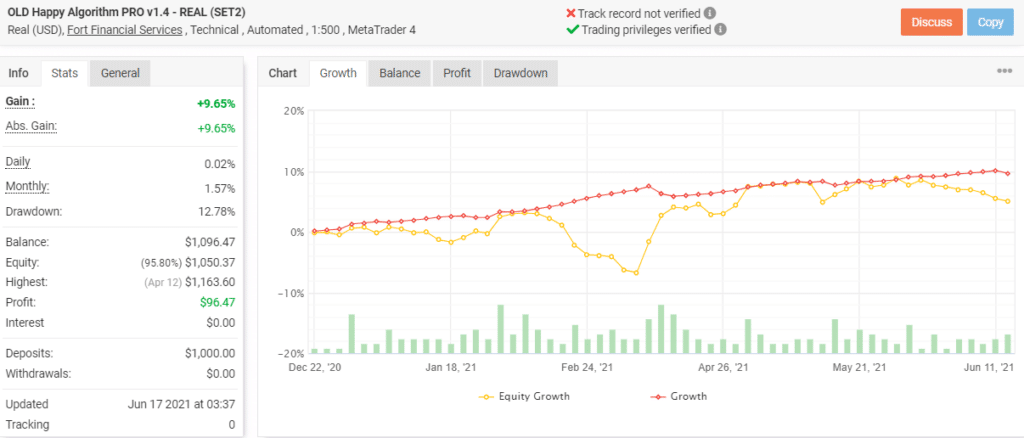 At this moment, there are no backtesting results for this expert advisor. However, we have this old trading account on Myfxbook that was active from December 22, 2020, to June 17, 2021. The EA conducted 432 trades through this account, winning 56% of them and generating a total profit of $96.47. This archival account had average daily and monthly gains of 0.02% and 1.57%, respectively.
Trading results in real time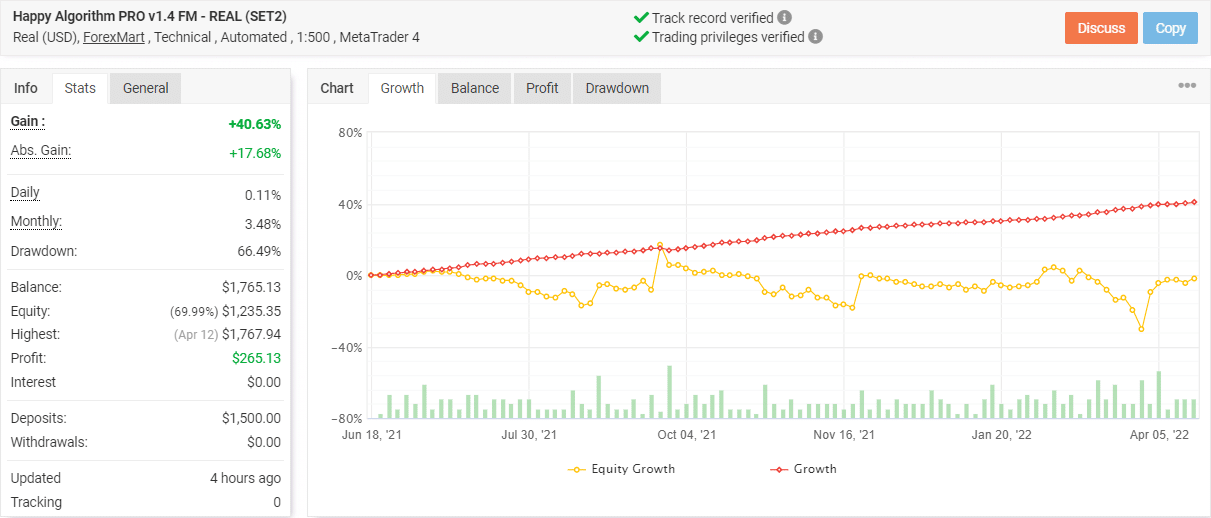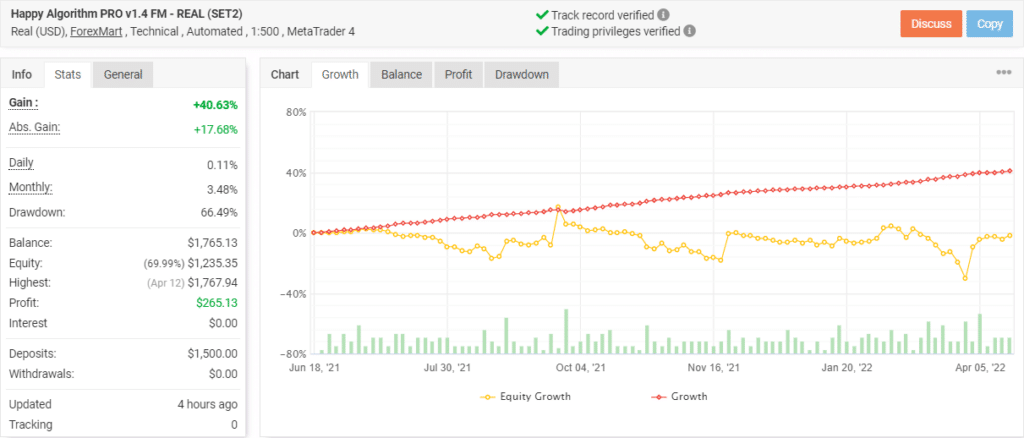 Here we have a live trading account that was launched on June 18, 2021. After conducting 691 trades, the win rate for the account stands at 57%. Apart from the decent win rate, the account has a profit factor of 1.28.
The daily and monthly gains for this account are 0.11% and 3.48%, respectively. Looking at the drawdown of 66.49%, we can tell that the EA is following a high-risk strategy. The total profit generated by the EA is $265.13, while the time-weighted return is 40.63%.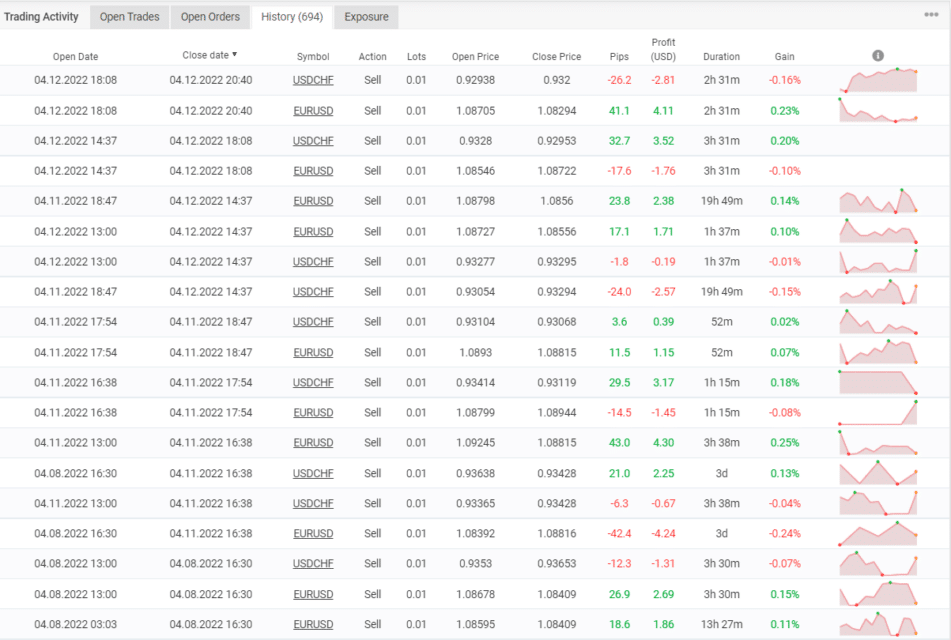 From the recent trading history, it is evident that the EA is capable of growing the account at a steady rate. While it does suffer occasional losses, it is capable of recovering them in the following trades. For the last few trades, it has used a lot size of 0.01. The average length of each trade is 4 days, and the average win and loss are 29.50 pips/$3.06 and -29.82 pips/-$3.12, respectively.
Happy Algorithm price
This EA is a part of the Happy Forex Full Pack. When you make your purchase, you get a total of 10 EAs. For two real account licenses, you need to pay 299 Euros. Five licenses, on the other hand, cost 499 Euros. Compared to the market average, the licenses are quite affordable. The seller offers this product at a 30% discount while also offering a 30-day money-back guarantee.
Customer support
If you are in need of assistance, you can contact the support team through the contact form on the website. The official email address can be found on the Facebook page.
Are traders happy with Happy Algorithm?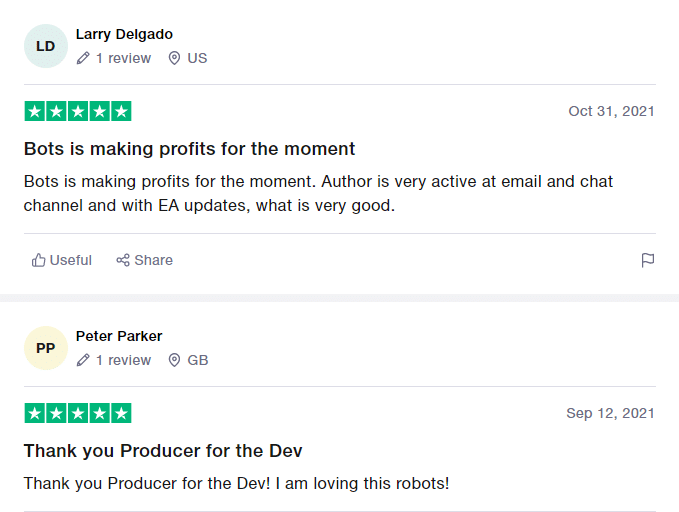 While there are no reviews for this EA, Happy Forex is highly rated by users on Trustpilot. Many of them have praised the performance of the robots.
Happy Algorithm PRO
Happy Algorithm PRO
Happy Algorithm has a decent win rate and comes for an affordable price. The fact that you get to use nine other EAs with it is an added plus. Furthermore, the vendor offers the protection of a money-back guarantee.
Happy Algorithm has a decent win rate and comes for an affordable price. The fact that you get to use nine other EAs with it is an added plus. Furthermore, the vendor offers the protection of a money-back guarantee.
Advantages
Verified trading results
Money-back guarantee
ECN brokers supported