Saving money is hard. Wouldn't it be great to have someone to do it for you? Some financial advisors do that and many other things for you, but hiring one is not cheap. Fortunately, there are apps dedicated to doing the work for you, and one of the best is Digit. It looks like common sense. You need to save money for emergencies and reach your financial goals.
However, some people say that common sense is the least common of the senses. Financial experts estimated that less than 50% of Americans have $600 on their savings accounts.
The first step to building wealth is saving money, and this app makes it easy for you. Nevertheless, this is not the only option, and it has its pros and cons. Check out our savings app review to decide if this is the right app for you.
Top features
The most attractive feature of this app is that it takes money automatically from your checking account and puts that money in a savings account so you can start reaching your financial goals.
So, whether it is your next trip to Europe, paying your debts, or buying a new car, the app analyses your consuming habits. Then, it automatically takes the money you can save before you expend it on the trivial things in which you often waste your money.
1. Safety and security
You can have reasonable concerns about security since the app manages such sensitive things as your money. However, it also collects information in the same way many apps do today. For example, you share your phone number, address, email, banking info, social security number, and more with Digit. However, the app claims that your information is not shared with third parties for commercial purposes.
The app uses all the information for different purposes. This seems to be right since the automatically saving decision requires the analysis of many factors to take the ideal amount of money for your saving purposes.
2. Membership plans
One of the major criticisms that the app has is that they have no free version. Despite this, we view this payment as an investment, which will result in you saving more money than you could spend on the app itself.
Digit offers a 30-days free trial plan, and then you have to pay $5 per month to keep using the app.
Its team is aware of the criticism, but they defend their politics by saying that other apps charge just a monthly payment and hide their earnings in transactional fees. The app has no interest in the volume of transactions you make, so there are no conflicts between the app interest and your saving interest. That way, the app only bases its algorithm on your best interest.
Digit is currently working on an update, and users can sign up for a waiting list for the new version. This new version will cost $10, and we are waiting to see the new exciting features it will bring.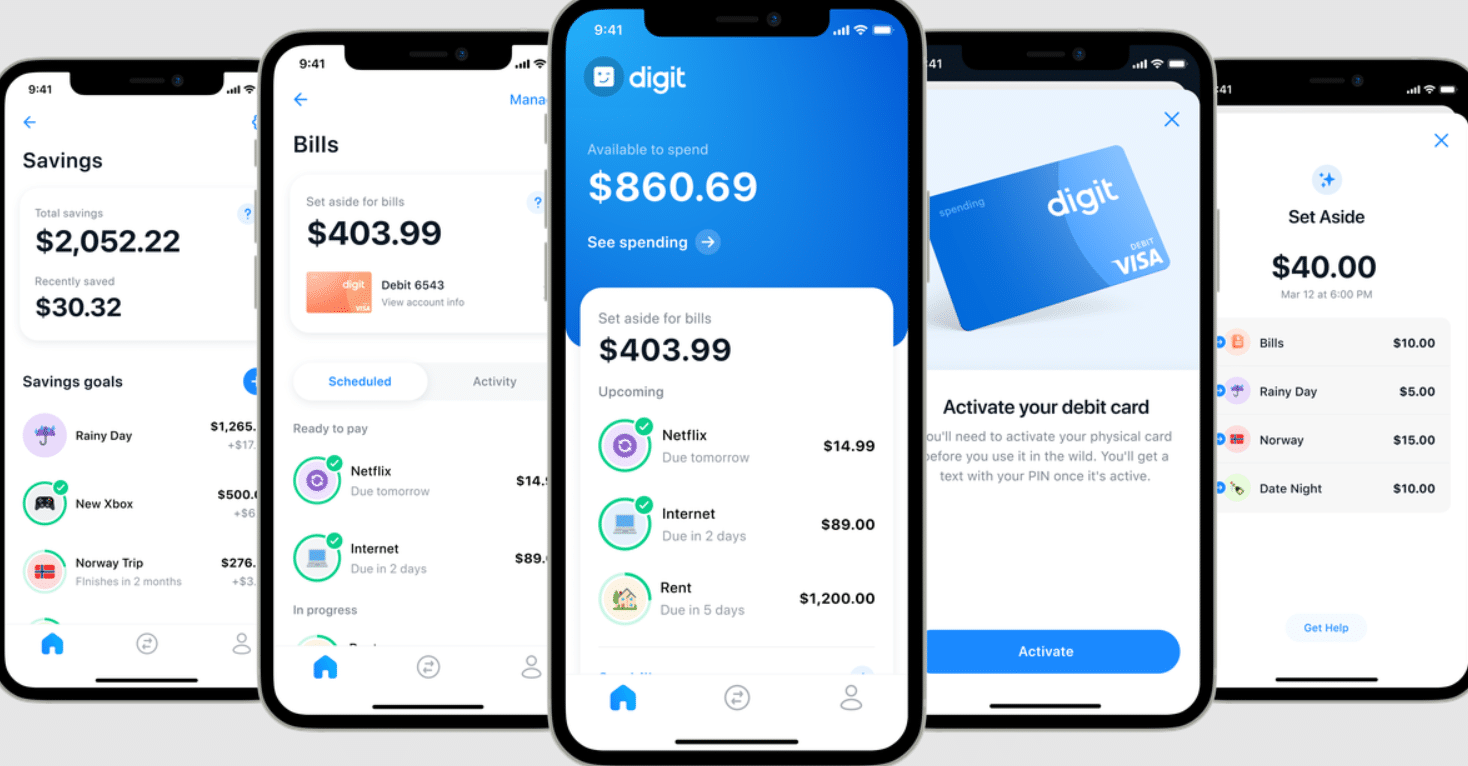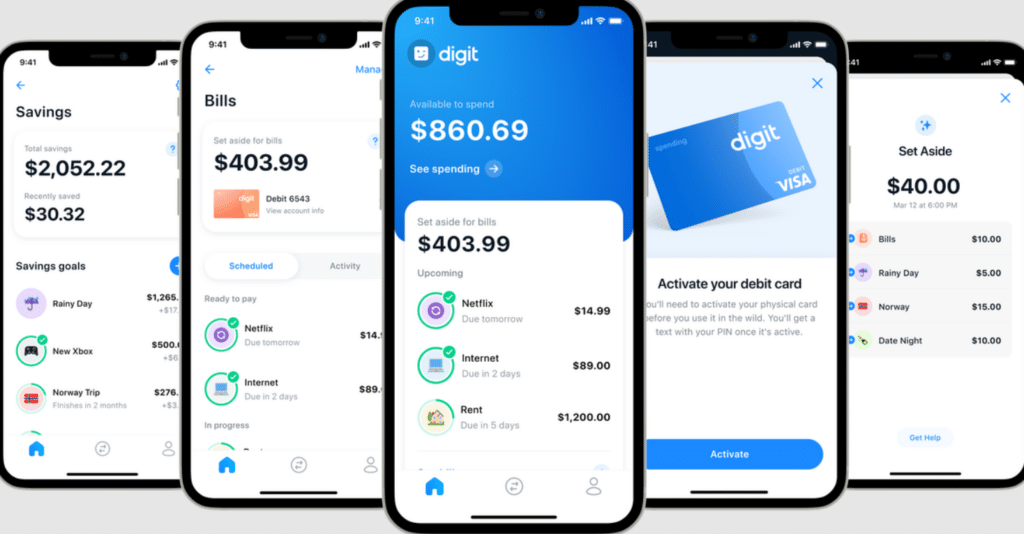 3. Budgeting and goals
When you start saving with a Digit app, you have the option of separating your savings into different goals. So, instead of having a unified saving balance alone, you have the option of choosing unlimited goals and redirecting your money according to the weight you give to each goal.
For instance, if you want to buy a new car and travel to Europe in the next five-month, you can set up your account, so most of your money goes to your travel savings first.
4. Special features
The app is smart when deciding how much money is going to take to your savings account. Is it built inside the app methods to avoid you running out of money? When you do not have enough money in your account, the app reduces or stops the transfers.
Another interesting feature is the investment option. The app allows you to save money but also to invest in ETFs based on your risk tolerance.
5. Syncing of bank accounts
Digit syncs to your bank account, like the one you may have in Bofa or Wells Fargo, to transfer money to a savings account. This process is the heart of the app. It is essential to sync both to make transfers, analyze your spending habits, and decide how much money to transfer each time.
6. Transactions and reporting
The whole point of Digit is to make saving and investing easy. But, unfortunately, Digit doesn't offer a detailed register or analytics of spending built inside the app.
There are no additional fees for the transaction made. You can withdraw your money as many times as you want. The only additional cost is for immediate withdraws that cost $0.99.
7. Support
The app has a web support center with the most common questions users make about the app.
If your question is not among the common questions users have about the app, you can contact the support team by clicking the Contact option on the left side of your screen. There you fill up your request, and the Digit's team will contact you to help you.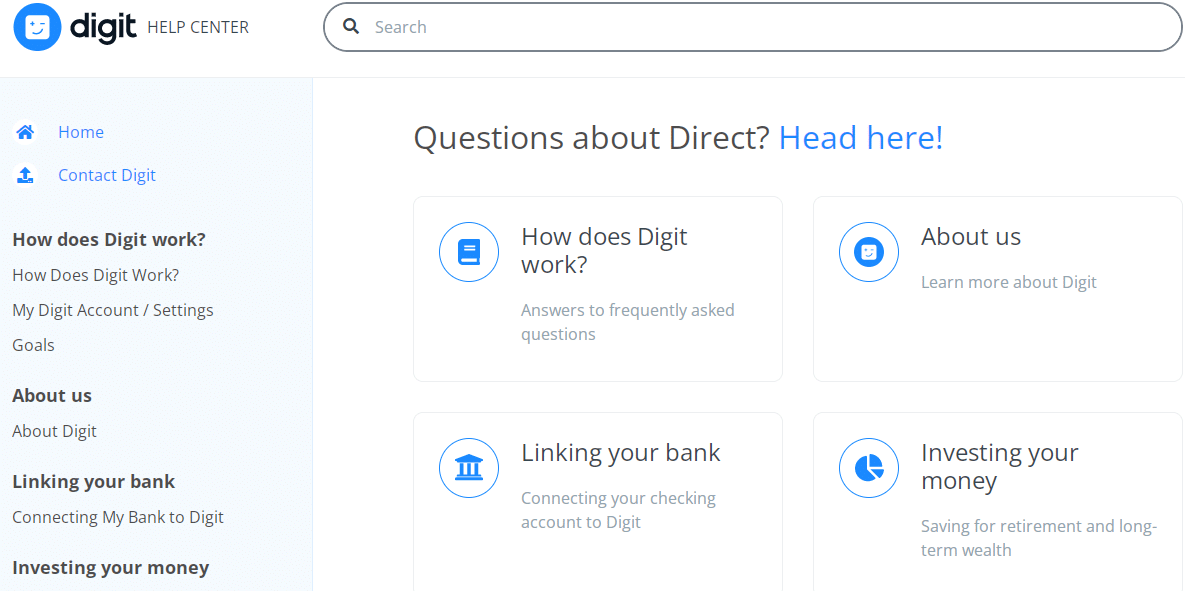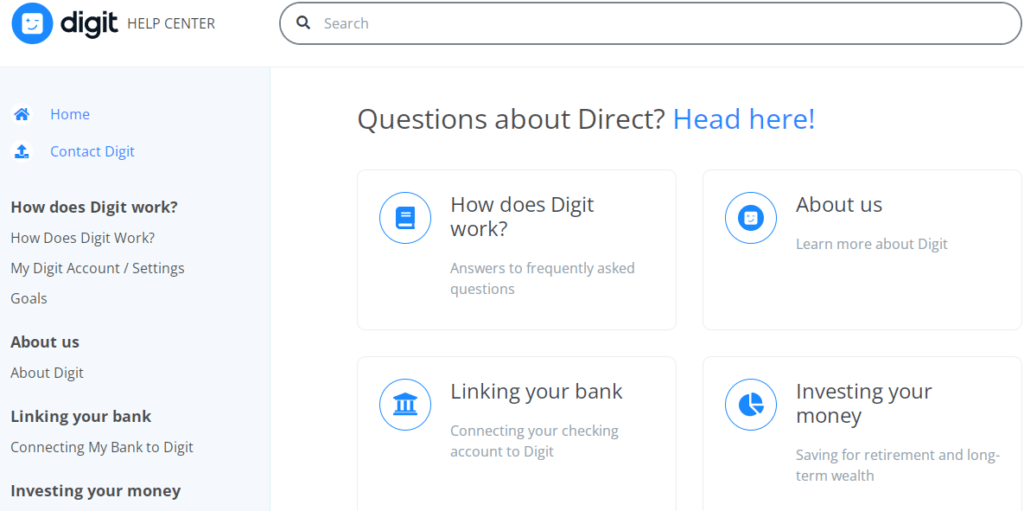 Pros and cons of Digit app
This simple app takes off your back the responsibility of deciding how much and when to save. The app studies your financial situation and takes the proper amount for you to save. The app has 4.5 out of five stars on google's play store. Let's see the top pros and cons of the app.
Pros
Cons
Banks affiliated
The app can be linked with the most important banks.
Monthly payment
It is a little counterintuitive to spend money to save money. However, the business should be profitable for everybody.
Automatic transfer
Saving requires discipline, and that's where most people fail. The app makes it easy by doing it automatically, and if you do not like it, you can always withdraw money without additional payments.
Poor money management
You won't get a detailed report about your money from the account.
The savings account is FDIC insured
FDIC insures all savings to $250.000
App limited
You can only use the app for investing and saving.
Final thoughts
Saving is probably the first step to reaching financial stability. After that, you can make any plans or investments if you can't take any hit. Using technology to help you reach your goal seems like a great option, and Digit is one of the best apps out there. If you are willing to pay the price, you will see great returns on your investments.