Acorns offer the best banking and saving opportunity by allowing you to change your loose money with a whole dollar and get the rewards or bonuses for changing it.
For example, Dwayne Johnson and his business partner have invested a good amount in Acorns finance to credit every new user $7 to reference how he has grown from a struggling athlete with $7 in his pocket to a famous and rich actor and wrestler. It alone is enough to let you delve into Acorn's investment account to invest, earn passive income, or save money with it.
Yet, before investing any amount, it is crucial to know how the app works. So, with a plethora of information in hand, this article summarizes the key features, factors, and pros and cons of Acorns application to provide you with a better insight into what's inside Acorns.
What does Acorns offer?
As a robo-advisor saving model, Acorns promises to offer you multiple benefits, like the ensured safety, membership plans, and a practical budget plan to manage your finances effectively.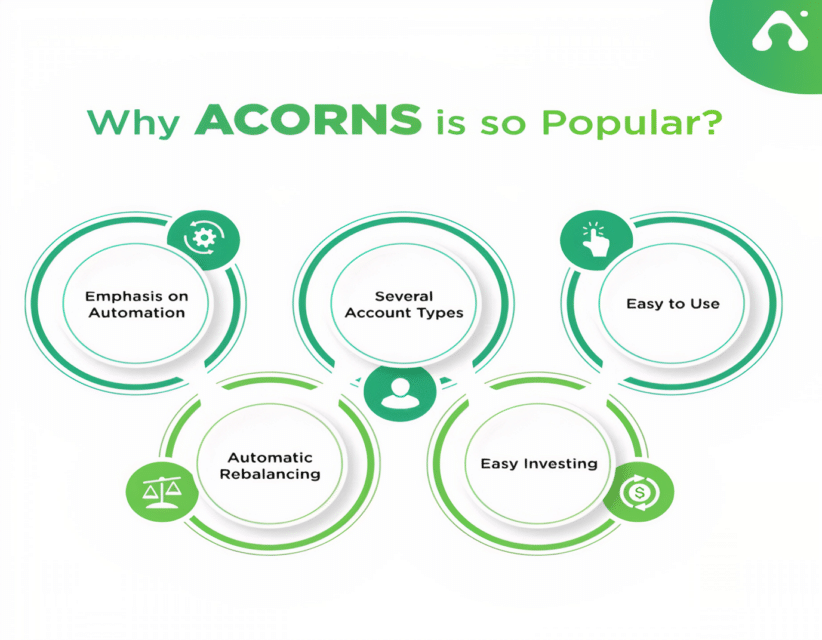 1. Safety and security
Acorns being the number one investment account, ensures its members with the security and safety of their assets that they deserve. Acorn's website and application are secured with 256B encryption that forms a layer of protection around your banking or investment account.
It also limits access to your personal and financial information to only Acorns and you. If any fraud or unusual activity is detected, it alerts its members to ensure protection. Moreover, there is also a built-in feature of automatic logouts that aid in preventing non-verified access.
2. Membership plans
Acorns offer built-in subscription bundles or portfolios to their members:
For the lite tier, you have to pay a monthly fee of $1 to invest your loose change and earn a bonus amount, or you can also learn from financial experts.
Personal or an all-in-one tier charges $3 per month to offer you a complete retirement investment plan, tax advantage, a banking account with free ATM cards to save your earnings, and 10% bonus investments besides educational and financial advice. Last is the Family tier, considerably the kid's account, that offers a personal, knowledgeable, retirement, and banking investment portfolio for $5 per month.
Additionally, you can add many kids to a single account for free to make your life easy. Other than this, Acorns has also recently introduced an ESG sustainable portfolio to provide more exposure to environmental, social, and sustainable governance companies.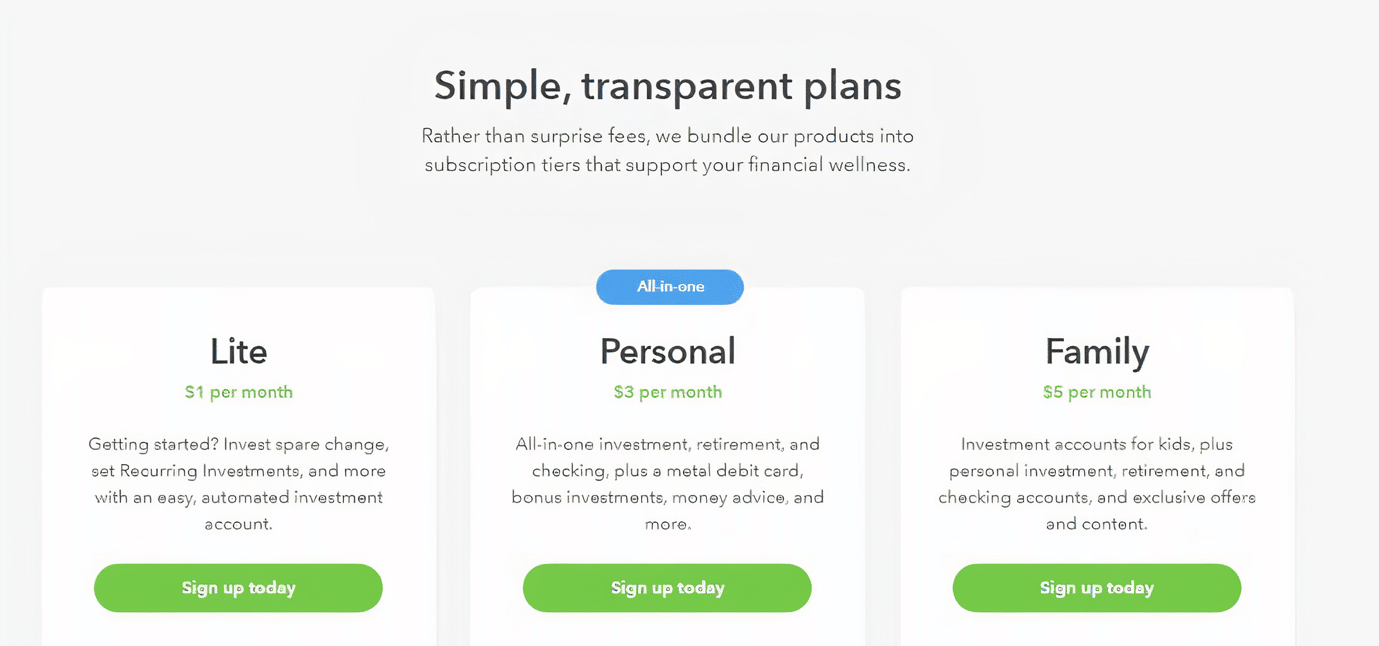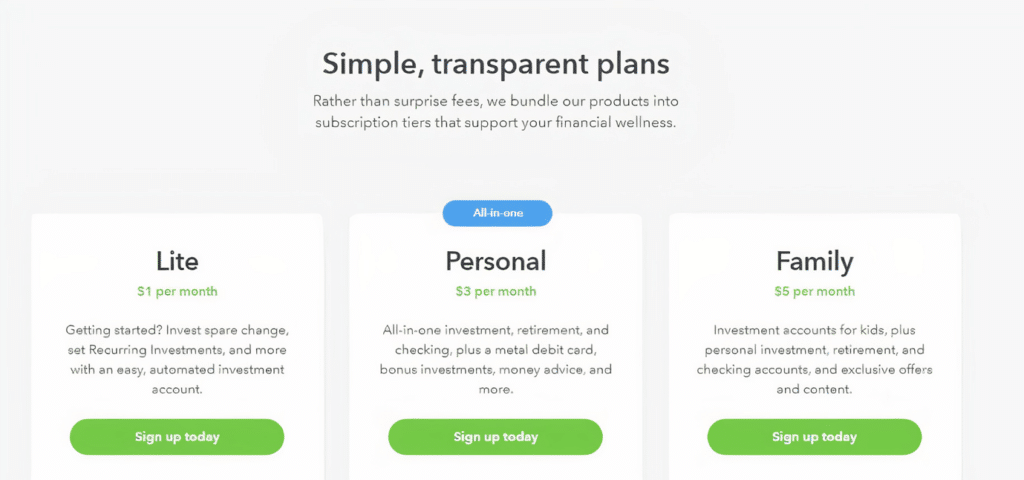 3. Budgeting and goals
According to a US Bank research study (2016), only 41% of Americans follow a budget plan. Interestingly, it is straightforward to make a practical budget plan and goals to manage your expenses and, in turn, your budget or earnings by saving like a pro. You only have to calculate your income and expenses while considering all the passive income earning sources to get a clear shot.
Then comes the central part. It is better to set a monthly goal by fixing an amount you can save each month. A $1000 is preferable yet can vary from person to person.
You can set your goal as per your need and expenses as only saving a reasonable amount is essential. Besides other family or financial goals, retirement has always been the primary concern of people.
So, start investing in Acorns to get your income well built till the time comes. While managing the cash, don't forget to separate the taxes that you have to pay. Precisely, you can opt for an Acorns 50/20/30 budget plan:
50% for needs
20% for saving goals
30% for wants to get you growing
4. Acorns special features
It is an investment platform that offers its members the safe, convenient, versatile account to help and empower them financially with only micro-investing as they take the first step in the market. It also has collaborated with financial and educational advisors and the topmost companies to provide the best service.
Acorns automatically take your spare change as an investment like, if you have spent $5.70 and left a change of $0.30, acorns set it aside and save it to start an investment plan for you as soon as the saving becomes $5.
You only have to connect your cards with Acorns to let it automatically round up the amount to the nearest whole. Acorns also have a found money offer that gives cashback on shopping from one of its collaborators. So you can spend and save with Acorns simultaneously without additional fees.
5. Alerts
Acorns alert members of any change to approve and prevent unauthorized activity or access from providing a secure and safe platform. For instance, you can get a verification alert regarding your data or any change you make to your account. Acorns also alerts its members if it detects any unusual activity to prevent future inconvenience or fraud.
6. Acorns transactions report and fees
Acorns is free to use, and there isn't any fee for making an investment account. However, you must have at least $5 to subscribe to Acorn's any of the three built-in subscription bundles.
Other than this, for transferring your investments from Acorns to any other provider, you have to pay a $50 fee/ ETF. So, for instance, for 5 ETF's you have to pay a fee of $250.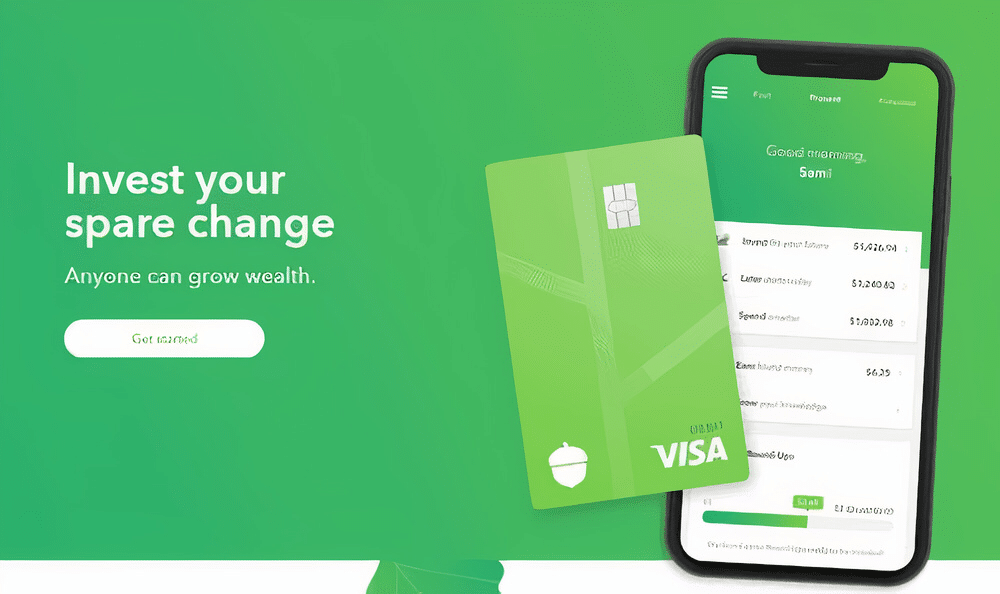 Otherwise, there isn't any additional fee for selling or transferring your investment to a bank account. However, it may take nearly 3-6 working days to process the withdrawal.
7. Support
Acorns has highly responsive customer service that is available daily from 6 am to 7 pm PST. You can direct your query either through email or call them at (855) 739-2859. Their customer service providers are always happy to guide you with the best. There is also a separate section of the help center on their website where they have noted detailed solutions of the possible FAQs to clear your mind before investing.
Pros and cons of Acorns
Following are some of the main pros and cons of Acorns.
| | |
| --- | --- |
| Pros | Cons |
| Acorns offers a $10 sign-up bonus to its new customers. | The membership fee of $3 is higher for investors who have a low account balance. |
| There is no minimum amount to invest. | The transfer fee of $50 per ETF is very high. |
| It automatically invests spare change of even less than $5 and returns it in dollars. | Acorns charge a monthly fee of $1for the accounts having less than $5000. |
Final thoughts
As a whole, Acorns is one of the most popular, safest, and credible investment platforms that not only guides you to earn and save but also offers educational guidelines for your children. In addition, it is affordable and easy to use and, above all, it doesn't ask for hefty fees. So, overall it is worth using for your benefits and ease.