With nearly 16,000 coins being in circulation right now, the cryptocurrency market is developing its presence in the world's financial market. Investors are constantly heading towards cryptocurrency due to its ROI.
Even though cryptocurrencies are horrendously volatile, investors are still giving thought to grabbing the next big opportunity to generate huge returns in their crypto wallets. Knowing which cryptocurrency to invest in for gaining that huge return can be challenging since cryptocurrency may encounter an immense upswing or downturn in their prices.
Therefore, let's delve into the top three fastest-growing cryptocurrencies that are best to watch in 2022.
Why is it worth investing in the fastest growing cryptocurrencies?
Cryptocurrency is a potentially valuable investment, but you have to be willing to bear its high risk. If you can properly manage the risks, investing in the fastest-growing cryptocurrency could pay off. Still, there is a solid chance that you may lose all of your money. Significantly, you must keep your eyes wide-open before investing in cryptocurrencies so that you may know whether you are purchasing a digital coin that has innovative solutions for financial problems or an utterly worthless one.
How does it work?
Cryptocurrency functions through the blocks writing and transaction recording to a ledger. These transactions cannot be overwritten or faked since the ledger is a database that features open to the public, 24/7 online, and no central bank or government is in control.
However, the transactions are obtained through cryptography; the crypto part is to refer to this fact. Cryptography is a coding type that could be tremendously back-breaking for a hacker to hack or break it through. For instance, if you spend $5 on anything using your bank card, your bank will record the transaction; similarly, if you spend ten satoshis online, the transaction will be recorded in a block of other transactions connected to the blockchain. This is how cryptocurrency functions.
How to start?
The first step to start investing in cryptocurrency is to open an account with a cryptocurrency exchange. Ensure the exchange you are willing to utilize the cryptocurrency of your preference. Afterward, fund the account with fiat currency to make a buying order. Then the exchange will tie up your order with someone's sell order at a similar price, and thus the trade will be made, and the exchange will hold the cryptocurrency in a custodial wallet for you.
Furthermore, the forgery of the cryptocurrency is pretty much unachievable. All computers used to store and update the blockchain technology's copies must "agree" on the public ledger's accurate edition. The investor owns a private key at the moment of purchasing cryptocurrency. It is a piece of authorizing code for the outgoing transactions on the blockchain network the funds can be spent. If the private key is lost, the investor will lose access to the invested money. And no bank can provide a replacement.
Bitgert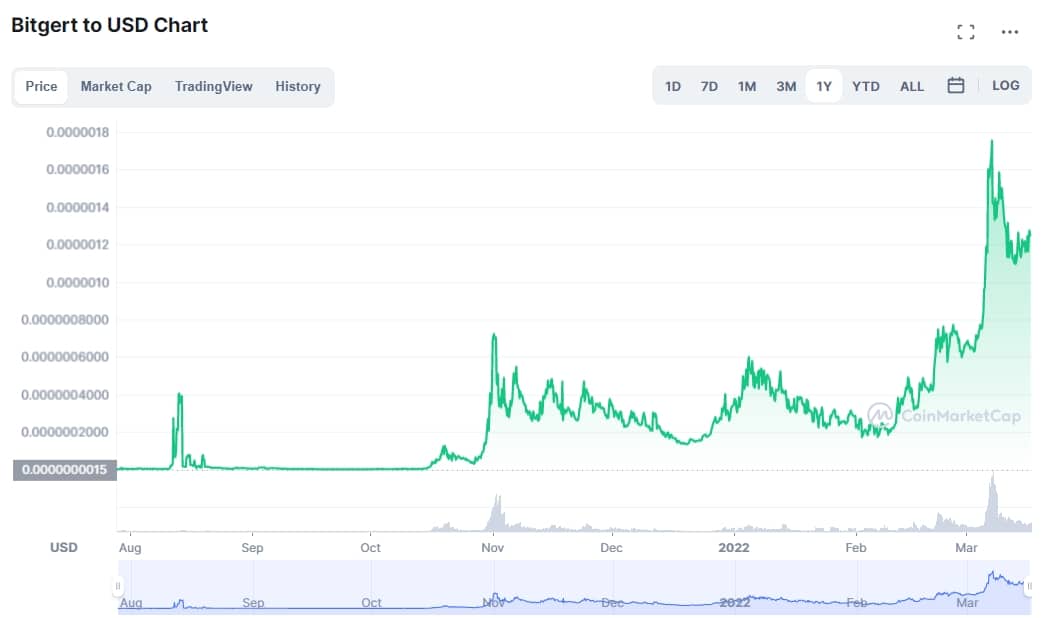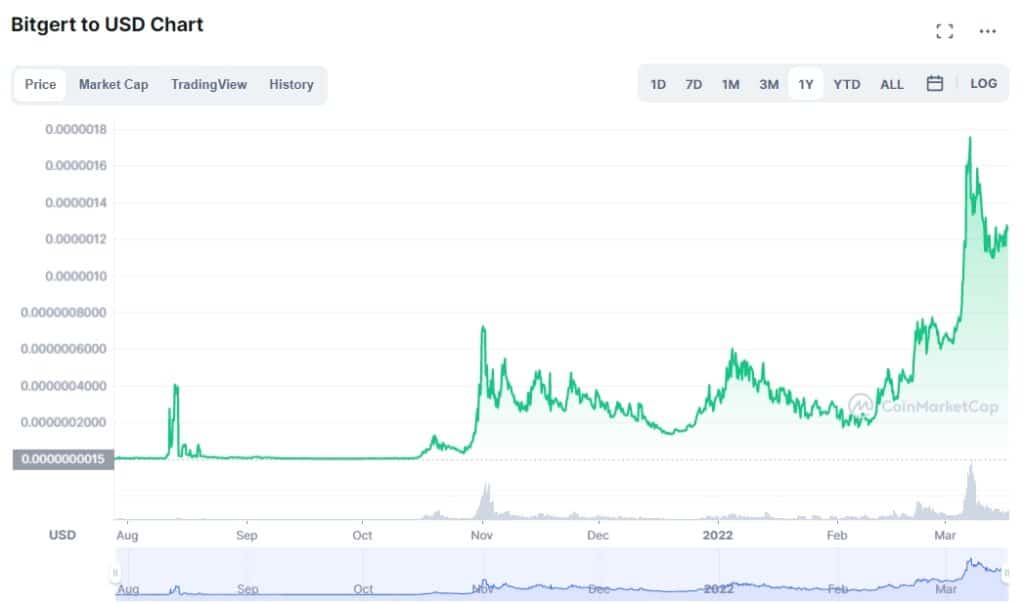 52-week range: $0.0000000015-$0.0000018
1-year price change: 92.6%
Forecast 2022: $0.0000020
Investing in Bitgert may become the best decision you might take in 2022 because Bitgert is among the fastest-growing cryptocurrencies, and the project's quality and market disruption nature are available in the crypto space. However, it is a DeFi project forming a robust ecosystem by creating products that address major market issues.
The Bitgert team has procreated the Brise wallet to make efficient payments together with a centralized exchange to expedite. Moreover, the Bitgert team is fabricating a platform for decentralized payment, offering users to trade coins on a peer-to-peer platform. Additionally, the mechanism will provide the users' ability to spend, lend and earn.
Centcex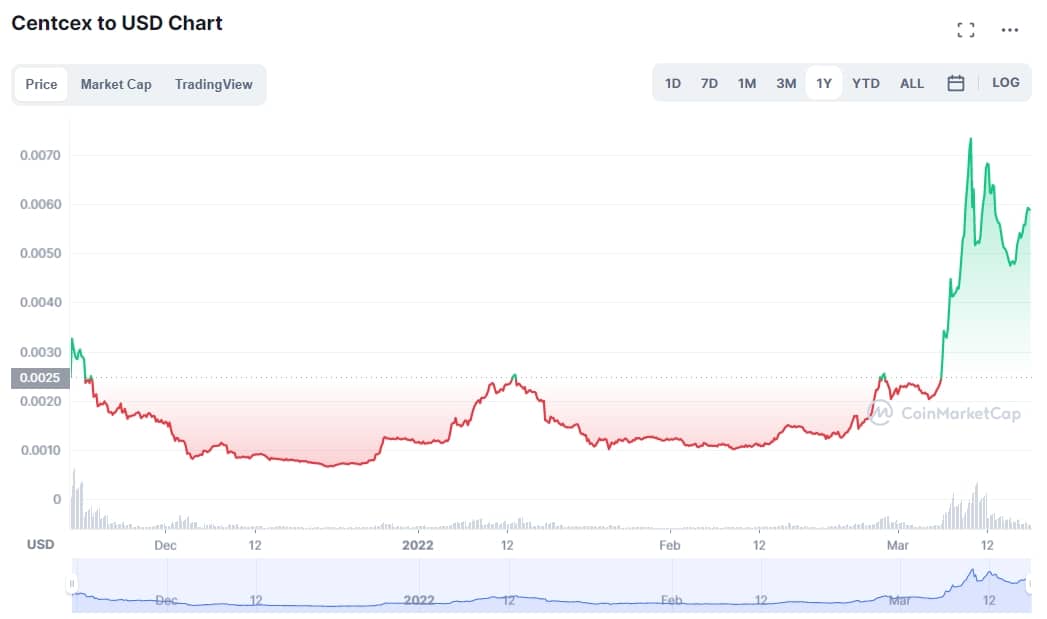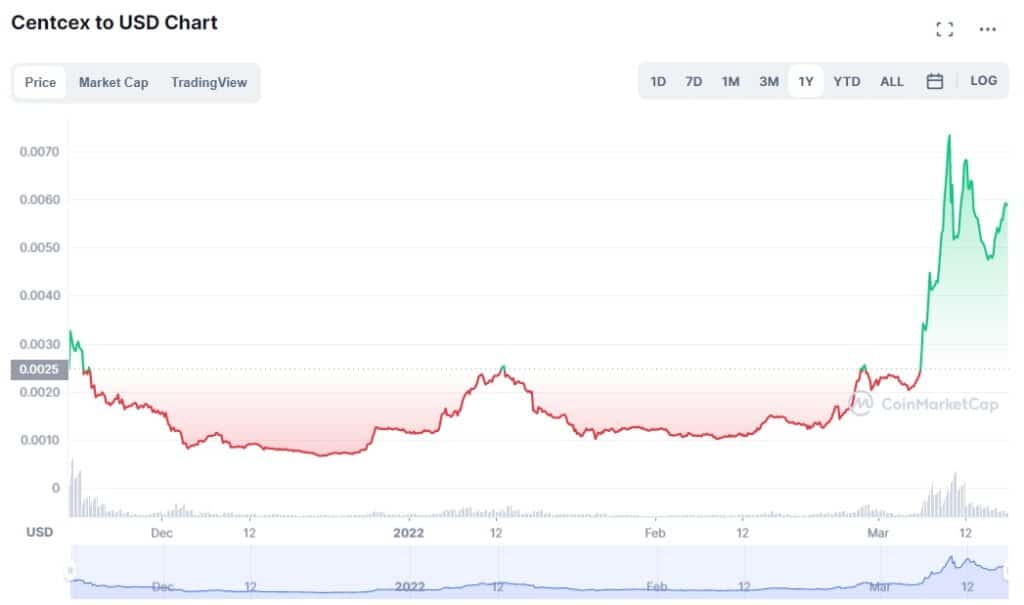 52-week range: $0.00065-$0.0075
1-year price change: 1.57%
Forecast 2022: $0.0090
Centcex also falls in the top three fastest-growing cryptocurrencies in 2022. There are a few available factors that made it grow very fast. On a surprising note, Centcex has been anticipated to be better than the other top cryptocurrencies like Ethereum and Bitcoin due to the massive return from the project that the investor will be obtaining. Besides, it is grabbing the attention of millions of cryptocurrency investors since the Centcex team is taking action to intensify the user experience along with the security works on several applications.
Solana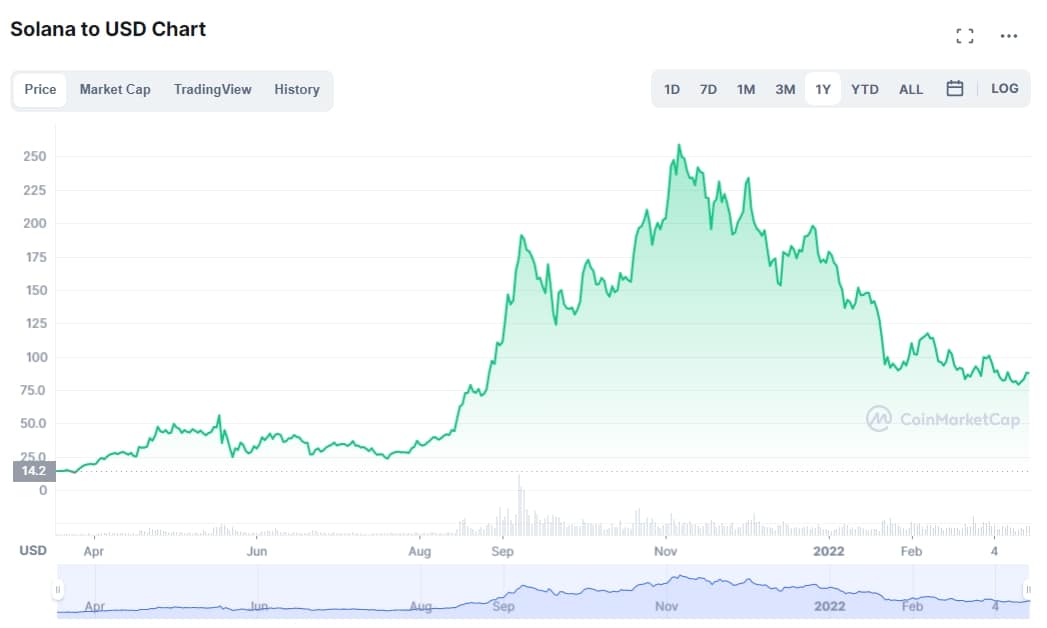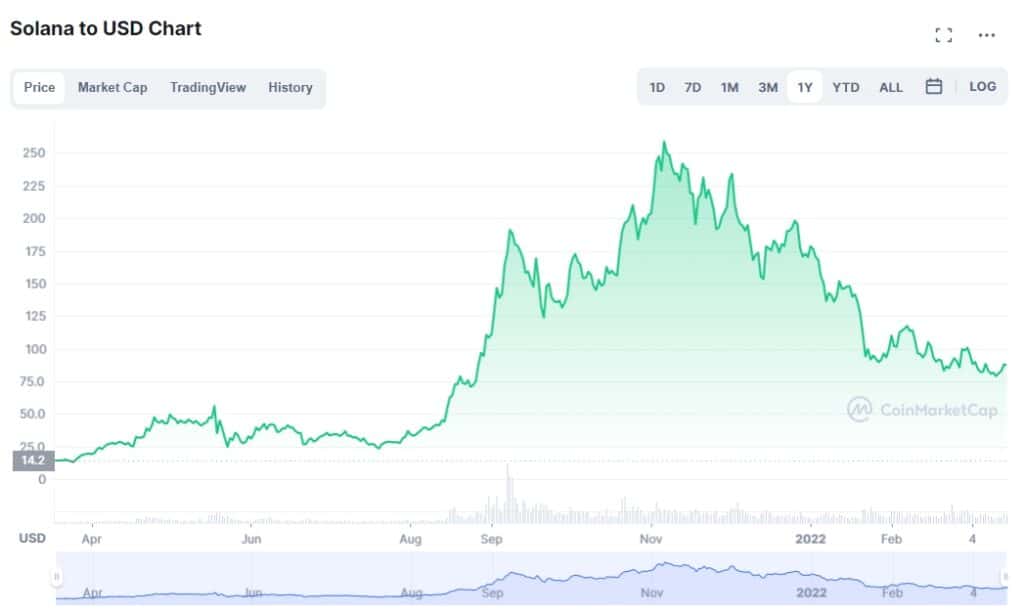 52-week range: $12.0-$260
1-year price change: 541.7%
Forecast 2022: $300
Solana is a decentralized blockchain that is created to sanction scalability together with easy-to-understand applications. It utilizes the proof-of-stakes and proof-of-history consensus mechanism. Moreover, it is based on decentralized network computers that utilize the blockchain's digital ledger. The ledger is the managing and track keeping database of the currency, and it maintains records of every transaction made in it. Solana is also able to process numerous transactions in a second and with relatively lower fees
Upsides and downsides
Pros
Cons
Profit
Investing in the fastest-growing cryptocurrency may generate a good amount of profit in a short period of time.   
Locking the capital
Making investments in this type of cryptocurrency may lock your capital for a long period for generating a handsome outcome.
Reliability
Fastest-growing cryptocurrencies are relatively the most reliable to invest in.
Risk
Since these cryptocurrencies are growing very fast, they also likely fail fast accordingly.
Market cap
It captures the most amount of the market capitalization.

Fluctuation
Within a short period, the prices of currencies may encounter dramatic fluctuation.
Final thoughts
Finally, most of the new cryptocurrencies are coming out based on blockchain technology. Some of those cryptocurrencies are purposive in replacing conventional currencies. On the other hand, the rest of them are utilized to develop new financial applications and swap value amidst other digital currencies. Hence, if you are thinking about purchasing digital assets, make sure to have a close look at projects discretely to determine how they might turn out in the future.