Passive income is a type of side business you establish once and then earn profit without doing anything. The software works for you using various technologies, including robo-investors and algorithms, allowing you to focus on other tasks while earning passive income.
Specific applications will take a part of the revenue they create for you. Others may offer a premium account that includes the opportunity to earn even more money.
Swagbucks provides its customers with several opportunities to earn money by performing simple activities. There is something for everyone, from gaming and viewing movies to completing online surveys and more. This article explains the app's various passive ways to make money.
What does the Swagbucks app have to offer?
Easy money is what Swagbucks is all about. It doesn't mean you'll make a lot of money, but it's easy to get points for things like watching videos and taking short surveys.
It is an app that gives people money for doing simple things online, like going on the internet, watching videos, and taking paid surveys.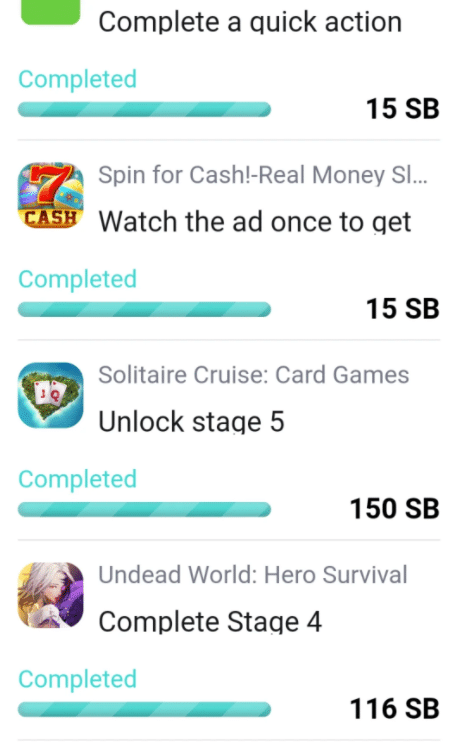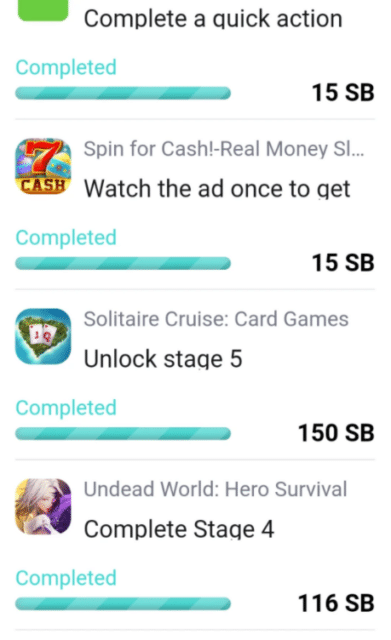 You will be paid in Swagbucks points, which can be used for cards or cash. They sell gift cards from more than 1,500 stores, like Amazon iTunes, and you have to turn points into cash in your PayPal account for people who want to make more money with the app. If you're feeling generous, you could give money to a good cause as a donation.
Top features of Swagbucks app
Here are some top features of this passive income app.
1. Safety and security
Swagbucks was rated 4.3/5 by more than 23,000 users at this writing, which means it is a good site. However, you might wonder if the app is accurate because it is easy to make money on the site.
In other words, this massive volume of traffic shows that the app is entirely safe and secure. In addition, many people who used Swagbucks said they earned gift cards due to their time on the site.
Some people complained about how long it took to get rewards and how often the site stopped them from taking surveys halfway through. When your responses indicate, you are not the type of respondent the company conducting the survey is looking for.
2. Membership plans
The app has a range of options to earn for users, ranging from watching videos to doing paid tasks based on their interests. Here are some standard memberships plans to make money.
Buy gift cards
Shop online
Search the websites
Entering swag codes
Referral system
Printing the coupons
3. Budgeting and goals
Along with the 300 SB welcome bonus (you'll get yours if your buddy makes at least another 300 SB in the first 30 days), you'll each get 10% of your friend's SB earnings for the length of your subscription!!
Just by trying it out, you may win up to 10 SB every game. Some games need you to achieve a certain level to earn SBs; succeeding in these activities pays.
Participation in the game is free; you have to get the app. Answering a few multiple-choice questions correctly is the goal of most live quiz programs. If you make it to the end, you'll win a share of the overall prize pool, but if you get an answer wrong, you're out of the competition.
For every playlist (which typically lasts 15–30 minutes), you may expect to earn around 2–3 SB, with a daily salary ceiling of 150 SB. Participation in a contest with a prize of 50 SB may cost you 2 SB.
Despite their simplicity, these tools may be used to create a variety of different business models for a variety of different revenue streams. Starting with identifying your source of income and categorizing it according to your preferences, you will be asked to fill out a questionnaire.
The app will reveal how much money you make every week due to your current app activity and how much money you make in a month.
4. Special features
Some extra special features of this app are given below.
Another way to get the app is to donate money to charities that help the poor, the environment, or people with medical problems.
The best way to make money without working is to use Swagbucks Local. People who sign up for Swagbucks and then shop at stores that are part of the program can earn SBs (Swagbucks' term for points).
To make money on the side, you can use Swagbucks Search. This app can be set up as your default search engine on both your mobile and desktop browsers, and every time you search the internet for information, and you'll get paid. This is a great way to earn money.
First-time users will get a $10 bonus.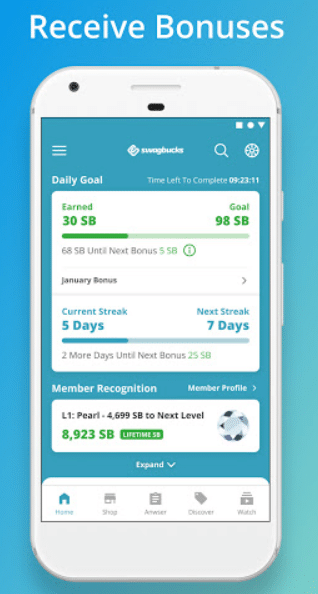 5. Alerts
Some alerts you must keep in your mind before joining the app.
Because of your demographics, you may be disqualified from participating in surveys along the process.
It may take up to ten business days to get your rewards.
Surveys with the highest payouts are only available to selected audiences.
6. Transactions and reporting
PayPal is often used to make payments. However, you can also buy things online and donate the money to a good cause.
There is a way to turn points into cash in your PayPal account for people who want to make more money with Swagbucks. If you're feeling generous, you could give money to the charity.
7. Support
Users may communicate with the support team at any time by utilizing the built-in chat tool. This feature is accessible in the app if you have issues or would like to learn how to utilize the app for your unique revenue streams.
While using the app, you may contact customer service representatives. If you require any specific assistance, you may reach out to them at the email address they provide.
Pros and cons of using the Swagbucks app
A few significant pros and cons of using the app are below.
| | |
| --- | --- |
| Pros | Cons |
| You may exchange your points for gift cards or cash by utilizing PayPal. | Swagbucks are not particularly useful in terms of money compared to the Dollar. |
| Motivated customers may expect to make $100 or more per month. | High-paying tasks are only available to a selected group of users. |
| It provides a 10% referral bonus. | This app consumes more time and mental energy of users. |
Final thoughts
There are a lot of money-making apps that you can use to supplement or replace your full-time job as the world moves closer to the giant economy. There are many options to choose from, depending on what you want and like.
It is an online reward site and app. You'll first need to sign up for an account with the site and then kill the waves. Use PayPal to exchange Swagbucks points for gift cards or cash.